So You Want To Become A Growth Marketing Manager
Consider becoming a growth marketing manager if you want an exciting and fast-paced career. You get to use your creativity, analytical mind, and interpersonal skills in this emerging field. What skills and training do you need, exactly? Read on....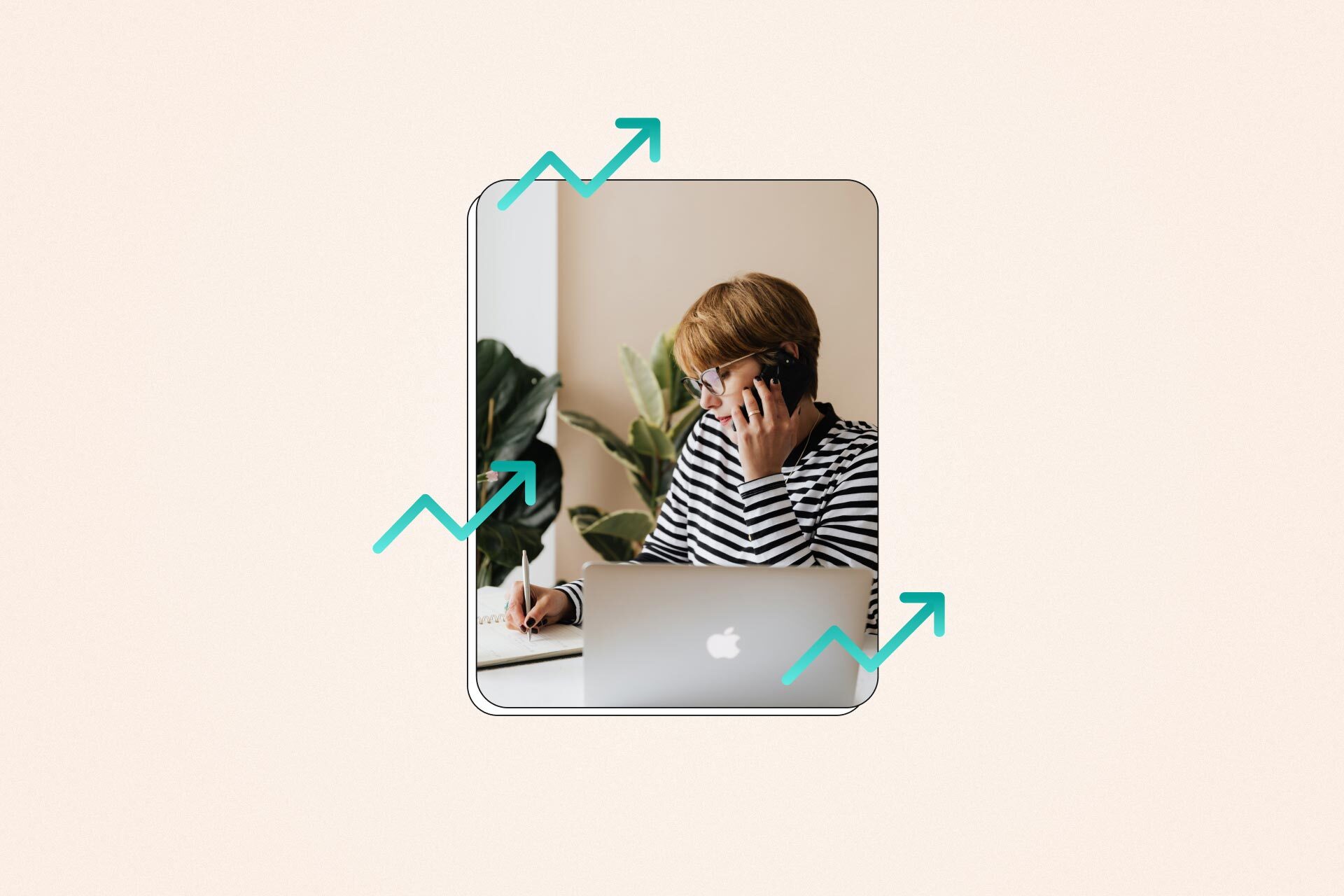 Want an exciting and fast-paced digital marketing career? Then consider becoming a growth marketing manager.
This role also goes by many other names, such as: "growth hacker," "growth marketing manager," "demand generation marketer," "performance marketer," or "digital marketing manager."
One of the fast ways to learn growth marketing is by becoming a digital marketing apprentice.
You may be wondering…
What is growth marketing?
As the word "growth" implies, "growth marketing" is the process of increasing or scaling up results throughout the entire customer journey, from the top of the funnel to retention and advocacy.
While traditional marketing is concerned only with the early part of the customer journey, growth marketing covers the entire process. Growth marketers can even make inputs on product development—if it means attracting, converting, and retaining more customers.
"The goal of growth marketing is relatively simple: improve engagement and conversion metrics throughout the marketing funnel."

Camille Trent, MarketerHire
To accomplish this, a growth marketing manager's job covers a wide range of marketing domains.
What does a growth marketing manager do?
Because of the nature of growth marketing, a growth marketing manager's job is all about increasing revenue and hitting revenue goals.
They take the lead in growth marketing strategies. This means discovering channels and strategies that will help increase revenues. This also includes conceptualizing and executing new user acquisition campaigns.
A big part of a growth marketer's job is experimentation. They are expected to design and run experiments to discover new ways of acquiring leads and customers. They also need to run other tests to find out how to improve conversions on existing campaigns, as well as reduce churn or cancellation by existing customers.
Everything a growth marketing manager does is based on metrics. They track the results of their experiments, and navigate based on analytics.
Because growth marketing is involved in all stages, from product development to fulfillment and after-sales support, growth marketers also collaborate with other departments on new initiatives.
"A growth marketer's core function is to identify marketing channels, solutions, ideas that will efficiently drive new customers to the brand and increase revenue."

Michael Griffith, Digital Marketing & eCommerce Executive
How much does a growth marketing manager make?
Growth marketing is a challenging job, and the salaries reflect this. Compared to other marketing job salaries, growth marketers of all levels seem to make more.
In the United States, a growth marketing manager can earn a salary starting at $80,000 per year (Talent.com, based on 423 salaries). More experienced growth marketing managers can earn up to $130,000 per year.
In Canada, this job seems to be less developed than in the United States. As of this writing, Talent.com had data only from 5 growth marketing manager salaries. They noted that growth marketing managers make from $88,875 to $110,000 per year.
What are the career prospects for growth marketing managers?
Growth marketing is a high-growth career. Other domains of digital marketing such as content marketing and social media marketing can be difficult to link directly with concrete revenue results. And so, when budgets are tight, these could be some of the first jobs to be de-prioritized.
The opposite is true for growth marketing. It's closely tied with revenues and growth marketing campaigns have specific ROI. That's why this would be one of the last areas an online business would cut back.
As more companies and organizations go digital and recognize the importance of digital marketing, we can expect growth marketing roles to increase.
What skills do you need to become a growth marketer?
Digital marketers need to be T-shaped. The same is true in the case of growth marketing managers. They need to know enough about a wide range of marketing topics to be dangerous, and go deep in acquisition marketing and conversion-rate optimization.
The skills of an ideal growth marketing manager looks like this:
A daunting list of skills, to be sure! Let's break it down to make it less overwhelming.
Hard skills every growth marketing manager needs
Over and above the foundational skills every digital marketer should have, the essential hard skills for a growth marketing manager are:
Acquisition marketing
Acquisition marketing refers to the use of various channels to attract or get new customers. This is a very broad area that covers both organic and paid channels. A growth marketing manager needs to know a little bit about everything, from content marketing and SEO to social media marketing, email marketing, and more.
Analytical skills
As a growth marketing manager, you must be comfortable with data—and yes, that means math. On top of that, you need to know how to interpret data and apply logical thinking to extract insights from them.
Marketing automation
When it comes to growth hacking, scalability is the name of the game. And you can't scale without harnessing the power of automation. Growth marketing managers use a variety of tools for marketing automation (more on these specific tools below).
Basic design
It's also incredibly helpful for a growth marketing manager to have basic design skills. They have to be able to quickly create simple creative assets like landing pages, presentations, or ads. That's because experiments often have to be executed fast. And this means growth hackers making their own design assets.
Project management
Finally, to succeed as a growth marketer, you need solid project management skills. You'll be juggling several campaigns at the same time, managing people, and collaborating with others. You'll also be in charge of a budget.
Soft skills every growth marketing manager needs
As with any marketing job, being a growth marketing manager also requires soft skills. The most critical ones include:
Organization
Being organized helps you stay on top of all the campaigns you're responsible for. It also makes it easy for others to work with you. Which brings us to….
Collaboration
Growth doesn't happen in a vacuum. Every part of the organization plays a role. This is why growth marketing managers need to have good interpersonal skills to be able to work with cross-functional team members.
Creativity
Growth hackers don't get breakthroughs by doing what everyone else is doing, or doing things the same way they've always been done. You always have to question traditional, in-the-box thinking, and come up with novel ideas or new ways of doing things to get better results.
Growth hackers' tools of the trade
Growth marketing managers use a variety of tools. These include:
Google Analytics
Ahrefs, SEMrush, Similarweb, and other SEO tools
LeadPages, ClickFunnels, Instapage, and other page builders
Zapier, Marketo, Drips, and other marketing automation tools
PhotoShop, Canva, and other visual design tools
MailChimp, ActiveCampaign, Hubspot, or other email marketing platforms
HootSuite or other social media management software
HTML, CSS, SQL, or other programming languages
Do you need an undergraduate degree to become a growth marketer?
You do not need a college or university degree to become a growth marketers. In fact, the digital marketing field changes so quickly that no textbook or post-secondary program could possibly keep up!
A degree in marketing, journalism, or communications can give you the foundation for some of the skills you need. However, there are other ways to gain these skills that don't involve going to college or university.
You can easily work your way up from an entry-level digital marketing job to a growth marketing manager job. Becoming a digital marketing apprentice will help you get your foot in the door.
So you want to become a growth marketing manager … here are your next steps
If the exciting life of a growth marketing manager appeals to you, then the time to get started is now. This field is still young, and there may not be many positions available—yet. That will change as more companies and organizations recognize its importance.
If you're a complete newbie in digital marketing, then the best place to start is by learning the foundations of digital marketing. We have digital marketing courses available, completely free. You just need to sign up and you'll gain access to them.
If you're ready to get in the trenches and get practical, hands-on experience, there's nothing like working as an apprentice to give you exactly that. Join Acadium, complete your profile, and apply to be considered for one of the digital marketing apprenticeships available. You can then leverage this apprenticeship to help you get a marketing job.
Here are a few examples: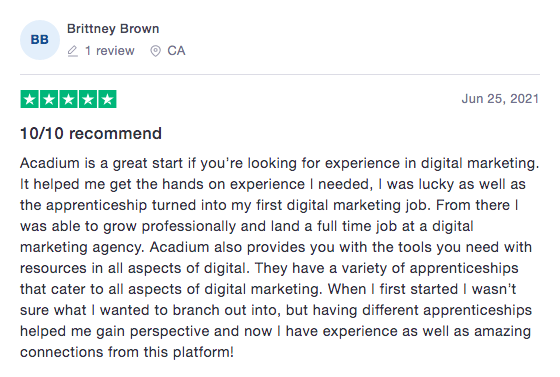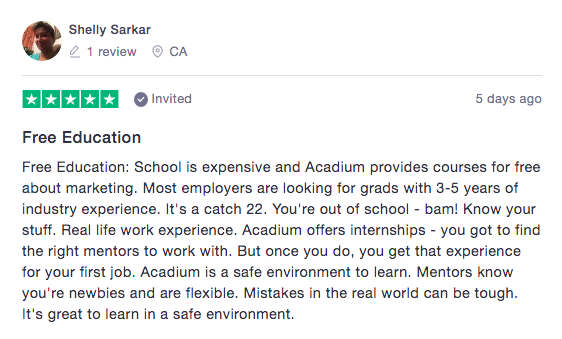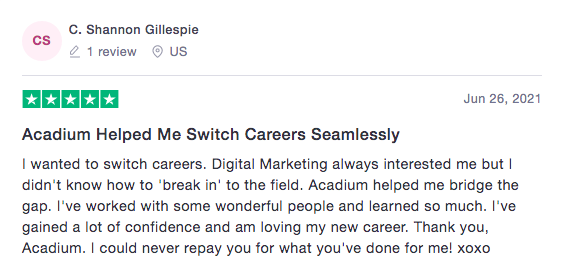 Finally, if you have some marketing experience and you're fully committed to finding your next marketing job, then consider our flagship program, Acadium Plus. We've helped 67+ get full-time marketing jobs in amazing companies like Hubspot, Samsung, and Square.
Lexi Rodrigo is the former Content Manager at Acadium. As a marketing and communications professional and course creator, she helps remarkable brands get seen, heard, and known. She has been a digital marketer and copywriter since 2008. She's also the co-author of "Blog Post Ideas: 21 Proven Ways to Create Compelling Content and Kiss Writer's Block Goodbye." When she's not reading or writing, Lexi bakes bread, grows food, and takes long walks. Connect with Lexi on LinkedIn.
Top Marketing Webinars for Digital Marketers in 2023

By attending these webinars, you will have the opportunity to learn from industry leaders, gain insider knowledge, and stay ahead of the competition.

9 Types of Digital Marketing to Choose From in 2023

Digital marketing is a dynamic field that offers diverse career opportunities. From search engine optimization to social media marketing, there are many specializations to explore. Whether you're just starting out or looking to switch careers, this guide will help you find your ideal digital marketing niche.

Subscribe to our newsletter for digital marketing resources
Become a better marketer with our digital marketing resources and tips shared weekly in your inbox.

Build your marketing career for free or find marketing talent on any budget — fully remote.