A Beginner's Guide: How to Become a Freelancer or Digital Nomad
There are plenty of recent graduates and young professionals looking to change careers. They are looking for more fulfilling work.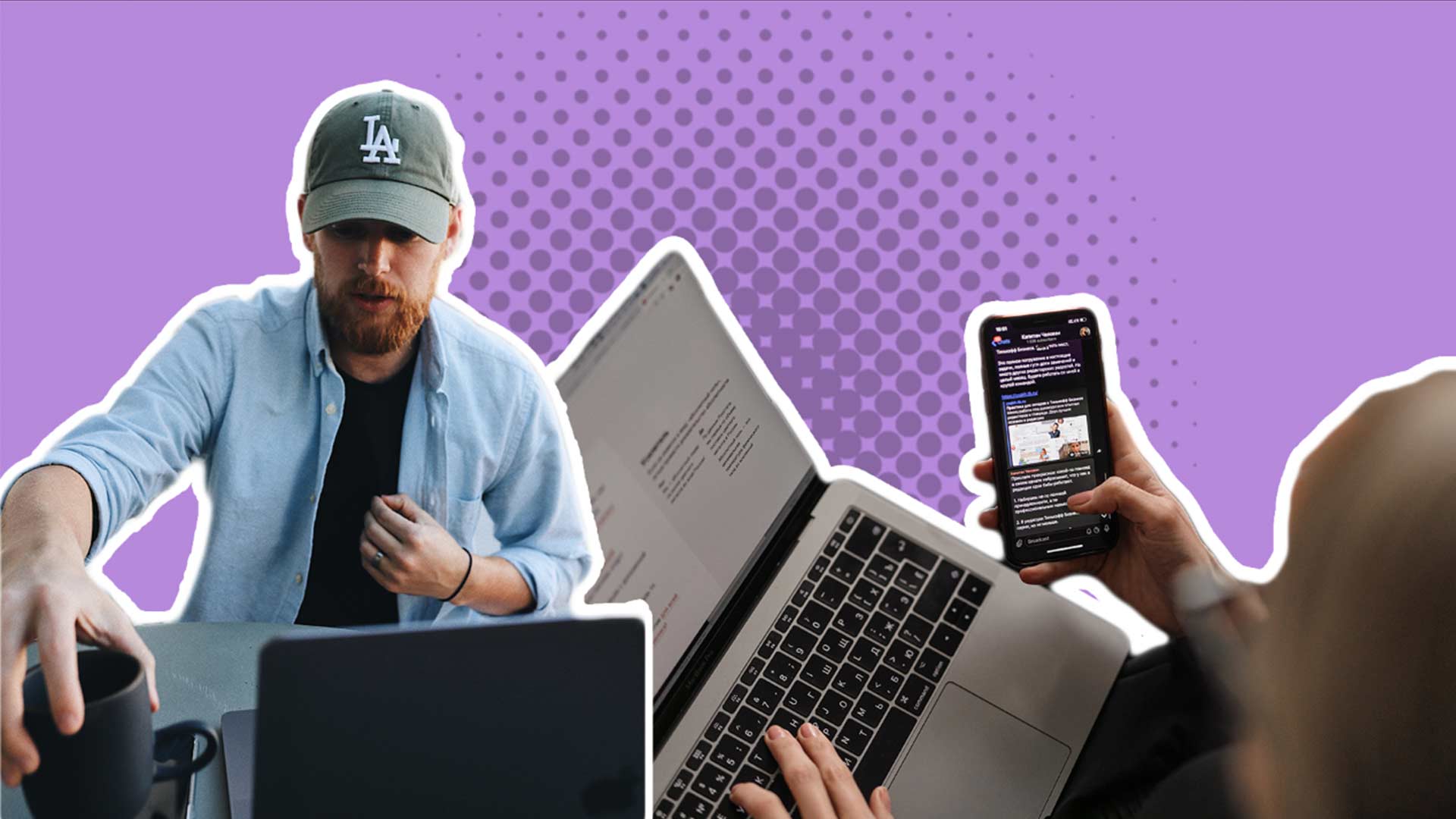 Table of contents
According to The Score "freelancers account for 36 percent of the U.S. workforce" and "$1.4 trillion they contribute to the U.S. economy each year represents an increase of nearly 30 percent" since the previous year. For those who are at the beginning of their career, they may be wondering how to become a freelancer or even a digital nomad. Why is that?
Let's face it – when we think about our future careers we don't envision doing menial tasks day in and day out. We don't want to sit in the same spot every day not seeing the results of the work that we do.
No! If you're a recent graduate or someone who is setting out on building their career you have ambition for more. You want variety and freedom in the work you do.
You crave the excitement of learning new things every day and being challenged to build things that are actually useful. Most importantly, you want to see the results of the work you do.
You aren't the only one who feels this way. There are plenty of recent graduates and young professionals looking to change careers. They are looking for more fulfilling work. In 2021, when working remotely is the new normal many people are considering becoming freelancers or digital nomads. 
Acadium helped me become a freelancer when I was just starting my career
By signing up to Acadium and completing two apprenticeships I gained experience in digital marketing. My mentors introduced me to important tools like Facebook and Google ad managers, WordPress, and analytics dashboards to track campaigns.
Additionally, by working on real projects within my mentors' businesses I learned important lessons that I wouldn't have been able to learn by completing online courses. After just three months I had the confidence to start my own freelance business to help other clients.
As a recent grad, Acadium could be one of the quickest ways to get a job or become a freelancer without any experience.
Who hasn't considered being a freelancer or digital nomad? It's 2021!
The desire for variety, excitement, and freedom in your career is embodied in the idea of becoming a digital nomad or freelancer. Being a freelancer allows you to choose the types of work you do, when you do it, and where. By being location independent, you can also become a digital nomad and fulfill your desire to travel while also building a career for yourself. There doesn't have to be a compromise between the two.  
This is the lifestyle and career you want, but how do you become a freelancer or digital nomad? Here is a beginner's guide to becoming a freelancer or digital nomad. 
What are freelancers and digital nomads?

Let's get on the same page with what a freelancer and digital nomad actually is. A freelancer is a self-employed contractor that works for companies on a temporary basis. They may work for companies on an ongoing basis, but they are usually brought on to complete specific projects. 
Freelance contractors are usually hired to fill a gap in the organizations' expertise that they don't have on their team. Because freelancers can have a number of clients they aren't tethered to a specific location. For this reason, many freelancers opt to pursue the lifestyle of a digital nomad.
Common jobs of freelancers and digital nomads
Copywriters

Search engine optimization specialists

Social media managers

Software Developers

Web designers or programmers

UX/UI designers

Virtual assistants

Consultants
A digital nomad isn't someone on a beach with a laptop
When you think of a digital nomad you may think of young people working from their laptops while sitting on a beach. That's what Google thinks at least. A digital nomad is someone who chooses to not have a specific location and travels while working remotely.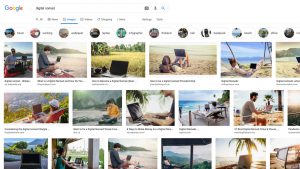 What is the difference between a freelancer and a digital nomad?
A freelancer is self-employed whereas a digital nomad can be an employee of a company or a freelancer. Many freelancers are digital nomads but not all digital nomads are freelancers. Make sense? If a company has a distributed workforce they can have employees that are digital nomads. Digital nomads can work wherever they want as long as they have a wifi connection and their devices. 
Why do you want to be a freelancer or digital nomad?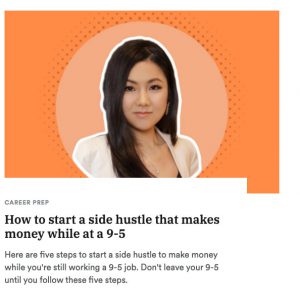 The lifestyle and career of a freelancer and digital nomad are appealing to many people.  You may be dreaming of escaping the rigidity of your 9-5 job.
One of our mentors on Acadium was able to successfully start her own business without dropping everything to make the transition. Check out her article on How to start a side hustle that makes money while at a 9-5 if you'd like to learn more.
The desire to have a sense of freedom and the opportunity to do something you're passionate about is what many people associate with being a freelancer or digital nomad. 
Do a little soul searching
It is important to do a little soul searching. Changing your career to be a freelancer and transforming your lifestyle to be a digital nomad is a big choice. Take some time to consider the reason you are interested in being a freelancer or digital nomad. If you're reading this article, however, then you're already on the right track.
There are a few practices that will help you get to the root of why you want to be a freelancer or digital nomad. 
You can try the five why's framework

. Ask yourself why you want to be a freelancer or digital nomad. After you answer, ask why again. By doing this several times you'll get to the root of why you desire to make the change. 

Learn about other freelancers and digital nomads

. How do they feel about their lifestyle? What kind of work do they do and what are the pros and cons? By learning from those who have done it you can get a clearer idea of what's involved.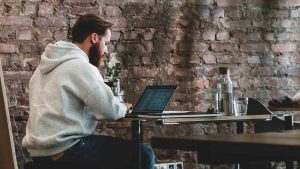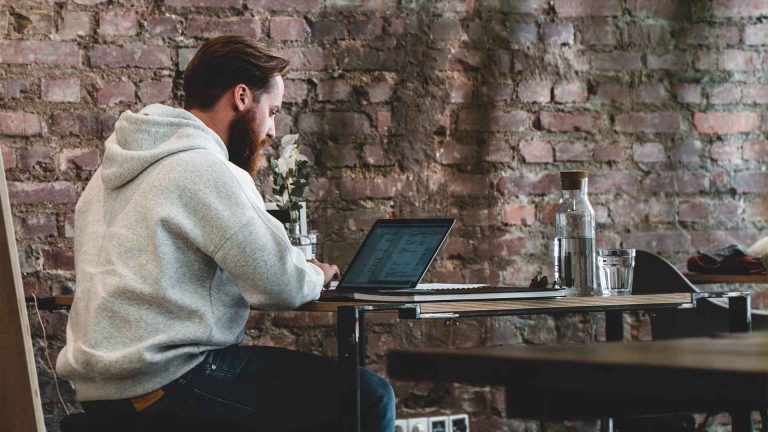 Pros and cons of being a freelancer and digital nomad
With anything, there are upsides and downsides. Although being a freelancer or a digital nomad may provide a lot of adventure and variety it can also be stressful to not have a home base or steady income. Here are some pros and cons of being a freelancer and digital nomad.
Pros
As a freelancer, you can have multiple clients;

control over the types of work that you do;

choose when you want to work;

exposure to many different industries, projects, and companies;

being location independent if you are a digital nomad;

have the opportunity to travel while you work;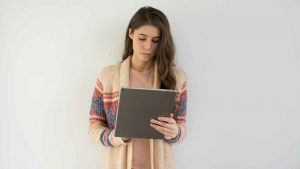 Cons
As a freelancer, you have to manage your own taxes; 😩

no access to company benefits if you are a contractor to a company;

finding reliable sources of work can be challenging;

you're running a business and have to wear all the hats of being a business owner;

working remotely can be isolating for many;

managing your time can be challenging without the structure of a 9-5. Hava, our Acadium ambassador shares 11 ways to overcome procrastination.
The skills you need (soft and hard skills)
When you're starting out building your own freelance business, or trying to organize your life as a digital nomad there are some skills you need to have. Some of these skills are more about your mindset and how you manage your time. Other skills you'll need are hard skills that will attract your first clients. 
Soft skills that freelancers and digital nomads need
Discipline

: You need to manage your time and commitments.

Resilience

in the face of rejection: You will face more no's than yes' when you start.

Organization

: You are your own boss now and there's more to keep track of.

Communication

: you need to let people know what you are delivering, when, and the requirements. Proper expectation setting is key. 🔑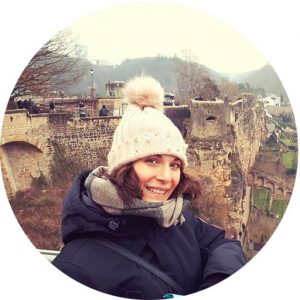 Alessia, a freelancer, and digital nomad shares how to find the skills to develop:
"When it comes to soft skills I'd say: great time management, strong problem-solving and high adaptability/flexibility.

Communication and negotiation skills go without saying."
Hard skills that freelancers and digital nomads need
Digital marketing knowledge

: you need to know how to market yourself online to find clients. This knowledge is also key to helping your clients' businesses.

Social media advertising: learning how to run ads on Facebook and Google is free and accessible today. You'll make yourself an asset to your clients by knowing how to run online ads.
Social media management

: create a good first impression of yourself online and businesses will ask you to do the same for them.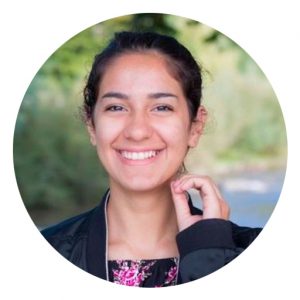 Hava Mansouri, an Acadium ambassador, and freelancer gives the following advice to those beginning their journey as a freelancer or digital nomad:
"Draw a venn diagram with 2 circles. In one circle, write the skills that you find are in high demand (by doing research on Fiverr, Upwork, or Acadium apprenticeship postings).

In the other circle write the skills that you already possess and are passionate about.

The skills that are in common, are what you should develop to be a freelancer."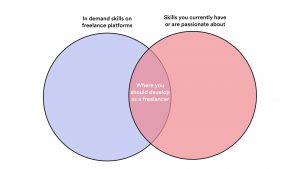 How to build the skills you need as a freelancer or digital nomad
It can be hard to build these skills without applying them in the real world with actual businesses. That's why we created Acadium so you can get mentorship from a real business to gain the in-demand skills you need to start your own freelance business. 
If you want to learn more about a digital apprenticeship with Acadium check out how to kickstart your career. You can also explore active apprenticeship opportunities or see how other apprentices transformed their job paths.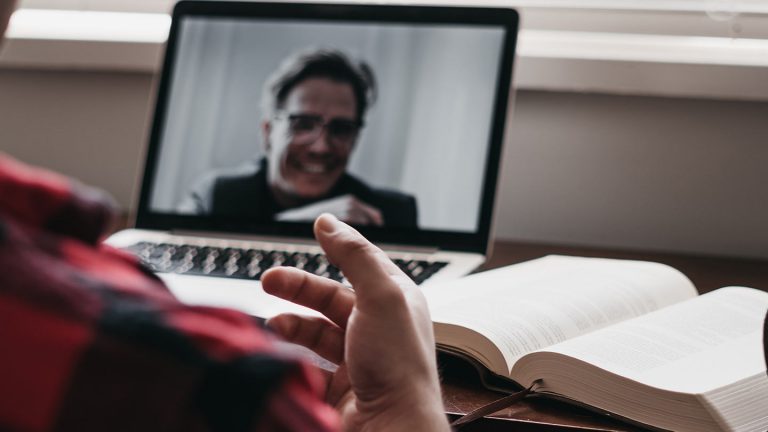 How to position yourself online
Social media presence
If you're going to get clients as a freelancer you're going to need a strong social media presence. This doesn't mean you need thousands of followers, but your personal brand needs to represent what you do as a business. You should have social media posts about the services you provide that seek to educate your audience. 
Likewise, if you're to get a job as a remote employee, having your online presence all about the role you're seeking can only help.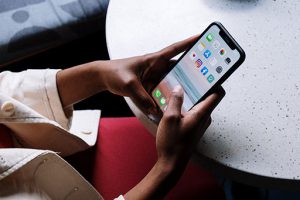 Online portfolio
A resume and cover letter only get you so far today. Many companies want to see a website of work you've done in the past. This is even more true if you want to be a freelancer. Just like any agency has a page called "our work" you should have your best work displayed online. 
There are many easy and free website builders online to make it easy to get you started like Wix or Squarespace. You can even share your work on social media sites like Dribble, or Behance.
Keep it simple and don't overthink it. Here are some helpful tips to break down making a portfolio.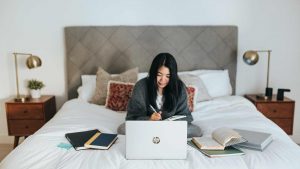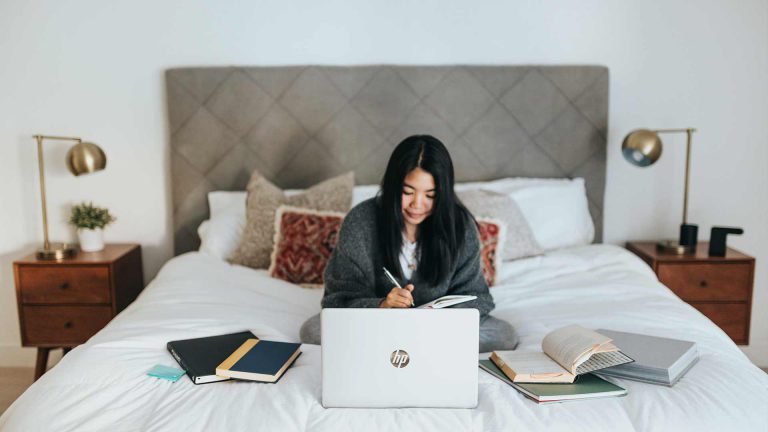 Determine which projects you want in your portfolio
If you don't have any notable projects yet decide on the skills you want to showcase and complete a project that utilizes them. If you're into web design and want to show your skills try Adobe's daily Creative Challenge to teach you how to use their tool XD. 
Document the process you follow to complete those projects
The goal is not the final product, although it should be good. Instead, the goal is how you got to that amazing final product. You want to create a case study. 
Start with the problem you're solving. Show your research and ideation into solving it. Then, explain the solution you came to, and showcase how you created that solution. When the process is outlined, document the results, or outcomes of your solution if they are applicable. Showing that you contributed to the growth of website visits, conversions, or sales of a business is great validation. 
Our lead Product Designer Matt Peixoto shares his insight on portfolio case studies:
"Employers and potential clients aren't looking for pretty designs and final products. They're looking for the problems, insights, process, and other details that drove each project to completion."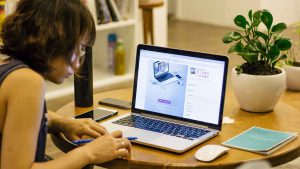 Include lots of pictures
People are visual and most likely will skim your case studies. Make sure the photos tell the story as well.
Make the case study skimmable
Include descriptive headings. When you're finished writing your case study have someone only read the headings and look at the pictures. If they can understand what you did then your headings and images are skimmable. Good job!
Create 3-5 case study projects
Try to include projects that showcase all the skills you want to use with future employers or clients.
Find and easy to use website builder to create your case study pages
Don't overthink it. Start with a free trial website on Wix, Squarespace, Weebly, or any other easy to use option. Build it and then create it on WordPress again if you want more control, or pay for their premium subscriptions to make your website your own. 
Make a home page about you and the skills you provide
Include your bio, how you can help a business that is visiting your website and a little bit about yourself. An easy structure to follow is:
Header with a picture of you and your job role (freelance digital marketer for example)

Immediately show your case studies with a button to read more. 

Include a little more about you with a link to contact you.
Make it your own with stylish design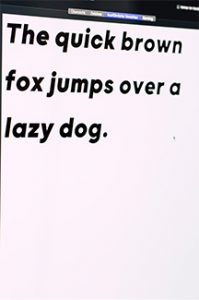 Find some fonts you love that pair well together on Font joy, Font pair, or see this post on ultimate font pairings. Also, find colours you love by visiting sites Coolors.co. 
Conclusion
When you've done everything above you'll be in good shape to start building your career as a freelancer or digital nomad. You can learn more about being a digital nomad from those who have actually done it. Sierra, an Acadium Ambassador shares how she was able to move to Italy and become a digital nomad by following these three steps. 
Similarly, Alessia Floriai is an Italian based in Ireland, has been to 21 countries and lived in 4 of them. She shares 6 insightful tips to become a digital nomad.
Being a freelancer or digital nomad gives you freedom, variety, and many opportunities for growth. Follow these steps and take it one day at a time. One day you'll be telling others how to become freelancers or digital nomads in your own blog post.
---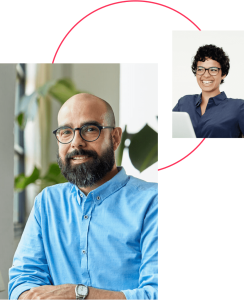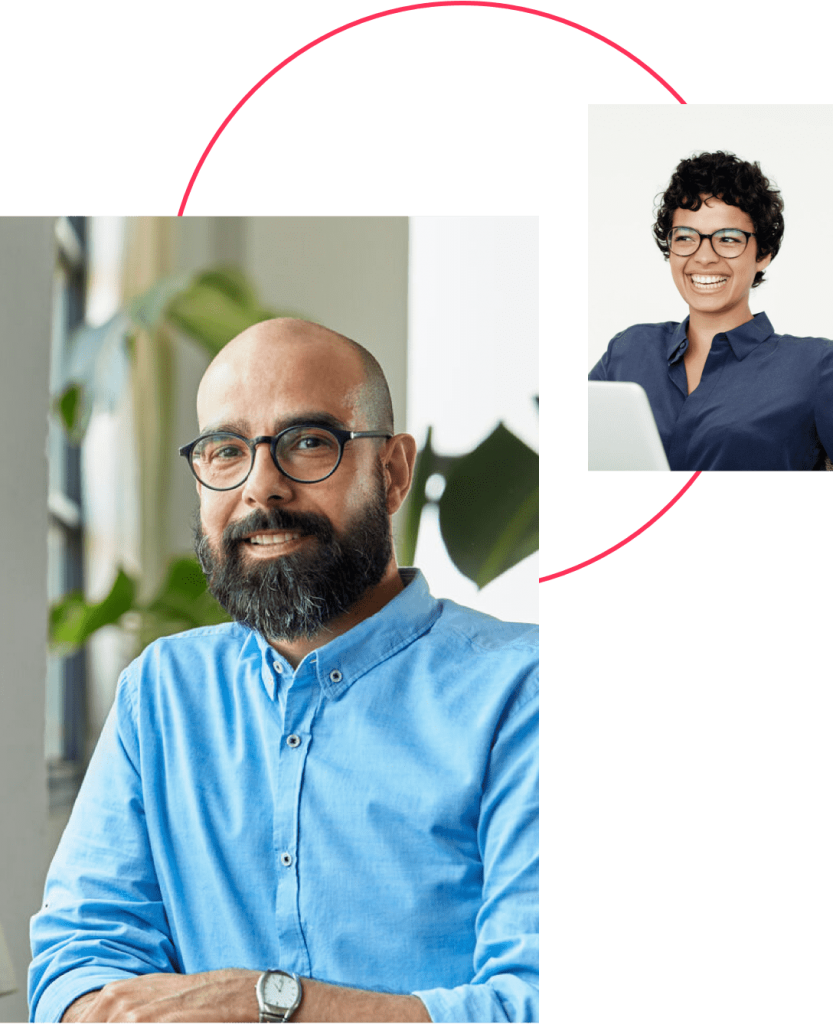 Starting your career in digital marketing can be a daunting and overwhelming journey. Don't let that stop you from joining an industry that offers variety, excitement, and endless growth opportunities. Check out The complete guide to starting a career in digital marketing if you want to get everything you'll need for your journey. 

If you want to build the in-demand skills necessary for today's market learn more about Acadium digital apprenticeships. Create a profile to begin matching with mentors. 
Ryan Carruthers is the Content Marketing Manager at Together Software, a company that builds software to help enterprise companies run effective mentorship programs within their organizations. Ryan was an Acadium apprentice and leveraged his apprenticeship experience to get a job at Together.
Top Marketing Webinars for Digital Marketers in 2023

By attending these webinars, you will have the opportunity to learn from industry leaders, gain insider knowledge, and stay ahead of the competition.

9 Types of Digital Marketing to Choose From in 2023

Digital marketing is a dynamic field that offers diverse career opportunities. From search engine optimization to social media marketing, there are many specializations to explore. Whether you're just starting out or looking to switch careers, this guide will help you find your ideal digital marketing niche.

Subscribe to our newsletter for digital marketing resources
Become a better marketer with our digital marketing resources and tips shared weekly in your inbox.

Build your marketing career for free or find marketing talent on any budget — fully remote.