Announcing: Vetted Match, the Faster and Easier Way to Get a Marketing Apprentice
With vetted match, you can get a marketing apprentice in half the time it used to take. Read on to see what "vetted match" is, how it works, and how to get started today.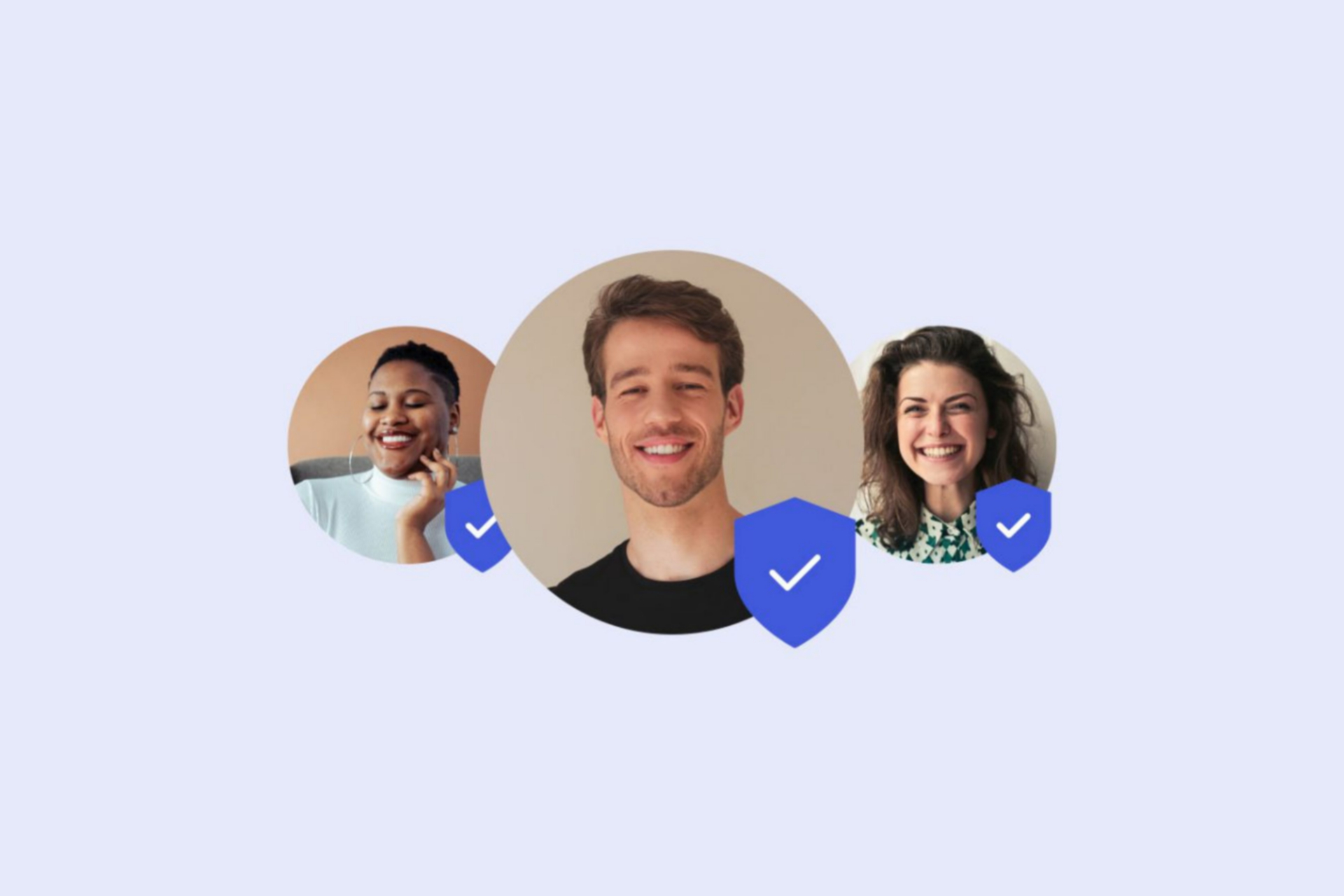 Awesome news: Acadium mentors can now get a marketing apprentice faster and easier than ever! In one to five business days, in fact.
It's all thanks to the latest update to the Acadium platform: "vetted match."
Vetted match is how we slash the time and effort it takes to find a marketing apprentice by pre-qualifying candidates for you.
With vetted match, you could be working with an apprentice just one week after posting your requirements.
No more scrolling through pages of candidate profiles … no more messaging dozens of candidates … no more hours of interviewing potential apprentices.
tl;dr
We've cut the time and effort it takes for you to get a marketing apprentice by pre-qualifying candidates in our talent pool. With "vetted match," you could be working with an apprentice one week after posting your apprentice request.
Can't wait? Get started right now.
Or keep reading for all the juicy details.
What is "vetted match?"
Vetted match is the fastest and easiest way for you to find your first—or next—apprentice, hand-picked for you.
We came up with vetted match after hearing you say that finding good candidates was taking up too much of your time.
You were having to screen the Acadium marketplace for suitable candidates and then interviewing a number of them before finding the right one.
On average, the entire apprentice recruitment process took two weeks from the time you posted an apprenticeship.
We've now cut down that time by at least half. With vetted match, you and your new apprentice could be signing a contract in five business days.
It all begins even before you submit an apprenticeship requirement. As student applications come in, we vet each applicant through 1-on-1 interviews via video conferencing.
This is a manual process where we actually get in a conversation with them to get to know them better. In these interviews, we gauge whether they have the drive and commitment to learn from you and help you grow your business.
We find out what specific digital marketing skills they want to learn and which industries they're interested in. We also take note of their style and personality—because we know these can affect the mentor-apprentice relationship.
When you submit your apprenticeship request, we go through our vetted candidates to find the most promising one. We already have more than 100 vetted candidates (and counting), so it's not at all hard to find a match.
Sound good? Here's a breakdown of the steps.
How to get a marketing apprentice in 3 steps
We've given you the big picture of what vetted match is. Now, let's get into the nitty-gritty details. Here's how vetted match works, step by step.
1. Tell us what you're looking for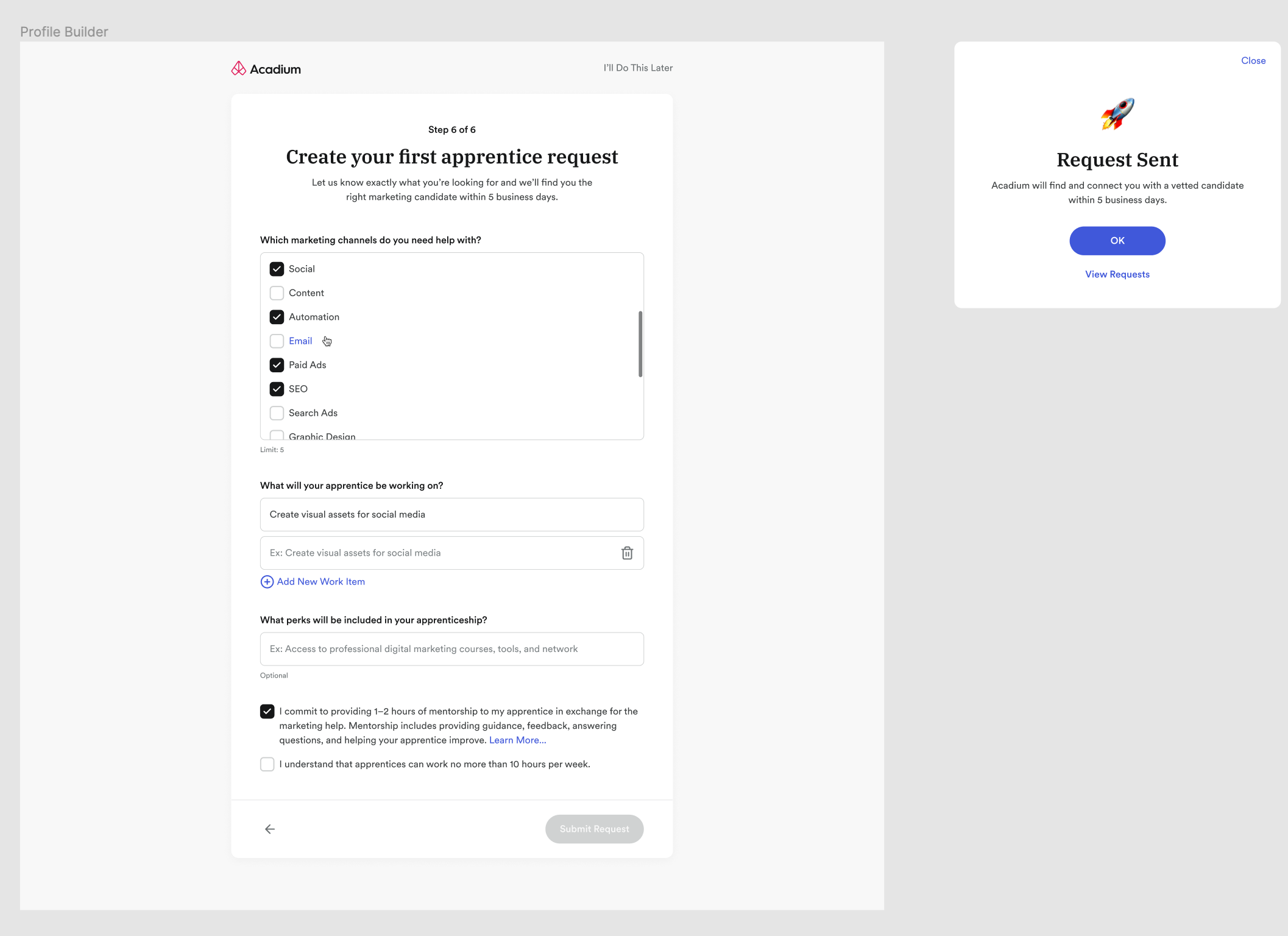 Fill in the apprentice request form to let us know about your business, the marketing channels you need help with, and the specific tasks you need an apprentice to work on.
2. Get matched
Sit back while we handpick the most promising candidate for you from our pool of vetted candidates. Once we find a match for you, we'll introduce you two by email. Set up a date and time to interview them.
3. Begin the apprenticeship
If you confirm that there's a good fit, offer the candidate an apprenticeship contract, and begin working together.
For 10 hours a week for three months, your new apprentice will work on your marketing projects in exchange for up to two hours per week of mentoring from you.
A marketing apprentice can make a big impact in your business. Here's what a few Acadium mentors say about their experience:
"My apprentice's Facebook ad and graphic performed better than the ones that me and the marketing expert came up with!"

– Tami Jaffe, Life and career coach
"The very act of seeing things happen in my business without me lifting a finger was addictive, and I very soon hired my next apprentice."

– Vicky Etherington, The Website Mentor
"Apprentices have been a savior for me. They have a fresh mind. Some of them have been really creative, coming up with really great stuff I wouldn't have come up with myself."

– Vibeke Foss, business consultant
Ready to get started? Log into your Acadium account and upgrade your membership.
Why vetted match is better for you
With vetted match, we pre-qualify the candidates so you don't have to. By the time you meet a potential apprentice, we've already vetted them. This means finding an ideal candidate takes less work and less time on your part.
This process also gives you high-quality candidates because we only introduce you to the ones we've personally handpicked for you.
Here's an example:
September 22 – Sarah posts an apprentice request the vetted match begins
September 23 – We find a match for Sarah and send the introduction email
September 27 – Sarah and her apprentice sign the apprenticeship contract
Faster, less effort, and better candidates. What's not to like?
Frequently-asked questions (FAQs) about vetted match
I became an Acadium member before you launched vetted match. What does this mean for me?
As an existing Acadium member, you're grandfathered into your current plan. This means you can continue to discover candidates in the marketplace. At the same time, candidates may discover you and initiate conversations with you. You'll also pay the same quarterly or annual subscription that you're currently enrolled in.
In other words, nothing changes for you. We will not be matching you with vetted candidates.
However, if you prefer to be in the vetted match process, you have the option to upgrade to the new membership with vetted match. Contact our team to change your membership.
What if the candidate you picked for me isn't a good fit?
If after interviewing the candidate, you don't think it's a good match, just let us know. We'll find another match for you.
Next steps
Are you ready to meet your handpicked apprentice? Become an Acadium member today.
If you want affordable marketing help but you have questions about becoming an Acadium mentor, then book a call with our team. We'll be happy to help you decide if an Acadium membership makes sense for you and your business.
Lexi Rodrigo is the former Content Manager at Acadium. As a marketing and communications professional and course creator, she helps remarkable brands get seen, heard, and known. She has been a digital marketer and copywriter since 2008. She's also the co-author of "Blog Post Ideas: 21 Proven Ways to Create Compelling Content and Kiss Writer's Block Goodbye." When she's not reading or writing, Lexi bakes bread, grows food, and takes long walks. Connect with Lexi on LinkedIn.
9 Types of Digital Marketing to Choose From in 2023

Digital marketing is a dynamic field that offers diverse career opportunities. From search engine optimization to social media marketing, there are many specializations to explore. Whether you're just starting out or looking to switch careers, this guide will help you find your ideal digital marketing niche.

Meet Acadium Plus: The Program to Help You Secure the Right Marketing Role

Take your digital marketing career to the next level with Acadium Plus. Whether you're a total novice, or you've already completed an Acadium apprenticeship, Acadium Plus will make sure you're fully equipped to get out there and land your dream digital marketing job.

Subscribe to our newsletter for digital marketing resources
Become a better marketer with our digital marketing resources and tips shared weekly in your inbox.

Build your marketing career for free or find marketing talent on any budget — fully remote.