Entry Level Advertising Jobs and What You Need to Get Hired
How can you land entry level advertising jobs? Quite easily, if you know what each job entails, what skills to improve, and how to navigate job interviews! Read on and learn how you can enter the fast-paced world of advertising, with or without work experience.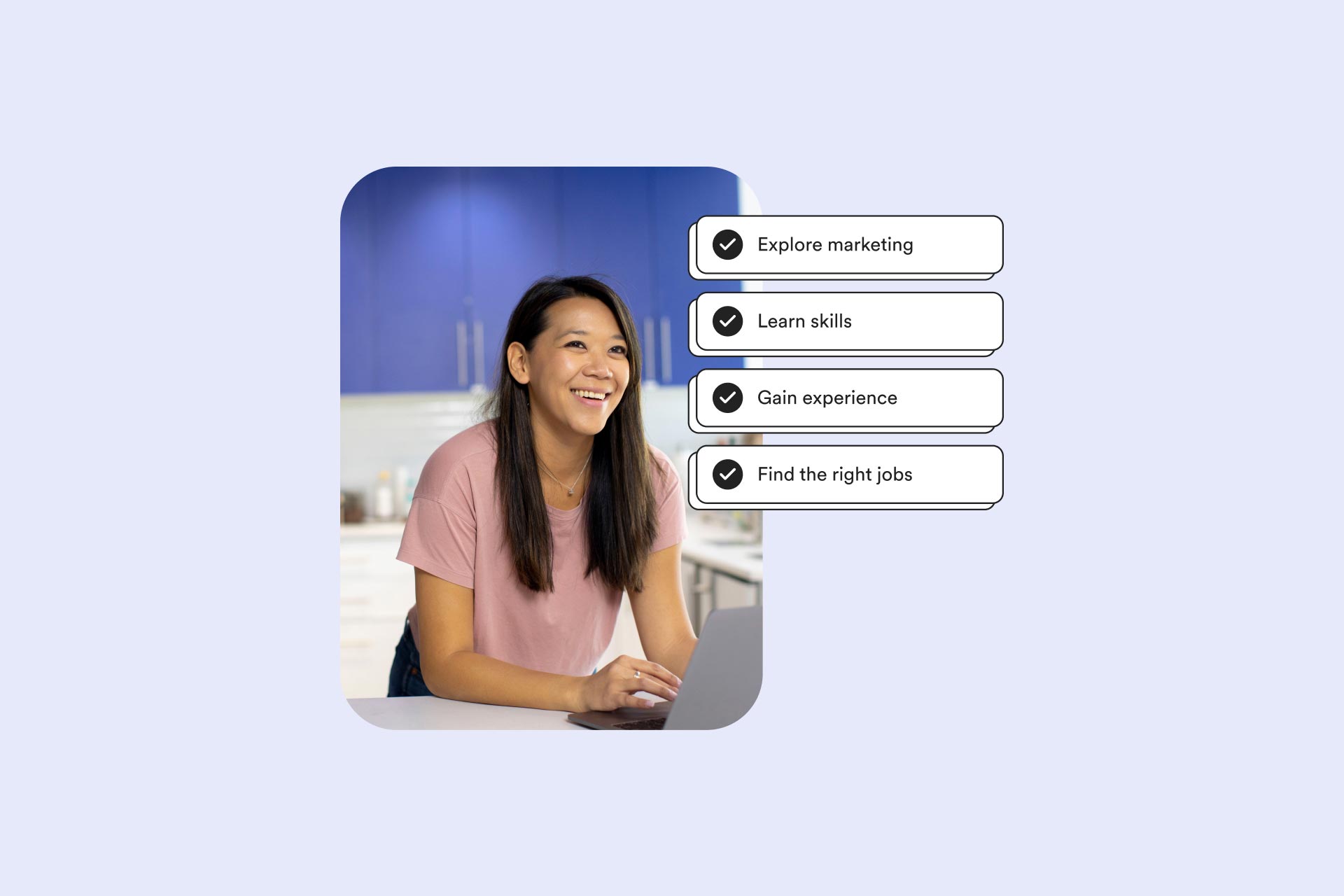 Entry level advertising jobs are your best bet to break into the advertising world, with or without previous work experience. With this article, you'll learn what entry level advertising jobs you can apply for, the skills you need to impress in your interview, as well as tips on navigating your new workplace.
Your advertising career path starts with good information. So read on and discover more about these topics:
But before you read on, did you know that you can get on-the-job experience through apprenticeships? To that end, Acadium apprenticeships are structured to help people develop work-relevant skills even with zero work experience.
You'll learn through real-world marketing tasks set by a mentor for 90 days. Your mentor will give you actionable feedback, as well as access to software that you can train on to give you an edge in applying for entry level advertising jobs.
Acadium Apprenticeships
Gain work experience
Get work experience, star reviews, and portfolio pieces. Work remotely with a mentor and learn practical marketing skills to land a job in advertising. 100% remote and always free.
One of the questions you may have as you look through entry level advertising jobs is: "Is there a difference between advertising and marketing?" The brief answer is yes! But why is that the case?
Is there a difference between advertising and marketing?
Imagine marketing as a puzzle. You can't form the complete picture unless you have all the pieces. Advertising is, unquestionably, a big piece in the marketing jigsaw.
To put it another way, think of what marketing covers. The American Marketing Association has this definition for marketing:
"Marketing is the activity, set of institutions, and processes for creating, communicating, delivering, and exchanging offerings that have value for customers, clients, partners, and society at large."
In short, traditional and digital marketing makes target audiences aware of a business's products and services. They then use multiple marketing tactics—like advertising—to make audiences want to buy in.
Moreover, marketers research and analyze the current wants and needs of customers to anticipate future trends. If you're a marketer, you also have to think about the distribution, positioning, and exposure of their products and services.
Advertising, as defined earlier, is part of the "awareness" aspect of marketing. Every member of an advertising team is responsible for the creative positioning of a client's goods. And what creative positioning means in this case is making your client's goods and/or services stand out from their competitors.
In short: marketing covers everything you do in the process of promoting and positioning your brand, and advertising is one of the spokes of its umbrella.
You're likely wondering what makes an advertising agency tick to create ad campaigns that seamlessly work with their client's marketing strategies. So let's take a look at what entry level advertising jobs are out there, and how they function within an ad agency.
Types of entry level advertising jobs
Entry level jobs in advertising agencies are all junior positions, despite some of the terms used in job postings. You may recall that an agency's structure depends on how big it is, and if they specialize in a particular tactic. For the most part, you can count on big agencies having the following departments:
Creative services
Accounts
Marketing
Administration
Management
Finance
In order to answer the big question of "what kind of jobs are in advertising", here are some junior positions you can apply to with little to no experience.
1. Junior copywriter
Popular skills:
Firm grasp of writing and language conventions
Communication and interpersonal skills
Problem-solving and research skills
Adaptability for voices
Must-have tools:
Your role as a copywriter is to craft copy that will drum up interest, sales, and achieve milestones as specified in the client's brief—the goals of an advertising campaign.
Aside from coming up with enticing slogans, your deliverables include scripts for video and audio content, landing pages, brochures and billboards, and so much more! You'll also do research on how to best execute briefs, and produce content in the client's brand or voice.
Your work as a copywriter doesn't stop there. You'll work closely with art directors in particular, to ideate or conceive the concept, execution, and follow-through of a campaign.
Some clients expect you and art directors to monitor campaign effectiveness, while others don't. Either way, you'll also be in charge of updating and amending campaigns according to client feedback, before and after launch.
Without doubt, you need a solid understanding of design principles even as a copywriter—something you'll learn more about in a later section!
2. Graphic designer
Popular skills:
Strong grasp of design and photoediting software
Good sense of artistry and audience appeal
Ability to visually represent messages and ideas
Able to manage communications and time well
Must-have tools:
Programs for photo editing, raster and vector graphics, page layouts [E.g., Photopea, Colorcinch]
Graphics tablet and high-resolution monitor
Hard and cloud storage
Graphic designers work with art directors and copywriters to create visuals in line with the vision for the ad campaign. While smaller ad agencies merge responsibilities for graphic designers and art directors, others prefer to separate them to allow each role to focus on their immediate tasks.
Your work will follow the interpretation of the client brief by your copywriters and art directors. But you'll be encouraged to speak up and give your ideas for visualizing the message you want to convey on behalf of the client.
Not only will you create images, layouts, and other deliverables, you'll also test how your designs work in the mediums they'll be placed in. In other words, you'll have to learn how to create for multiple mediums, including magazines, billboards, online advertisements, and social media.
3. Ad operations coordinator
Popular skills:
Excellent communication skills
People and project management
Campaign implementation, data reconciliation
Lead generation
Must-have tools:
When the campaign's out the door, then the ad operations coordinator and their team will step in. One of your roles in ad ops is to monitor ad campaign performance. You'll also coordinate with client-side teams to track ad implementation, which includes the use of tracking tags, campaign managers, and other ad services.
You'll also have work before the campaign's implementation. As such, you'll identify all creative and technical requirements agency teams must comply with in implementation. What's more, they have to coordinate with the clients to guide them on best practices on projects.
4. Junior account manager
Popular skills:
Great negotiation and presentation skills
Client and industry research
Sales plan analysis, creation, and support
Budget management
Must-have tools:
Your role as a junior account manager is to be the liaison between your agency and clients. It's up to you to communicate with clients to determine their must-haves and priorities. What's more, you'll both ensure that creatives are promptly briefed and negotiate with clients on their behalf regarding deadlines and deliverables.
Furthermore, you'll have to ensure the account's budget remains on track, with everything properly invoiced. You'll also have to win pitches to new clients for your agency.
Entry level advertising job salaries
Your average entry level advertising job salary depends on what position you're applying for.
For instance, ZipRecruiter reports an annual pay of $44,139 for junior copywriters in the US. Payscale, on the other hand, notes an average base pay of CAD$39,306 for Canada-based junior copywriters, based on 28 salaries submitted to the site. And across the pond, Indeed notes a yearly salary of £21,486 in the UK, based on 121 reported salaries.
Graphic designers with less than one year of experience in the US earn $40,293 a year according to Indeed. Meanwhile in Canada, Payscale reports a base pay of CAD$38,601. Over in the UK, Indeed indicates an average salary of £21,298.
US-based junior account managers work out an annual pay of $42,718, according to ZipRecruiter. Payscale writes that the base salary for at least 24 Canada-based junior account managers is CAD$43,747. Then, Glassdoor notes an annual pay of £26,234 in 144 reported salaries for their UK-based counterparts.
Ad ops coordinators, ZipRecruiter reports, make $51,355 on average in the US. Across the border in Canada, Glassdoor marks a base pay of US$54,327, based on 551 salaries. For their peers in the UK, the median is £27,000, according to 78 salaries on Indeed.
Now that you have a rough estimate of what entry level advertising jobs make, your next step is to gear up for the job hunt in earnest.
How do I get entry level advertising jobs without experience?
Is it hard to get a job in advertising?
You'll have no problem landing entry level jobs in advertising agencies if you display work readiness and either work experience or a related degree. To improve your preparedness, here are some tips you'll need for successful interviews and working with your new team:
1. Prepare your resume and portfolio
You need to prepare a couple of things before you set out for interviews. Namely, you need a written resume or video resume, and an online portfolio. These two items are your first chance to make a good impression on the hiring manager, and may even tip them to give you an interview.
Portfolios are particularly important for copywriters and graphic designers! These will show your work readiness to recruiters and hiring managers. Your pieces will let them know that you're creatively flexible, ready for work, and coachable as you ease into the job.
2. Get ready for the interview
When you do get a video job interview, ensure that you're formal but authentic. Hiring managers and whoever hops on your interview can tell when you're just saying what you think they want to hear.
They'll also appreciate genuine, well-thought out questions. An example is: "What milestones and skills development would you like for me to reach in three, six, and nine months?" With this question, you'll discover the priorities for the position you're applying for, setting expectations, and coaxing real insight from the interviewer.
3. Understand basic design principles
Your understanding of basic design principles is crucial for both creative and technical positions. To put it in practical terms, let's explore a common scenario in an ad agency:
A client wants revisions done for a key visual or copy in a campaign. Their comments run the gamut from "Oh, I don't like this color", or "This is great, but can you make it pop more?", and even "What if we make it more pop culture?".
Instapage writes that it's important to distinguish between good and bad feedback. Good feedback isn't necessarily positive! What makes it good is that your client is able to articulate their pain points with what you've submitted.
But what if your client isn't equipped with the knowledge to do that?
This is why developing an eye for design matters. You're able to help clients parse what is it that they actually want in the revisions, address their pain points, and prune unnecessary feedback. You can deduce what it is about the color that irritates them, or what they want emphasized, and what trend they are referring to, or why they feel it's necessary at all.
4. Develop social media skills
You may hate it, love it, or tolerate it, but social media is important in advertising. Not only does social media allow advertisers to bypass the growing problem of ad blockers, but they're able to deliver consistent results to clients. They may even go viral!
Paid advertising and social media marketing matter in advertising on social platforms. Each platform has different trends for both tactics, so you should keep an eye out and stay updated.
5. Brush up on your soft skills
You'll encounter a lot of personalities in advertising! Keeping an open mind is important to keep up with these personalities. And in order to have that mindset, you'll need to train your soft skills.
What are soft skills? The foremost ones are communication, problem-solving, active listening, and load management. These skills help you navigate the workplace and establish a rapport with clients, co-workers, and whoever you choose to network with.
6. Get a basic understanding of marketing
As mentioned in the beginning, advertising is one spoke of the marketing umbrella. It benefits you to learn about marketing principles, as it gives a more holistic view of advertising. You'll learn how to conduct market research, interpret data in creative and informative ways, and optimize campaigns for maximum results.
Interested in learning practical job skills? Check out Acadium's apprenticeship program. Young adults with no relevant experience and adults looking to pivot to other fields can start their journey here.
You'll work with a mentor on practical, real-world based tasks that will help you develop transferable marketing skills. For only 10 hours a week, you'll develop a firm grasp of marketing basics in three months. Plus, you'll end up building a reputable portfolio, gain reviews that show the value of your skill sets, and a certificate proving your experience.
A start in entry level advertising jobs is a great way to build your career. Prepare well, and you'll be well-equipped to keep pace in this industrious field.
Five years in journalism, two in proofreading, and eight in freelance ghostwriting. Creating content that's entertaining, informative, and actionable shapes my writing. When not scrutinizing my copy, I'm likely watching hockey.
Top Marketing Webinars for Digital Marketers in 2023

By attending these webinars, you will have the opportunity to learn from industry leaders, gain insider knowledge, and stay ahead of the competition.

9 Types of Digital Marketing to Choose From in 2023

Digital marketing is a dynamic field that offers diverse career opportunities. From search engine optimization to social media marketing, there are many specializations to explore. Whether you're just starting out or looking to switch careers, this guide will help you find your ideal digital marketing niche.

Subscribe to our newsletter for digital marketing resources
Become a better marketer with our digital marketing resources and tips shared weekly in your inbox.

Build your marketing career for free or find marketing talent on any budget — fully remote.