How to Write a Marketing Cover Letter: The Unconventional Guide
If you're applying for a marketing job, you can't send an ordinary, boring cover letter. You need a marketing cover letter: One that "sells" you to the recruiter so effectively that they cannot resist reading your resume and inviting you for an interview. We show you how in this post.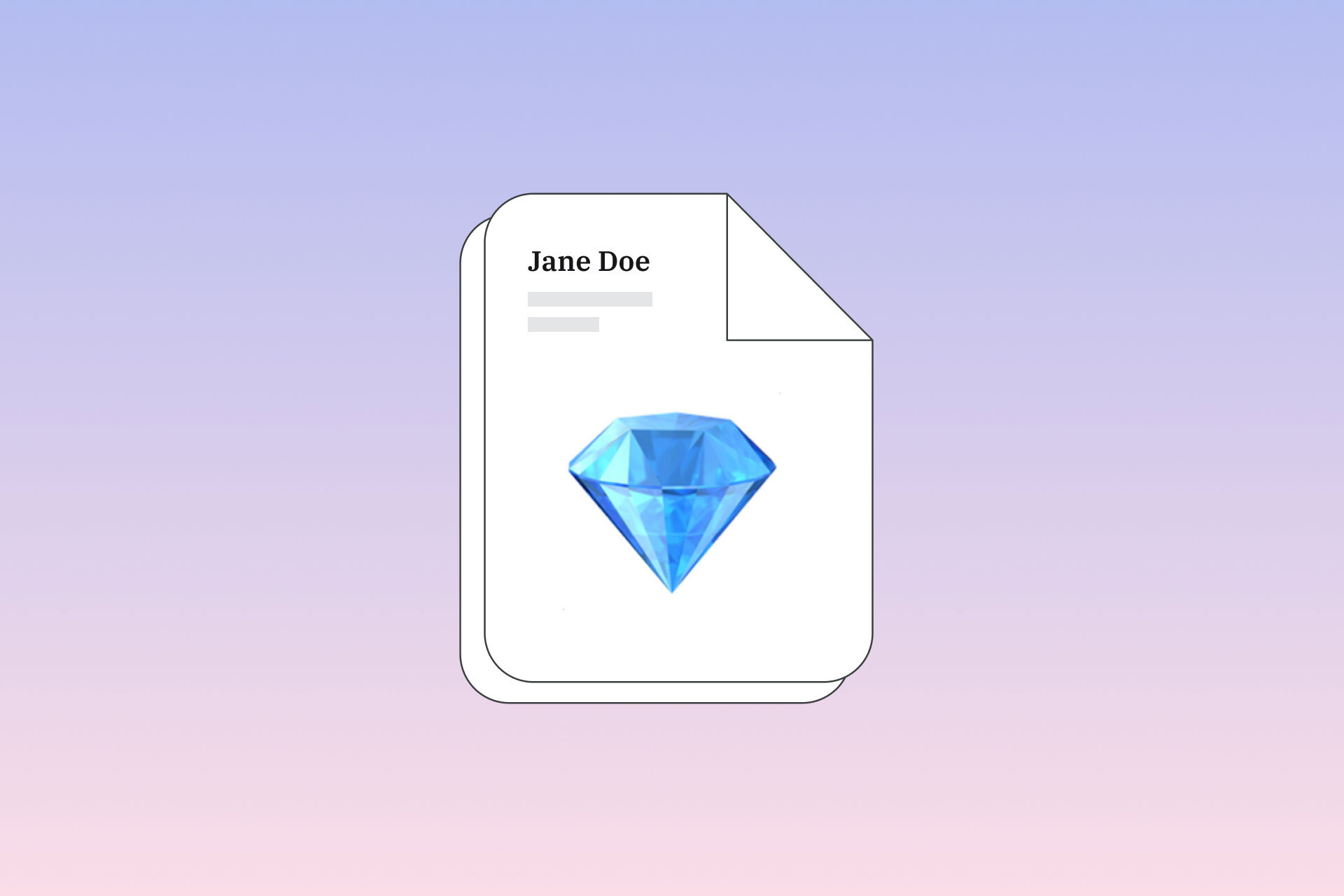 Getting that coveted marketing job begins with writing a powerhouse cover letter. It gives the hiring manager an excellent first impression of you, convinces them to read your marketing resume, and persuades them to invite you for an interview.
"How do I write a cover letter for a marketing position?"
Now, you can find plenty of cover letter guides, templates, and examples online. But if you're applying for a marketing job, then your cover letter must do even heavier lifting. It can't be ordinary or boring. It needs to be engaging and creative.
If you're applying for a marketing position, then you need a marketing cover letter.
It's your first marketing test: Can you sell yourself on your cover letter? If not, then what does that say about your marketing skills?
This is why in our job search program, Acadium Plus, we teach our students how to write not just any cover letter but marketing cover letters—making it almost impossible for the hiring manager to resist interviewing them.
How do you sell yourself in a cover letter? Not by following conventional cover letter advice and templates. And that's what this post is all about.
Keep reading to learn how you can create a cover letter that is, in fact, a marketing piece.
What do you put in a marketing cover letter?
One of the biggest decisions you have to make is what to include in your cover letter. Think of it as a "trailer" for your marketing resume: it's a teaser of what's to come (in your resume) but doesn't tell the whole story. They'll have to read your resume and interview you for that!
How do you write a cover letter that does all that?
We recommend including the following elements in your marketing cover letter:
1. Introductory sentence
What is the best way to start a cover letter? Forget those boring first sentence examples where you simply state what role you're interested in and where you saw the job posting.
Instead, begin with an introductory sentence stating specific skills you have, which are relevant to the job you're applying for.
For example:
As a well-rounded marketer specializing in paid search and data analysis, I believe I have the background and experience to succeed in the Paid Advertising Manager role.
2. Three key points
Highlight three areas of experience, skills, or competence that tell why you're the best fit for the role. These should perfectly align with the job requirements. There should be a one-to-one correspondence between the top three things they're looking for and the three key points you highlight.
Read and analyze the job description to identify the employer's top three requirements for the role. And then for each requirement, identify a specific example of how you meet it. Those are the three key elements you will include in your cover letter.
Here's an example of how you might write about one key point:
The job description says you're looking for someone with a data-driven marketing mindset. As an expert in Excel, I focus on data, as well as my instincts, to drive my marketing channel optimization decisions and strategies.
For example, in my current role as data analytics apprentice for Acme Corporation, I managed the paid ads dashboard. By analyzing the data, I identified a way to optimize the company's Facebook ads, which resulted in a 50% increase in conversion rates and a 30% decrease in cost per acquisition.
Do the same for the remaining key points you've identified.
If you're just getting started in marketing, you may be wondering, "How do I write a cover letter for marketing with no experience?"
If you don't have a directly relevant qualification to point out, you must get creative. You have two options:
Find something relevant. Dig deep into your past to find a relevant experience you may be overlooking. Don't forget volunteer work, pro bono work, school projects, personal hobbies, internships, and apprenticeships.
Make an experience you do have, relevant. The other option is to identify a transferable skill or experience, and explain how it can apply to the role. Skills like problem solving, creativity, and resourcefulness, for example, are transferable and valuable in any job.
Thin Marketing Experience?
If lack of experience is a problem, then go and get marketing experience! A marketing apprenticeship through Acadium is a wonderful opportunity for you to gain experience working on real-world marketing projects under the guidance of a mentor.
3. End with a cliffhanger
A common question we hear is, "How do you end a cover letter?" Great question!
We recommend ending your cover letter with a cliffhanger—a curiosity-arousing nugget—that gives the recruiter a compelling reason to interview you.
What works particularly well is citing hard numbers and then inviting the hiring manager to a conversation.
Something like this:
I look forward to discussing how I was able to decrease CPC by 11.7% and achieve a CTR of 32% in a recent Google ads campaign.
Another variation is to quote a former supervisor or client giving you positive feedback. For example:
Would you like to know why my manager calls me the "Facebook ads whisperer?" Let's talk!
7 more tips for writing a marketing cover letter
Now you know the three main parts of a marketing cover letter. Here are a few more tips to keep in mind:
1. Make the cover letter easy on the (recruiter's) eyes
A cover letter should only be one page long. It also needs to be easy to read. Remember, recruiters have to go through hundreds of applications, on average. They'll be quickly skimming and scanning over cover letters.
Make it easier for them to do so:
Avoid long sentences
Cut down or split up long paragraphs
Break up text with sub-headings
Use bullet points
Use bold and italics for emphasis (but don't overdo it!)
Steer clear of busy page designs and layouts
2. Match the tone of the job description
Not sure whether to use a formal or a casual tone? Take your cue from the culture of the company you're applying to. In general, if it's to a Fortune 500 company, your cover letter should probably be more formal than casual. Even then, you should still avoid sounding stiff and stuffy.
Should you use humor when applying to a casual workplace? If you're naturally funny, try it. Otherwise, it might be best to avoid.
3. Use numbers, numbers, numbers
Always cite concrete results. Use numbers whenever possible, and be ready to back them up with documentary evidence. Screenshots and reports from Google Analytics and other platforms you use are great sources of marketing metrics you can leverage on your cover letter and resume.
4. Don't stress out over addressing a specific person
Conventional advice tells you to do the research to find the name of the specific person who'll be evaluating the job applications. If you can do so, then go ahead. Let's say you know someone in the company who can easily get you that information, then great.
But if the research will take you more than a few minutes, then you're probably better off addressing the cover letter to "Hiring Manager."
From experience, this step isn't not necessary. Sure, it'll catch the recruiter's attention if you're able to address them by name. But by no means does this make or break your chances of getting hired. You're better off using the time and energy on polishing your marketing cover letter and resume.
5. Make sure your marketing cover letter is ATS-compliant
An Applicant Tracking System (ATS) is a software some companies use to screen all the cover letters and resumes they receive. This saves them time from having to sift through applications manually.
If your cover letter and resume are not ATS-compliant, they could be rejected by the ATS. This means your application may never be seen by human eyes.
To make sure ATS can read your cover letter, follow these tips:
Use a single-column layout
Don't use tables
Use standard fonts
Repeat keywords from the job description
Keep from using special characters, images, and diagrams
Run your cover letter through a free ATS checker to see if it's "robot approved."
6. Show enthusiasm
Don't be afraid to express how enthusiastic and passionate you are about the job. This gives your cover letter personality. Hiring managers also find that positive energy attractive.
7. Always send a marketing cover letter
Some job postings may not require you to submit a cover letter, instructing applicants to simply send a resume. Others may say a cover letter is optional. Even then, it's a good idea to send a cover letter anyway.
In a survey of 200 hiring decision-makers, 83% of respondents said cover letters "are important" in their hiring decisions. An equal percentage (83%) also said a well-written cover letter can get you an interview—even if your resume doesn't measure up.
That's how powerful a good cover letter is!
Download this marketing cover letter template
Before you go, we've put together this marketing cover letter template to remind you of the key takeaways from this post.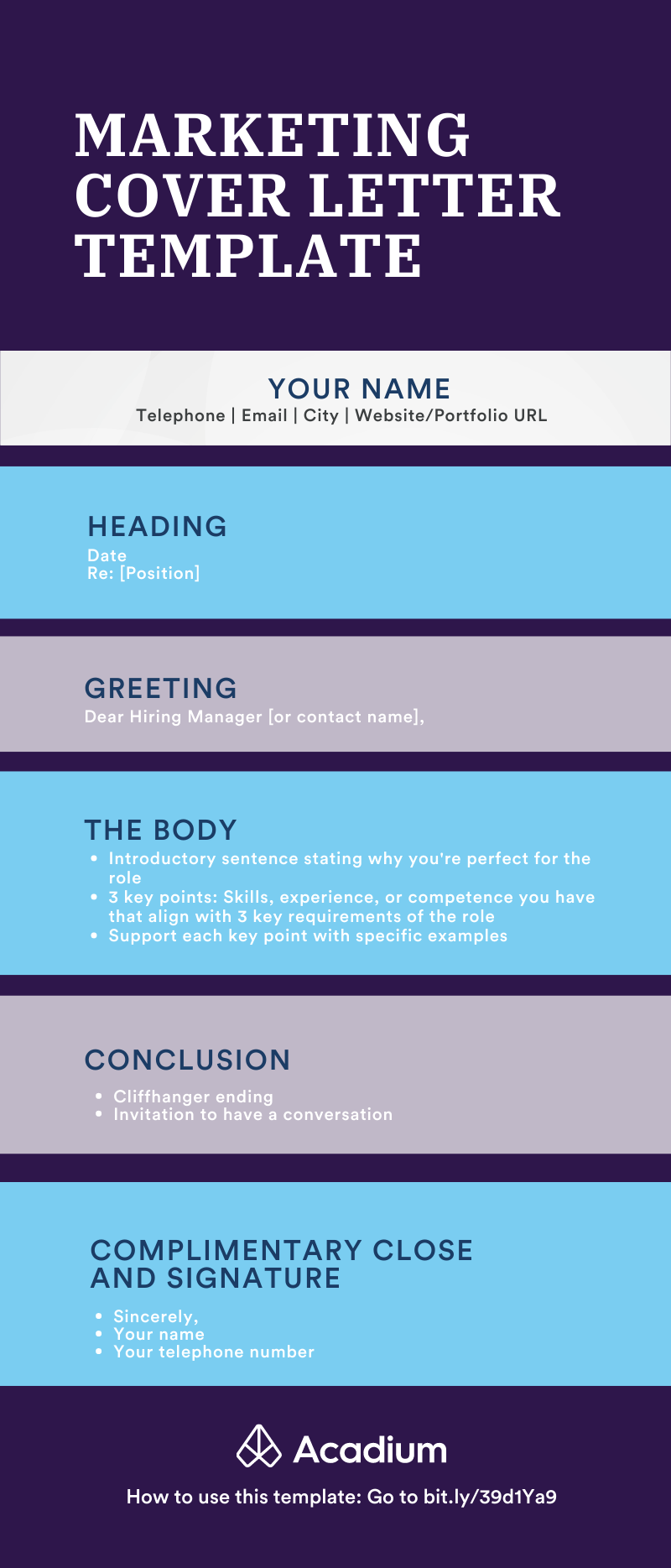 Try this marketing cover letter template on your next job application. It just might increase your chances of getting to the next step: the interview.
Lexi Rodrigo is the former Content Manager at Acadium. As a marketing and communications professional and course creator, she helps remarkable brands get seen, heard, and known. She has been a digital marketer and copywriter since 2008. She's also the co-author of "Blog Post Ideas: 21 Proven Ways to Create Compelling Content and Kiss Writer's Block Goodbye." When she's not reading or writing, Lexi bakes bread, grows food, and takes long walks. Connect with Lexi on LinkedIn.
Top Marketing Webinars for Digital Marketers in 2023

By attending these webinars, you will have the opportunity to learn from industry leaders, gain insider knowledge, and stay ahead of the competition.

9 Types of Digital Marketing to Choose From in 2023

Digital marketing is a dynamic field that offers diverse career opportunities. From search engine optimization to social media marketing, there are many specializations to explore. Whether you're just starting out or looking to switch careers, this guide will help you find your ideal digital marketing niche.

Subscribe to our newsletter for digital marketing resources
Become a better marketer with our digital marketing resources and tips shared weekly in your inbox.

Build your marketing career for free or find marketing talent on any budget — fully remote.