7 Reasons You Need a Social Media Content Creator & How to Find One
If you're a small business, you probably don't have a dedicated person to create content for your social media channels. If that sounds like your situation, then learn why you should hire a social media content creator to help grow your business.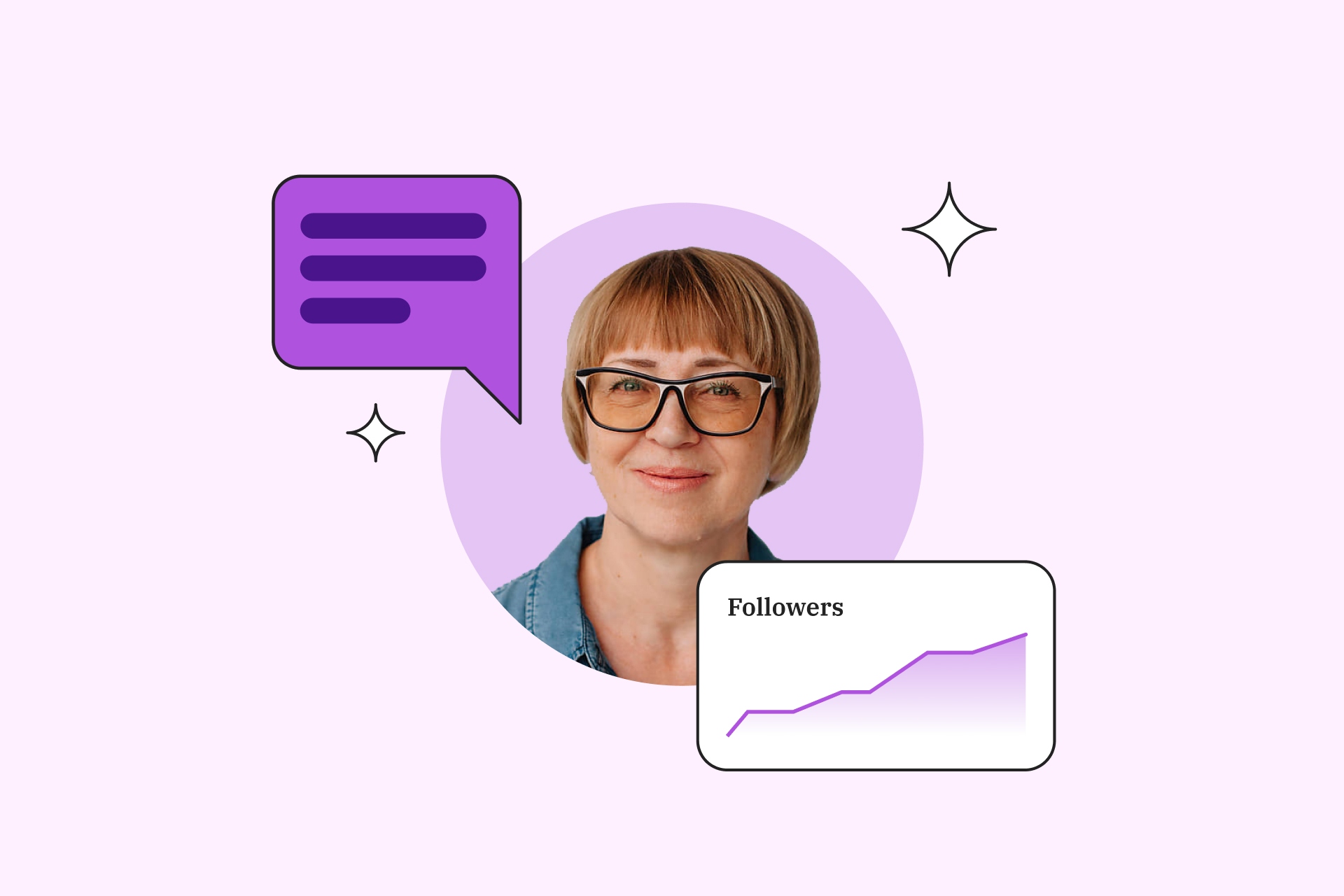 Social media is the most powerful marketing tool in the world right now. You can reach millions of people at once and have them engage with you on a regular basis. The problem is, though, that social media changes all the time — so it's hard to keep up. Fortunately, there are social media content creators who specialize in just that: creating content for social media.
A social media content creator knows what works best when it comes to generating clicks, likes, shares, and conversions from the audience. So if you want to drive more traffic through your social channels then hiring a social media content creator could be just what you need!
In this post, we'll look at seven reasons why having a dedicated social media content creator for your brand makes sense, how to find one, and some examples of companies who've hired content creators with great results!
Apprenticeships For Business
Get marketing help, handpicked for you
In 1–5 business days, we'll connect you with a vetted marketing apprentice who'll help grow your business as you mentor them.
7 reasons to hire a social media content creator
1. No one is engaging with your content
Are you posting consistently but still getting no eyeballs on your content?
A good social media content creator will know what kind of content is most appealing to your customers and can help tailor your social posts accordingly by creating a solid social media strategy.
He/she will also be adept at conducting a social media audit and getting an understanding of which social channels to prioritize and why.
Having a social media content creator means you can now leverage your social media presence to
generate brand awareness,
increase social media following,
generate new leads, and engage with existing ones,
and generate sales.
2. You do not have the time or knowledge to build a social media presence
We understand that being a small business owner is no cakewalk. You have already got a lot on your plate to juggle every day.
However, when it comes to social media, maintaining an active social presence is something that requires a lot of planning, time, and effort. Also, if done incorrectly or by someone who doesn't know much about social media can lead to wasting of the most valuable resource — time.
See how Vicky doubled her business by learning the power of delegation 👇
A good content creator will be familiar with how to engage with customers using the platform-specific features (e.g. hashtags). They'll also consider things like best times to post, creating a hashtag strategy, etc.
By hiring a social media content creator to do this for you, not only you will save yourself the stress of making mistakes but also get ample room in your daily schedule to focus on other important aspects of business like customer service and sales.
3. You are unable to provide timely response to customers
Promptly answering the queries and concerns of your customers should be your utmost priority when it comes to building better customer relationships. This is a huge factor that determines customers' opinions about a brand and helps them develop trust for the brand.
As per the 2022 social media trends report by SocialMediaToday, "Responding to 8X more tweets gets 10X more mentions from customers."
A social media content creator is great at understanding and managing the online community. So they'll know what kinds of questions are likely coming from the community and will already be prepared for those inquiries before they're asked by crafting strategic responses, including automated responses.
They will also be able to create content around the pain points and commonly asked questions.
4. You have no idea about the current social trends
Do you get confused when someone mentions 'trending Reel music'? Or are you one of those people who simply hate social media?
The world of social media is constantly changing. If you're not keeping up, you could be left in the dust by your competitors.
A social media content creator can keep up with these changes for you so that you don't have to worry about it yourself. He/she will be comfortable with the latest social media trends and be able to incorporate the same into your strategy.
You can be assured that all your posts will be timely and relevant to current events so that people will continue engaging with them long after they've been published.
This will help you stay ahead of the curve and relevant to your audience and industry.
5. You lack an eye-catching social feed
A successful social media presence needs more than just a strong strategy—it also requires an eye-catching social feed (and even a catchy hashtag).
Most social media content creators are experts at designing engaging visuals that will get your audience excited about what you have to offer. In fact, visuals are processed by the human brain 60,000 times faster than text.
This also explains why the shoppable post feature is one of the currently hottest trends. If you are an e-commerce company, for instance, a social media professional can use your product images to create these shoppable posts for you on Instagram, YouTube, etc., and boost sales.
The basis of the most popular social media platforms such as Instagram, Facebook, TikTok, etc. is a visual feed. Visual content — images, infographics, videos, etc. are key to social media marketing and a social media content creator is the best person to do that for you.
However, do not confuse a social media content creator with a graphic designer. You may still need a graphic designer for creating branded visuals for your marketing needs. Having said that, a social media content creator will most likely know how to use basic design tools like Canva, Photoshop, etc.
6. You don't know how to write great captions 
An organized and good-looking feed is great but you will also need engaging content — such as appealing social media captions with appropriate call-to-action — to persuade your audience to take action.
A social media content creator can create exactly that for you. Writing enticing captions that connect with your followers' interests and needs and drive engagement is something that comes as second nature to content creators.
Captions can help you boost engagement (likes, shares, saves, etc.) as well as increase traffic through links. So do not underestimate the importance of a good caption.
7. You don't know how to run social media ads
Social media advertising tools can be an incredibly helpful way to reach your target audience. As your business grows, it's important to have a team member who knows how these tools work.
A social media content creator understands the pros and cons and limitations of various social platforms. They also understand how to best utilize the advertising tools that can help you achieve your desired business goal. They can track how your ads perform, create more effective ads, and measure their return on investment (ROI).
Takeaway
A social media content creator is an important piece of your marketing team. This role is one that's evolved over time as social media has become increasingly popular and influential in business. As a result, it's a great fit for any size business—from small businesses to large enterprises, which all benefit from having someone on their team who can create effective and engaging content at scale.
So if the reasons above resonated with you, it is time for you to get a social media content creator for your business.
A social media creator role can be easily onboarded and hired remotely. They are easy to find online and are generally available on short notice, so you don't need to wait for months for the perfect candidate to become available at the precise moment when your budget allows for them. Check out these tips for working with a remote social media marketing team.
How to find a social media content creator
At this point, you've likely already decided that you need a social media content creator on your team. But how do you find the right one?
The first step is to think about what kind of person would be a good fit for your business. Here are some points to consider:
Do they enjoy being on social media?
Do they have a social media presence and/or following?
Are they good at using social media and understanding each platform's strengths?
Can they manage multiple projects at once while keeping track of deadlines and deliverables?
Are they detail-oriented?
Do they enjoy writing?
After determining their skill set, it's time to start hiring. Here's what you can do to hire the right person.
Freelancing websites: There are tons of freelancing websites like Fiverr and Upwork that can help you find a competent candidate for your business.
Social media groups: A social media content creator will most likely be hanging out in social media groups. Facebook groups relating to social media hiring are really good when it comes to finding such talent. You will find out that many content creators post their portfolios and services on such groups.
Acadium: Well, we are not biased but this is probably your best bet as a small business. At Acadium, not only you can hire a marketing freelancer but you can even work with a marketing apprentice at any budget.
If you are looking for someone with experience, our pool of vetted freelancer candidates is the best way forward but if you would rather work with an apprentice, check out our pool of vetted marketing apprentices.
Apprenticeships at Acadium are mutually beneficial. Over the period of 3 months and for 10 hours per week, an apprentice will work with you to help you grow your social media presence while you mentor them and provide guidance.
Easily delegate your social media tasks to your apprentice and see your business grow. What more? If you enjoy the experience of working with your apprentice, you can even hire them full-time!
Also read: 20 Tasks a Social Media Virtual Assistant Can Do For You
Experience of small businesses that hired marketing apprentices
Here's a glimpse of what other businesses like you experienced with Acadium.
"What a great way to give experience to smart, capable, up and coming professionals and support growing businesses. This is a great model. I had a terrific experience getting matched with someone who had the skillset I needed to complete a special project I have been trying to complete for a long time. I am very pleased with this experience." –Donna
"I found out about Acadium in the late fall of 2021. I am a small business and needed help with digital marketing. Acadium is brilliant, they find the interns for you that work with your business and you pay a nominal fee. These interns gain experience and I have the help I need! I am working with two interns currently and I could not ask for a better team. I am so impressed with Acadium that I signed up for a year!" – Esther Malamud
Ashley Lauren even wrote an article on Medium about her experience. Here's a glimpse of the article:👇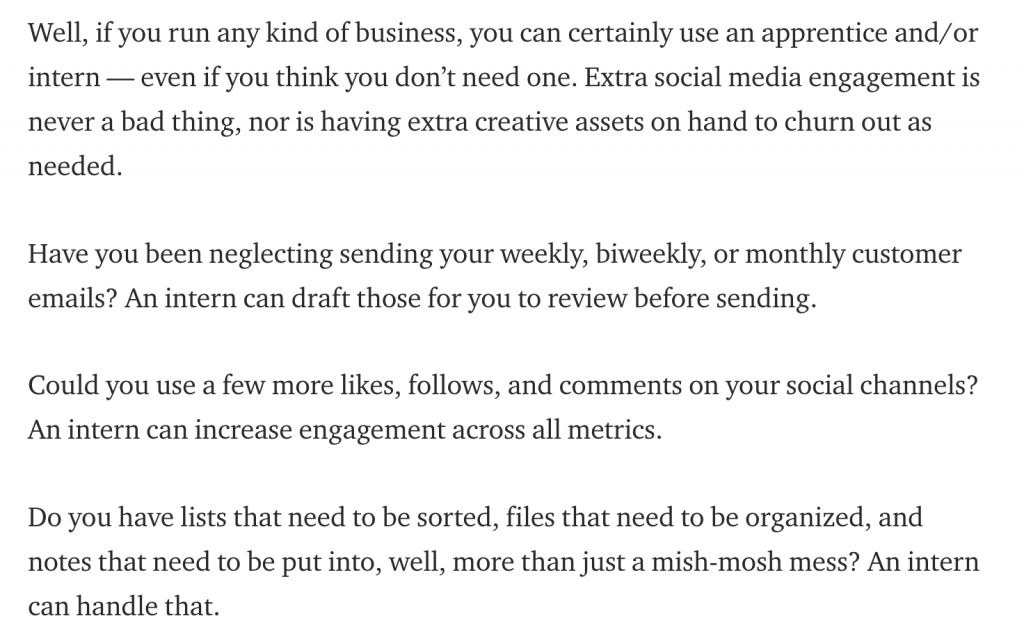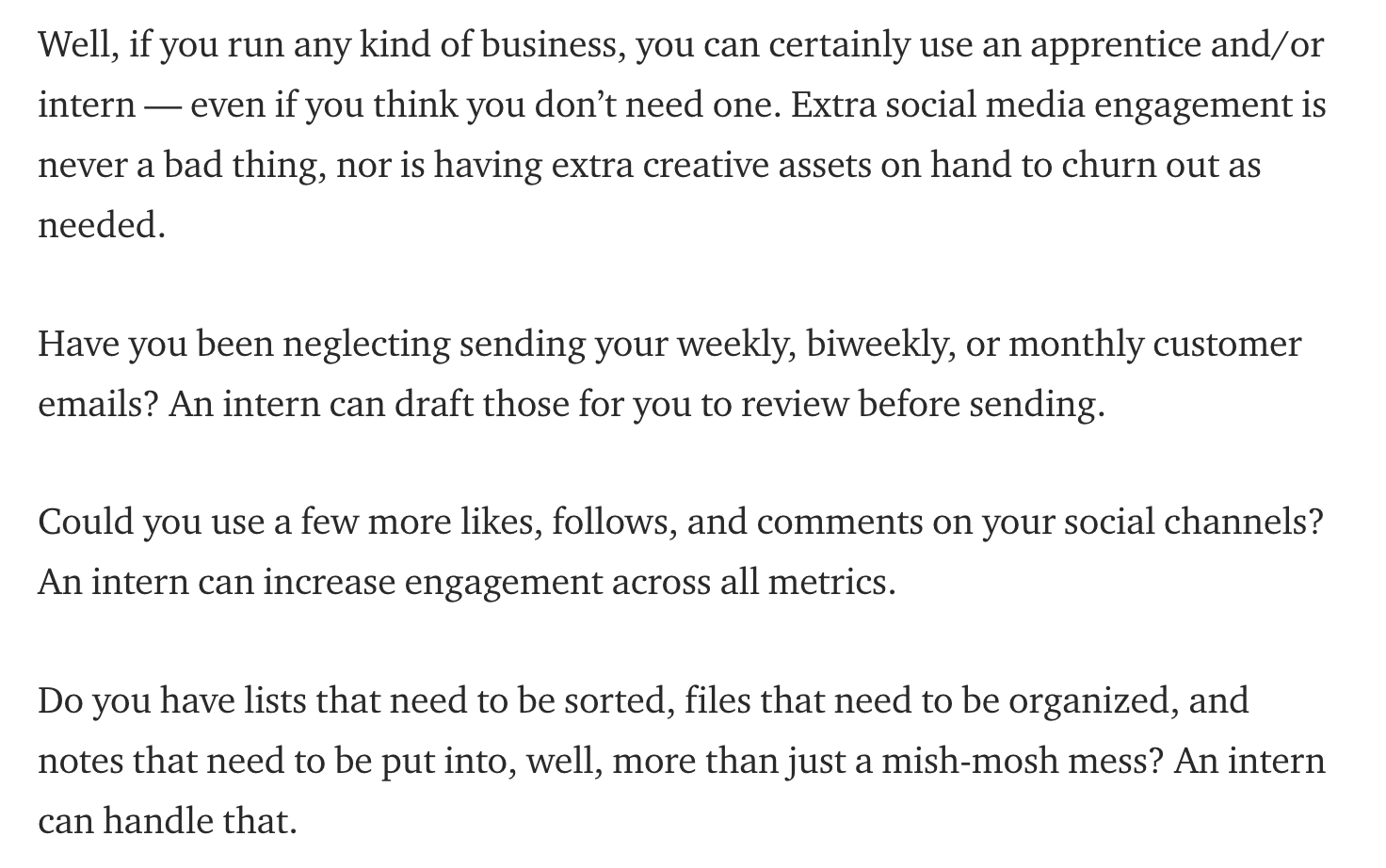 So are you ready to grow your social media presence and hire your social media content creator?
Alisha spearheads content strategy for Acadium Blog. She has a background in digital marketing and an extensive experience in SEO and content marketing. Her entrepreneurial and creative side led her to open up an Etsy shop to help small businesses with their social media efforts. Connect with Alisha on LinkedIn.
Business Growth, Career Prep

What is an SEO landing page & How to Build One? [Step-by-Step Guide]

Learn the ins and outs of SEO landing pages and how to build one with our step-by-step guide. Discover the key elements and best practices for creating a high-performing landing page that drives conversions and improves your search engine rankings.

Introduction to Transactional Emails in Email Marketing

Have you ever heard about transactional emails? Do you know they are different from marketing emails? This article is your complete guide to transactional email definition and best practices to send such emails. We have also shared real-life transactional email examples for better understanding.

Subscribe to our newsletter for digital marketing resources
Become a better marketer with our digital marketing resources and tips shared weekly in your inbox.

Build your marketing career for free or find marketing talent on any budget — fully remote.