13 Best Social Media Analytics Tools That Will Help You Improve Results
Thanks to social media, a business owner can have access to a wealth of information about their audience and customers. But with so much data at your fingertips, you'll need the best analytical tools to help you make sense of it. Read on to discover the best social media analytics tools, and how they can transform your social media marketing efforts.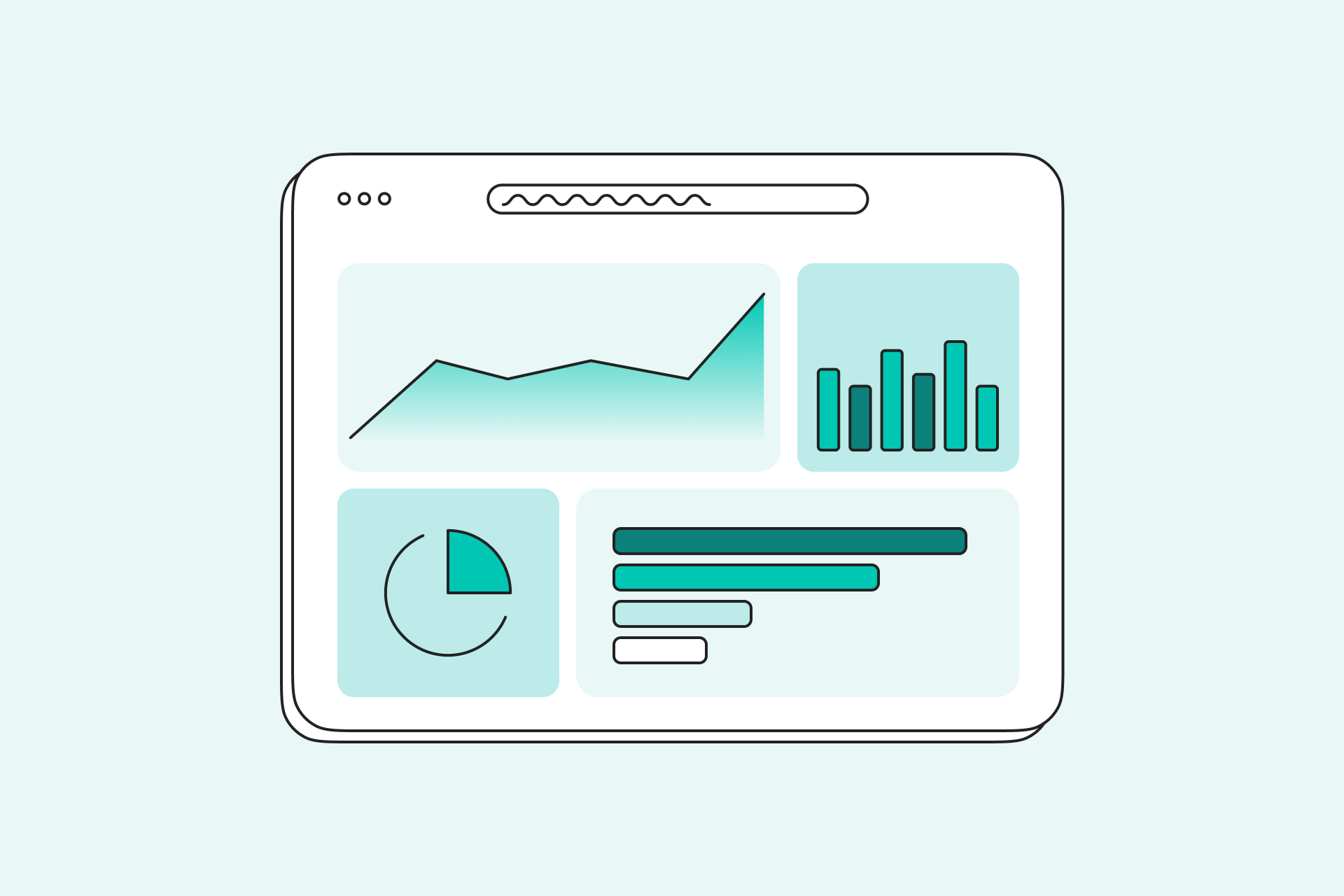 As you grow your company's social media presence you will begin to gain a greater understanding of who your customers truly are. The data that you will receive from your social media analytics goes beyond the basic age range, geographic location, and gender demographics you might be familiar with.
From their likes and dislikes, who else they follow, and where they shop; your analytics page will have it all.
That's great and all, but what do you do with the information and how do you use it? This is where social media analytics tools come in.
Apprenticeships For Business
Get marketing help, handpicked for you
In 1–5 business days, we'll connect you with a vetted marketing apprentice who'll help grow your business as you mentor them.
What are social media analytics tools?
Social media analytics tools are websites or services that link to your social media insights to provide you with information that matters. These tools dive into who is following you and can give you a road map for your social media marketing strategy.
The social media platform you are using will likely have a base set of social media analytics tools that you can use. These tools are extremely helpful, but for the untrained eye, it is just as useful as an instruction manual in a foreign language.
That is why taking advantage of some of these free and paid social media analytics tools might be the best choice for you.
How to choose the right social media analytics tools
The best social media analytics tools are easy to use; they present you with information in a clear and concise way, with any key trends easily gleaned. They also offer a wealth of information, providing you with insights into your audience and your competitors.
With that in mind, here are the three key features of the best social media analytics tools:
1. Intuitive Dashboard
There are several different types of dashboards, each with its own purpose. For example, a growth dashboard shows how your social media strategy is performing overall.
A campaign dashboard shows how your content is performing against a specific goal (such as reaching 1,000 followers). And a performance dashboard shows how each area of your business (such as engagement or virality) is doing.
The most important thing about any social media analytics dashboard is that it should be intuitive. Ideally, you should be able to look at it and immediately know what's going on. You shouldn't have to read through long reports or complicated graphs to figure out what's happening.
2. Audience Insights
Effective social media analytics tools should provide you with easy access to any audience insights – an understanding of your audience's attitudes and behaviors is critical to help you develop and refine your products or services.
By conducting research on your audience, you can gain insight into who your target demographic is, and what are their buying habits. When targeting the right consumers, you can expect higher sales and happier customers. You can also identify gaps in the market that need to be filled.
3. Competitor Analysis
A social media analytics tool should give your insight into the behavior and operations of your closest competitors; allowing you to see how your product or service stacks up against the competition.
If there are any gaps in functionality, quality, or price; you should correct them before it's too late – allowing you to stay ahead in the market. By seeing what your competitors are doing you'll also be able to see what does and doesn't work – allowing you to benefit from the success and failures of others.
Free social media analytics tools
Getting social media analytics doesn't need to cost you an arm and a leg. There are plenty of ways you can make sense of how well your social media efforts are paying off – for free!
If you're a small business or a sole entrepreneur, this can be a great way to take a plunge into the world of social media marketing, without taking a plunge into your wallet.
Built-in social media analytics tools
Let's start with the built-in analytics tool features found on the top social media platforms.
The top social media platform's have their own in-house analytics tools; providing you and your business with an easy and convenient way to access all of the key data related to your social media activity.
You can easily track how your posts are performing, so you know what works and what doesn't, helping you create content that is ever more engaging with your audience.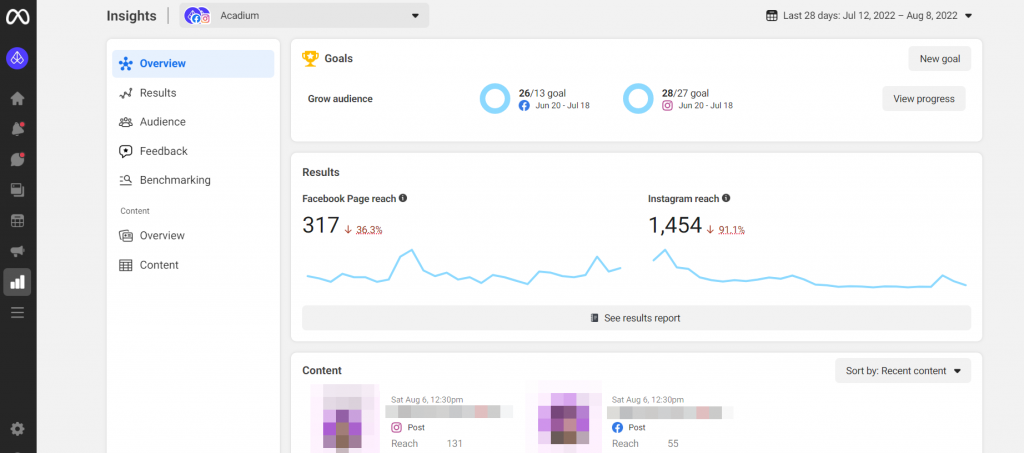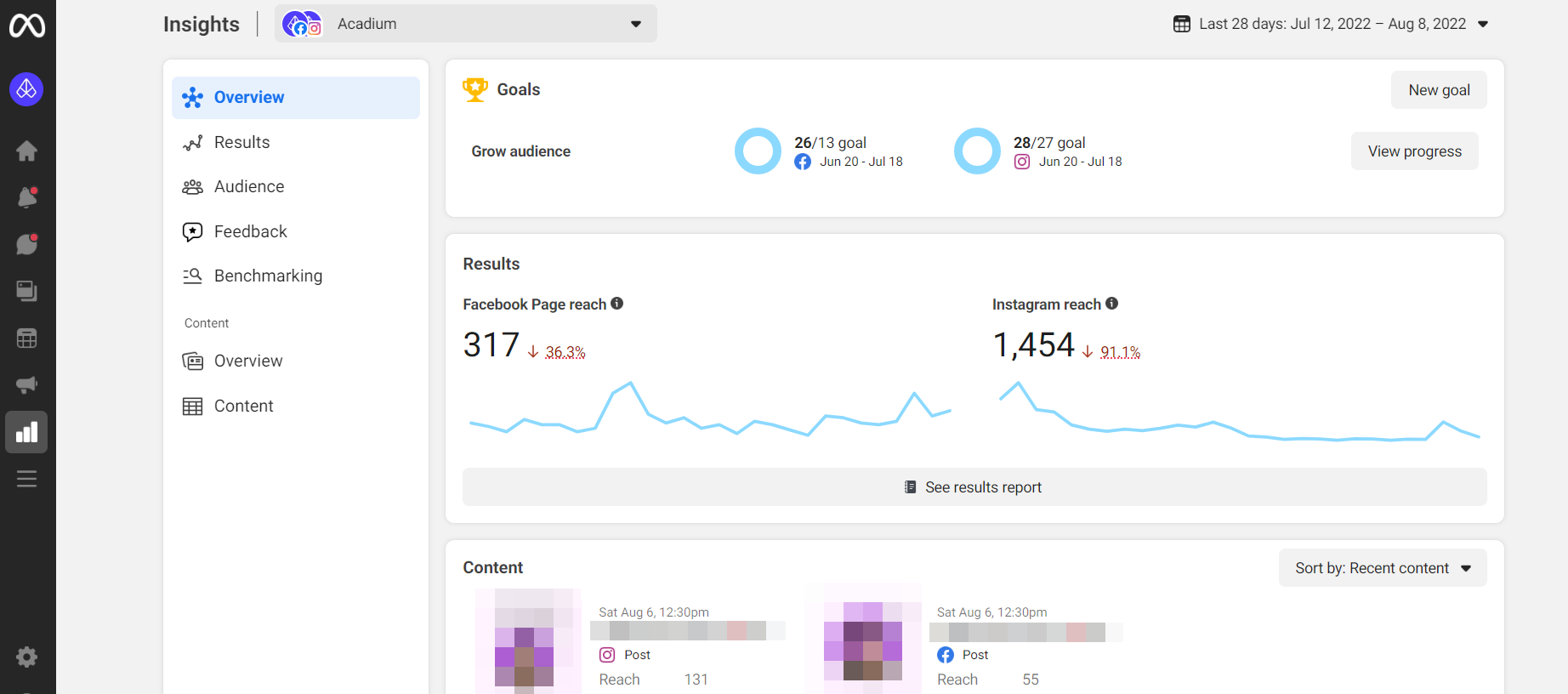 Facebook Insights is a free analytics tool that allows you to track your Facebook posts. It shows metrics like impressions, click-through rate, and engagement rate.
It also shows your fan base demographics, which can help you create more targeted content. Facebook Insights is a great tool for beginners. It's easy to use and understand, helping you get a better understanding of the content you should be posting.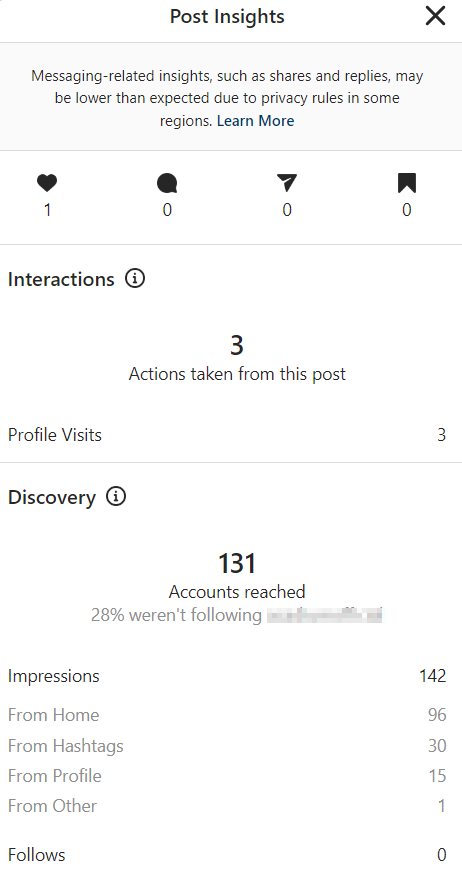 Instagram Insights allows you to track your posts, gain insights, and run polls. It has many of the same features as Facebook Insights – with the addition of helping you find relevant hashtags for your posts.
This tool will help you save a lot of time, and is a must for businesses that are currently putting significant effort into their Instagram posts. It will allow you to track how your posts are performing – helping you create more effective posts that get more engagement.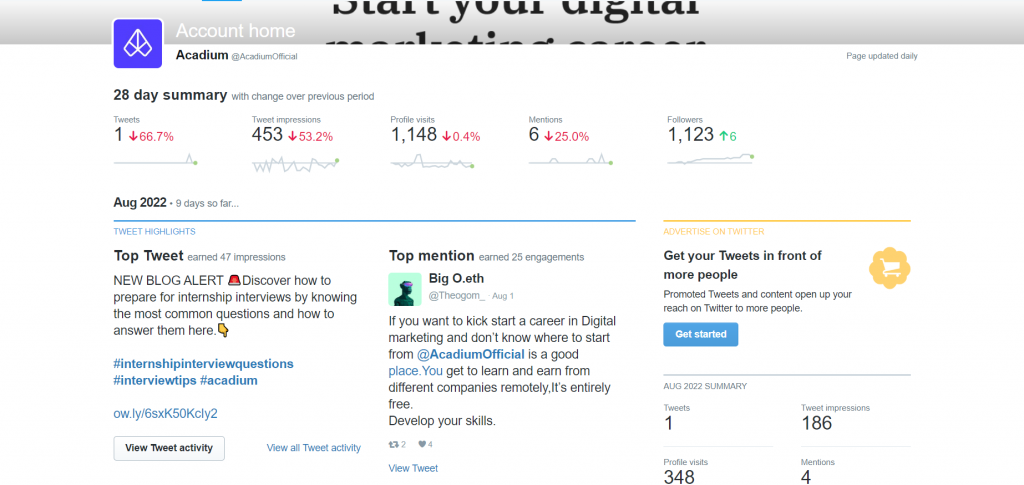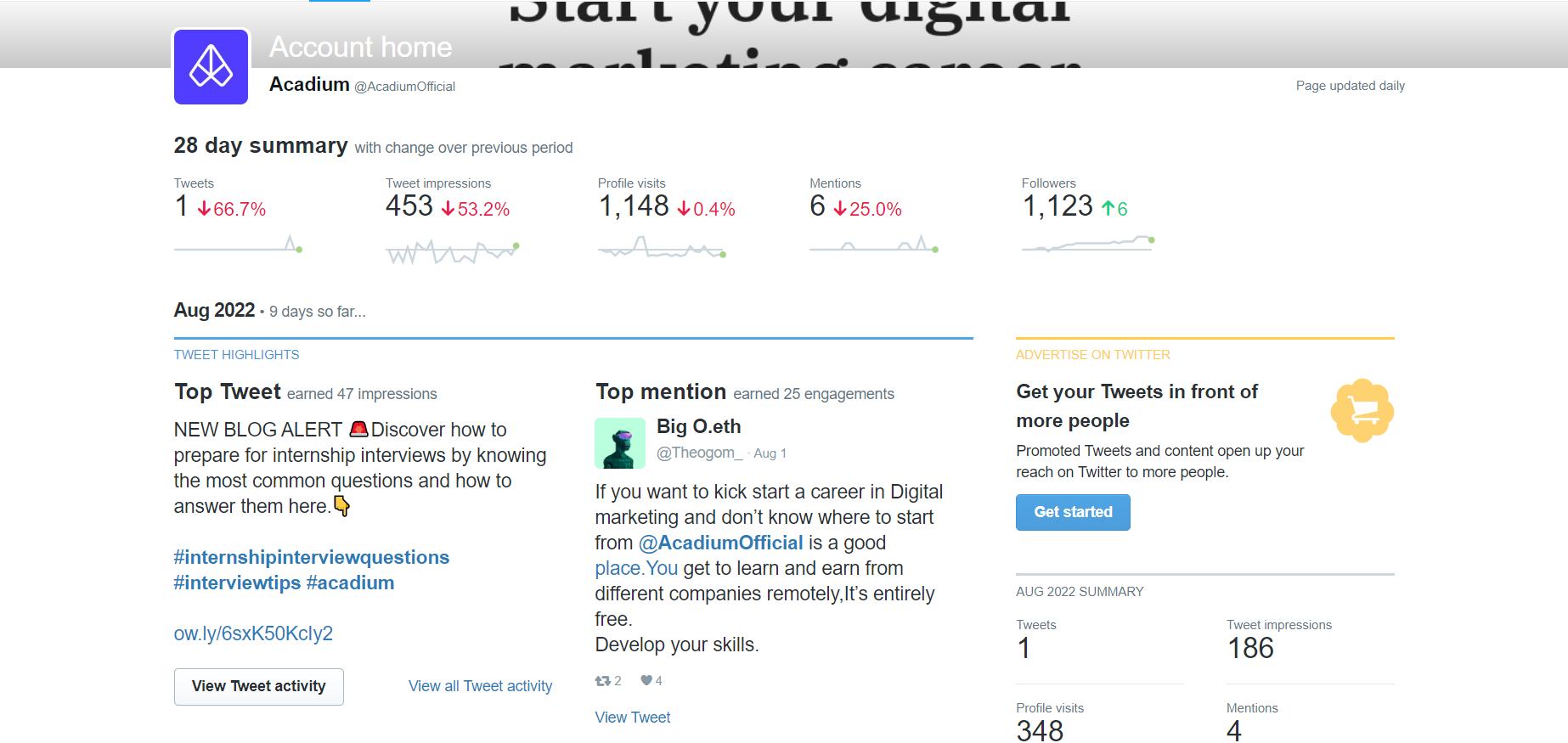 Twitter Analytics is another free analytics tool. It gives you insights into your Twitter account, like how many people are clicking on your links and finding you through search engines.
It also shows you demographic information about your followers, like where they're located and what languages they speak. Twitter Analytics also shows you key information, like how many times your tweets have been retweeted. You can use this information to create more effective tweets that drive more engagement.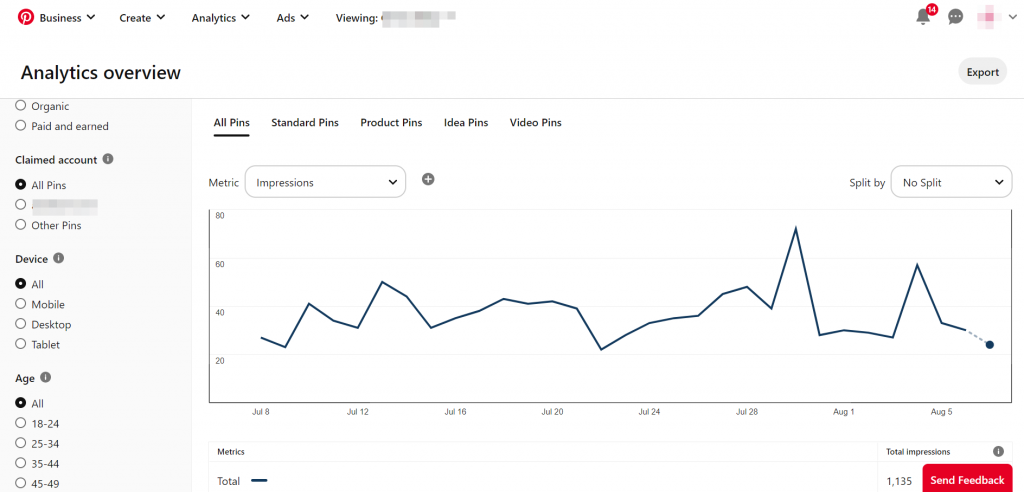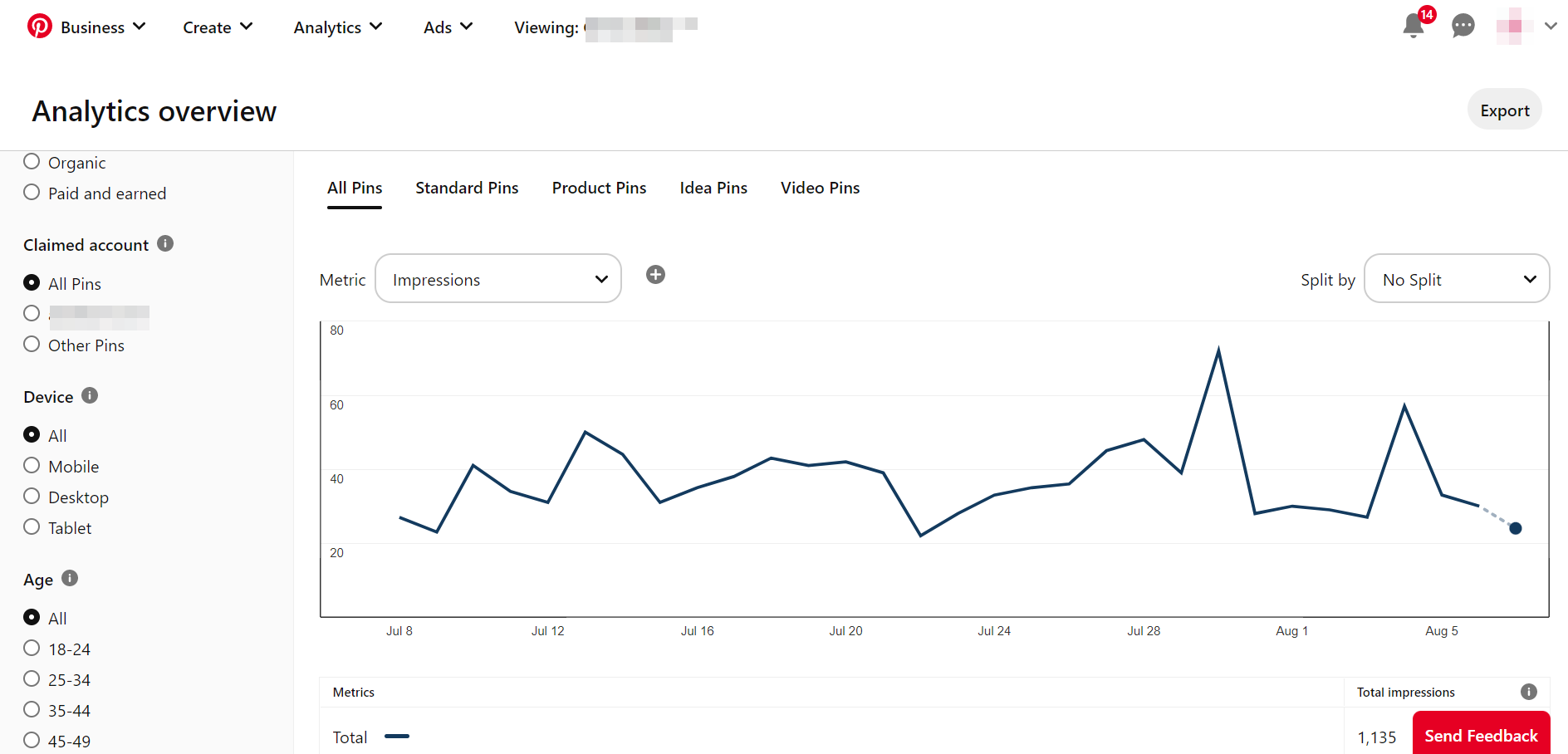 Pinterest Analytics allows you to track your pinning activity, like impressions and click-through rates. It allows you to see which of your pins are performing best, and thus which can help you create more effective content.
You can also use Pinterest Analytics to find relevant keywords for your business. This tool is vital for businesses that pin often. It allows you to track what's working, and what isn't. This information can help you create better pins that get more engagement.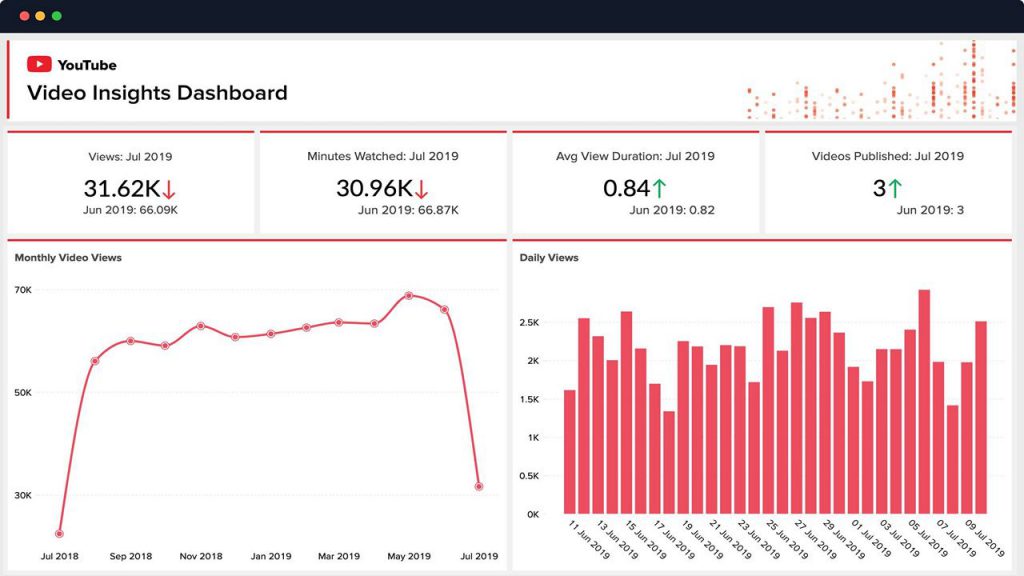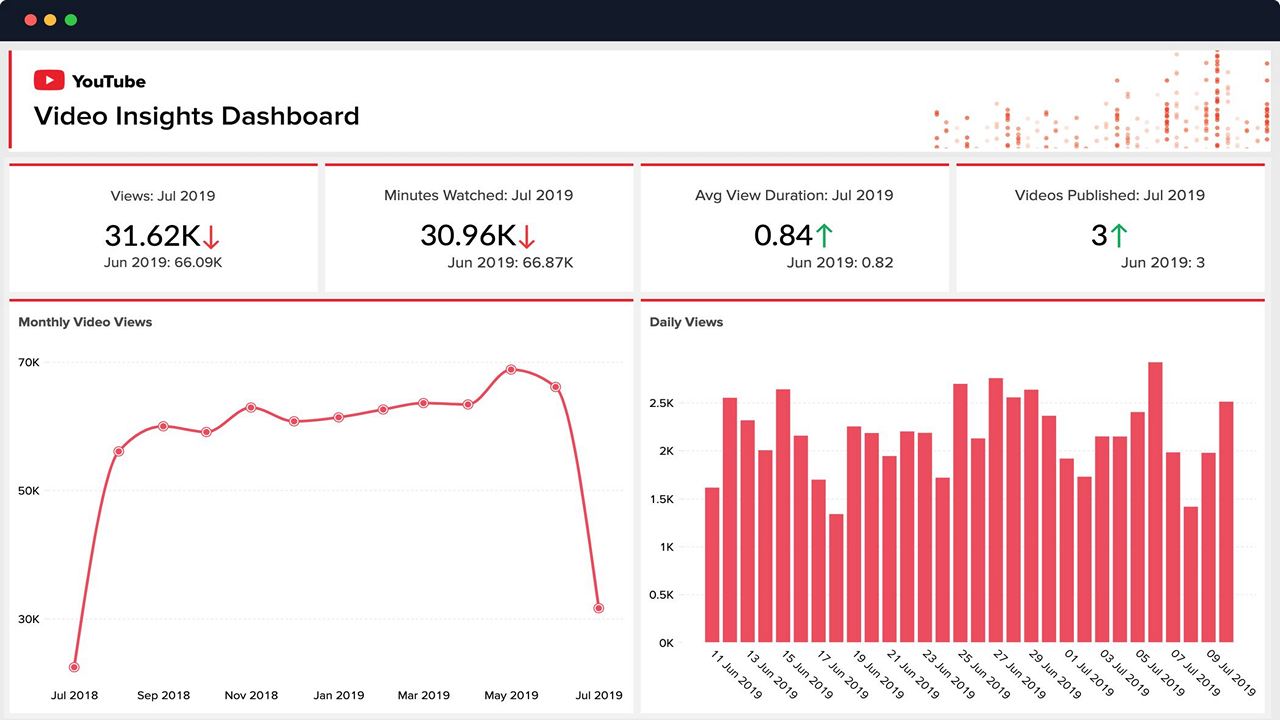 YouTube Analytics allows you to track your video's engagement rate. It also shows your video's demographic information like where they were watched and who they were watched by.
Again, this tool is vital for businesses that create content on YouTube. It allows you to see which of your videos are performing best, and what your audience is looking for. You can use this information to create more effective videos that get more engagement and are catered to your audience's desires.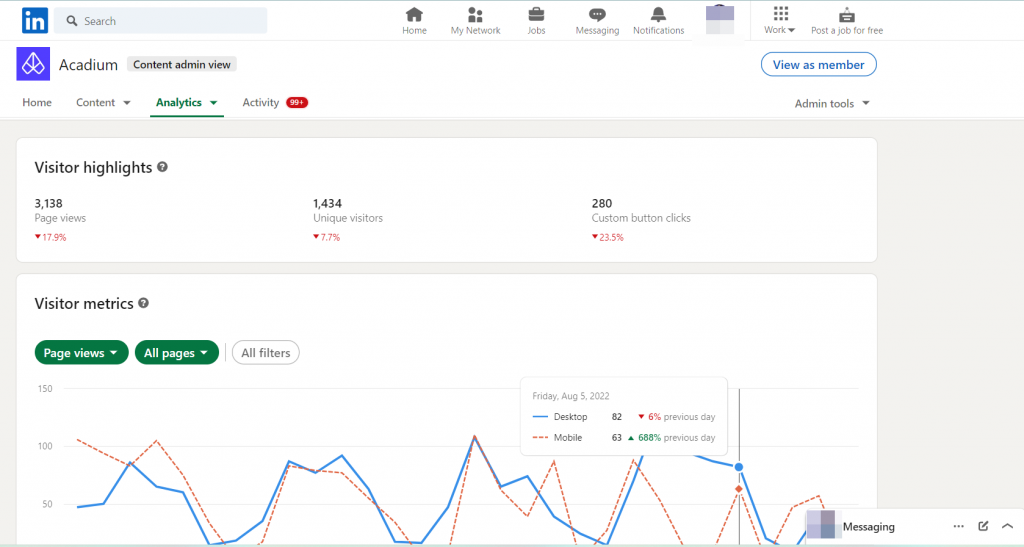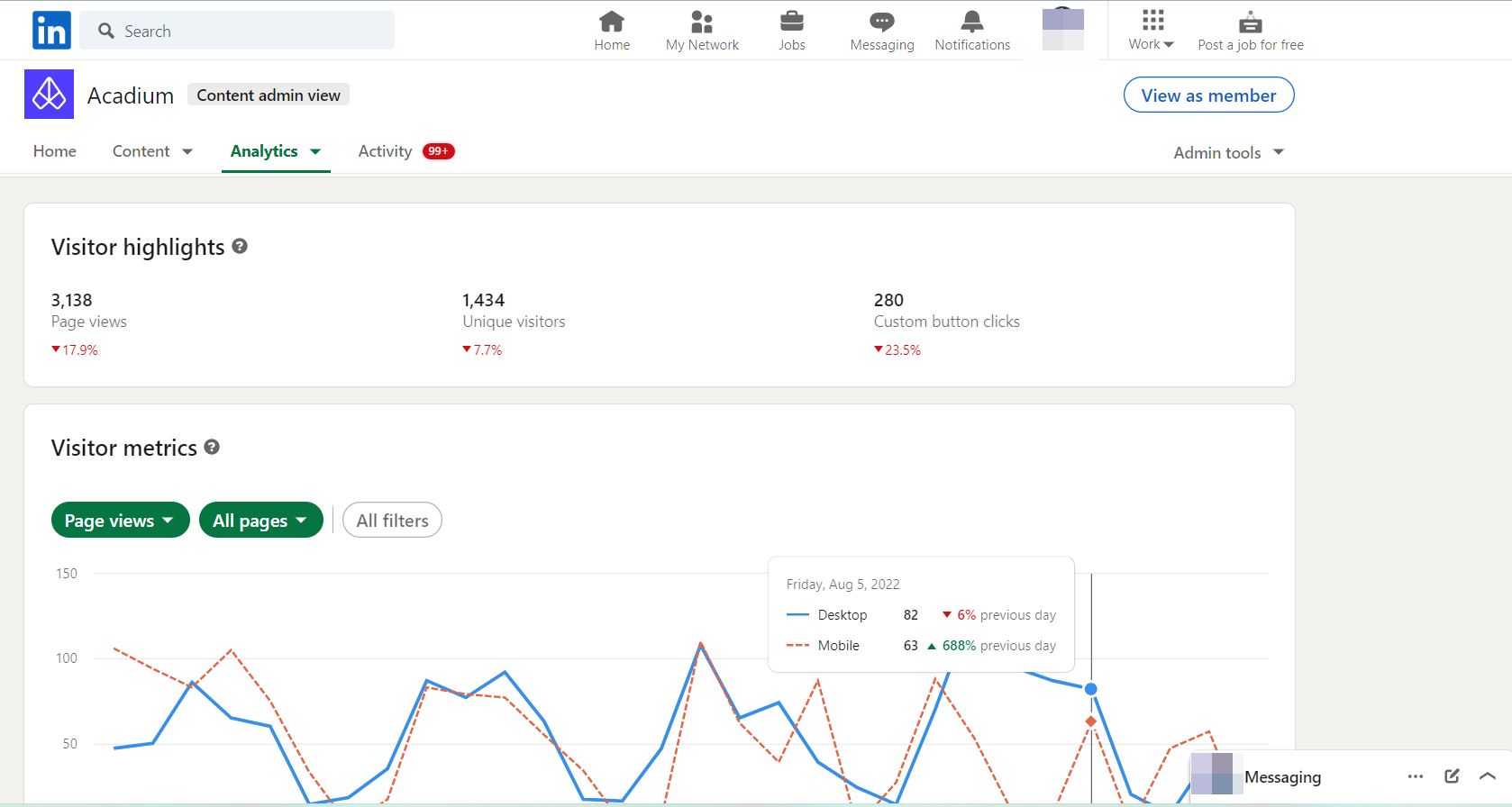 LinkedIn Analytics is a social media analytics tool created by LinkedIn. It allows you to track your post performance, like impressions, click-through rates, and engagement rates.
This tool is helpful for businesses with a strong B2B following. It allows you to see which of your posts are performing best, and which can help you create more effective content. You can also use LinkedIn Analytics to find relevant keywords for your business.
Other Free Social Media Analytics Tools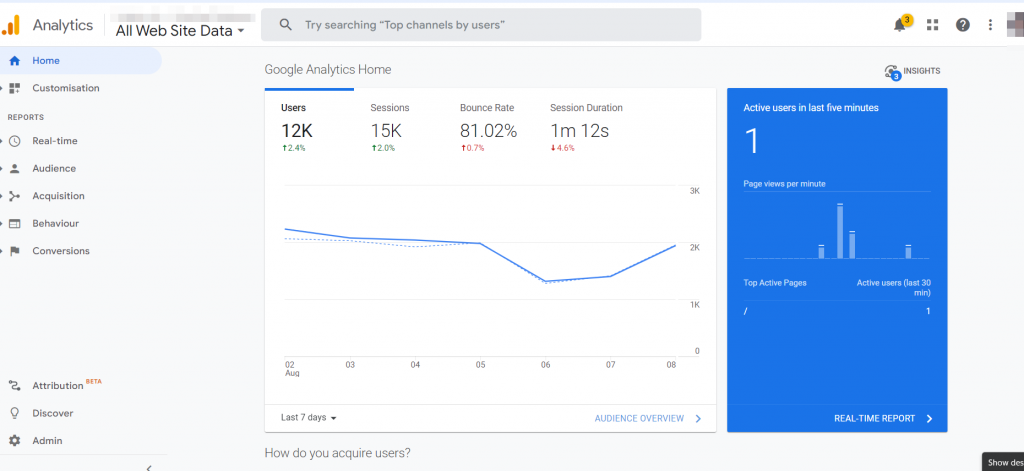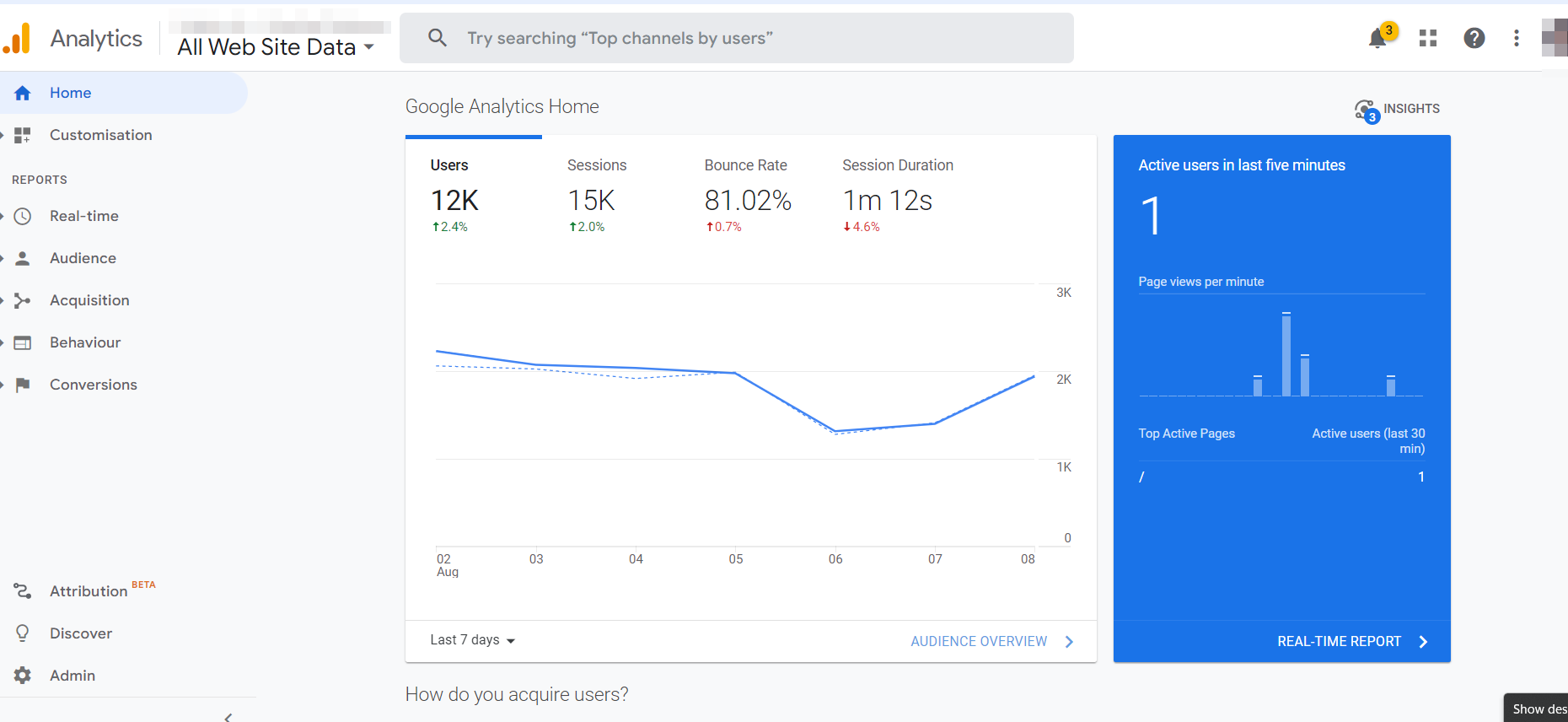 Google Analytics isn't quite a social media analytics tool as it doesn't directly gather information from your social media accounts. What it is, is a free tool that will compile data from your website visitors to give you a clear look into who your customers are and where they are visiting from.
This information is important because it will give you insight into which social media platform your traffic is coming from. Knowing this will allow you to know which social media campaign is most effective so that you can adjust your strategies accordingly.
While it may not give you data you can use to enhance your social media marketing strategy, it does help you know which strategy needs the most work.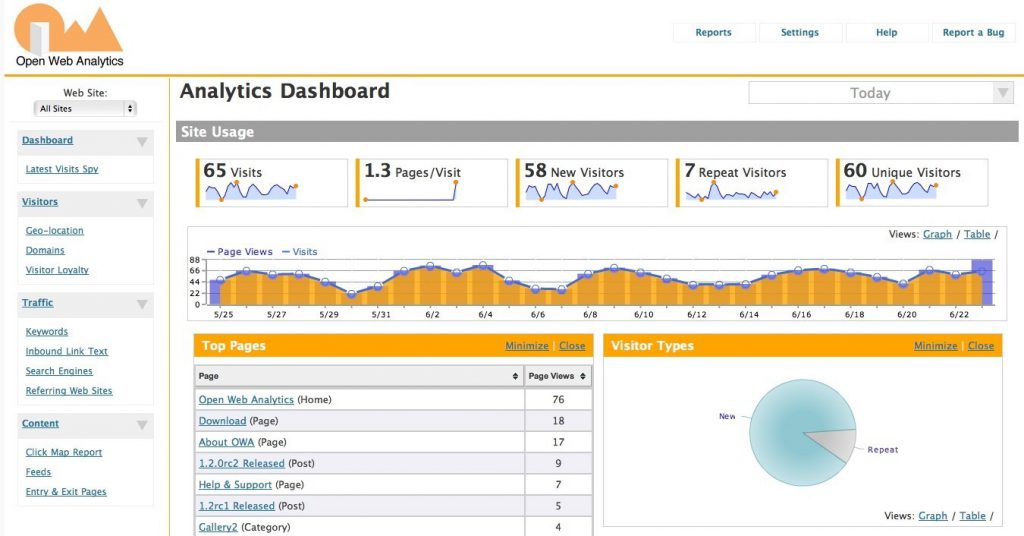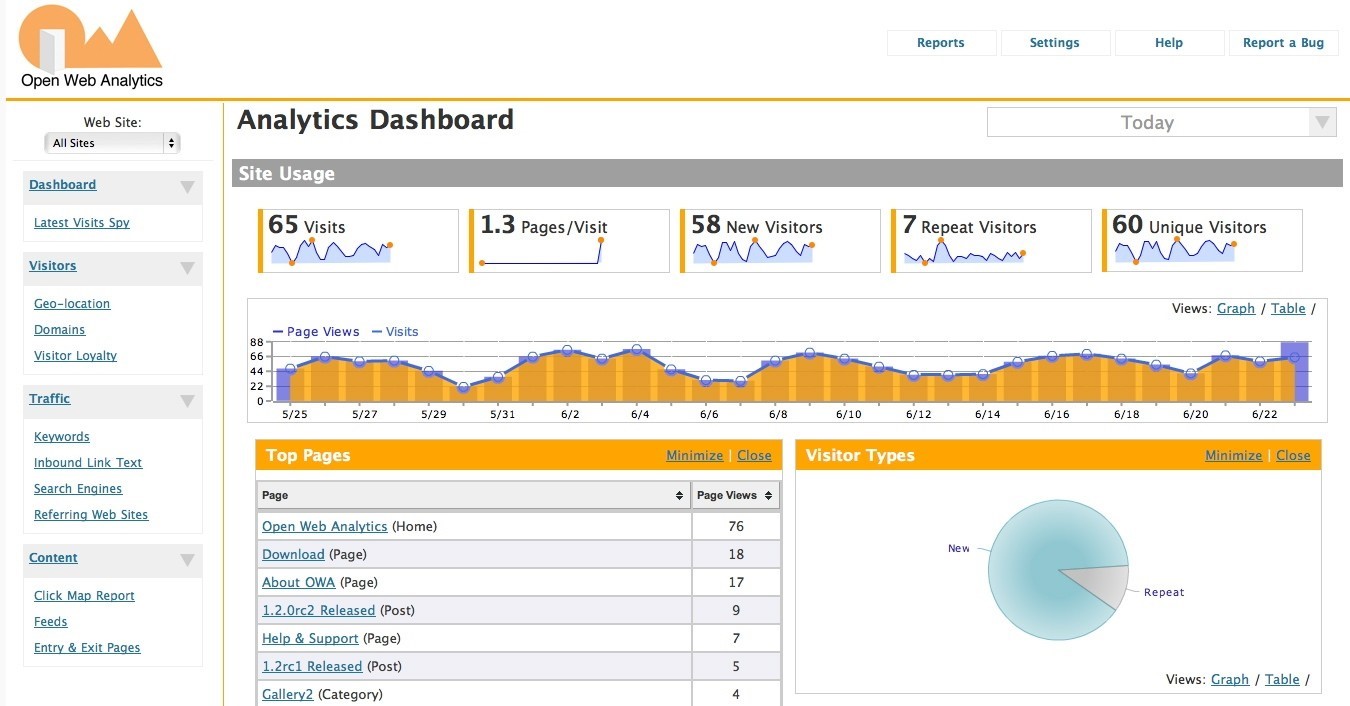 Open Web analytics is completely free and open source, and anyone can use it to get valuable insights into their website's performance. It has a range of features, including a heat map of where your users click most, SEO action referrals, recommended site actions, and much more.
Although not directly based on social media, Open Web analytics is an incredibly useful tool that anyone with a website should use.
5 Most Popular Paid Social Media Analytics Tools
While the built-in social media analytics tools and other free marketing tools can provide you with plenty of information, sometimes a more robust third-party solution is required; to both gather and analyze a wider range of information, but also to conveniently compile and combine information and analytics across multiple platforms.
That's why we've put together a list of what are, in our opinion, the most important paid social media analytics tools.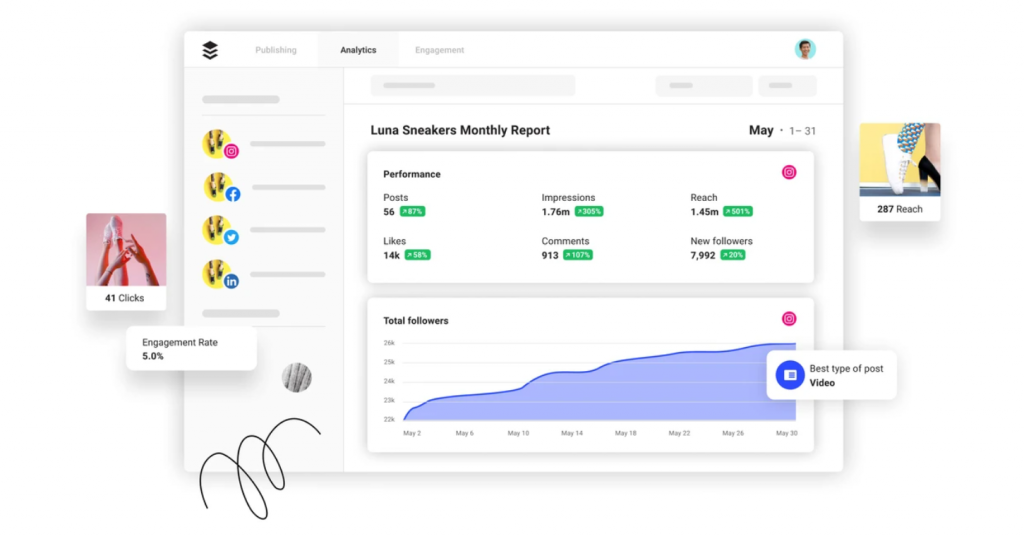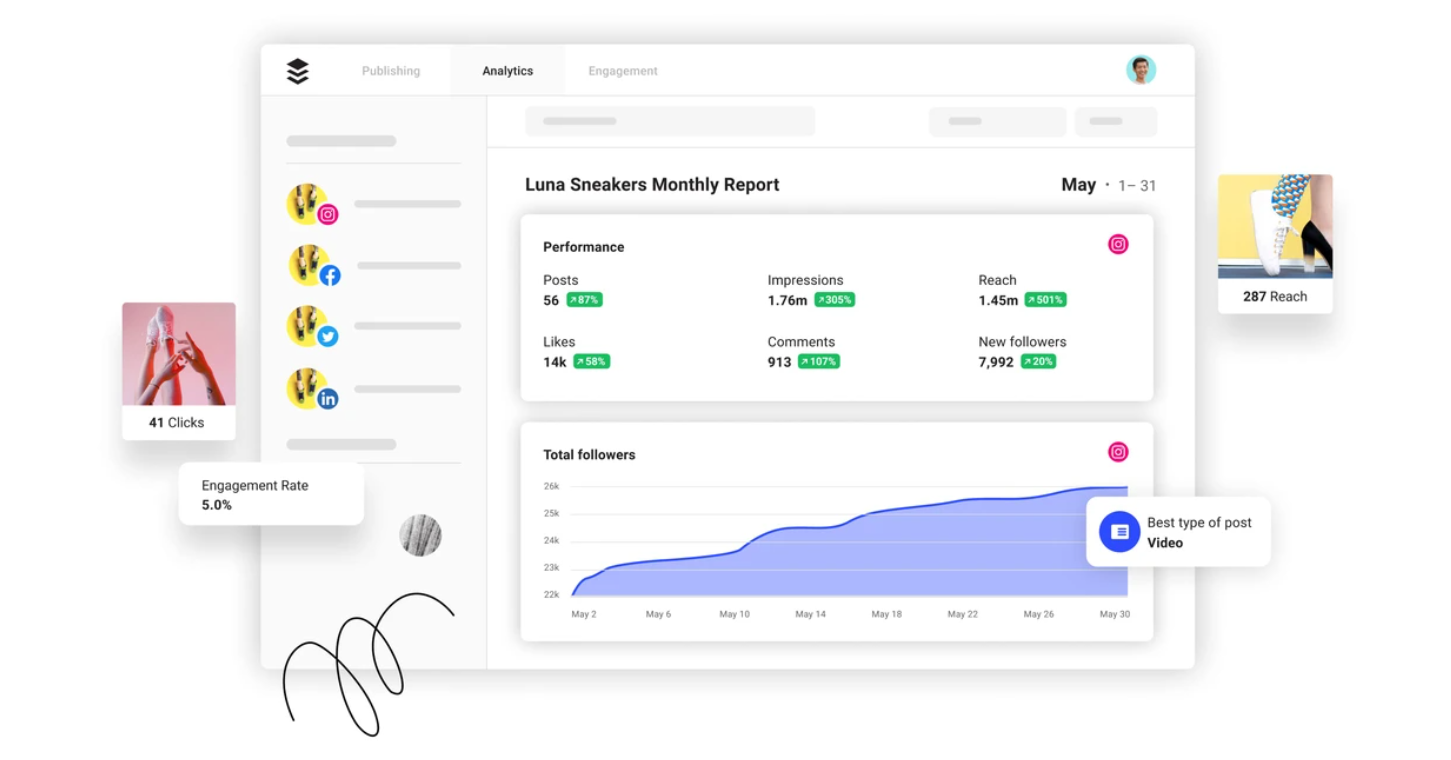 With Buffer, you get an open-source solution designed just for you. You can be able to manage your spending by seeing how organic and paid traffic contributes to your engagement.
A complete analysis of your organic posts will also be provided, as well as insight into your social media audience. By doing so, you can fine-tune your strategy without getting overwhelmed by data.
This tool is best for businesses just looking to target the big three of Facebook, Twitter, and Instagram. It's best suited for business-to-consumer activities and is great for beginners and incredibly easy to use.
Standout Features:
Instagram Stories analytics
Posting strategy recommendations
You can create professional reports in just two clicks
Social Media Integration: Facebook, Instagram, and Twitter
Pricing Options (per month): $35 or $50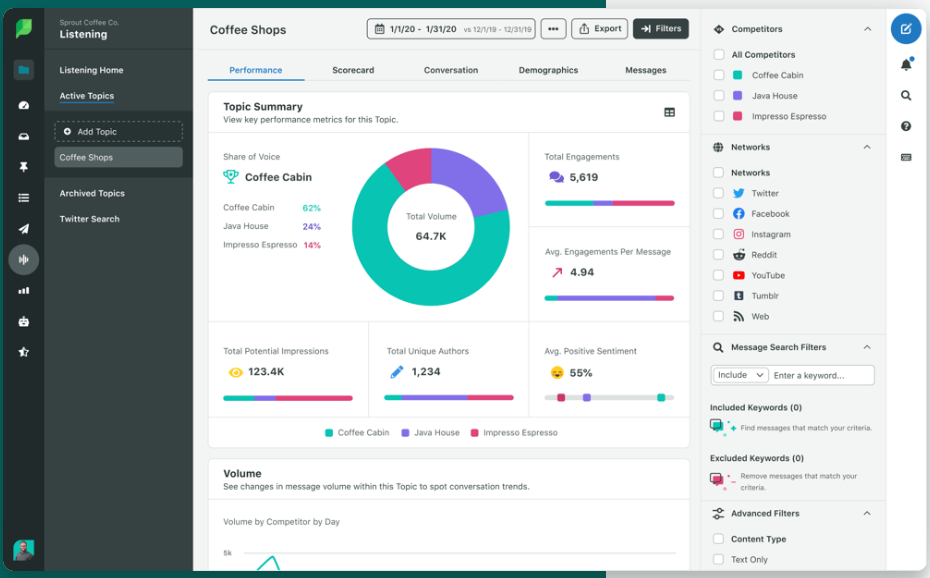 Social media management, influencer marketing recommendations, and a social media content calendar are just some of the features offered by Sprout Social. It can also be used for a variety of tasks, such as managing follower messages, planning, auto-posting, and analyzing social media pages, topics, hashtags, and keywords.
Simple and aesthetically pleasing interfaces make Sprout Social stand out even more in the crowded social media arena.
With a much more comprehensive offering, Sprout Social is suitable for businesses of all sizes with its range of prices and packages. All executives and social media managers should be able to use these dashboards.
It's great for tracking performance across multiple channels and has features to cater to business-to-business activities.
Standout Features:
Analyze the performance of your campaigns across multiple platforms
Deep, cross-channel data analytics and performance information
Easily analyze your team's performance (task performance, response rates, etc).
Social Media Integration: Facebook, Twitter, Instagram, Pinterest, and LinkedIn
Pricing Options (per month): $99, $149, or $249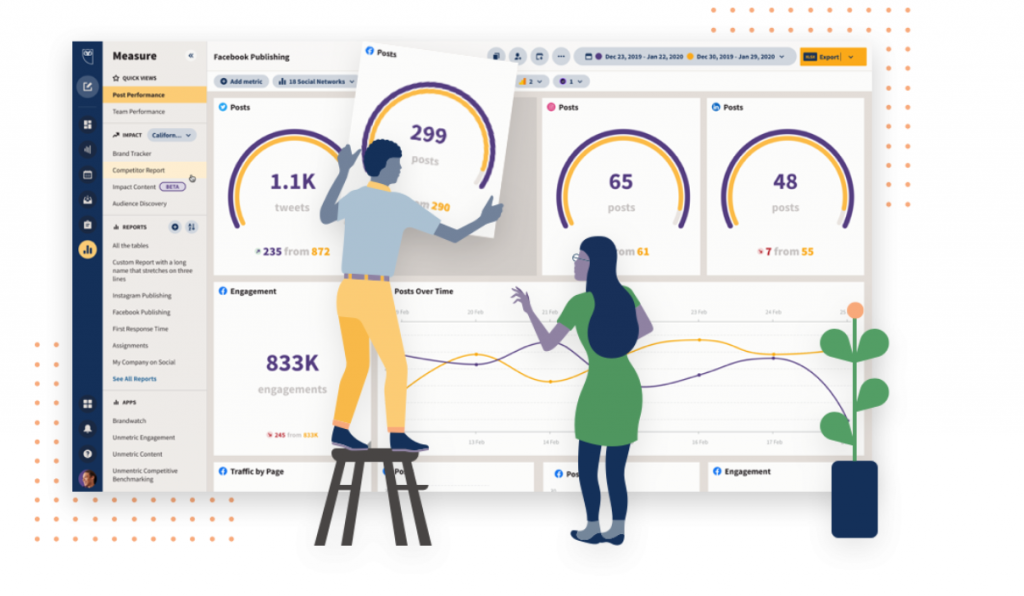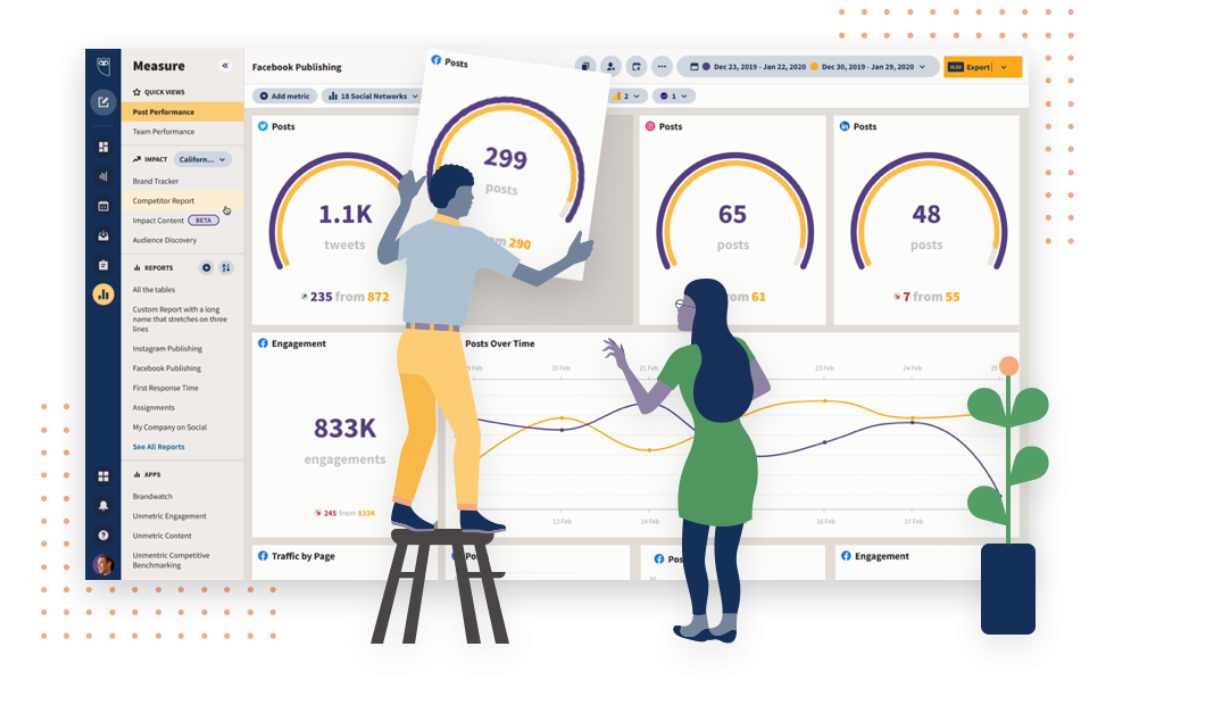 Hootsuite is a paid social media analytics tool that is a favorite among many social media marketers. It is a beginner to intermediate-level tool that compiles information from all your social media accounts.
This social media analytics tool will let you know what part of your current strategy is or isn't working. Through the reach detection algorithms and comment or reaction time compilation, Hootsuite will provide you with optimum posting times and insight into your best and worst social media posts.
It's also another comprehensive offering with enterprise pricing for larger businesses looking to get access to the best social media analytics tools.
Standout Features:
Reports are easily customizable, with over 200 different metrics and the ability to export them into a huge range of file formats
Measure the performance of your customer service divisions, by looking at response and resolution times.
Integration with tools like Brandwatch and Talkwalker allows you to easily track brand mentions.
Social Media Integration: Facebook, Twitter, Instagram, Pinterest, YouTube, and LinkedIn
Pricing Options (per month): $19, $99, $599 or enterprise pricing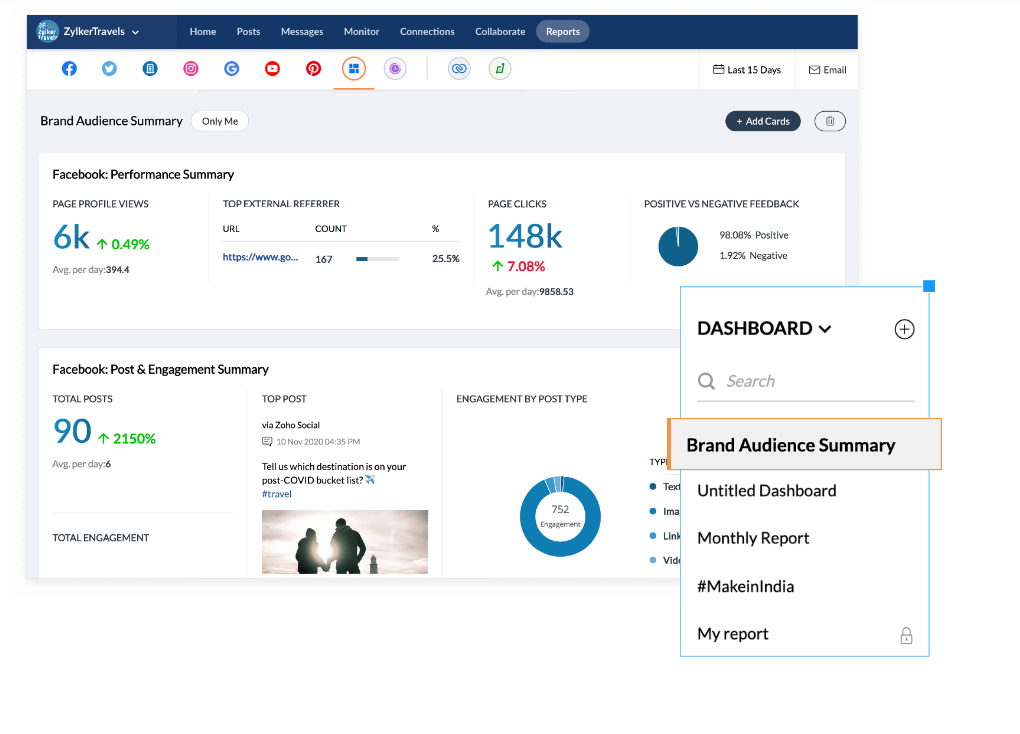 Zoho Social is another great option for beginners, or smaller businesses looking to upgrade their social media marketing efforts. With all of your channels and platforms displayed on a single dashboard, the platform is incredibly easy to use.
With Zoho Social, you can keep track of customers who have interacted with your company via social media channels. From there, you can add them as a lead to Zoho CRM.
In addition to its robust analytics and social media listening capabilities, it has versatile scheduling and publishing features.
Standout Features:
Easy to use, intuitive reports with a huge list of templates including audience, influencer, and team analytics.
Get a breakdown of all the content that your competitors are publishing, and easily compare it to those that you publish.
Easily track levels of audience engagement for every post.
Social Media Integration: Facebook, Twitter, Instagram, and LinkedIn
Pricing Options (per month): $10, $25, $200, or $300
The Sendible platform is an all-in-one social media management solution designed to handle multiple brands and clients at the same time. In a natural step towards automation, Sendible has a cool feature where it emails managers periodically regarding the latest competitive mentions.
Although this tool is designed for agencies, it does offer a feature mix that can appeal to small to midsize businesses (SMBs).
Standout Features:
Intuitive drag and drop report builder
Track your team's response and resolution times across multiple platforms.
Easily engage with your audiences across multiple platforms, from a single dashboard.
Social Media Integration: Facebook, Twitter, Instagram, YouTube, and LinkedIn (also includes Google Analytics)
Pricing Options (per month): $29, $99, $199, or $299
Why understanding your social media analytics is important
With social media algorithms and pop culture being a very changing environment, it almost seems like simply posting anything will or won't get a response. This is one of the reasons why a lot of business owners and marketers hate social media.
The time you post, how many words you use for your caption, and the hashtags you use to reach those that you believe might want to follow you almost seem like an unnecessary nuance that you don't need to worry about. That cannot be further from the truth.
No matter how you feel about social media (and how you would rather not use it at all), its impact on business is undeniable. But if you don't have the time to manage your online presence on a daily basis, consider hiring a social media virtual assistant.
They are more likely to know what gets results on social media. Plus, they'll help you maximize your time and budget.
They might also have a better understanding of social media analytics which includes:
Knowing when to post
It is more than likely that you are posting when it is convenient for you as you run the important tasks of your business. This might still be delivering results, knowing that your audience is most active within a certain period will help generate the best results with each post.
Social platforms can be overwhelming especially if you do not know how to navigate them. Even with all the effort, there's always something lacking which may not lead to your desired results.
If you're struggling, a social media content creator, for example, can help boost engagement levels by posting engaging posts and updates and getting you the results you wanted.
Knowing who you're reaching
Right now, you might be aware of who you believe your target market is, but do you know who you're reaching on social media? Your services might be reaching the entirely opposite demographic than you intend because you are following the wrong trends.
Knowing who you are reaching will show you that you need to change your approach or might tell you who is actually interested in what you are selling. You can change your strategy to make the best of either scenario.
Knowing how much to spend
Organic reach isn't always going to work when running a social media account. Knowing all the ins and outs of your social media demographics through a social media analytics tool will tell you when you need to spend and when it's okay to utilize organic reach.
It will also tell you how much to spend based on the nature of your post and its possible organic virality. Your ROI can increase significantly.
How to delegate social media marketing tasks
We know it's a lot of information, and as a business owner, you're probably wondering where to start. These tools can easily give you access to a lot of information, but without experience in the social media marketing or data analytics, you might have a difficult time extracting meaningful insights or using the data to inform effective social media campaigns.
But don't worry – you don't have to do it alone. If you're looking for an expert who has experience in social media marketing, the Acadium team can put you in contact with the best, most thoroughly vetted freelancers. They'll help you and your business:
gather information from across all of your social media platforms
extract meaningful conclusions, and
create bulletproof social media campaigns.
You'll see how robust social media marketing and rigorous data analytics can help transform your business and get you ahead of the competition.
Alternatively, a marketing apprenticeship might be a better option for those with limited budgets. Considering that social media activities tend to be low-value activities, you can delegate most of them to someone else.
During the apprenticeship, you'll only spend up to two hours a week mentoring and training your apprentice on your brand's messaging and style. Having an apprentice will not only help you achieve your marketing objectives, but he or she will also provide you with the ideal balance between expertise, enthusiasm, and cost.
Can't wait to get started? Set up your business account today and let us connect you with the best-in-class freelancers/apprentices to take care of your marketing needs.
Princess "Ji" Kang is a staff content writer at Acadium who unveils complicated topics about digital marketing. She's been wordsmithing for various brands and industries for nearly 6 years, after earning her Master's Degree in English Language and Literature along with her Digital Marketing certification. Her work has appeared on sites such as asksebby.com, wellpetcoach.com, Ready Home Singapore, ThePerfectMedia Group, and more. You can find her at her home mini-library reading, sipping hot coffee, or playing with her cats in her downtime.
Business Growth, Career Prep

What is an SEO landing page & How to Build One? [Step-by-Step Guide]

Learn the ins and outs of SEO landing pages and how to build one with our step-by-step guide. Discover the key elements and best practices for creating a high-performing landing page that drives conversions and improves your search engine rankings.

Introduction to Transactional Emails in Email Marketing

Have you ever heard about transactional emails? Do you know they are different from marketing emails? This article is your complete guide to transactional email definition and best practices to send such emails. We have also shared real-life transactional email examples for better understanding.

Subscribe to our newsletter for digital marketing resources
Become a better marketer with our digital marketing resources and tips shared weekly in your inbox.

Build your marketing career for free or find marketing talent on any budget — fully remote.