Top 7 Places to Find the Best Entry-Level Marketing Jobs [+ Tips]
Here are the best places online that list entry-level marketing jobs—including two niche sites you may never have heard of. We also share tips on how to stand out from other candidates, as well as success stories to inspire you and keep you motivated in your job search.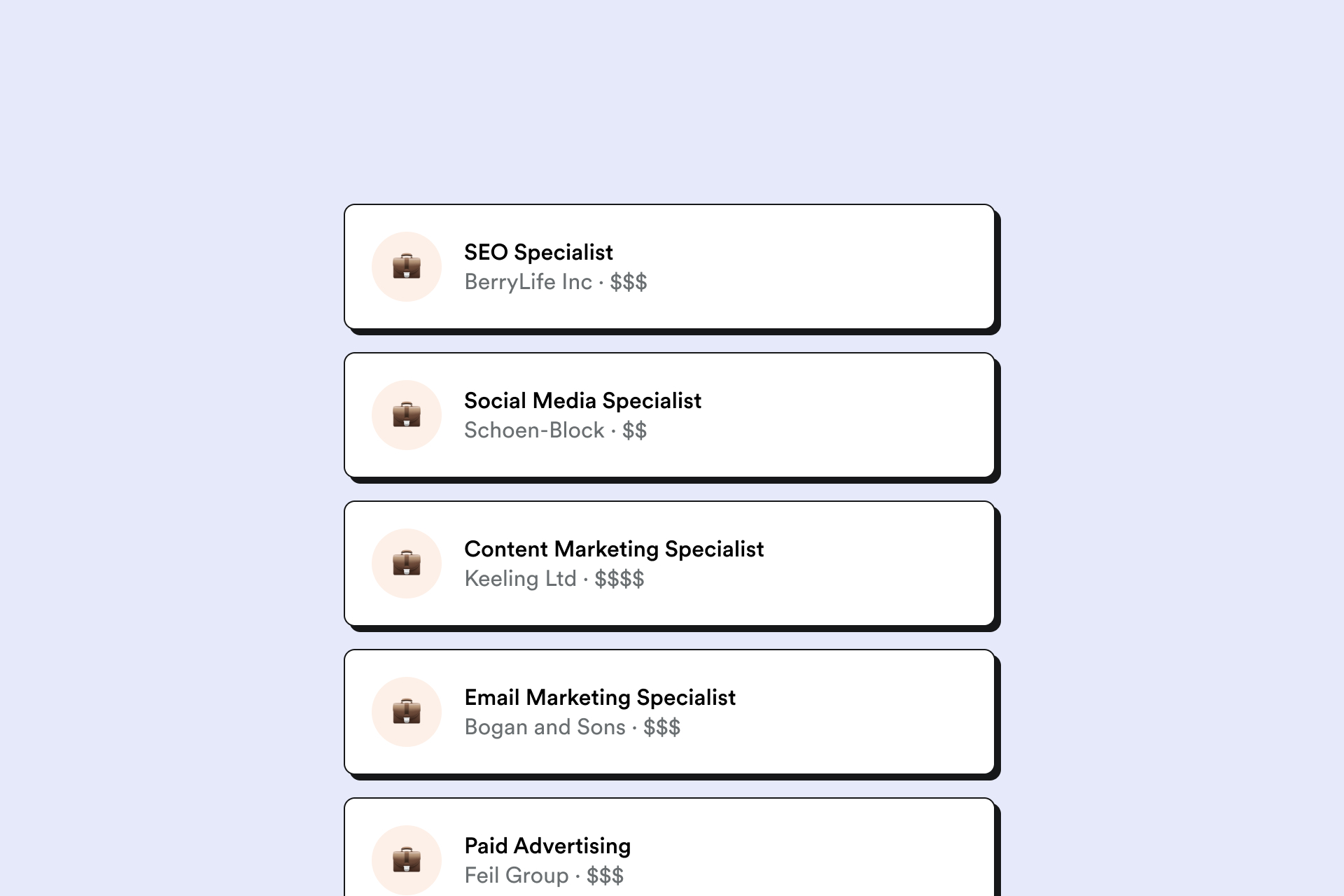 If you're looking for entry-level marketing jobs, then you've come to the right place. In this article, not only do we compile the best places to find entry-level marketing positions, but we also share our top tips for you to stand out from the competition.
Marketing is an exciting industry to be in right now. There is a wide range of roles available, and you'll find opportunities no matter what your skills and interests are. There are marketing roles for writers, artists, designers, audio-visual content producers, and even for folks who like to crunch numbers.
Digital marketing, in particular, has been a growth area. More digital marketing jobs have become available in recent years, and it's not showing signs of slowing down.
Traditionally, marketing jobs were plentiful in the big cities. But due to the rise of remote jobs during COVID, even if you live outside large cities, you'll still have access to many marketing positions. You'll find numerous marketing jobs that are either partially or fully remote—which means more opportunities for you.
How to find an entry-level marketing job with no experience
Marketing is a competitive field.
Even though you're looking for marketing positions that are entry-level, you may find that you don't have the experience, skills, and other qualifications job descriptions call for. Believe it or not, some entry-level marketing jobs require several years of relevant work experience!
If you need more skills and experience to qualify for the jobs you're competing for, then consider doing a marketing apprenticeship. Acadium is a marketplace where apprentices connect with businesses that are looking for help in marketing.
By successfully completing apprenticeships, you can outshine your competitors and become employable—for entry-level positions and higher.
Acadium apprenticeships give you an edge in the following ways:
Access to free online courses covering various aspects of digital marketing — from social media and email marketing to paid advertising, SEO, marketing analytics, and more
Hands-on training under the guidance of your mentors/business owners
Real-world experience in executing marketing strategies and plans
Concrete results and achievements you can highlight on your cover letter, resume, and marketing portfolio
Relationships with business owners who might hire you full-time or help you connect with potential employers
Apprenticeships are a great way to get your foot in the door: about 50% of Acadium mentors hire their apprentices for paid positions.
Given that an apprenticeship requires only 10 hours per week of your time for three months, it's a great way to build up your skills and experience, even while you're studying or working another job. Many Acadium students juggle an apprenticeship with their studies, freelancing, or a day job.
7 Places to Find the Best Entry-Level Marketing Jobs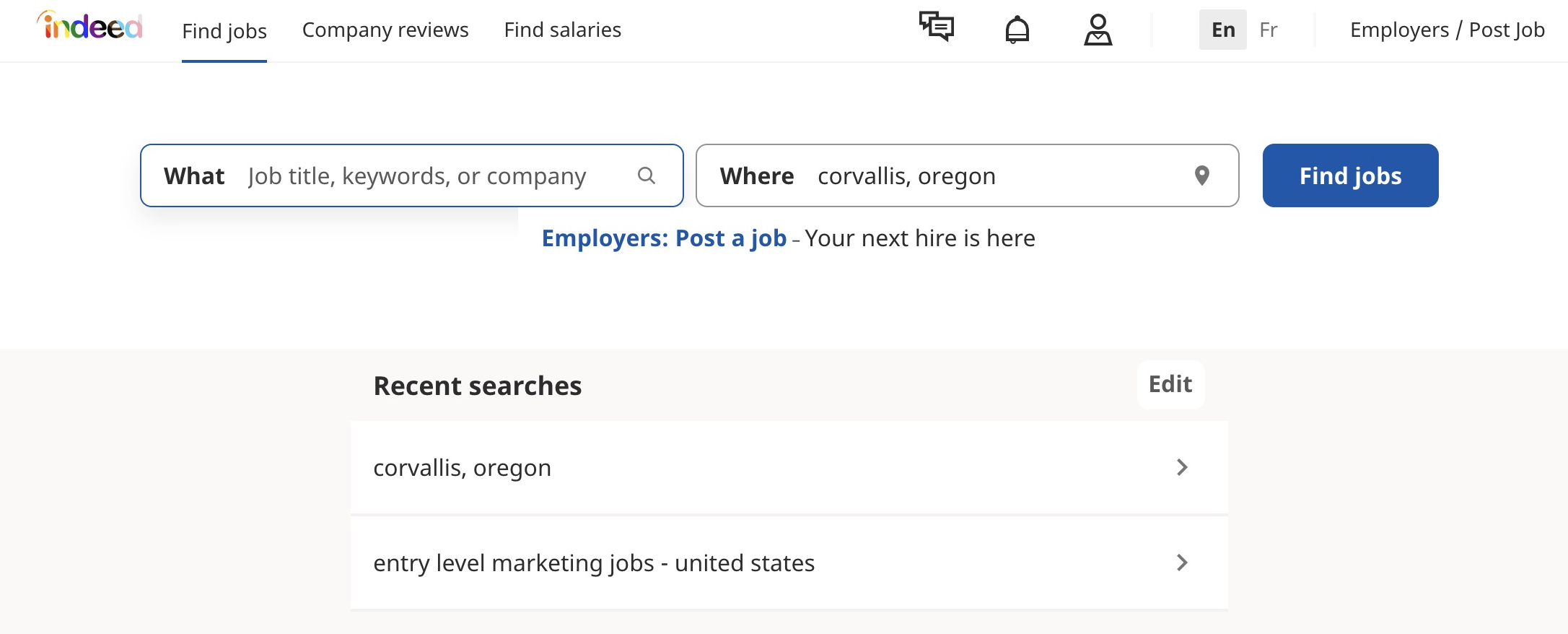 Indeed is the top online job board. More than 250 million people visit the site every month. They boast that 10 jobs per second are posted on the site.
Pros
Because it aggregates postings from other job boards, Indeed's job listing is massive and comprehensive.

Reviews of companies posted by employees help you research potential employers.

You can apply right on the platform and get notified when a company has seen your application.
Cons
With its bare-bones interface, using Indeed isn't as fun or pleasant as other job sites.

You must do your due diligence to screen the job postings. Some may have been filled and others may not be legit.

If you upload your resume on the site, you'll get frequent reminders to renew it, which other job seekers find annoying.

LinkedIn is the biggest network of professionals in the world. As of this writing, it has 756 million members from over 200 countries and territories. Whether you're looking for a location-based or remote entry-level marketing job, LinkedIn is a good place to start.
Pros
Many companies, hiring managers, and recruiters use LinkedIn to find talent. It's even possible to have your connections introduce you to people working in your dream companies.

LinkedIn's interface allows you to share your resume and show off your work, certifications, and awards.

Recommendations from previous employers and clients provide social proof that you're someone awesome to work with.
Cons
Lots of people look at LinkedIn job listings, so be ready for some tough competition! It can be hard to get noticed without spending hours and hours on it or paying for a premium account.

You have to know how to optimize your profile and brand yourself for the marketing positions you're aiming for.

LinkedIn employers tend to look for traditional credentials, such as university degrees. A

study by LinkedIn

found that 94% of people hired through the platform had a bachelor's degree or higher.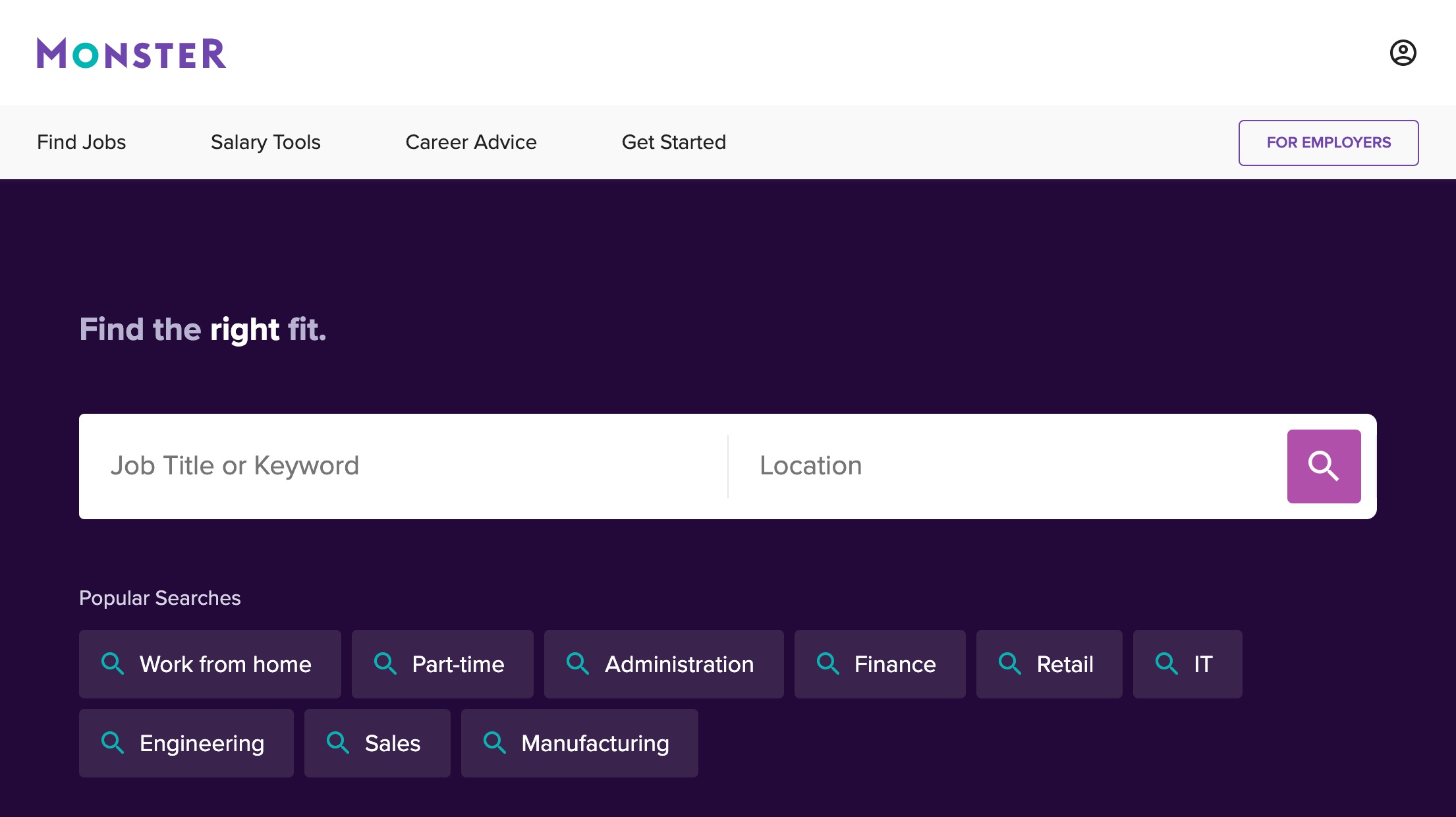 Monster.com is one of the most popular employment websites. Founded in 1999, it is one of the most popular job boards online. It provides a ton of resources for job seekers, such as tips for creating a resume, preparing for interviews, and other advice you need to find a job.
Pros
Many job seekers report that 

Monster.com

's interface is user-friendly and streamlines the application process.

You can filter the job search across many dimensions, to help you find exactly the positions you're looking for.

You can apply for several jobs simultaneously with a click of a button.
Cons
The site requires you to fill in a lot of fields when applying, instead of auto-filling them with information from your uploaded resume.

It doesn't let you know when your application has been opened or reviewed.

There seems to be a lot of spam on the site.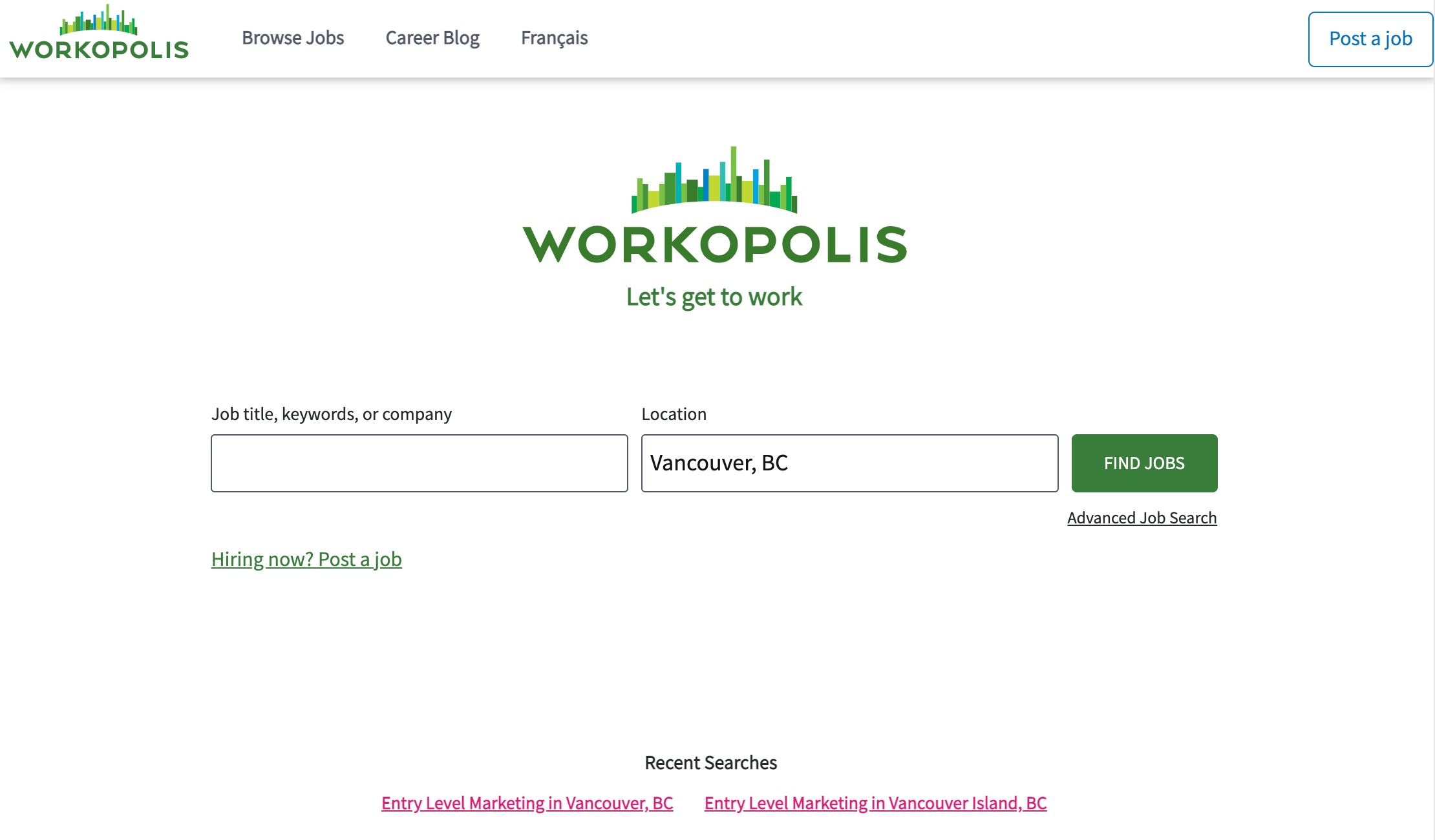 Workopolis is a Canadian online job board that's also been around since 1999. It has job services in both French and English.
Pros
Since it's a purely Canadian career site, if you're looking for an entry-level marketing job in Canada, Workopolis might be the best place to start.

When the salary is not provided by the recruiter, Workopolis provides an estimated salary, based on third-party data.

The platform lets you know how many times your resume has been viewed.
Cons
Its features aren't as plentiful or robust as other online job boards.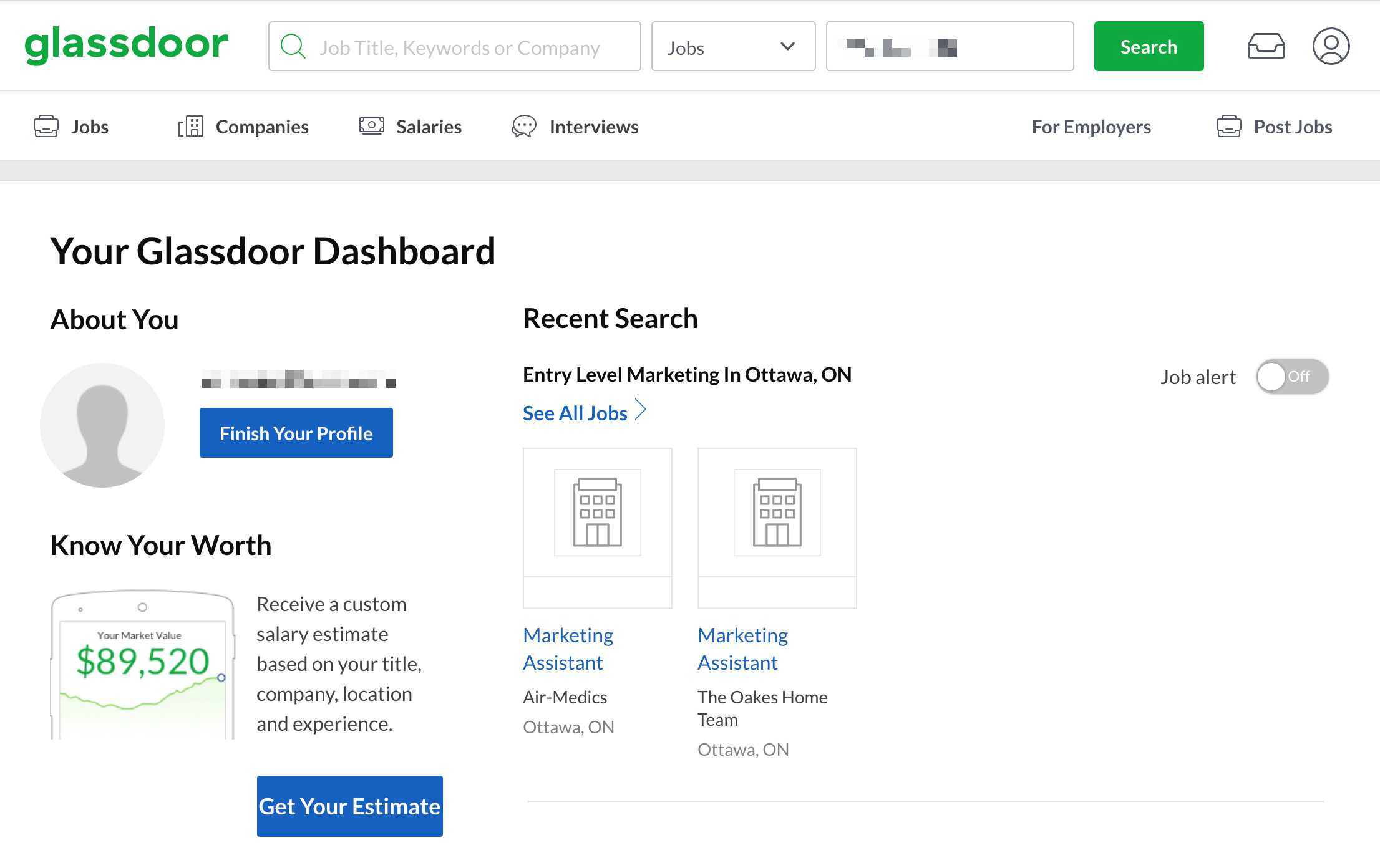 Glassdoor is more than a job board: it provides ratings and reviews of companies with salary reports, along with listings of job vacancies. It has 50 million unique visitors every month and 70 million reviews, salaries, and insights.
Pros:
The website is easy on the eyes, organized, and pleasant to use.

Company reviews by employees are an excellent way to research a potential employer before you spend all the time and energy applying.

Interview reviews give you an idea of how companies conduct interviews, including what questions they ask.
Cons:
Company reviews may be skewed by disgruntled employees or companies that encourage employees to post glowing reviews. Take everything with a grain of salt.

The site forces you to open an account and submit your own reviews and insights to "unlock" most of the resources.

The site may recommend jobs that aren't a good match for you, due to a buggy algorithm.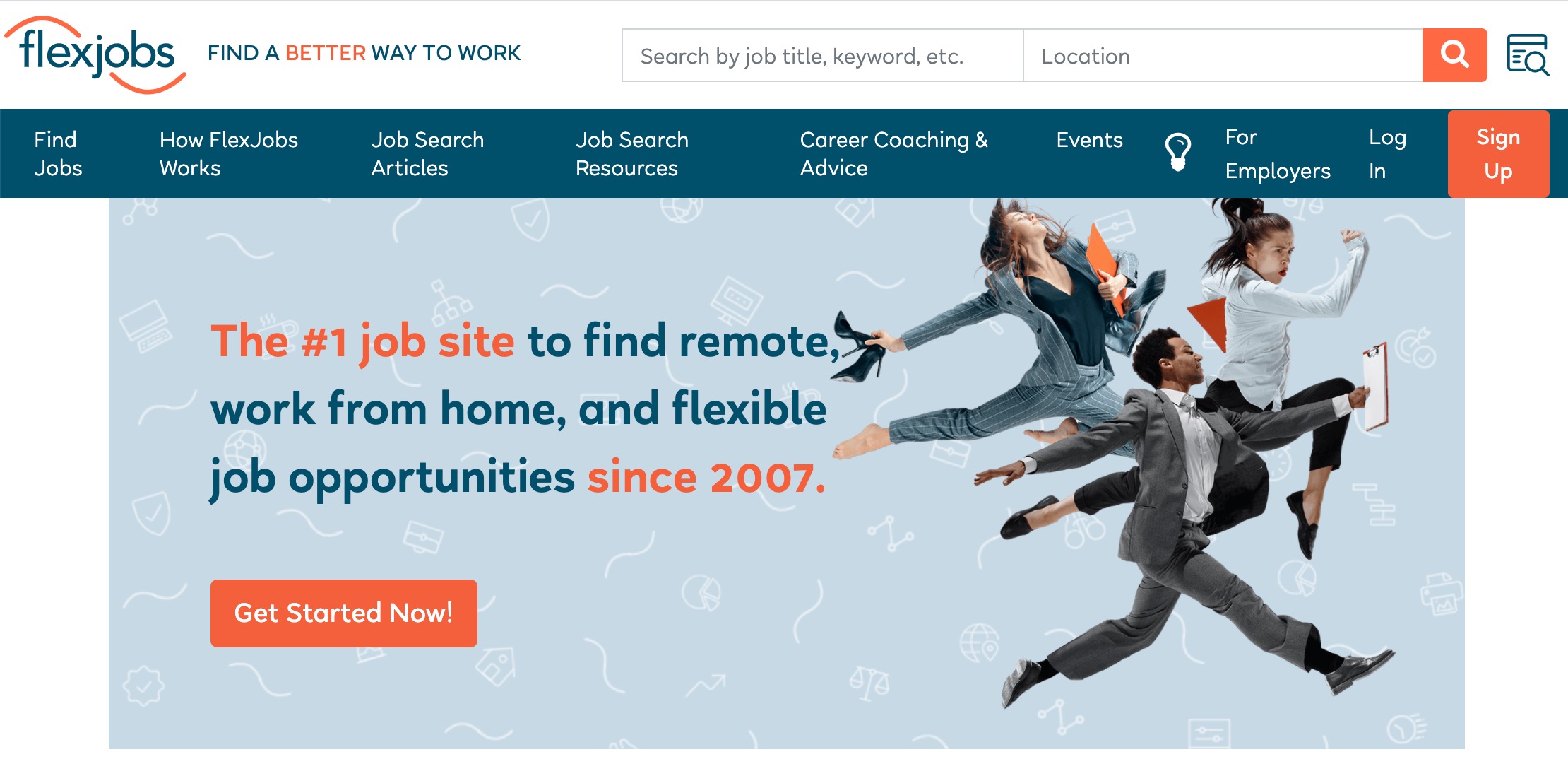 FlexJobs is a job site that's dedicated to remote, work-from-home positions. It's a good place to find entry-level marketing roles if you want to be location-independent.
Pros:
FlexJobs vets each job posting and company, so you can be assured that only legit opportunities are on the platform.

The interface is clean and ad-free, and the job search engine is one of the most robust out there.

FlexJobs offers resources to help you find your dream job, including skills tests and opportunities for resume review, mock interviews, and career coaching.
Cons:
It's a play-to-pay platform. You won't see the best listings unless you pay for a subscription.

Many of the jobs may be remote but still require you to be based in a specific location.

Some users have complained about the number of low-wage jobs.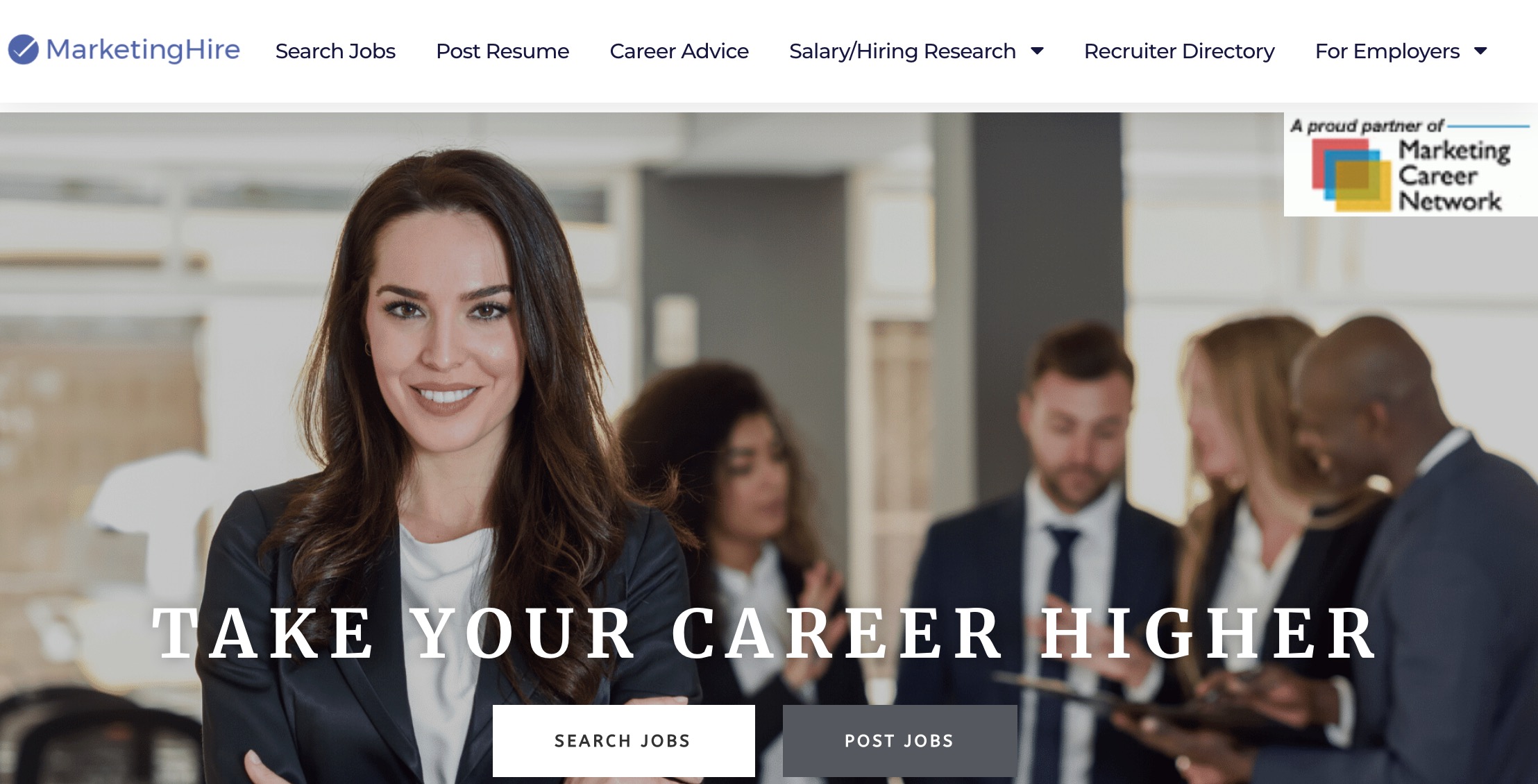 MarketingHire is a niche jobs site that's focused on marketing jobs. Founded in 2004, it's part of the Marketing Career Network, an alliance of America's marketing associations.
Pros:
MarketingHire has a Marketing Recruiters Directory, which lets you connect with recruiters who can help match you with jobs that aren't public (most likely not entry-level jobs, though).

The site vets companies that submit job postings. Users say they're top-quality employers/clients.
Cons:
The number of listings is very small.

Most of the listings are for jobs in the United States. There are only a handful of jobs located in Canada.
What do entry-level marketers Do?
A quick browse at the entry-level marketing jobs in the above-mentioned sites will show you that the most common roles are for:
Marketing assistant
Brand marketing representative or associate
Field marketer
Outside sales/marketing
Sales/marketing representative
Social media assistant
Marketing associate
Marketing intern
Outreach specialist
Marketing research coordinator
Content creator
Junior social media sales coordinator
Marketing data analyst
Brand communications coordinator
These entry-level positions are open to candidates with varying levels of marketing experience. Some are open to students and require no relevant experience. Others require at least 1-2 years of marketing experience.
How do I get an entry-level marketing job: Top 5 tips
Even though this is a growth area with the number of open positions increasing, there's still a lot of competition for entry-level marketing jobs. It's particularly tough if you're a fresh graduate, don't have formal training in marketing, or don't have relevant marketing experience yet.
These tips should help you stand out from the competition.
1. Follow job application instructions
Each employer or recruiter has their preferred way of receiving and screening applications. Read the job posting carefully and follow their instructions to the letter. Some companies want you to email your cover letter and resume to them. Others want you to apply through a web-based recruitment platform. Don't deviate from these instructions. If you do so, hiring managers won't even look at your application.
2. Tailor your cover letter and resume to the job
Don't send a generic cover letter and resume. You may start with a template, but customize them for the specific job you're applying for. The cover letter, for example, should highlight a skill or experience that's directly related to the role. Also, consider creating an online portfolio that's specific to the job. Another important way to tailor your application is by following the next tip.
3. Use relevant keywords in your resume
Highlight the most important keywords in the job posting and use these same keywords on your resume and cover letter. For instance, if the job posting mentions "landing pages" or "email marketing," make sure you use those keywords in your application where relevant.
Keywords are important because many companies now use Applicant Tracking Systems. An ATS is a software application that scans applications and filters them using different criteria. These criteria could include specific keywords, years of experience, and other dimensions specified by the employer. If your application doesn't have the desired keywords, then the hiring manager won't even see it.
4. Simplify your resume
Some ATS don't work well with resumes that have complicated designs and layouts. For this reason, it's a good idea to use a simple layout for your resume. If you think an employer uses ATS (such as if they're using an online recruitment platform), then avoid a multi-column resume, for example. You can also use a free resume scanner to see how well it performs in an ATS.
5. Update your online presence
So you've passed the ATS and now the hiring manager is seriously looking at your application. You can be sure that one of the first things they're going to do is to Google your name. So make sure your online presence is one that positions you as a desirable employee! Now's a good time to review each of your social media profiles, write compelling bios for each one, and delete any unflattering photos and posts.
How entry-level marketing apprentices succeeded (and so can you)
Whether you're a fresh graduate looking for an entry-level position, or you're aiming to switch to a career in marketing, an Acadium apprenticeship can help you get there.
Not only do you get free training in different aspects of digital marketing, you also gain real-world experience, hands-on training, and relationships that open doors for you. In fact, many Acadium apprentices land mid- to manager-level marketing jobs after their apprenticeships.
To give you an idea of how apprenticeships can help you find an entry-level marketing job—or higher—read about a few Acadium apprentices:
College grad lands dream job six days after graduation
As a college student, Corinne went through internships to help her get a job. But they gave her limited experience. An Acadium apprenticeship is what gave her the real-world marketing experience that landed her a marketing job just six days after graduation.
Laid off during pandemic, warehouse worker launches a new career
COVID put Ryan's job in danger, but he was able to gain the skills he needed to switch to a copywriter career that's pretty much pandemic-proof.
Brief apprenticeship turns into paid work
After completing a three-month apprenticeship, Elijah got hired as a content writer for the same company that mentored him—and before finishing his studies.
Get your dream job in marketing
There are many sources of entry-level marketing jobs, including some niche platforms listed above. But while the number of marketing roles is increasing, the competition for marketing jobs just keeps getting tougher.
If you want to stand out as a marketing job candidate and become more employable, consider a marketing apprenticeship through Acadium.
You'll enjoy many benefits as an apprentice. First off, you have access to free, world-class training that covers the entire gamut of digital marketing. Second, apprenticeships give you real-life experience and hands-on training with dynamic businesses. Finally, you build relationships with business owners who are in the trenches, executing marketing plans and strategies every day.
Your resume and portfolio will be more impressive when you add the real-world achievements and experiences from your apprenticeships.
Sign up as an Acadium apprentice today. As soon as you complete your profile and are approved, you can begin applying for entry-level marketing apprenticeships in the Acadium marketplace.
Editor's Note: This article was originally published in June 2021. It was updated on 21st April 2022 by Alisha Sharma, Content Manager at Acadium.
Lexi Rodrigo is the former Content Manager at Acadium. As a marketing and communications professional and course creator, she helps remarkable brands get seen, heard, and known. She has been a digital marketer and copywriter since 2008. She's also the co-author of "Blog Post Ideas: 21 Proven Ways to Create Compelling Content and Kiss Writer's Block Goodbye." When she's not reading or writing, Lexi bakes bread, grows food, and takes long walks. Connect with Lexi on LinkedIn.
Top Marketing Webinars for Digital Marketers in 2023

By attending these webinars, you will have the opportunity to learn from industry leaders, gain insider knowledge, and stay ahead of the competition.

9 Types of Digital Marketing to Choose From in 2023

Digital marketing is a dynamic field that offers diverse career opportunities. From search engine optimization to social media marketing, there are many specializations to explore. Whether you're just starting out or looking to switch careers, this guide will help you find your ideal digital marketing niche.

Subscribe to our newsletter for digital marketing resources
Become a better marketer with our digital marketing resources and tips shared weekly in your inbox.

Build your marketing career for free or find marketing talent on any budget — fully remote.