How Much Does a Graphic Designer Make? Graphic Design Salary Guide (2022)
If you're curious about how much money you can make as a graphic designer, then you're in the right place. In this blog post, we'll break down the average salary for graphic designers and examine some of the factors that contribute to it. So whether you're just starting out in your career or are thinking of making a switch to graphic design, you'll have a good idea of what to expect.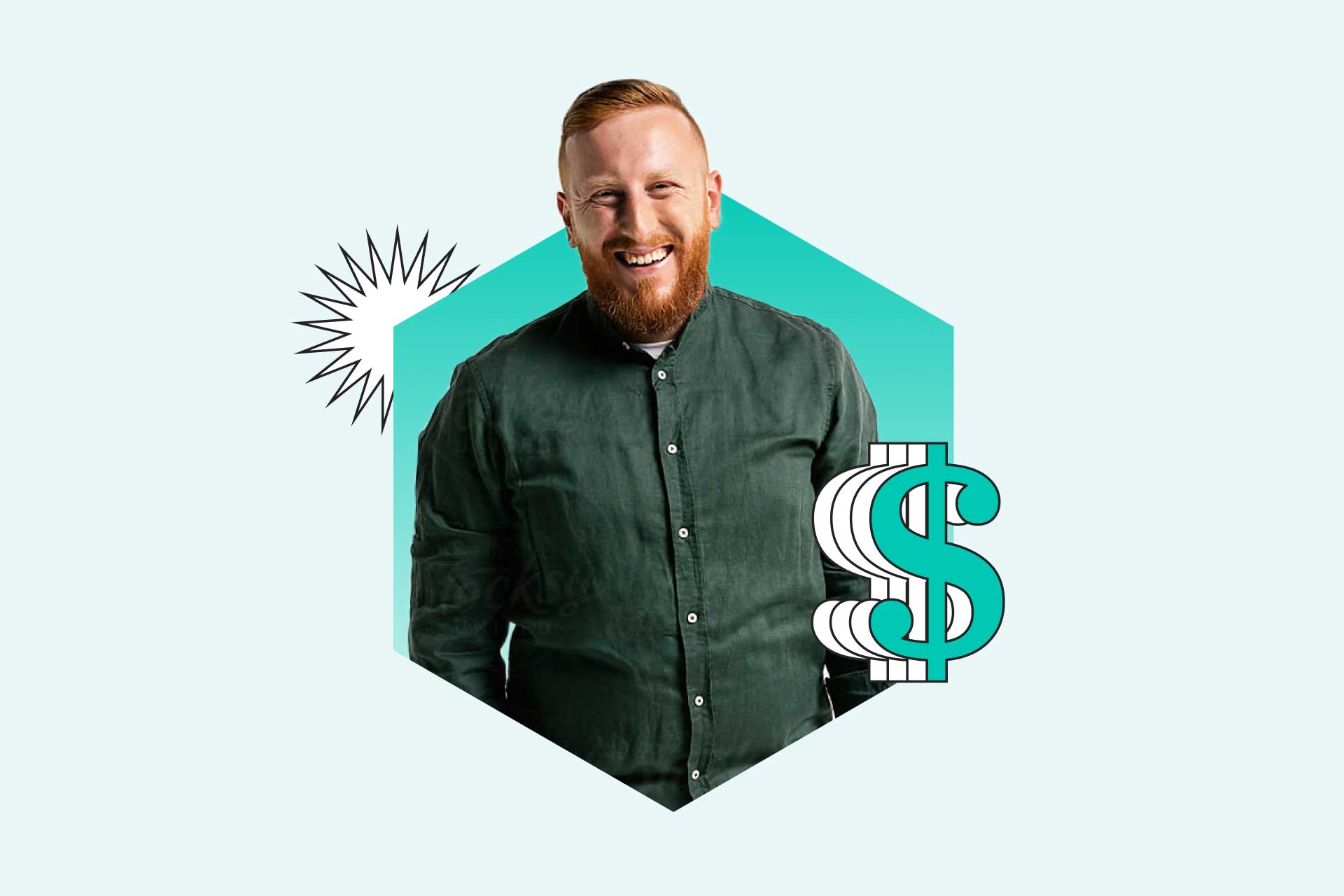 Do you have a creative flair and an eye for design? If you're thinking of pursuing a career in graphic design, you'll want to know what to expect when it comes to salary.
The demand for graphic designers is at an all-time high. In fact, as our society and culture digitize, it becomes apparent that every company needs to be design-led to survive, which results in an increase in graphic design jobs.
In a market where more firms compete to hire the best graphic designers, salaries are expected to rise.
In this blog post, we'll take a look at the average graphic designer's salary, as well as some factors that contribute to it.
Acadium Apprenticeships
Increase your chances of getting hired fast
Work with a mentor for 3 months and gain the graphic design work experience you need to get hired. 100% remote and always free.
What is the average salary for graphic designers?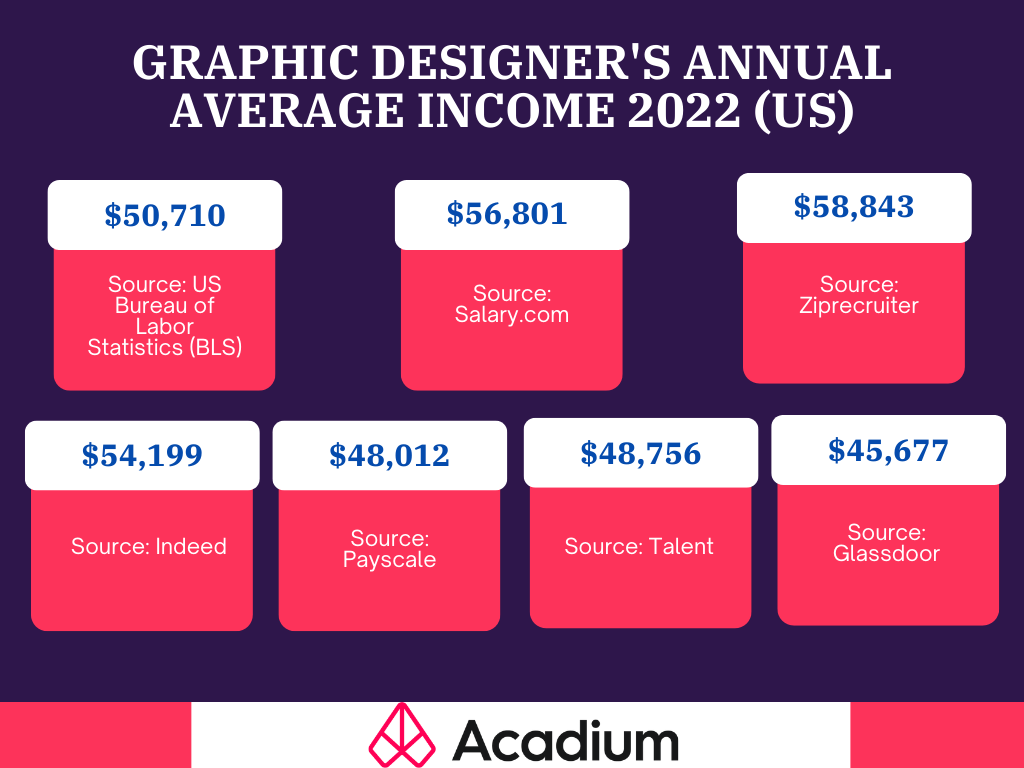 According to the May 2021 figures from the US Bureau of Labor Statistics (BLS), graphic designers earn on average US$50,710 per year.
Comparing that to the median annual wage last 2020, which was US$53,380, the figure appeared to have dropped by 5% or around US$2,670. In the same year, the highest-paid 25 percent earned $71,310, while the lowest-paid 25 percent earned $40,160.
Though, job seekers may notice that graphic designer salaries vary from one source to another.
For example, based on HR-reported data, Salary.com estimates that graphic designers earn US$56,801 in annual salaries with geographic differentials. This is pretty close to Ziprecruiter's nationwide average salary report for digital graphic designers, which is US$58,843.
Considering the 7.2k salaries reported as of September 14, 2022, Indeed calculates a graphic designer's average salary to be US$54,199.
Payscale data shows that graphic designers earn an average of US$48,012 per year, while Talent calculates it at US$48,756 per year based on 10,000 salary records.
Glassdoor's annual base pay data offers a slightly less optimistic picture, showing that the average graphic design income is US$45,677.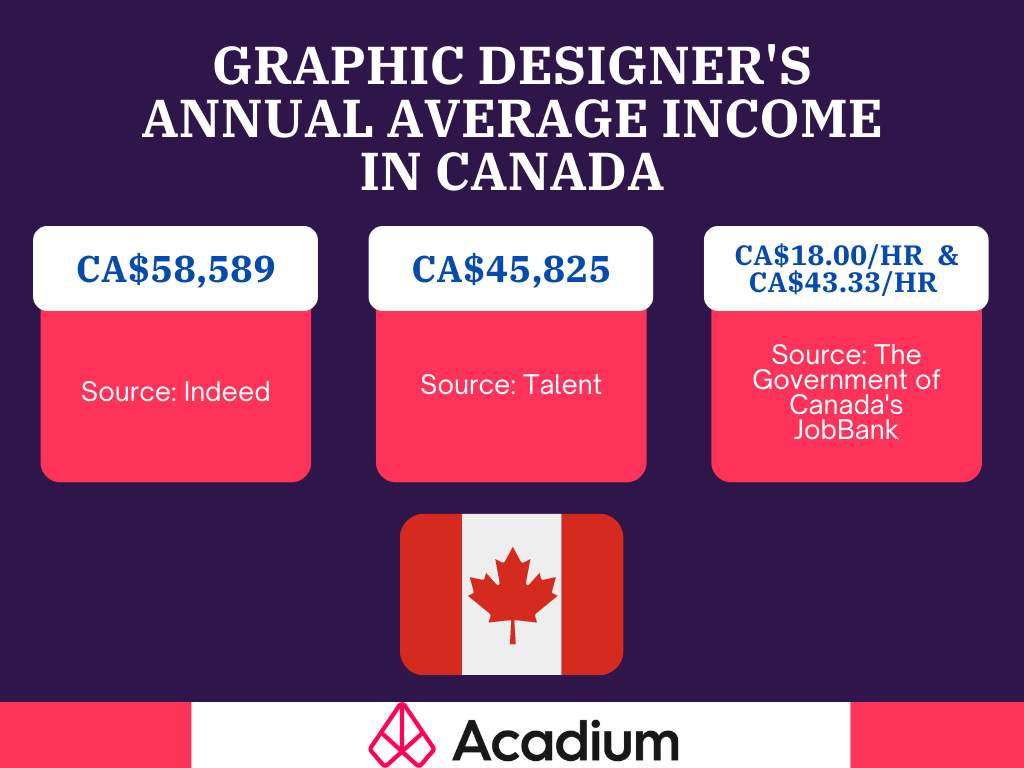 It's also important to note that these salary ranges may fluctuate due to various factors such as the country or the state you're living in.
In Canada, the average base salary for graphic designers is CA$58,589 according to Indeed's report on 1.1k salaries, as of September 14, 2022.
Talent, on the other hand, estimated the average graphic design wage to be much lower, which is about CA$45,825 per year or $23.50 per hour. This is almost comparable to the average salary of a social media manager.
Meanwhile, it is reported under NOC 5241 by the Government of Canada's JobBank that graphic designers and illustrators make between CA$18.00 per hour and CA$43.33 per hour on average.
Also Read: 2022 Average Digital Marketing Salary in Canada: Entry Level to Six-Figure Jobs
Apart from location, other probable factors that can influence the average salary include experience, size of the company, job title, and more. We'll talk more about these later in this post.
How much do graphic designers make based on experience?
A graphic designer can expect to earn between US$35k to US$56k a year in the U.S.
Based on 525 salaries collected by Payscale, the average total compensation for Graphic Designers with less than one year of experience is $40,268.
Among 10,402 salaries, an early career Graphic Designer makes an average total compensation of $45,442.
In the middle of their career, a Graphic Designer with 5-9 years of experience earns an average wage of $50,780.
Using 3,233 salaries for Graphic Designers with 10-19 years of experience, the average total compensation is $52,230.
Employees in the late career stage (20 years and up) earn an average total compensation of $53,090.
The table below shows a summary of graphic designers' average annual salaries based on their years of experience: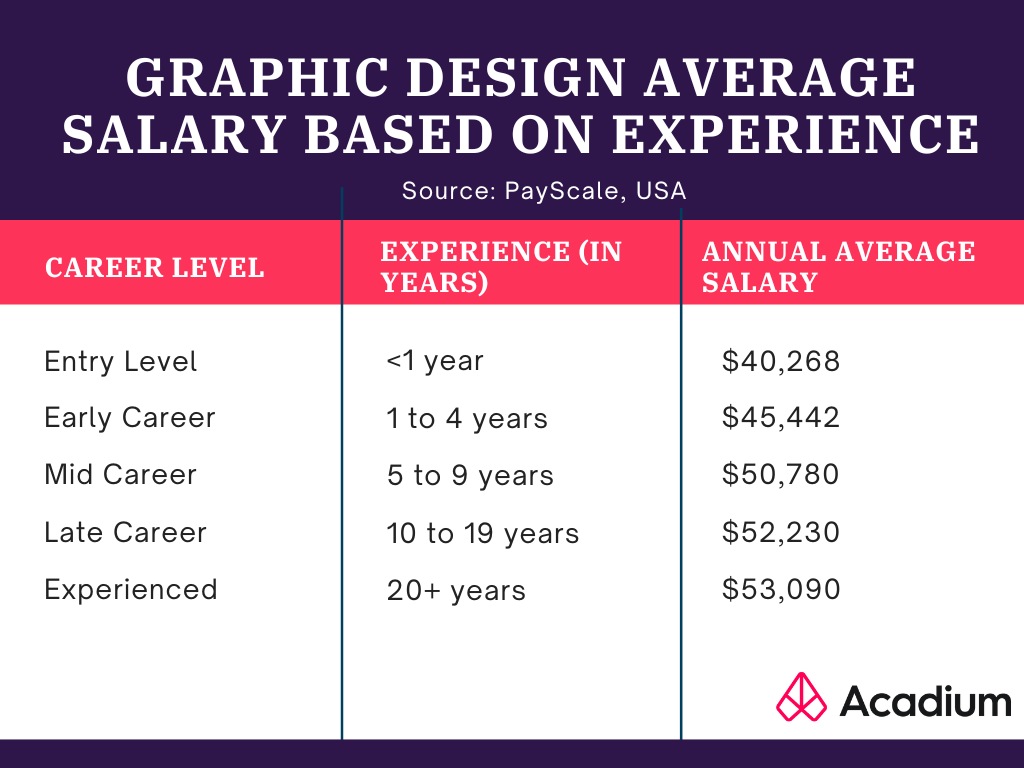 Where do graphic designers earn the most money in the U.S.?
Based on Zippia data, graphic designers in the District of Columbia earn the most in 2022, with an annual average wage of US$62,988. At the 90th percentile, the highest paid earner makes US$89,000, while the lowest paid earned US$44,000 at the 10th percentile.
As shown in the table below, Massachusetts, Washington, New York, Virginia, Rhode Island, Maine, Michigan, Maryland, California, and Alaska also rank among the highest paying states for graphic designers.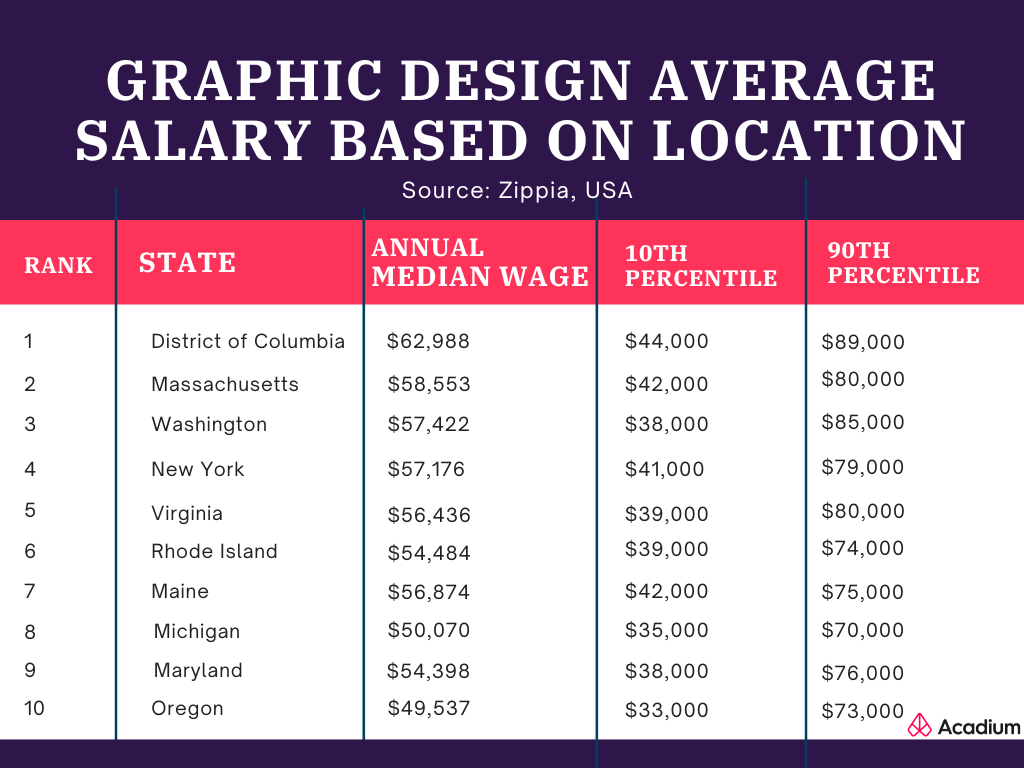 The District of Columbia has the highest average graphic designer wage with US$62,988 per year, which is way above the national average of US$56,801 reported by Salary.com.
Massachusetts trails by a US$4,435 gap. So in terms of geographical location, graphic designers are paid the most on the east and west coasts of the U.S.
Also Read: How Much Do Digital Marketers Make? State-wise Salaries in USA, 2022
Understanding the percentile wage difference
To understand more about the 10th and 90th percentile wage differences, let us discuss how they play a role in getting the average salary of a certain occupation.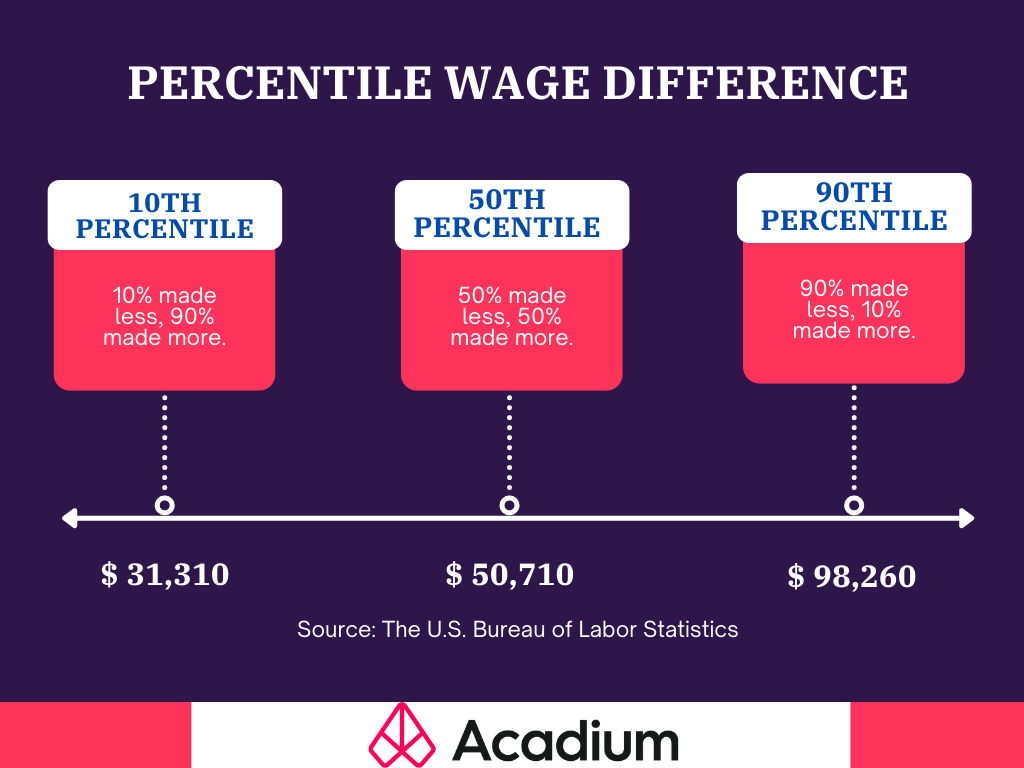 The article, "Same occupation, different pay: How wages vary", by the U.S. Bureau of Labor and Statistics describes how wages vary using percentile.
Percentile wages basically represent the range of wages among workers.
A 10th percentile wage is a wage at which 10 percent of workers in a particular occupation earn less than the 10th percentile wage, and 90 percent earn more.
On the contrary, 90 percent of workers in a particular occupation make less than the 90th percentile wage, while 10 percent make more.
In this context, the wage difference between high earners and low earners in an occupation is referred to as the "wage difference."
Basically, the median wage is the point that lies between the highest and lowest (50:50) wages for a specific position.
Nevertheless, it's important to recognize that median wages don't tell the whole story about how much workers in an occupation make.
Although a median salary is not a guarantee of a specific salary, it can provide a useful context of how many other professionals in your field are paid.
How much do graphic designers make based on specialization?
There is no one way to go in graphic design, and graphic designers can take several paths in their career.
A world in which new technologies emerge almost every day makes specializing almost a necessity. Likewise, the more specialized your role and the more specialized knowledge you possess, the higher your salary is likely to be.
The list below contains a variety of graphic design jobs, all of which require a unique set of skills.
UX Designer (US$117,397 / year)
A user experience designer — or UX designer — uses visual design, behavioral psychology, and consumer research in order to guarantee the satisfaction of users with products ranging from tablets and smartphones to desktop software programs and web applications.
UX achieves this by optimizing things like:
the aesthetic design of a product's user interface (the look and feel of menus, buttons, screens, etc used to interact with a product),
navigation design (the layout users follow to get to different parts of the product), and
overall product usability (the degree of effectiveness, efficiency, and satisfaction users experience while using a product to achieve specific goals).
Using Glassdoor's job listing website, the average base salary for UX designers in the US is $117,397. Glassdoor also ranked the role sixth on its list of 25 highest-paying entry-level jobs.
Art Director ($100,890 / year)
Typically, art directors supervise other designers and artists working on television, film, live performances, advertisements, and video games. In terms of communication style, they determine how a message is visually conveyed to the audience.
Every time they begin a project, they articulate their vision to the artists. In response to the art director's vision, the artists create illustrations, graphics, photographs, charts, and graphs, or design stage and movie sets.
An art director creates designs and layouts in advertising agencies, public relations firms, or publishing houses. They also assist producers and directors with set design for theater, TV, and movies.
In addition to understanding project design elements, they need to inspire other creative workers and keep projects on schedule and within budget. They are sometimes responsible for developing timelines and budgets.
Art directors make an average salary of US$100,890 per year, according to CollegeGrad.
UI Designer (US$94,299 / year)
UI design involves designing user interfaces. User interfaces are what people interact with when using apps, websites, or software. As with graphic designers and web designers, UI Designers are visual designers.
In contrast to a Web Designer, a UI Designer designs interfaces for websites, apps, and other digital products, while a Web Designer focuses solely on websites.
The role of UI Designers is similar to that of UX Designers, as they create with a human-centered approach, prioritizing users' needs first.
A UI Designer's job is to make sure that the user interface is beautiful and intuitive (meaning that a person can easily navigate through it without having to think too much). Also, user interface design influences customers' perceptions of brands.
It's also important to note that UX and UI differ.
UX design is concerned with how users interact with digital or physical products. UI focuses more on visual details, while UX focuses on the big picture. You can think of UX as the feel and UI as the appearance.
UI designers earn a median annual salary of US$94,299, according to Glassdoor.
Senior Graphic Designer (US$80,102 / year)
The senior graphic designer is responsible for conceptualizing and implementing design solutions that meet marketing strategies.
In this role, you will need to have a strong understanding of the processes and techniques of graphic design and layout. Additionally, it requires skills in client interaction and executive leadership.
The ability to manage an entire marketing campaign, not just a specific piece of the campaign, is a hallmark of a senior graphic designer.
Senior Graphic Designers are also expected to demonstrate high levels of proficiency with design, multimedia, and web applications, such as Adobe Creative Suite. Printing procedures, photography, illustration, and verbal and written communication skills are all beneficial in this position.
The average total salary for a Senior Graphic Designer is US$80,102 per year, according to Salary.com.
Web Designer (US$64,393 / year)
Web designers are responsible for developing a website's layout, visual appearance, and usability.
In order to be a successful web designer, you must possess creative graphic skills and other soft and technical skills needed for this role. A website designer needs to be able to visualize how a site will look (graphic design) and how it will function (converting a design into a working website).
It is common for Web Designers to be confused with Web Developers and vice versa. In most cases, a web developer works with programming languages to create higher levels of interaction on a website, such as integrating it with a database.
As of August 29, 2022, Salary.com reports that the average salary for a Web Designer I is $64,393.
Marketing Graphics Specialist (US$48,796 / year)
A marketing graphics specialist typically has a strong design background as well as creative skills.
To promote their goods or services, they usually collaborate with copywriters or content writers, photographers, web designers, and advertising executives.
They are sometimes required to create graphics according to the client's specifications, but they can often rely on their own creativity.
Additionally, marketing graphics specialists must stay up-to-date on technology, including page design software, photo editing software, and more. It not only makes them more versatile for clients but also streamlines their workflow.
As per Payscale, a marketing graphics specialist's average base salary is around US$48,796 per year. However, this is somewhat less than the actual salary of any marketing job, which hovers around $50,000 both in Canada and the United States.
Also Read: Bringing Ideas to Life: Top 8 Things a Graphic Designer Does Every Day
What are the factors that can affect your graphic design salary?
There is no single salary figure for every career. Even within the same profession, salaries vary dramatically, as demonstrated in the earlier sections in this post.
The salary of two workers with similar job responsibilities could differ.
So, why does salary differ so much within the same profession?
It is common for employers to adjust their salaries based on a number of factors. The following are some of the most obvious ones.
1. Location
There is no surprise that geographic location affects how much you can earn in a given profession.
When determining compensation, the cost of living depends largely on location, particularly the cost of housing. This explains why salaries in large urban areas tend to be higher than those in more rural areas.
However, many employers have shifted away from location-based compensation due to the rise of remote work. It is always better to do some research to determine what's trending in your field.
2. Job Profile vs Skills
Compared to job titles, key skills may be an even more reliable metric for determining salary ranges. After all, even the same job title could mean very different things to different companies.
Moreover, many skill sets can be applied to a range of roles, which are all competing for the same talent.
3. Industry
Depending on what industry you're in, workers with similar, or even the same, job titles can expect vastly different wages.
For example, the U.S. Bureau of Labor Statistics figures indicates graphic designers who work in advertising, public relations, and related services earn a slightly higher median annual salary ($55,800) than those in other common industries.
This discrepancy can be explained by various factors – some job functions may be critical to certain industries, or the size of one industry may be significantly greater than another.
4. In-house vs. Agency vs. Freelancing
It has been assumed that the preferred career path for graphic design is a salaried role at a design agency.
Many people consider this to be the ideal profession, and this view is echoed in graphic design university courses. It's worth considering, however, that in-house positions at big companies typically pay much better than those at agencies and are often easier to obtain.
Agency pricing is typically based on individual projects and services. The hourly rate is higher, but they work to a deliverable every minute and second.
For in-house recruiting, companies often offer competitive salaries and benefits and use creativity to attract top talent. So the salary range here depends on the factors mentioned in this list such as your experience, skills, and more.
In contrast, freelance graphic designers work as contractors and run their own businesses. They get paid differently since their livelihood depends on clients and projects.
The rates charged by graphic designers on Upwork, for example, range from $15 to $150 an hour, with an average rate of around $25.
In some cases, designers might set a fixed price for the work they do, based on their understanding of their client's needs.
The expertise and experience of the freelancer, the scope of work, and the timeline are some of the most significant factors for compensation.
The downside of using freelancing platforms is that you may not receive the full amount your client paid since they charge a service fee.
On Fiverr, for example, freelancers are charged a hefty 20% fee for each task they complete. Therefore, if you charge $100 for a task, Fiverr will only pay you $80. (Now imagine, if you have 5 tasks in a row. Yikes!)
Similarly, Upwork's starting fee is 20%, but it also varies based on how much you charge your clients.
For those just getting started as freelance graphic designers seeking a low-risk platform, Acadium's freelancing program is a good option.
It is often difficult for early freelancers to connect with potential clients even when they have the skills and energy to succeed. In contrast to traditional freelancing sites, Acadium caters to those just getting started with little experience and experienced freelancers.
With Acadium, you'll be able to work with vetted clients based on your experience, availability, and specialty, and start getting paid instantly.
You're also free to set your own hourly rate. Best of all? Acadium takes only a 10% percentage of the payment from the client to the freelancer. There are no membership fees and no matching fees.
Also Read: How to start with freelancing – an easier way
5. Years of experience
A saying goes that there is no substitute for experience, and that is likely to be true. As a professional, experience plays a large role in how much you can earn. When it comes down to it, you'll get paid what you're worth. Some companies may also require a Bachelor's degree in graphic design.
Also Read: Get into Graphic Design without a Degree
Generally, more experience results in higher pay – up to a point. A position that requires someone with 10 years of experience in a particular occupation may also place you at the lower end of the pay scale if you don't meet those requirements.
If you're a recent graduate, you're probably stressed about finding a job after college. But how do you get a graphic design job without experience?
Fresh graduates like you are taking advantage of marketing apprenticeships to get ahead of the competition.
In Acadium's marketing apprenticeship, for instance, you can get hands-on training and real-world experience that set you apart from other job candidates for just 10 hours per week over three months.
Additionally, you can get testimonials, work samples, and measurable results that you can use to begin your career in graphic design.
And with 55% of mentors hiring their apprentices, it is likely your first job will be with your mentor.
So if you're ready to get involved in real-world graphic design projects, then become an apprentice on Acadium today.
With the skills, results, work samples, and network you develop, finding your first–or next– job will be much easier.
Princess "Ji" Kang is a staff content writer at Acadium who unveils complicated topics about digital marketing. She's been wordsmithing for various brands and industries for nearly 6 years, after earning her Master's Degree in English Language and Literature along with her Digital Marketing certification. Her work has appeared on sites such as asksebby.com, wellpetcoach.com, Ready Home Singapore, ThePerfectMedia Group, and more. You can find her at her home mini-library reading, sipping hot coffee, or playing with her cats in her downtime.
Top Marketing Webinars for Digital Marketers in 2023

By attending these webinars, you will have the opportunity to learn from industry leaders, gain insider knowledge, and stay ahead of the competition.

9 Types of Digital Marketing to Choose From in 2023

Digital marketing is a dynamic field that offers diverse career opportunities. From search engine optimization to social media marketing, there are many specializations to explore. Whether you're just starting out or looking to switch careers, this guide will help you find your ideal digital marketing niche.

Subscribe to our newsletter for digital marketing resources
Become a better marketer with our digital marketing resources and tips shared weekly in your inbox.

Build your marketing career for free or find marketing talent on any budget — fully remote.