How Much Do Digital Marketers Make? State-wise Salaries in USA, 2022
How much do US-based digital marketers make in 2022? You'll find salaries for each state in the tables below. And if you need help figuring out how to get into digital marketing without a degree, we got you covered too.
How much do digital marketers make in the United States? With digital marketing remaining a growth industry, it's a fair question to ask. But with the US having 50 states, the answer is a little bit more complicated than a simple figure.
So with that in mind, you'll find a comprehensive guide on how much digital marketers make, i.e., the average salary of a digital marketer in the US below. You'll see a range of base wages, as well as a state-by-state breakdown of annual pays. The data is also presented in infographics and tables to help you find the figures you need.
After reading the figures below, you may want to find out how to get started in digital marketing.
Truth is, you generally don't need a degree in digital marketing to get started. All you need is perseverance, coupled with opportunities, to learn the basics. Some opt for alternative learning experiences, such as apprenticeships. These options help candidates gain work experience as they learn the fundamentals of digital marketing.
Acadium Apprenticeships
Digital marketing experience at your fingertips
Learn how to become a digital marketer through practical experience. 100% free, always remote, and under the guidance of an experienced, vetted mentor.
But before you decide on what to do, find out how much digital marketers make in the US, per region, and per state. Need to know what digital marketers make in Canada? Read this post on the average Canadian digital marketing salaries in 2022.
How much do digital marketers make?
Average digital marketing salary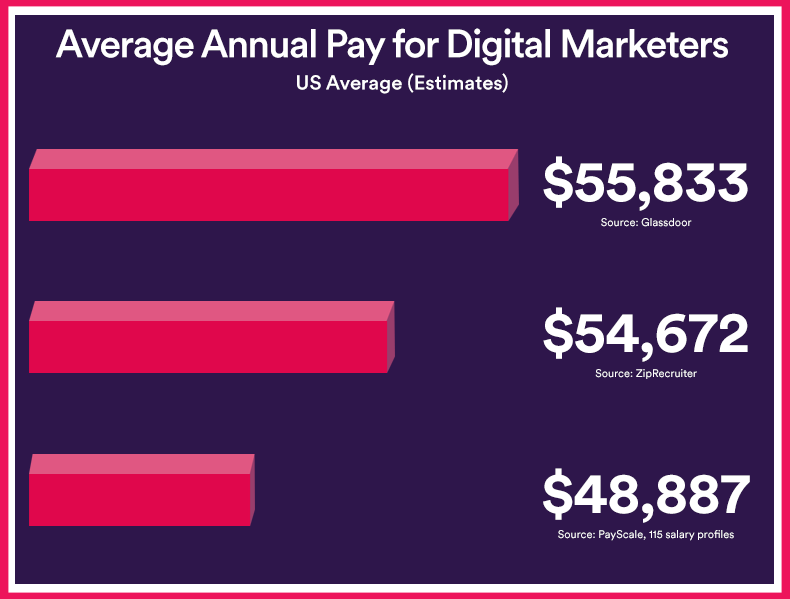 There's considerable variance in the average salary of US-based digital marketers. To illustrate, at least 115 digital marketers on PayScale reported their median annual salary as $48,886. Comparatively, Glassdoor and ZipRecruiter have near identical records of $55,833 and $54,672, respectively.
Note that these figures are for the exact title "digital marketer", and account for the base salary, sans any bonuses. Glassdoor's standard in particular "is the midpoint of the ranges from our proprietary Total Pay Estimate model and based on salaries collected from our users."
Furthermore, other sites—and even the ones we cited above—have different salaries listed per city or state. You'll find a per-state breakdown below, including notes on which cities have higher pay than the average national salary.
Digital marketer salary per region
Northeast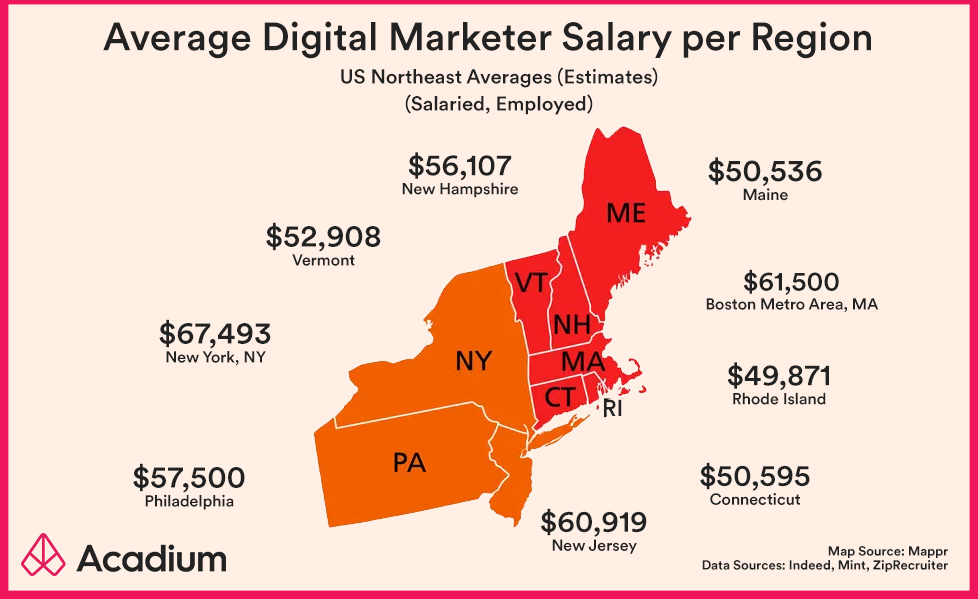 If you can't see the figures on the map or need a more convenient way to read them, here's a table of the map data:
[wptb id=11162]
Midwest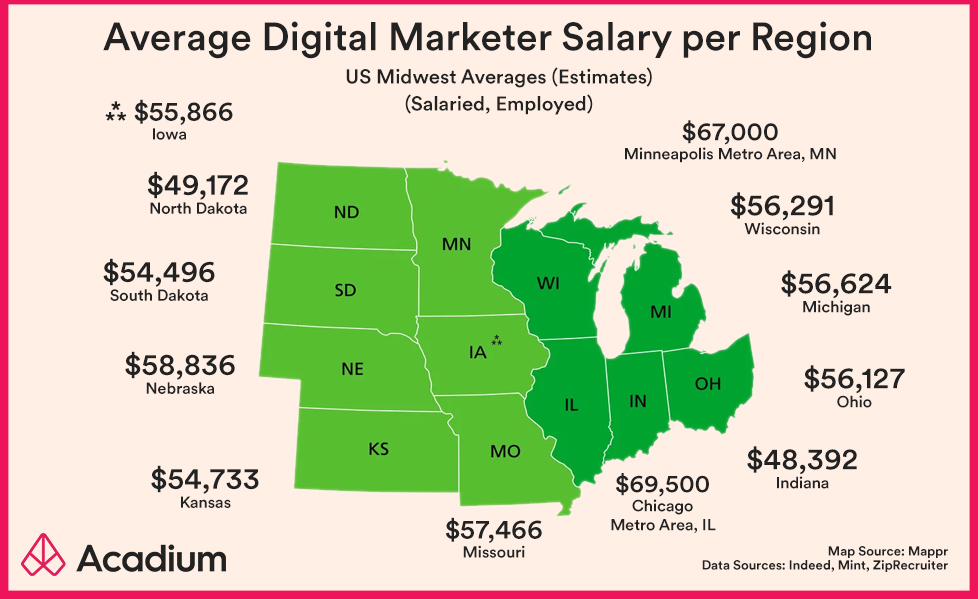 If you can't see the figures on the map or need a more convenient way to read them, here's a table of the map data:
[wptb id=11166]
West 1
If you can't see the figures on the map or need a more convenient way to read them, here's a table of the map data:
[wptb id=11171]
West 2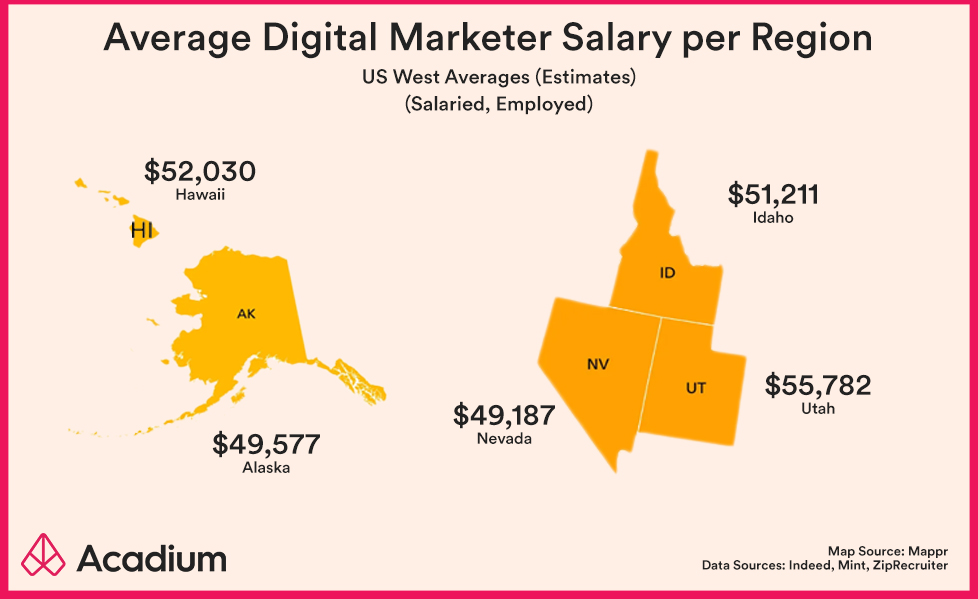 If you can't see the figures on the map or need a more convenient way to read them, here's a table of the map data:
[wptb id=11179]
South 1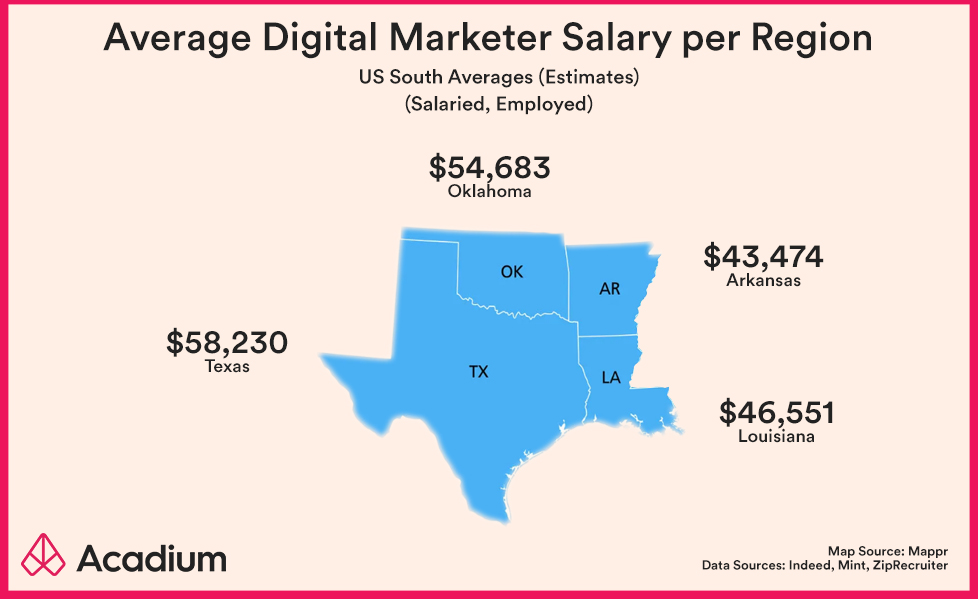 If you can't see the figures on the map or need a more convenient way to read them, here's a table of the map data:
[wptb id=11181]
South 2
If you can't see the figures on the map or need a more convenient way to read them, here's a table of the map data:
[wptb id=11183]
South 3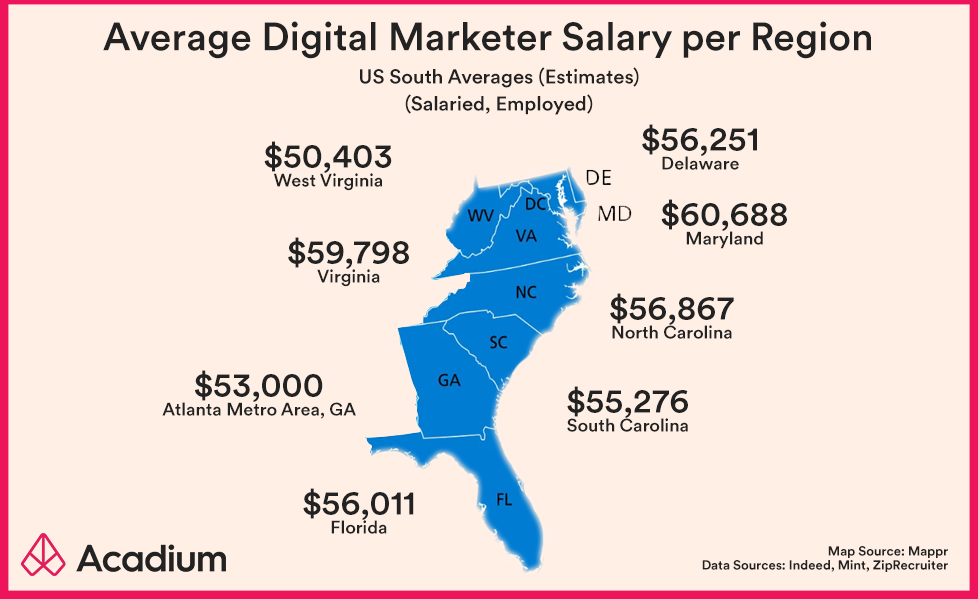 If you can't see the figures on the map or need a more convenient way to read them, here's a table of the map data:
[wptb id=11190]
Source
All salaries on this map reflect salaries reported from particular cities in each state, save for states labeled under ZipRecruiter.
Cities within the same state may have different wage averages for digital marketers. As an example, ZipRecruiter notes Riverside, CA has an average digital marketing salary of $49,705, but Hayward, CA's average wage is $57,552, and Oakland, CA's is around $58,783. These figures are around the same range as ZipRecruiter's estimate of California's average digital marketer salary per year, which is $54,482.
Basis for each site
Mint's averages are based on 819 income tax records from consenting customers of Intuit's TurboTax service. They note that "marketer salaries in the United States can vary between $20,500 to $135,000". Salaries also "depend on various factors, including skills, experience, employer, bonuses, and more."
One thing to keep in mind is that Mint has a separate page for "digital marketing". Digital marketing has 1,396 income tax records. It's difficult to know the exact title or experience level of professionals who filed under this category, because of the generalized term.
States labeled under ZipRecruiter are based on their average digital marketer salary per state table. These are generalized wages per state. They also provide per city figures. You should note that some cities have wages higher than the average national salary.
According to them, the highest-earning city, Bellevue, WA, "beats the national average by $10,320 (18.9%)". Then, "Richmond, CA furthers that trend with another $12,223 (22.4%) above the $54,672 average."
Indeed bases its figures on salaries reported on its website. Their "How much does a Digital Marketer make in the United States" page notes an average base wage of $58,323, based on more than 8,000 reported salaries. Additionally, 51% of 984 ratings left on their site feel their salaries "are enough for the cost of living in their area".
Why digital marketing?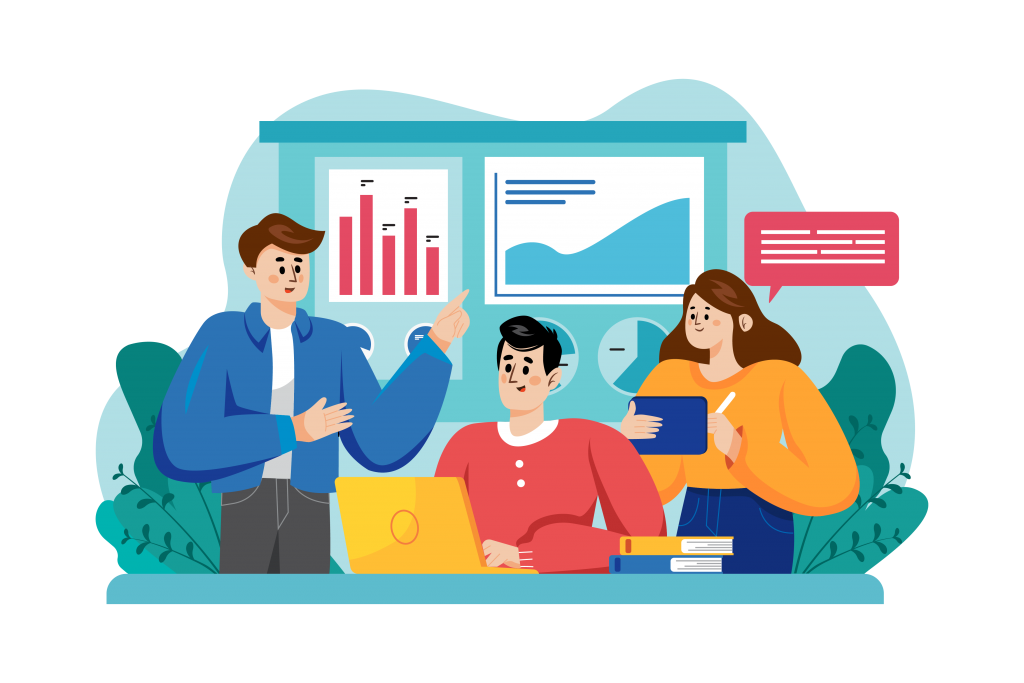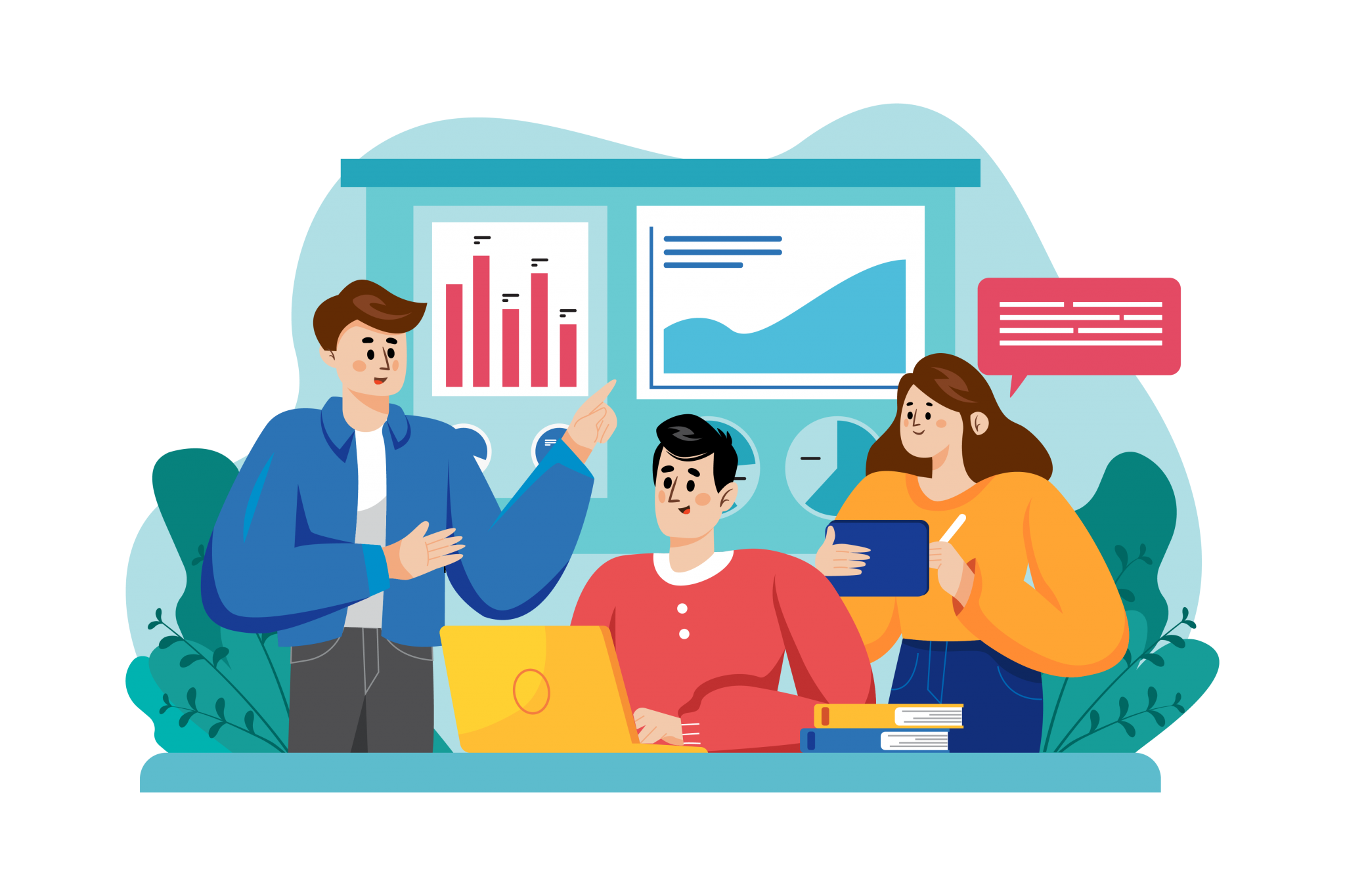 A digital marketing career in 2022 is great because of its high growth potential, career versatility, and freedom it offers.
1. High growth
The US Bureau of Labor Statistics projected that employment of advertising, promotions, and marketing managers will grow 10 percent from 2020 to 2030. It also predicted that demand for marketing managers will grow due to more organizations seeking new ways to expand their customer reach.
Digital marketing in particular will be an advantage. Businesses will look for more digital marketers because, as the US BLS predicts, more people will be within the reach of electronic media than traditional media. In particular, businesses that make heavy use of websites, social media, and live chats are expected to have the most need for digital marketers.
2. Career versatility
Having digital marketing skills and experience will prepare you for a ton of occupations, including:
Social media manager
Search engine optimization (SEO)/Search engine marketing (SEM) specialist
Content manager and strategist
Email marketing specialist
Virtual reality developers and editors
Digital media analyst
User experience (UX) designer
You'll get a closer look at some of these jobs later.
3. Freedom in career choices
Even if you don't get a job in digital marketing, fostering a skill set in this industry will set you up for success in other fields. Your soft skills, such as project, time, and budget management, as well as communication skills, are in-demand for any job. In addition to that, you've got the following technical skills that other workplaces will appreciate:
Content curation and creation
Digital literacy
Knowledge of search experience and landscape
Research skills
Marketing techniques
Data analysis
There will also be a section on digital marketing skills, right after this next section.
Jobs in digital marketing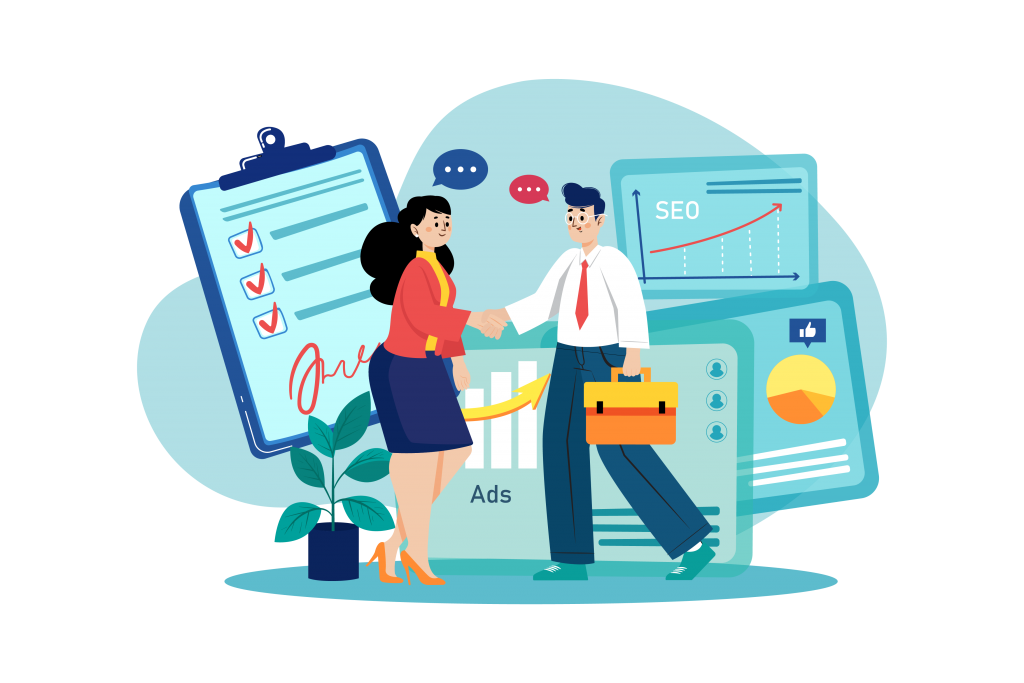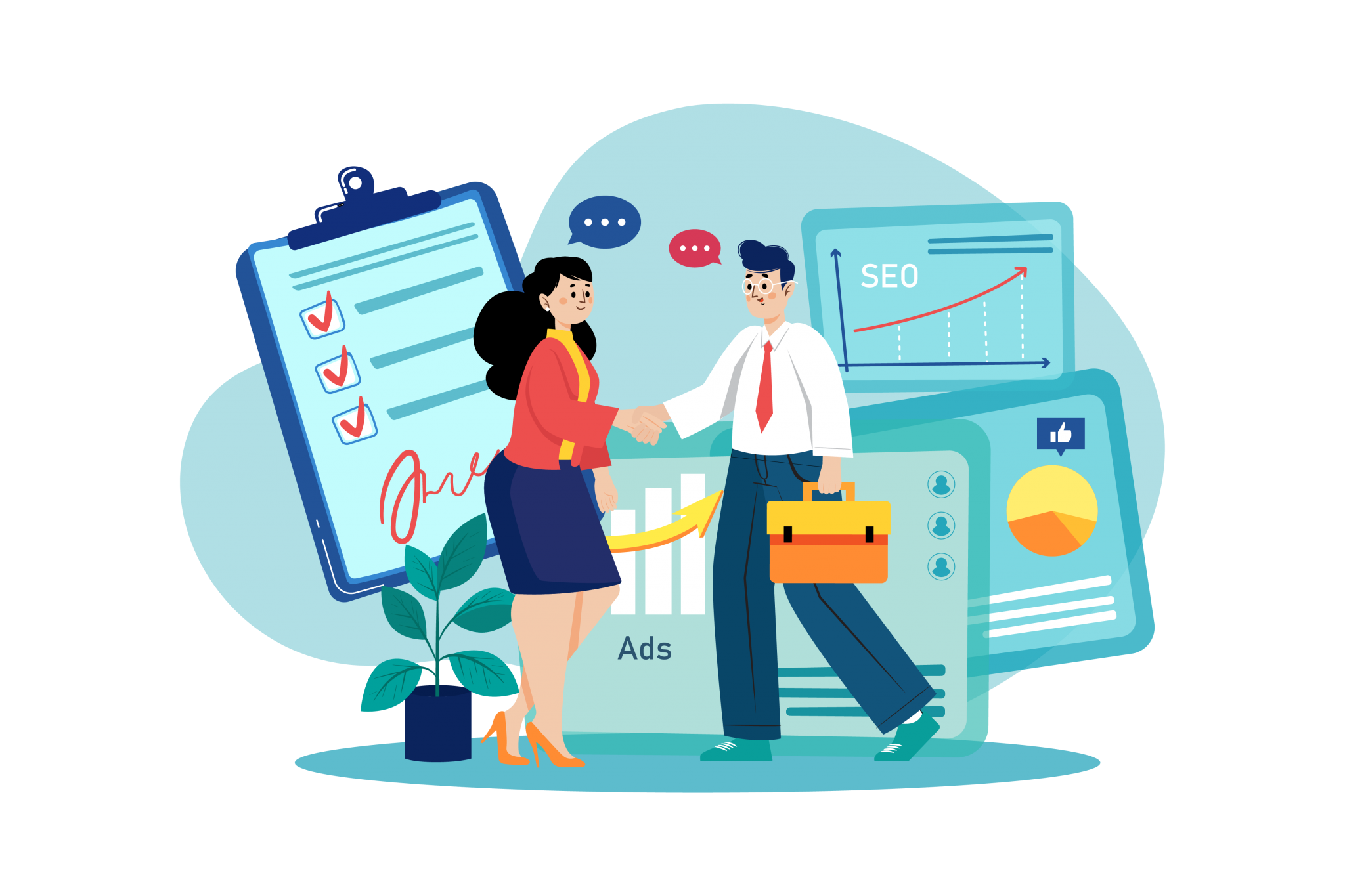 Digital marketing manager
A logical next step from being a digital marketer is advancing to a managerial role. Digital marketing managers plan, execute, and monitor digital marketing strategies, in addition to managing their team. They also meet with upper management, as well as other departments, to present the achievements of their team and open up room for collaboration.
The US Bureau of Labor Statistics categorized marketing managers in the same profile as advertising and promotions managers. Their data from May 2021 pegs the median annual wage of advertising, promotions, and marketing managers at $127,150.
Marketing managers specifically had a midway point of $135,030. The lowest 10% earnings for marketing managers were marked at $77,680, and the highest 10% at more than $208,000.
These averages are significantly higher than the total median annual wages of other occupations, which the US BLS notes is $45,760 as of May 2021. On the other hand, the bureau also noted that some advertising and promotions managers work more than 40 hours a week.
Content marketer
Ever seen a video, blog, or graphic that delighted you enough to follow a brand, or buy something from them? Content marketers have something to do with that.
Content marketers plan, create, and distribute content to entertain, inform, or inspire a target audience to convert them into leads or sales. Instead of banking on instant conversions, content marketers strategize to build trust and loyalty within their audience.
Digital paid ads manager/PPC specialist
While organic traffic is all the rage nowadays, paid advertising is still an effective way to direct a target audience to a site.
Businesses want someone who understands how the most popular online ad networks work, and how to maximize their budget, in order to reach the most customers as possible. Whether that's Facebook ads, Google ads, or landing pages, you're entrusted to bring in the most leads with the least clicks as possible.
Social media manager
If a business has a thriving social media presence, a good social media manager is behind it. Social media managers help businesses create a loyal customer base through peak content curation, top-notch interactions, and careful brand management. And with B2B companies also relying on social media, you're never going to run out of opportunities.
SEO specialist
An SEO specialist can find work in almost any business that needs visibility online. That's because an SEO professional puts them at the top of search results. Moreover, they expand a business' online exposure through the strategic use of keywords and techniques that improve their online authority.
Digital marketer skills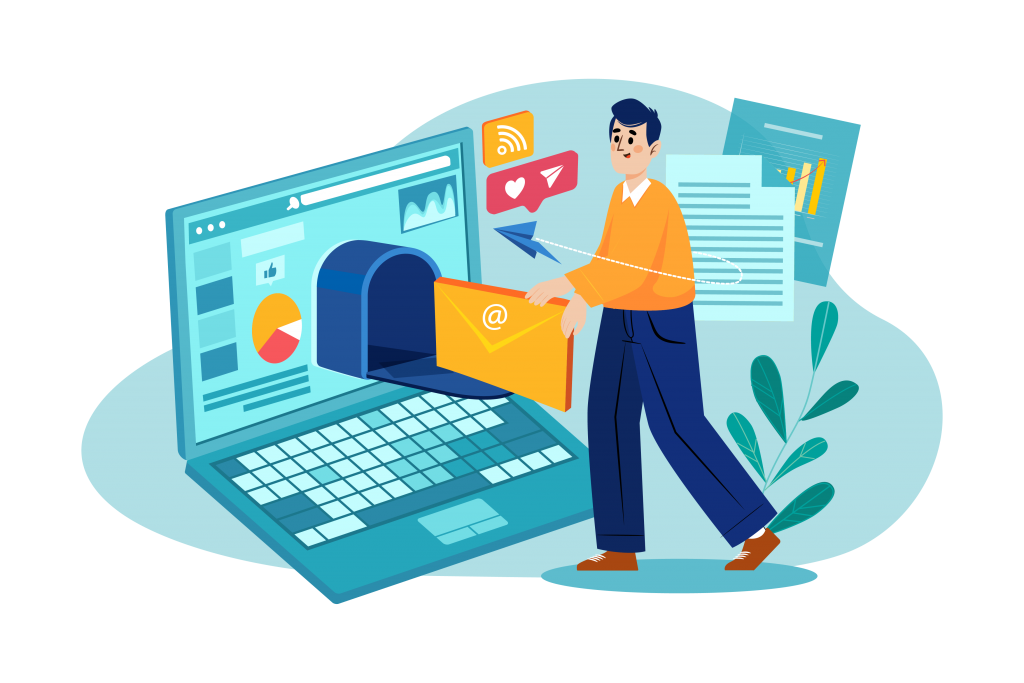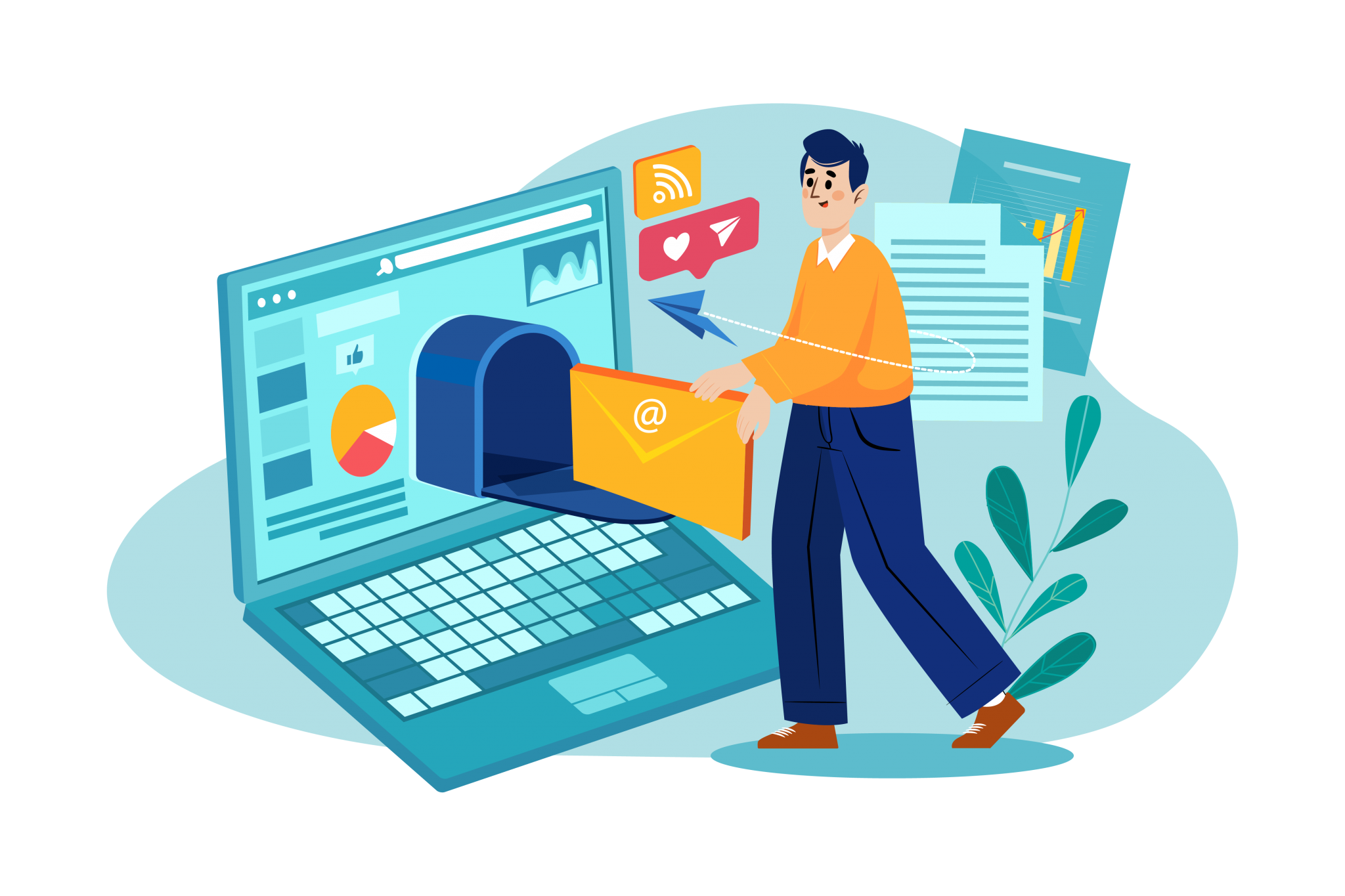 As a digital marketer, you'll pick up a lot of skills. They can be divided into two categories: technical and soft skills. Technical skills are the abilities you need to perform your job, while soft skills help you collaborate with your team and navigate the workplace.
Technical skills
Organic social media skills
Content creation (e.g., blogs, videos, infographics, podcasts, etc.)
Data analysis and interpretation
Use of content management systems (CMS) and other programs
SEO/SEM
Soft skills
Empathy and communication
Adaptability and resourcefulness
Management skills (e.g., time, project, budget, etc.)
Analytical reasoning and strategy formulation
Creative thinking
How to get into digital marketing
As shown above, you don't need a degree to get a job in digital marketing. You can pick up basic knowledge through courses that teach you what every digital marketer needs to know. These courses also have hands-on tasks you can practice your newfound skills on.
If you want a more practical approach to learning digital marketing, there are also apprenticeships. Unlike internships, apprenticeship programs put you in real-world job scenarios, where you gain work experience as you learn practical skills directly applicable to your dream job. Your mentors are also engaged and will be there to give you useful feedback.
In the event that you're ready to find jobs, you can use these articles to help you get ready to start your career in digital marketing:
Five years in journalism, two in proofreading, and eight in freelance ghostwriting. Creating content that's entertaining, informative, and actionable shapes my writing. When not scrutinizing my copy, I'm likely watching hockey.
Top Marketing Webinars for Digital Marketers in 2023

By attending these webinars, you will have the opportunity to learn from industry leaders, gain insider knowledge, and stay ahead of the competition.

9 Types of Digital Marketing to Choose From in 2023

Digital marketing is a dynamic field that offers diverse career opportunities. From search engine optimization to social media marketing, there are many specializations to explore. Whether you're just starting out or looking to switch careers, this guide will help you find your ideal digital marketing niche.

Subscribe to our newsletter for digital marketing resources
Become a better marketer with our digital marketing resources and tips shared weekly in your inbox.

Build your marketing career for free or find marketing talent on any budget — fully remote.