How to Become a Social Media Manager: Skills, Salary, & Tools
Businesses need a social media manager to put their brand front & center amongst their audiences. So how can you become a social media manager? Read this primer to know more about a position that's becoming a must-have in many industries.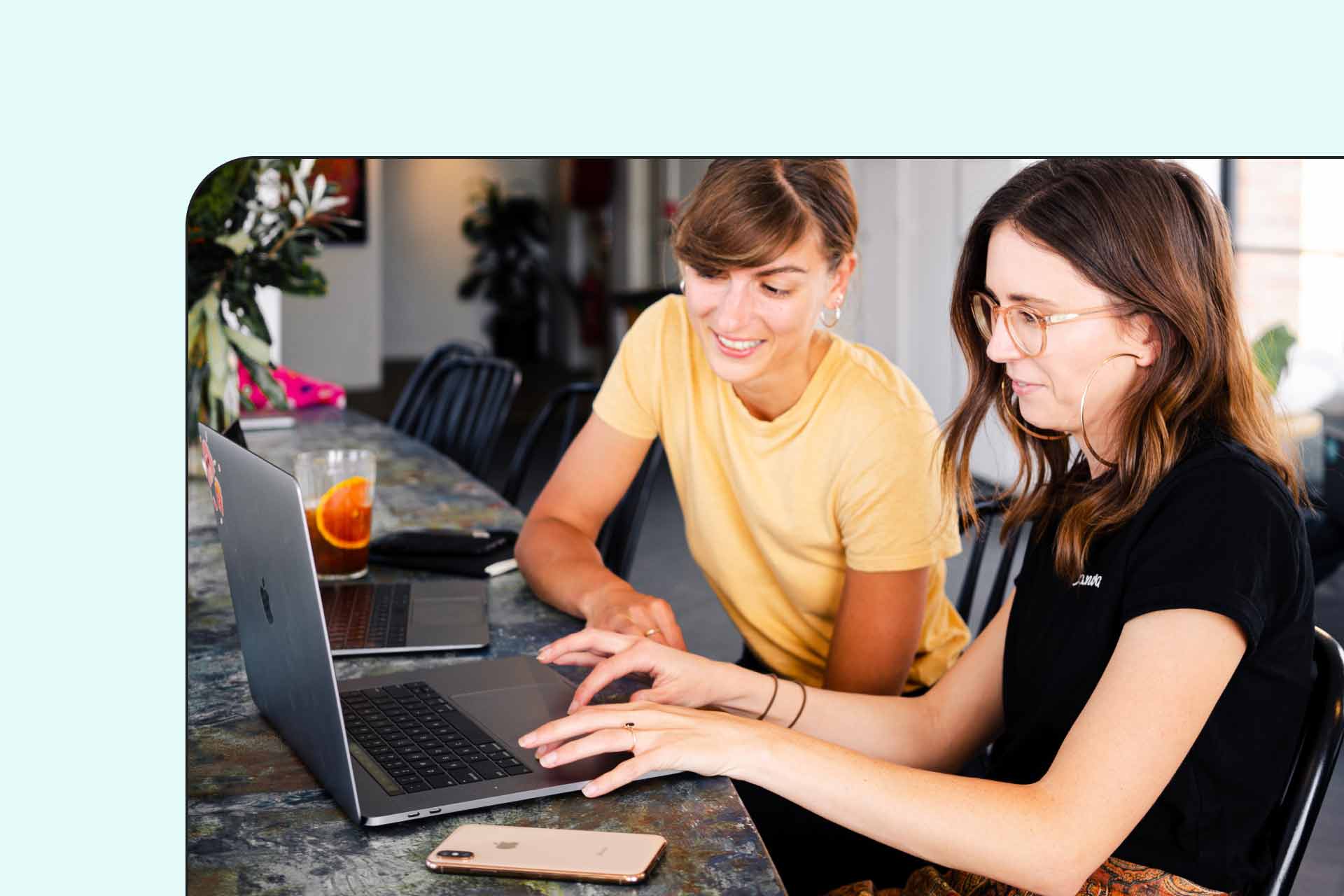 A social media manager is essential for businesses to grow their brand influence, create a loyal audience, and position themselves as a leading voice in their industry.
But to become a social media manager, you need to do more than just tweet trending memes or publish cute Instagram stories. Social media management requires strong strategic thinking and an understanding of what content works for specific audiences.
Want to learn more? Read on to find out the top 7 must-have skills for social media managers. We'll also give you a rundown on how much you'll make, and what tools you'll use as a social media manager to get the job done. You will also find a list of sample templates that'll help you streamline processes and cut down your load.
You might've noticed that we included a section on how to become a social media manager with no experience. The short answer is you can! Free, quality resources, such as courses on social media management, are your starting point. And when you know the basic principles, an apprenticeship can help you apply your knowledge and gain new skills in a real-world setting.
Acadium apprenticeships
Mentorship from an industry expert
Gain work experience to become a bonafide social media manager. Learn under an expert for only 10 hours a week for three months.
Before we talk about the skills, let's find out what a social media manager does day-to-day.
What does a social media manager do?
Social media managers wear many hats—that is, they have many responsibilities within their jobs. These tasks include:
Content strategy
Content creation
Brand management
Data analysis
Community engagement
Let's take a look at each one of them in detail:
1. Content strategy
If you want to create good content, you need a good strategy.
A Content strategy covers the entire process of creating, distributing, and evaluating content. You can think of it as a cycle that answers the 5 W's and 1 H of creating social material:
Who are you making content for?
What kind of content will you make? Or: What do you want to achieve from it?
When will you release the content?
Where will this content go?
Why create or deliver this content?
How will you make this content? Or: How will this achieve the goals you set?
As you can see, content strategy is the backbone of good social media content. But you can't get fully absorbed into this part of the job. The next step is to implement the strategy.
2. Content creation
The number one task for social media managers is to create engaging content that attracts, retains, and converts an audience. Your content also has to offer something unique to your demographic, something that keeps them coming back.
Social media managers typically create content that entertains, educates, inspires, or makes the audience take action—or a mix of these four. Your most common forms of content are video (the type that currently does the best on social media), infographics, text-based posts, or even jingles.
Your posts as a social media manager must align with the platform you're posting them to. For example, Depop's Tiktok page showcases their sellers, customers, and content that reflects what their users go through in a humorous way. They appeal to their existing customer base and feature creative videos to encourage scrollers to check out their app.
3. Brand management
What social media managers post establishes a businesses' brand identity. A business' brand identity refers to a look, tone, or style that makes them stand out in its audience's mind. Branding affects how the public thinks about a company, and what kind of feelings they associate with it.
Think of how Wendy's Twitter page is full of funny and pop culture-aware content, or how Apple's Instagram is premised on their products helping people tell their stories. Wendy's appears casual and easily accessible, which is great for a fast-food restaurant. Apple meanwhile remains the standard for capturing everyday moments in an artsy, polished manner.
You need to manage a company's brand on social media to create a positive emotional connection with its audience. That emotional connection drives sales for a long time. Just look at a 2017 study by CapGemini which shows 70% of emotionally engaged consumers spend up to two times or more on brands they're loyal to.
4. Data analysis
You can't just eyeball how well your content is performing. You need to use analytics to track the performance of your campaigns. That means checking the engagement of your content—how many likes, shares, views, and impressions they have over time.
It's important for social media managers to keep track of this data. You can check what type of content your audience likes, what makes them talk about your brand, and how you can keep them engaged with your content.
Your best bet for tracking data is through a social platform's dashboard analytics feature such as Meta Business Suite, Instagram Insights, etc., or a third-party analytics program such as Hootsuite, Buffer, Later, etc.
For example, Facebook's Meta Business Suite has an Insights tab that shows data for your Facebook and Instagram accounts. Later offers a detailed performance overview for each post as well.
5. Community engagement
Community engagement is key for most social media teams. After all, what's the use of great content if no one's watching, reading, or talking about it?
An engaged community can sometimes do your work for you! Audiences will promote your client or client's business organically, either by sharing your posts or by creating promotional content on their own. Creating this kind of loyal audience will help create consistent sales—something you definitely want.
Social media manager skills: Top 7 skills to get hired
Social media managers develop a ton of skills as they progress through their careers. But for you to start your journey, you need these top skills to attract clients or employers.
Copywriting
Graphic designing
Video creation
Research
Budgeting
Project management
Empathy and patience
Now let's see what each of these skills entails:
1. Copywriting
"Content is king."
That Bill Gates quote from 1996 is 26 years old, but it's still true. With media uploads increasing 80% year-over-year, you need to create high-quality content that makes your brand stand out.
Copywriting is the backbone of all content. Even if your visuals are striking, you still need to learn how to create good copy to convince your audience to follow your brand. Good copywriting increases sales and improves loyalty. On the flip side, mediocre writing can drive away from an audience before they even see what your brand is about.
Aside from taking courses, reading posts from competing businesses, other industries, and brands with a similar tone to your client is a great way to learn about copywriting. Of course, nothing beats practice and trial and error when it comes to applying what you've picked up.
2. Graphic designing
It's true: good design affects sales. McKinsey's 2018 study shows that companies with strong design have higher revenue growth. And since it takes 0.05 seconds for users to form an opinion on a site's visuals, you need to learn the principles of good design.
There are tons of resources online that will help you understand the basics of graphic design, even without certification. As for practice, you can find free and paid resources in our tools section below.
3. Video creation
Video is the reigning champ of content consumption. In fact, it's estimated that 82% of all consumer internet traffic is made up of video. So even if you've never edited a video before, it's necessary now that you're preparing to become a social media manager.
Unless your business needs it, you don't need to work with big video sizes or cumbersome programs to make top-performing videos. Oftentimes, you can create content on your phone, or through browser-based programs. Peek down in our tools section for some leads on video editing tools!
4. Research
If social media managers don't know what the latest trends are on social platforms, or which platforms have their target demographics, their brand will get left behind. Research helps you stay on top of the constant changes in social media, current events, and pop culture, and fight back against any decline in your site traffic.
When you're well-researched, you won't run out of ideas for your social platforms. You'll keep your organization's profile full of fresh, relevant content.
On the flip side, you can use your social media platforms to conduct research on your brand's audience! By looking at audience profiles and demographics, you can help your brand create its ideal customer base, scope out competition, and see how its products and services are perceived.
5. Budgeting
Organization for social media managers means three things: budgeting, project management, and content strategy. You've learned why content strategy is important earlier, so let's go more in-depth about budgeting and project management.
Knowing how to stick to your team's budget is key! In fact, it may even be a deciding factor in creating a social media strategy. If your budget is small, it's best to stick to the in-house content you make yourself. But if your budget is hefty—and if it aligns with your business goals and branding—you can partner with affiliates and influencers to spice up your content.
6. Project management
Your ability to manage projects will keep your team—or if you're working alone, yourself—afloat, especially if your schedule's hectic. Effective project management means the content is delivered on time, remains on-brand, and within the campaign budget and scope.
Project management is a crucial work readiness skill that's key to many other similar careers, such as content marketing consultants and growth marketing managers.
7. Empathy and patience
"I hate social media!"
Let's face it: that's one of the things you'll hear as a social media manager from a client. The next part of that sentence is also predictable: "…but I need it for my business."
In this case, empathy and patience will help. Patience will keep you and your client on track as you go over their complaints. Then, empathy helps you put yourself in their shoes to uncover the root of their problems, and create solutions for them.
This also applies to community interactions! Empathy and patience can diffuse the angriest of customers. These traits also help create content that resonates with your target audience.
It's important to remember that you're using multiple communication skills when you practice empathy and patience.
You're open-mindedly listening to your client or customers and consider their needs critically. And when you provide feedback, you're using your verbal and written skills to convey your solutions in a way they can understand.
In other words, empathy and patience are key to customer service and community engagement.
Now that you have an idea of the basic skills of a social media manager, let's see how much you can make as a social media manager.
Social media manager average salary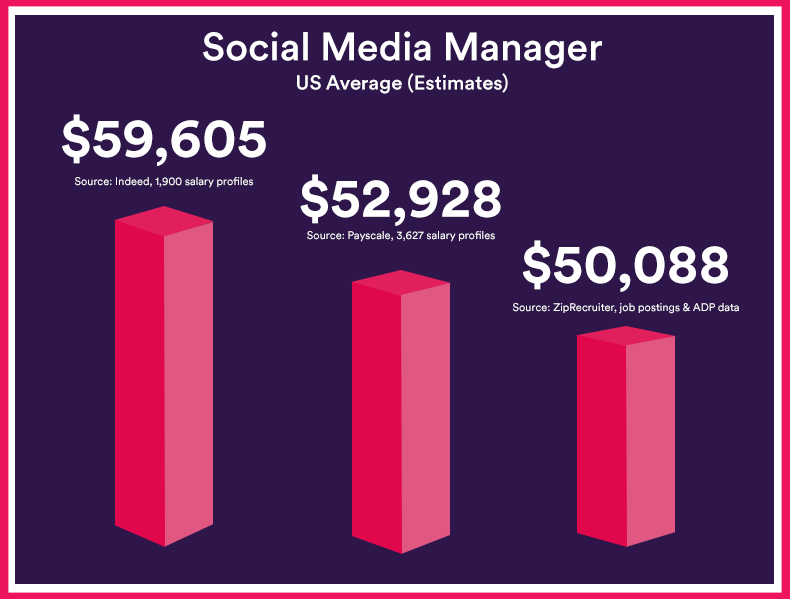 The average social media manager salary in the US is $50,088 to $59,605. This range comes from the averages presented by ZipRecruiter, Indeed, Zippia, and Payscale.
Glassdoor presents a total pay of $64,591, but the base pay for this estimate is $48,988 per year.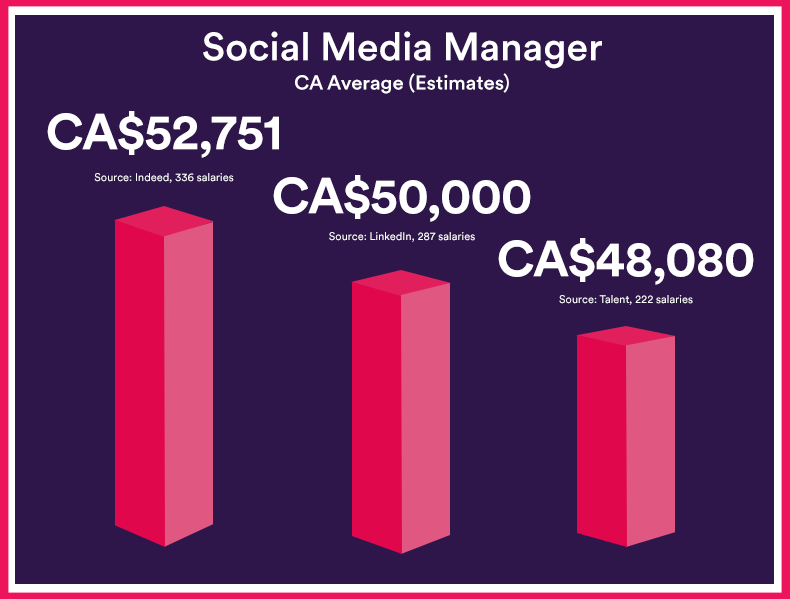 Meanwhile, in Canada, the pay scale is between $47,500 to $52,739, based on Talent, LinkedIn, and Indeed's estimates.
Payscale, citing figures in CAD, estimates a total compensation—with tips, bonuses, and more—of CA$45,993 for social media managers with 1 to 4 years of experience. Pay peaks at CA$63,808 for experienced managers.
Top free & paid social media management tools
Not all social media teams are built the same way. Freelance social media managers, social teams for small businesses, and other teams on a tight budget prefer free but powerful tools. Teams with a little more budget and need for specific features might opt for paid options instead.
Here's a list of free and paid options for content creation, post scheduling, and analytics.
Content creation tools
Photopea
This program was featured on Acadium before in our tool for freelancers post, but it's worth mentioning again.
Photopea is a browser-based application that allows users to create social graphics for free. It replicates work that can be done on Adobe Photoshop, Illustrator, and InDesign. Plus, you can use and save files in multiple formats.
Colorcinch
Colorcinch has a robust free version featuring essential photo-editing tools and an option to put great effects and filters on your work. This browser-based program also offers a library of stock photos and vectors and a few premium features.
VSDC
VSDC Free Video Editor can process high-resolution footage for great videos. It's completely free, with features such as color correction, motion, tracking, and other advanced post-production effects. And unlike some free options, it won't put a watermark on your exported video either.
Canva Pro
Canva Pro levels up your free Canva experience by giving you a powerful, beginner-friendly, browser-based video editor. You can use templates and stock footage from their extensive library to create visually-striking videos and social media posts. When you're done, you can export the video/post into platform-specific file types and aspect ratios so it fits right in your gallery.
Scheduling and analytics tools
Planable
Our first recommendation is Planable, one of Acadium's official partners. Planable is a top social media collaboration tool that makes it easy for teams to create, approve, and schedule posts for Facebook, Twitter, LinkedIn, TikTok, Google My Business, and Youtube. It's an extremely visual collaboration tool, with four easy-to-use views that even non-techie team members can use.
Buffer
Buffer's free social media management tool lets you link up to three social platforms to your account, schedule up to 10 posts per platform, and integrate multiple third-party apps to manage your assets.
Hootsuite
Hootsuite's tool offers unlimited, scheduled posts to 10 different social accounts. You can also access all your platforms' messages in one inbox, making it easier to keep track of your audience and prospect interactions.
Social media templates: Content calendar, monthly reports, and more
If you need a hand creating your first content calendar, report, and social media post, or simply need insight into how social media planning works, you'll find this list useful.
Hootsuite
As you can guess from a popular social media management platform, Hootsuite offers a ton of templates for social media teams. This list offers both general social media templates—including a content calendar and report—and presets for Facebook and Instagram. This post's a little older but has templates for Youtube, Twitter, LinkedIn, Pinterest, and general infographics.
Freepik
You'll need a reliable source for vectors and photos for your content. Freepik offers these resources for free, including social media template images. There are templates for every social platform that you can customize on Adobe Photoshop or no-pay browser programs like Photopea.
Sprout Social
Sprout Social understands that presenting data can be difficult, especially if your colleagues are not as social media savvy as you. Their free editable template helps you determine what KPIs to include in your report. They also have a handy guide on how to optimize the report for presenting your social media ROI.
Buffer
Buffer offers a "report card" style template that you can use on Google Docs or offline spreadsheet programs. You have a data export section for Facebook, Instagram, and Twitter that will be used to tally data for their individual report cards. There are also built-in instructions, some troubleshooting tips, and directions on how to print the report out. And if you need to do a quick audit for a client or as an interview task, they have a template for that too.
Hubspot
Inbound marketing giant Hubspot has an easy-to-format content calendar. You can use the template to plan content for any year and month, and mark holidays to create campaigns in advance. It also features color-coded keys to differentiate your entries between content, webinars, and product launches, among others.
Notion
Notion offers a comprehensive content calendar template to track who's assigned to what kind of content, when it's due, and if it's published or not. All content planned on the calendar has its own page where you can put assets in. You can modify the calendar extensively too, ensuring your page is as useful to your team as possible.
How to become a social media manager with no experience?
As you've read in the intro, anyone figuring out how to become a social media manager with no experience will find it easier to do so if they had quality, free resources. Here are some tips to start your journey as a social media manager:
1. Maintain a presence on social media
There's no better way to show off you're qualified to become a social media manager than having a great social media presence.
You should use your social accounts to showcase that you know how branding works, what content gets views or clicks, how to interact with your audience, and that you're able to keep up with the latest trends. Your social accounts are also a chance to network with potential clients or employers, who'll certainly keep an eye on your online presence.
2. Take courses on social media marketing
No-fuss, free courses created for beginners and professionals who need new marketing skills are a perfect way to start. Social media marketing courses, in particular, teach platform-specific ways to grow your brand's audience.
3. Get real-world experience from an apprenticeship
Apprenticeships helps you get jobs. They're proof that you've completed training to do a specialized job, or at the very least, have the basic knowledge for work.
Here at Acadium, certificates are granted to those who've completed a three-month apprenticeship.
When you're accepted for an apprenticeship, you'll work on portfolio and skill-building tasks under the guidance of a mentor. You'll also gain social proof or evidence that your skills are valuable and job-ready.
You can even start your own social media marketing company after your free apprenticeship, just like Grace Payne.
Grace changed her entire career path from public policy to marketing mere months before graduation. She did so by learning essential marketing skills, such as creating and executing social media marketing strategies through her Acadium apprenticeship.
"I gained confidence in myself and my abilities and started my own business at the beginning of the summer. Six months later, I have multiple long-term clients, I've launched several digital marketing guides for beginners, and I am working on even more exciting ventures."
You have a ton of options at your disposal when you decide to start your career as a social media manager. Keep this post handy to have quick references for templates, tools, and other resources, and don't forget to keep your eyes open for more career tips and primers.
Five years in journalism, two in proofreading, and eight in freelance ghostwriting. Creating content that's entertaining, informative, and actionable shapes my writing. When not scrutinizing my copy, I'm likely watching hockey.
Top Marketing Webinars for Digital Marketers in 2023

By attending these webinars, you will have the opportunity to learn from industry leaders, gain insider knowledge, and stay ahead of the competition.

9 Types of Digital Marketing to Choose From in 2023

Digital marketing is a dynamic field that offers diverse career opportunities. From search engine optimization to social media marketing, there are many specializations to explore. Whether you're just starting out or looking to switch careers, this guide will help you find your ideal digital marketing niche.

Subscribe to our newsletter for digital marketing resources
Become a better marketer with our digital marketing resources and tips shared weekly in your inbox.

Build your marketing career for free or find marketing talent on any budget — fully remote.