How Much Do Marketers Make? Marketing Job Salaries in 2021
Marketing job salaries cover a wide range, from entry-level to six figures per year. In this post, we look at average salaries for different types of marketing jobs, as well as where to find the highest-paid marketing salaries, and what factors determine how much a marketer makes.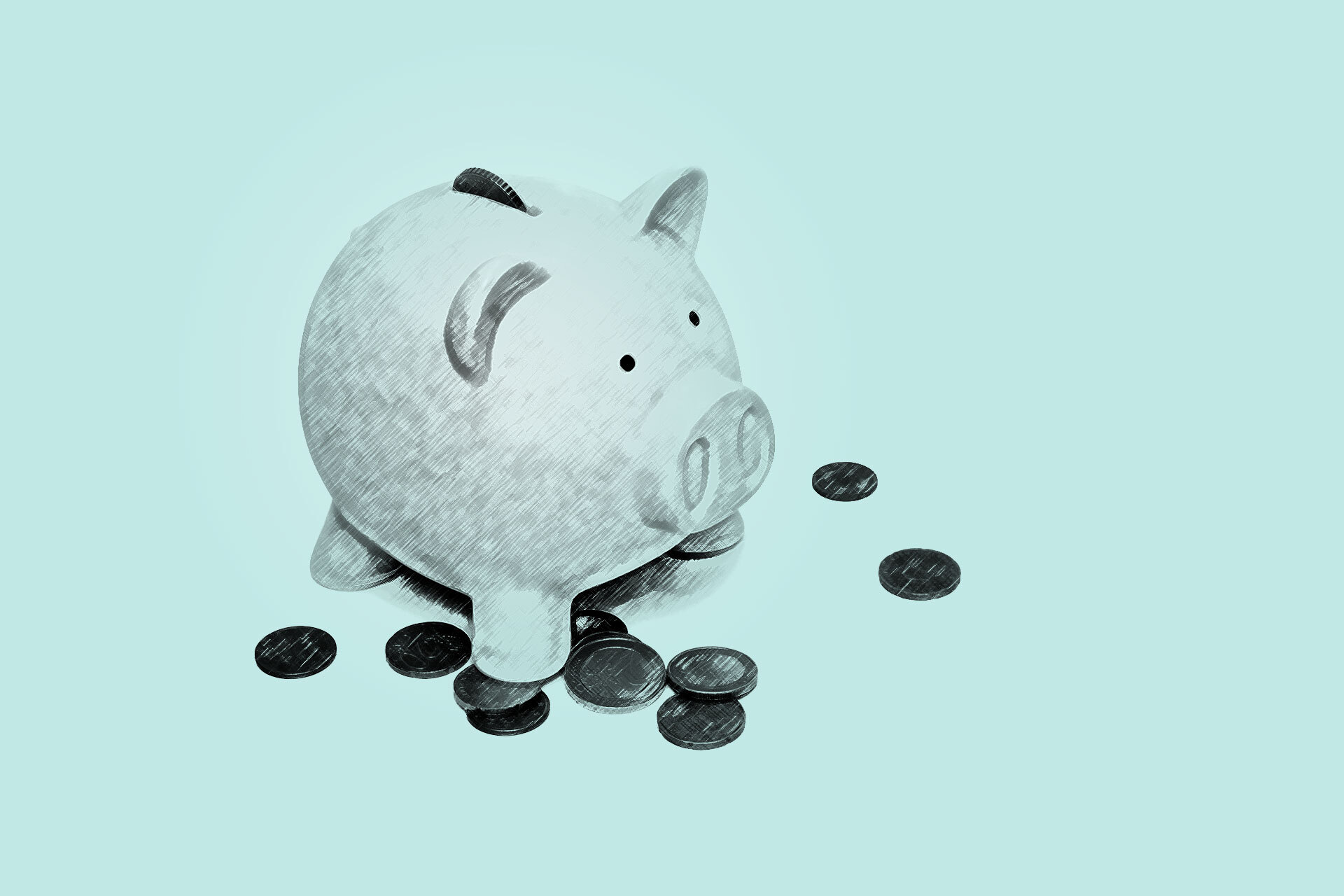 Wondering about marketing job salaries in 2021? You're in the right place!
In this post, you'll see the wide range of salaries for a variety of marketing jobs in the United States and Canada.
Many factors come into how much marketers make. We'll dive into those, too.
For now, know that this fast-growing job market offers decent salaries even when you're just getting started. And the earning potential increases as you advance in your marketing career.
What is the average marketing job
salary
?
Just as there are a wide variety of marketing jobs, the salaries cover a wide range as well. As you'll see below, the earning potential for marketing jobs isn't easy to pin down.
(Note: Unless specified otherwise, the amounts are in US dollars.)
Marketing job salaries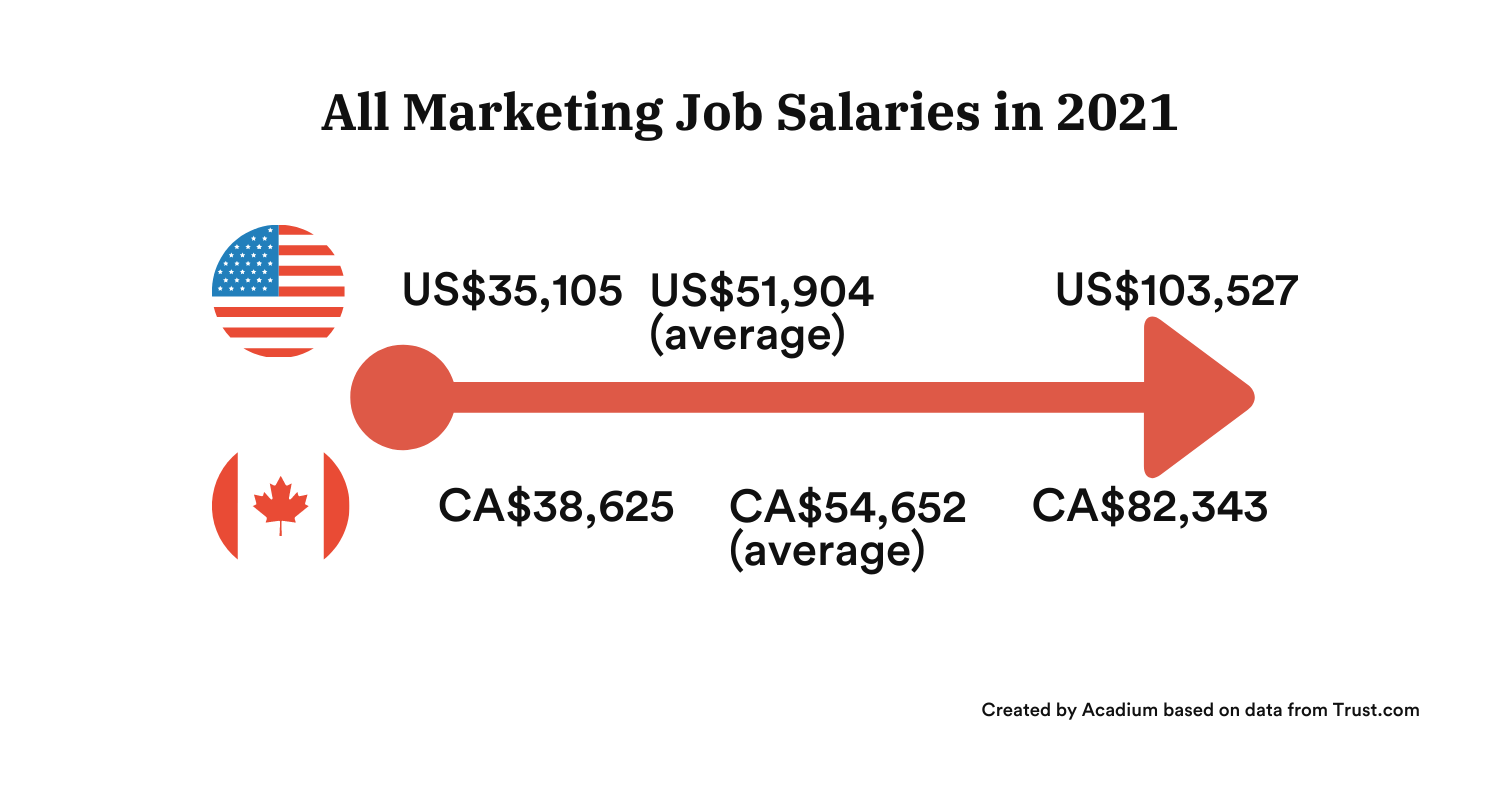 In the United States, Talent.com reports that salaries for all marketing jobs combined range from $35,105 per year to $103,527 per year. The average salary for marketing jobs comes out to $51,904 per year or $26.62 per hour.
Marketing salaries tend to be lowest in Indiana (average $55,000 per year) and highest in Wyoming (average $100,000 per year)
In Canada, the average marketing salary is CA$54,652 per year or CA$28.03 per hour. Marketing salaries start at CA$38,625 per year and go up to CA$82,343 per year for more experienced employees.
Marketers are paid the highest salaries in Ontario (average CA$57,519 per year) and lowest in Prince Edward Island (average CA$37,500 per year).
Digital marketing job salaries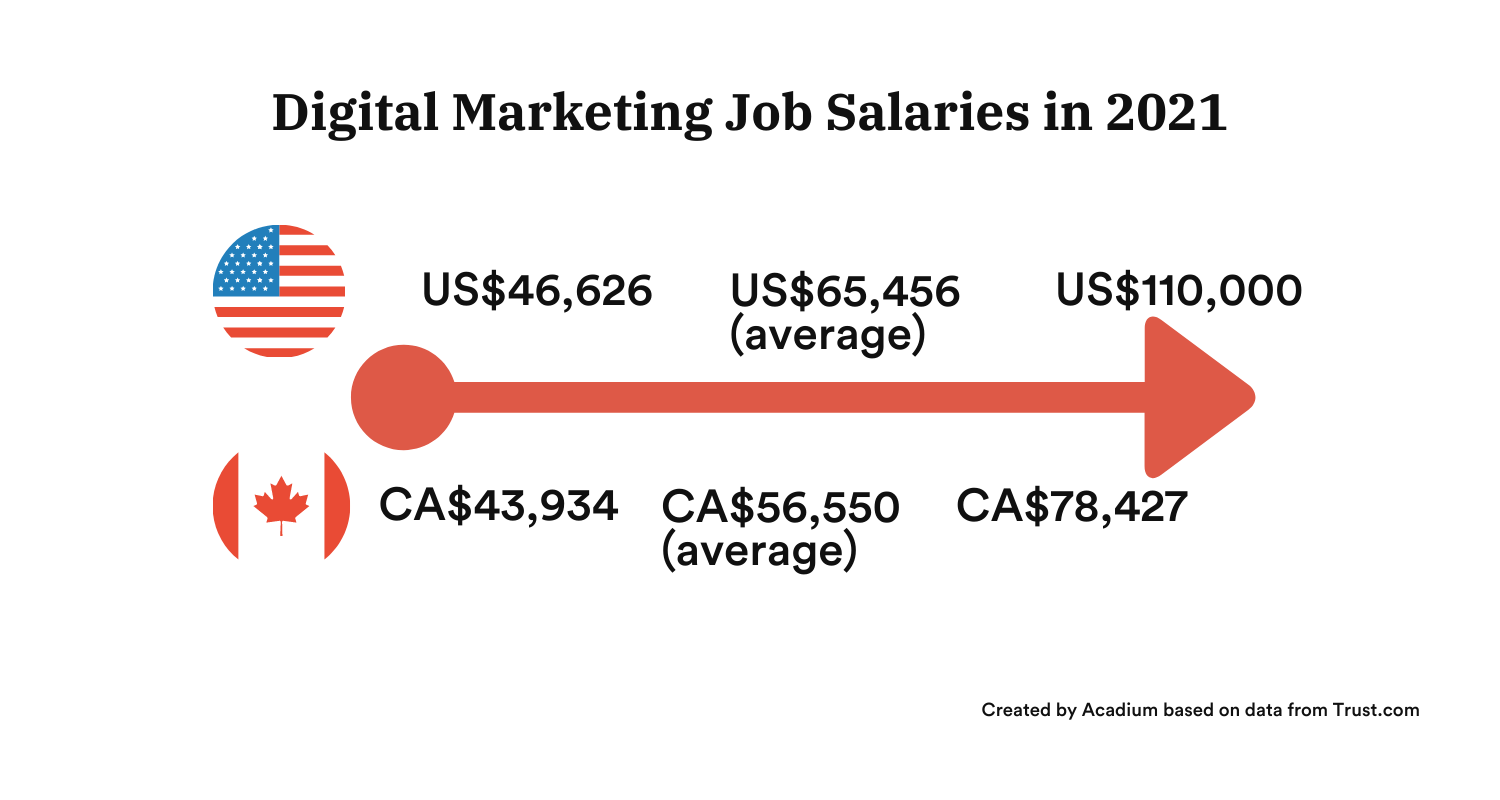 Digital marketing jobs seem to pay more compared to marketing jobs in general, in both countries.
In the United States, digital marketing salaries start at $46,626 per year for entry-level jobs, and go up to $110,000 per year for jobs that require more experience. The average digital marketing salary, therefore, is $65,456 per year or $33.57 per hour. 
Again, digital marketing salaries tend to be highest in Wyoming (average $85,000 per year). Digital marketing salaries are lowest in Arizona (average $50,000 per year).
Digital marketing jobs pay only slightly more than marketing jobs in Canada, but the difference is still there. In Canada, the average digital marketing salary is CA$56,550 per year or CA$29 per hour.
The highest-paying digital marketing jobs are in Quebec (average CA$70,000 per year), while the lowest ones are in Saskatchewan (average CA$47,500 per year).
Let's look at a few more specific job categories. These will give you a clearer picture of what salaries to expect, based on the particular job you may be considering.
Entry-level marketing job salaries
The lowest salaries are for entry-level marketing jobs. So if you're just getting started in your marketing career, this section will give you an idea of what salary you may be offered on your first marketing job.
In the United States, entry-level marketing jobs pay an average of $40,000 per year or $20.51 per hour. The lowest entry-level salaries start at $29,250 per year. However, even on an entry-level job, it's still possible to earn up to $58,500 per year.
In Canada, the average entry-level marketing salary is CA$46,800 per year or CA$24 per hour. The lowest salary for entry-level marketing jobs is CA$39,000 per year, and the highest starting salary goes up to CA$62,400 per year.
Social media jobs salaries
Social media jobs are increasingly popular, so let's take a look at the earning potential in this area of specialization. In general, social media jobs seem to pay less than other jobs in digital marketing.
For example, the average social media coordinator salary is $42,500 per year or $21.79 per hour in the United States and $43,875 per year or $22.50 per hour in Canada.
Social media specialist salaries are only slightly higher. They average at $44,123 per year or $22.63 per hour in the United States and CA$50,000 per year or CA$25.64 per hour in Canada.
These figures are comparable to average entry-level marketing job salaries in both the US and Canada.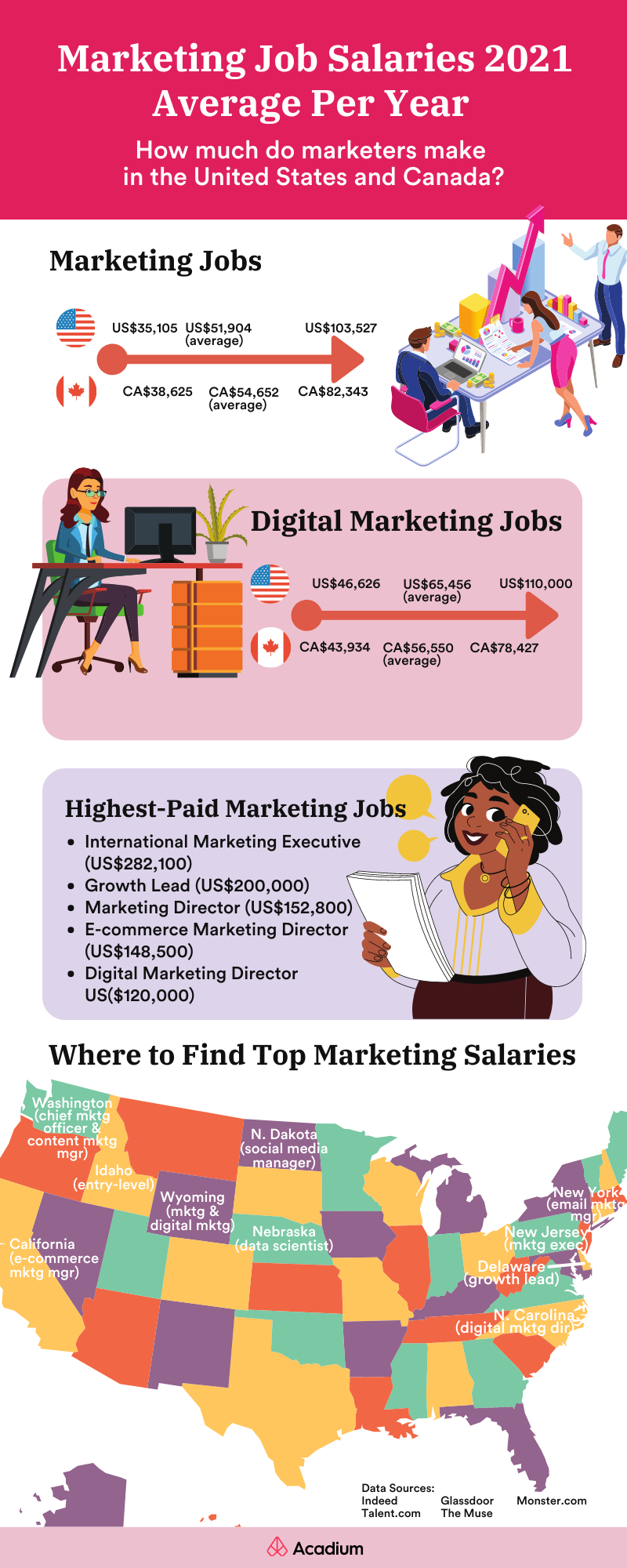 How much do content marketers make?
Let's turn our attention now to a specific group of digital marketers: content marketers. In 2020, Jimmy Daly, founder of Superpath, conducted an income survey among content marketers. A total of 81 members of their community responded.
The highlights of the content marketing income survey include:
The majority of content marketers have two sources of income.
Most of the survey respondents derive an income from a "day job," usually full-time employment. At the same time,  they have income from their side hustle as freelance content marketers.
Content marketers have a higher total income than the average digital marketer.
On average, content marketers have a total annual income of $79,657. That's combining both their salaries and their freelancing revenues. In contrast, the average digital marketer in the United States has a salary of $65,456.
Content marketers who work on-location earn more than those who work remotely.
The average income for content marketers who work remotely is $75,885, while those who work in an office earn an average of $82,005. Again, those figures include income from both jobs and freelancing.
(Side Note: It would be interesting to see if this still holds true since remote work became the norm during the pandemic.)
Content marketers with more experience earn more.
The average annual income of content marketers increase as they gain more experience. Those with 0-3 years of experience make an average of $45,952. Those with 8 years or more of experience earn an average of $116,867.
What is the highest paid marketing job?
If you're ready to launch your marketing career, you'll be happy to know that the more experience and skills you have, the greater your earning potential. 
In this section, we're going to take a look at some of the highest-paying marketing jobs. I compiled this list based on salaries posted on Glassdoor, Indeed, Monster, The Muse, and Talent.com. The number in parentheses is the average salary per year for each role.
Highest-paying traditional marketing jobs
Among traditional marketing jobs, the highest-paying positions are:
International Marketing Executive ($282,100)

Top Channel Development Executive ($267,200)

Chief Marketing Officer ($265,000)

Top Marketing Executive ($244,400)

Top Market Research Executive ($193,100)

Marketing Director ($152,800)

Global Marketing Manager ($145,000)

Corporate Communications Director ($124,054)

Product Marketing Manager ($113,000)

Marketing Research Director ($111,907)
Highest-paying digital marketing jobs
In general, digital marketing jobs tend to pay more than all marketing jobs combined. But this doesn't seem to be the case for top-tier digital marketing jobs. The highest salary I could find for a digital marketing job was $200K, unlike in generic marketing roles where one can earn up to almost $300K per year.
The highest-paying digital marketing jobs are:
Growth Lead ($200,000)

E-commerce Marketing Director ($148,500)

Data Scientist ($127,617)

Digital Marketing Director ($120,000)

Content Director ($$113,350)

Director of Email Marketing ($102,588)

Director of Digital Marketing ($99,040)

Head of Content ($97,500)

Editorial Director ($88,230)

Content Marketing Manager ($80,000)
It's possible, though, that the highest-paying jobs in traditional marketing include ownership of digital marketing. This means that at the executive and director levels, marketers are expected to have expertise in both traditional and digital marketing.
Are marketing jobs high-paying?
Ultimately, how much you earn from a marketing job depends on several factors:
1. The marketing position
As you've seen above, some positions have higher salaries than others. Entry-level positions, of course, have the lowest salaries. Certain dimensions of marketing may also have higher salaries than others. Generally, low- to mid-level digital marketing jobs pay more than traditional marketing jobs. But even within digital marketing itself, there are differences. For instance, social media jobs tend to have lower salaries than jobs in email marketing.
2. Job location
Another factor that affects the job salary is location. In general, jobs in bigger cities offer higher salaries to compensate for the higher cost of living. 
For remote jobs, salaries may be affected by the location of the employee. Buffer's salary formula, for example, factors in the employee's cost of living. The jury's still out, though, on whether this is a good approach. Some argue that the employee's value to the company remains the same, no matter where they're located. 
3. Education
The next factor that affects a marketer's salary is the employee's level of education. Generally, higher education means higher salaries. All Business Schools, an online directory of accredited business degree programs and business career resources, says a marketing degree and MBA increase your earning potential. They write:
"A bachelor's degree can add $2,000 to $5,000 or more per year in earning potential, while an MBA can add yet another $7,000 to $11,000, though many MBAs start out in higher-level management jobs with more responsibility, and consequently earn a larger salary."
4. Experience
The level and quality of your experience also count. Generally, we see that jobs requiring more years of experience offer higher salaries than those that don't. In the same vein, if you have more experience—in terms of both length of time and depth—you can negotiate to receive the higher-end of the salary range for the position. Even entry-level marketing positions nowadays require some experience.
5. Gender 
It's sad but true that one's gender still affects one's salary. The 2020 Content Marketing Salary Report, for example, noted a clear gender gap in the income of content marketers: the average income for males was $88,360, but for females it was $76,183. In other words, women earn 86 cents for every dollar a man makes.
6. Specialization
Specialization is another factor that influences how much a marketer makes. Like with doctors and other professions, marketing specialists command higher salaries than generalists, especially at mid-level marketing jobs. 
That said, some specializations appear to be more lucrative than others. For example, social media marketer jobs seem to pay less than email marketing jobs.
As you go up the ladder, though, you're expected to be a T-shaped marketer. That is, you have in-depth knowledge and expertise in one domain of marketing. At the same time, you should have knowledge of the other areas of marketing—at least enough knowledge to manage and supervise those who are specializing in them. That's because marketing has many domains, and any marketing strategy will involve several domains all firing at the same time.
Maximize your earning potential as a marketer
A marketing career isn't going to catapult you into mega-riches overnight. It does offer potential for you to earn a good living, even if you're just starting out. As you move beyond entry-level positions, you can earn more than the average household income ($78,500 in the US in FY 2020 and $62,900 in Canada in 2019).
And when you reach the top marketing positions, you can earn more than 90% of the households in North America. 
Education, experience, and specialization are just some of the things that can increase your income. Your gender, location, and the position itself are the other factors that affect your salary. You're not in control of all of these factors, but it is within your power to affect some of them, and put you in a good position to negotiate higher salaries.
Ready to Get the Marketing Job You Want?
Check out digital marketing apprenticeships on Acadium. You'll get the skills and work experience you need to become more employable—for a total of only 120 hours!
How to Write a Marketing Cover Letter: The Unconventional Guide

If you're applying for a marketing job, you can't send an ordinary, boring cover letter. You need a marketing cover letter: One that "sells" you to the recruiter so effectively that they cannot resist reading your resume and inviting you for an interview. We show you how in this post.

The Hard and Soft Digital Marketing Skills of Rockstar Marketers

If you want a wildly successful career in digital marketing, these are the digital marketing skills you need. We cover both hard and soft skills, as well as why every marketer needs to learn Design Thinking.
Join the world's largest community of marketers