How to Start a Digital Marketing Agency (Even As a New Marketer)
What do you get when you combine your love for digital marketing with entrepreneurship? A marketing agency! Read on to learn how to start an agency in 5 steps, whether you're a new graduate or have 20+ years of experience. We've also included 3 success stories to inspire you.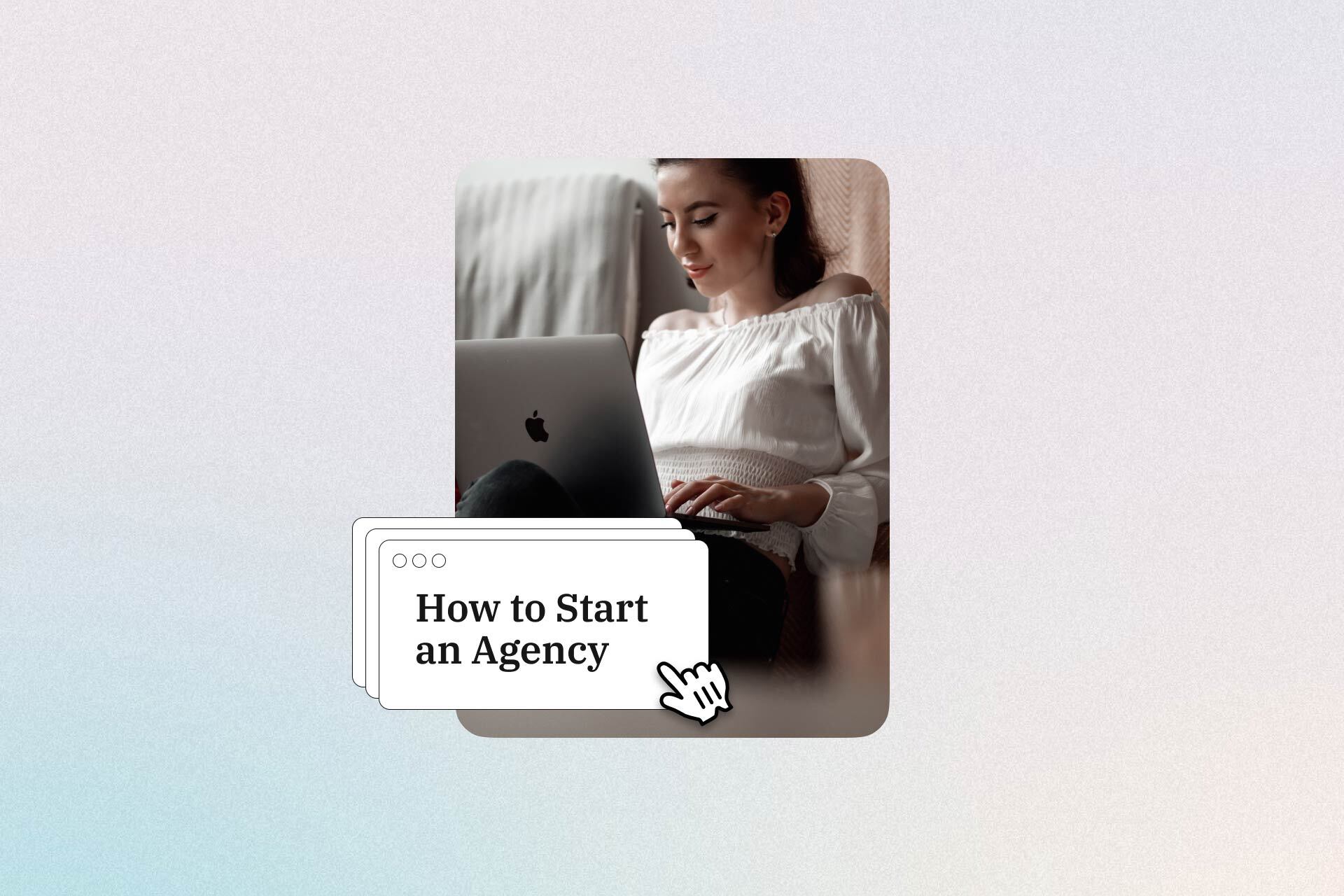 If you want to work in digital marketing as an entrepreneur, then you're probably wondering how to start an agency. A digital marketing agency gives you the freedom and flexibility of freelancing, but without many of its limitations. Keep reading to find out how to start a digital marketing agency.
We will cover:
What does a digital marketing agency do?
5 steps to starting a digital marketing agency
Freelancing vs running an agency
Startup marketing agency success stories
Your next steps as the founder of a digital marketing agency
Starting your own digital marketing agency requires experience in getting results for clients. If you don't have this experience yet, become a marketing apprentice at Acadium or join our talent pool of freelancers so we can match you with clients.
What does a digital marketing agency do?
A digital marketing agency provides services in the different facets of digital marketing. A "full-service" digital marketing agency, as the name implies, covers all aspects of digital marketing.
Other agencies focus on a specific aspect, strategy, or medium. There are many types of marketing agencies, depending on what they specialize in. For example:
As the founder of a startup marketing agency, you may begin by providing focused services. Later, you may decide to expand to being a full-service agency. Or you may decide to stay laser-focused on a particular area of expertise. As the business owner, it's up to you!
This brings us to …
5 steps for how to start a digital marketing agency
Building a marketing agency is just like building any other type of business. Here are the steps to take:
1. Decide on the services you want to offer
The first step is to choose which digital marketing services you wish your agency to offer. One way to accomplish this is by looking at the intersection of what you enjoy doing yourself or managing others to do; what you (and your team) are good at; and, what services have a high market demand.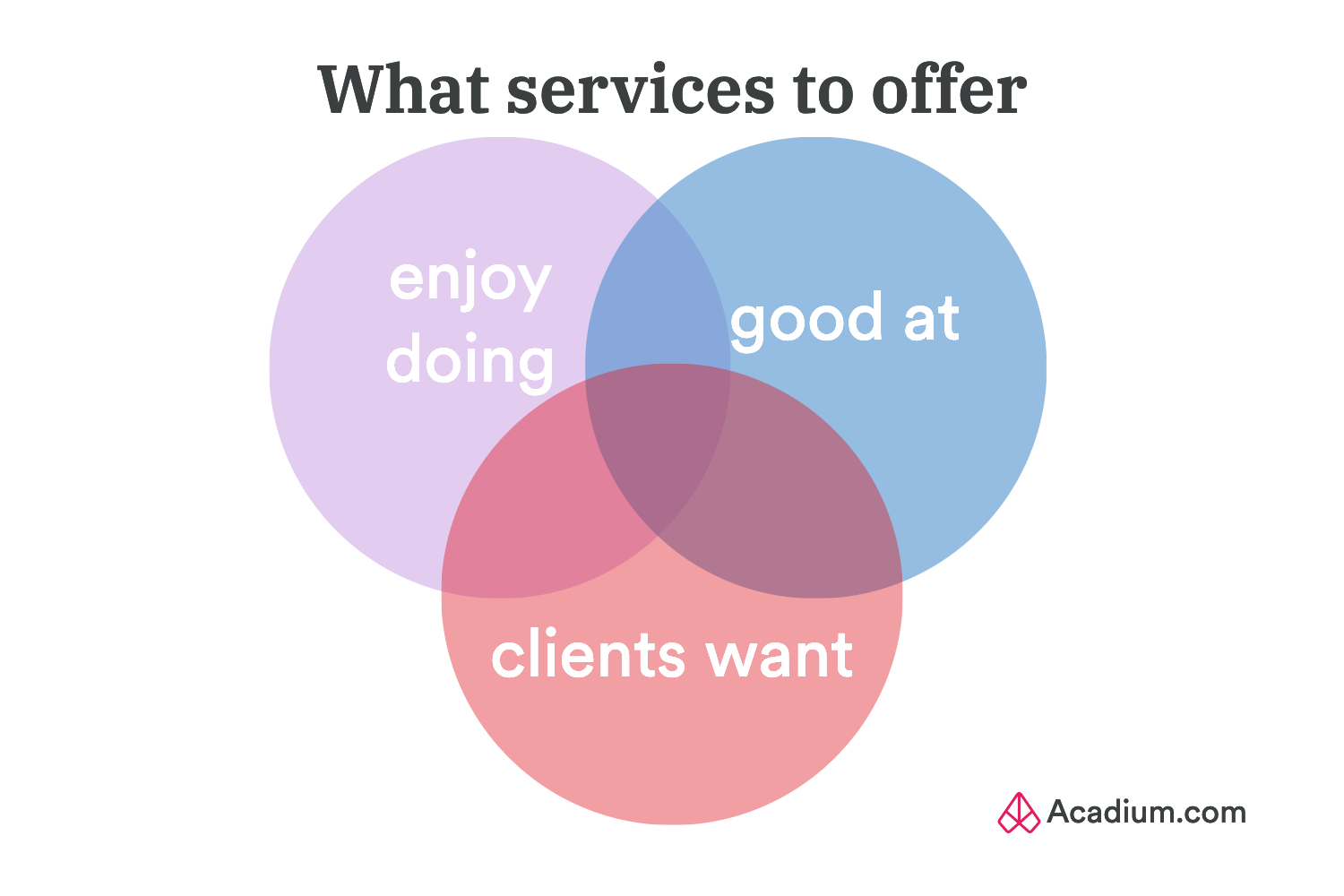 What you enjoy
Business is a long-term commitment, and every day will not be rainbows and unicorns. Because of this, it's good to begin with services you have an affinity for. This will help you keep trucking on even when business is challenging.
Keep in mind, that you may not always be the one directly providing the services. However, to begin with, you'll be servicing clients yourself.
What you're good at
Starting with what you're good at means you're likely to be successful and get measurable results for clients. This generates social proof, which you can leverage to market your agency and get new clients.
What clients want
Finally, you want to offer services that there's a demand for. You can find out what these are by doing market research, interviewing your ideal clients, and doing similar activities.
When you find the intersection between these three areas, then you have a few services as a starting point.
You can then include complimentary services that clients would want along with what you're already offering.
For example, if you're going to offer copywriting services, then it would make sense to package those up with any of the following:
graphic design
funnel setup
paid ads management, etc.
content writing
Also read: Copywriting vs. Content Writing
2. Identify your ideal client
When you know what services you'll be offering through your agency, you can then decide on your ideal clients. I recommend choosing your target market based on two criteria:
Whom you love to work with
Consider which types of clients, businesses, or industries you enjoy working with. Here again, it pays to have freelancing experience serving different types of clients.
Also read: How to Become Freelance Digital Marketer (Without Experience)
Another way to think of this is to reflect on the types of clients who are happiest with your services. Who are the ones who end up giving you glowing reviews and referring you to others?
Who will pay you
Finally, identify market segments who want your services and are willing to pay the rates you charge. It's no good targeting clients who still need to be educated on the value of your services. You can do that later on when you're profitable and looking to expand your client base.
Neither is it a good idea to offer your services to those who cannot afford your services. You're running a business, after all. Get your agency profitable and then you can think of ways to serve clients who need financial help.
3. Build your team
The next step is to recruit team members. You'll need other talents in your agency to provide the services you don't have the expertise for. When you're just getting started, you'll most likely work with freelancers. Later as your agency grows, you can hire them as employees.
Also read: 42 Marketing Tools for You and Your Remote Team
Many agency owners also work with marketing apprentices through Acadium to round out their human resources.
4. Build an online presence that attracts your ideal clients
Now you're ready to create an online presence for your marketing agency. Come up with a name (register the business name, business, and all legalities), register the domain name, and then set up the following:
Your agency's website is like an online brochure for your marketing agency. It should give basic information about what services you offer, for whom, and how potential clients can work with you.
Your website can also attract leads for your marketing agency passively, like a business development representative who works 24/7, 365 days a year. More on this below.
A business blog is a good way to attract organic traffic to your website (your blog should be a part of your website). It also establishes your agency's thought leadership in the specific digital marketing domain or medium you're focused on. For example, if you're a social media marketing agency, then your blog should have expert posts about social media marketing.
The last element of your online presence consists of your social media accounts. At the very least, have accounts on all the major social media platforms, so that potential clients can find you in them.
And then focus your efforts on one or two social media platforms. Which ones? The ones where your ideal clients are already hanging out. And so, if your ideal clients are B2B SaaS companies, LinkedIn may be the best option. If, however, your ideal clients are local businesses, then Facebook might be the better platform for you.
5. Set up a client-getting machine
Now you have the basic pieces in place. It's time to promote your agency! The most effective marketing strategies are:
Let everyone in your network know about your new agency and ask them to refer you to anyone they know who might need your services. Remember to reach out to previous clients and employers, too. Freelancers who offer complementary services may be happy to send potential clients your way as well.
Participate in in-person and online networking events, not just to meet potential clients but to nurture your network in general. Don't go into them looking at how other people can help you. Seek to help them first. It's also a good idea to always be networking, ideally before you need the connections.
Automated marketing funnels
You can also set up automated sales and marketing funnels to get you leads even while you sleep.
The most basic type is the lead magnet funnel. Here's how it works: You offer a free resource (aka "lead magnet") in exchange for people's contact information. This could be a free report (PDF), course, consulting call, or webinar on a topic that's related to your services and that resonates with your ideal clients.
To get access to the lead magnet, folks have to sign up to your email list. When they sign up, a series of automated emails are triggered to be delivered to them automatically. The purpose of these emails is to:
instruct them on how to access the lead magnet
encourage them to consume the lead magnet
introduce you, your agency, and your services
compel them to take the next step toward becoming a client
Once you have a marketing funnel that you know gets you paying clients, you can put advertising dollars behind it. You can then dial your promotions up or down to keep your pipeline full.
Apart from this, you should also have all the necessary tools set up that will help you serve your clients. For example, if you specialize as an SEO agency, you can leverage the all-in-one SEO tool, SEMRush. You can start by trying it out with a free trial.
Freelancing vs running an agency
If you're already a marketing freelancer, you may be wondering, "what's the difference between freelance digital marketing and a marketing agency?"
The most basic difference is that a freelancer is a one-person business. This means you're limited in terms of both the services you provide and the number of clients you serve.
In contrast, an agency is a multi-person business. It can provide more marketing services and serve more clients. Agencies can also be involved at a higher level, in terms of strategic planning and problem-solving, rather than just executing a client's marketing plans.
With size comes greater complexity.
Running an agency involves managing more team members and supporting more clients and keeping them happy.
An agency is also a bigger responsibility. Any decisions you make affect not only you but also your team members or staff. If you fail to get your agency profitable and sustainable, their livelihoods are also at stake, not just your own.
Startup marketing agency success stories
If you dream of having your very own marketing agency but feel that you lack experience and connections, don't get discouraged. Below are some Acadium apprentices who made their agency dreams come true!
Jalisa created a digital marketing agency after completing three apprenticeships

Venetia leveraged apprenticeships to launch her marketing agency

Sherri proved it's never too late to start your own marketing agency

Those are only some of the success stories of Acadium apprentices who've founded their own marketing agencies. Need more inspiration? Watch our playlist of marketing apprentice success stories on YouTube.
Your next steps: Get some freelancing experience
Now you know how to start an agency. If you're set on starting an online marketing agency, then your next step is to get real-life experience in serving clients as a freelancer. Only this experience will give you the self-knowledge to effectively complete steps 1 and 2 above.
As our success stories show, you may need to complete a few marketing apprenticeships first before you have the expertise, confidence, and connections to start out. And it doesn't matter whether you're fresh from college or you have 20+ years of marketing experience. Once you have a few testimonials and samples under your belt, you can leverage them to market your agency.
You can do this!
Editor's note: This blog was first published in Dec 2021. It was updated in July 2022 by Alisha Sharma, Content Manager at Acadium.
Lexi Rodrigo is the former Content Manager at Acadium. As a marketing and communications professional and course creator, she helps remarkable brands get seen, heard, and known. She has been a digital marketer and copywriter since 2008. She's also the co-author of "Blog Post Ideas: 21 Proven Ways to Create Compelling Content and Kiss Writer's Block Goodbye." When she's not reading or writing, Lexi bakes bread, grows food, and takes long walks. Connect with Lexi on LinkedIn.
Top Marketing Webinars for Digital Marketers in 2023

By attending these webinars, you will have the opportunity to learn from industry leaders, gain insider knowledge, and stay ahead of the competition.

9 Types of Digital Marketing to Choose From in 2023

Digital marketing is a dynamic field that offers diverse career opportunities. From search engine optimization to social media marketing, there are many specializations to explore. Whether you're just starting out or looking to switch careers, this guide will help you find your ideal digital marketing niche.

Subscribe to our newsletter for digital marketing resources
Become a better marketer with our digital marketing resources and tips shared weekly in your inbox.

Build your marketing career for free or find marketing talent on any budget — fully remote.