A Step-By-Step Guide to Successfully Outsource Content Writing
If you find yourself struggling to write high-quality content for your business, then help is at hand. By outsourcing your content writing needs you'll save yourself a ton of time and ensure all your content is engaging and optimized for search engines. But how do you go about outsourcing? And where are the best places to find skilled writers? Keep reading and we'll answer those questions - so you can save time while captivating your audience with the engaging content they deserve.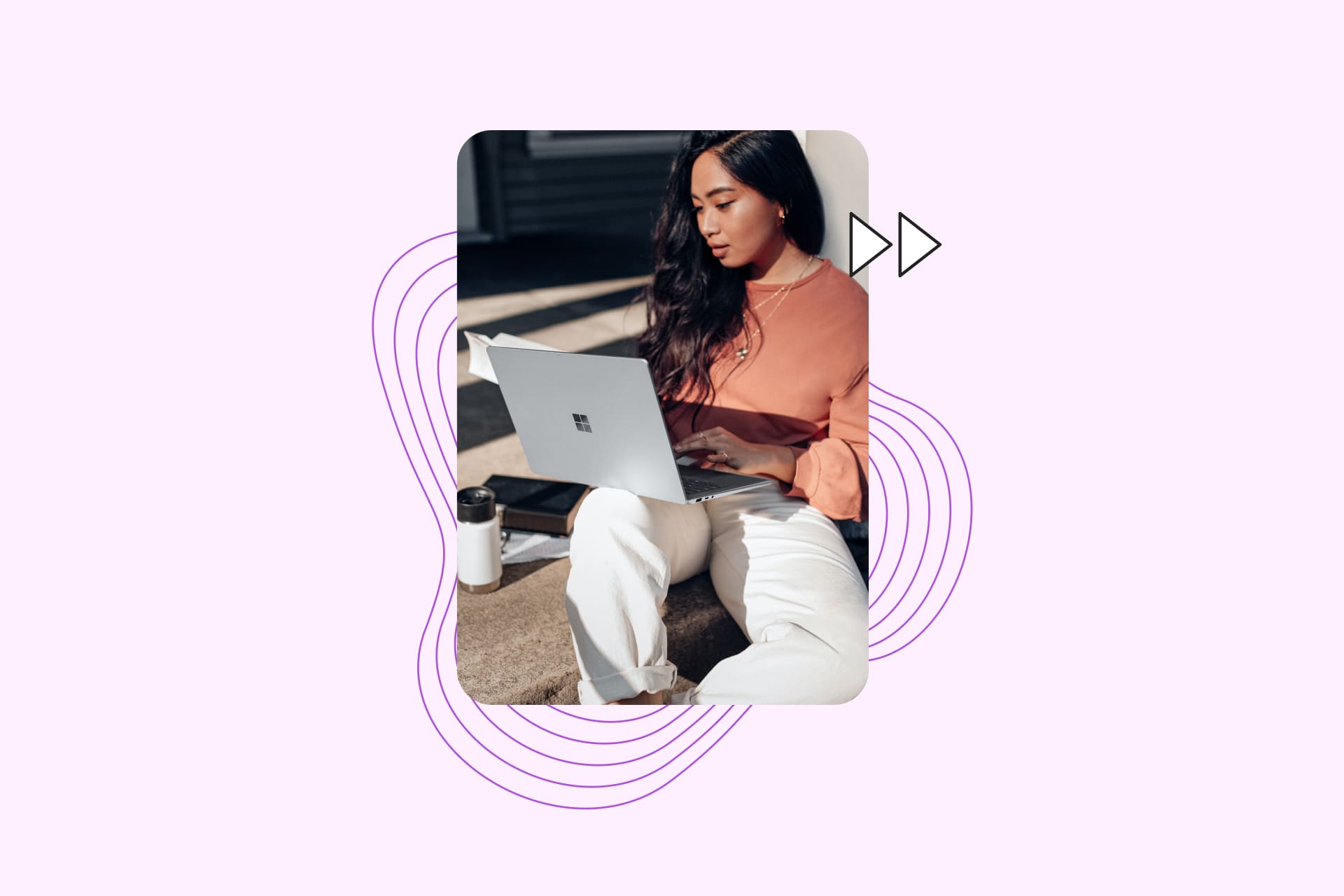 Knowledge is power, and so is content. As a small business owner, you understand the importance of having high-quality content on your website. But creating it yourself can be a time-consuming task, especially if your site has several pages.
Luckily, there are plenty of services that specialize in content writing and will do it for you at an affordable price.
When outsource your content writing to a virtual assistant or content writer can free up your time to focus on other important tasks for your business.
Whether you're new to outsourcing or looking for ways to improve your process, this step-by-step guide will help you outsource your content writing with ease.
Apprenticeships For Business
Get content marketing help, handpicked for you
In 1–5 business days, we'll connect you with a vetted content marketing apprentice who'll help grow your business as you mentor them.
What is content outsourcing?
Content outsourcing is the process of hiring someone to create content for you. This can include blog posts, articles, product descriptions, and even social media posts.
The goal is to create a steady stream of high-quality, engaging content that resonates with readers and drives traffic to the website.
While you may be able to produce some content yourself, you'll gain many benefits when you outsource content writing.
First, it frees up your time so that you can focus on other aspects of your business.
Second, it allows you to tap into a pool of talented writers who can produce high-quality content.
Finally, it can save you money in the long run by ensuring that your content is well-written, optimized, and engaging.
By outsourcing the creation, curation, and distribution of content, businesses can focus on what they do best: generating leads, growing revenue, and building brand awareness.
How to outsource content writing: A step-by-step guide
If you're thinking of outsourcing your content writing, here's a step-by-step guide to help you get started:
1. Determine your goals
By outsourcing content writing, you can take on a more hands-on approach to your project.
When you are not the one in charge of writing the content, you can have time to assess the situation and make decisions accordingly. You can also delegate tasks to your writer and interact with them regularly to keep an eye on progress.
While this approach might not be for everyone, it's an ideal way to get things done when time is short.
With that said, it's important to determine your goals before you start looking for a content writer. Some of the things you should consider include:
How many articles do you need per month?
When outsourcing a content writer, it's important to set a monthly goal for the number of articles you need. This will help ensure that you have enough content to keep your website updated and fresh, while also providing adequate work for your writer.
Depending on your industry and the type of content you need, it's typically best to aim for around 11-16 articles per month.
Based on HubSpot research, publishing four posts each week produces the most traffic.
Just be sure to communicate this clearly to your writer from the beginning so that there aren't any surprises down the road.
How long should an average article be?
There is no definitive answer to this question as it can vary depending on the topic of the article, the target audience, and the level of detail required.
However, a good rule of thumb is to aim for articles that are around 2,000-3,000 words long since they're the best choice for Google rankings, as long as it meets the search intent.
This will also ensure that you provide your readers with all the information they need, without leaving them feeling overwhelmed.
What is the purpose of the content?
Most importantly, you need a clear picture of what the purpose of the content is – so you can communicate this to your writer, and they can craft an article that serves the correct purpose.
Does the content solely exist to drive more traffic to your site? Is it there to inform or entertain your audience? Or does it need to be crafted in a certain way to encourage your visitors to take certain actions, like clicking through certain links?
By communicating this with your writer they'll be able to create content that appeals to your audience and drives them toward your goals.
Your writer should also be familiar with your marketing funnel and know how to create content that will move people through the funnel. Well-crafted content can help you attract new customers, convert leads into buyers, and increase ROI.
Overall, once you answer these three questions and have a better idea of what you're looking for, it will be easier to find someone who fits the bill.
2. Define your budget
If you're looking to outsource a content writer, it's important to set a realistic budget. Remember, you get what you pay for, so don't be afraid to invest in quality content.
That said, there are many talented writers out there who can produce great content at a fraction of the cost of a big agency.
According to Clearvoice, intermediate to advanced freelance writers generally charge between $0.10 and $1 per word, depending on how much work they have to put in.
When budgeting for content writing, consider the cost of the writer's time, the cost of editing and revisions, and the cost of any research or materials that may be required.
Before you hire a content writer, be sure to study the market and compare rates. Also, try to ask for samples of the writer's work to get a sense of their style and quality.
3. Compare various content providers
Once you know what you're looking for and what your budget is, it's time to start researching providers.
Look for companies that have experience producing the kind of content you need. Ask for samples of their candidate's or staff's work, and check out online reviews to get a sense of their reputation.
Content writing can be outsourced in three main ways.
Where to find quality content writers
Freelancing platforms
Freelancing platforms are great for finding content writers for your project. You can find freelancers with different skill sets, from copywriters to social media managers, depending on the type of content you need.
Upwork is currently the largest marketplace for freelancers in the world. It is a place where freelance workers can post their services and employers can post open positions.
Fiverr is a platform that connects buyers and sellers of services. It allows anyone to post projects they want to be done and people who want to do them can offer their services in exchange for payment.
As a buyer, the service fees you'll pay for each platform are pretty similar, with Fiverr and Upwork charging service fees of 5.5% and 5%, respectively. However, with Fiverr, you'll have to pay an additional $2 fee for any purchases under $50.
However, both sites have some distinguishing features. Fiverr is more intuitive to use, and provides you with quicker, more direct access to freelancing talent. Fiverr also has a much wider range of freelancers on the platform, often willing to work for less than freelancers on Upwork.
However, with Upwork you can easily create long-term contracts for your writers, meaning it's a much better platform for forming longer-term business relationships – instead of just paying for a one-off job.
Both of these platforms have been widely used by companies and individuals looking for quality work at reasonable prices.
When you start looking for a freelancing website, the most important thing is that the site you choose is reliable and trustworthy. You should never agree to communicate with freelancers directly or make payments outside of recognized platforms – it's a sure-fire way to get scammed and lose your hard-earned cash.
By using reputable sites like Fiverr or Upwork, you can rest assured in the fact that your data is secure, and your payments are protected – Fiverr and Upwork use an escrow system whereby funds are only released to the buyer once you've confirmed you're happy with the work.
By using one of these top platforms, you'll also benefit from customer services – meaning if anything goes wrong or you have any disputes, there's someone there to mediate it.
Online communities
Online communities, such as LinkedIn or Facebook groups, are a great place to find freelance writers who specialize in your industry. They're often eager to get their foot in the door and happy to take on smaller projects.
Look at groups that people are actively posting in or groups that you're interested in joining. You might find people actively advertising their services for you to make an inquiry, or you may see examples of their past work that you are interested in and would like to see replicated.
If you aren't sure who would be appropriate for the role, reaching out to an online community can be a great way to get ideas. You can ask people in your network who have had past experience with freelance writers who they think are best suited for the position and get them to provide you with recommendations and references.
One thing to keep in mind is that not every online community is right for every business. Choose the right one based on the type of business you're running, the type of content you need to create, and the amount of time you have available to put in.
Specialized websites
Another option is to use content service providers. There are websites that specialize in connecting content writers with clients in various industries.
Some allow you to pick from a list of writers who specialize in your industry, or others allow you to post a job and review applications from writers who want to write for your brand.
Be aware that these websites typically require a fee for their services, but it may be worth it if you need someone with specific expertise in writing. Here are a few sites you might find useful:
1. Scripted: This US-based company can assist you with blog posts, press releases, web pages, newsletters, and video scripts. Using the services will cost you US$1,000 to US$10,000 per month in membership fees. You'll have access to a 6,000+ writer pool and content creation services.
2. Express Writers: Providing more than 90 content writers across multiple industries, this firm provides long-form SEO articles, case studies, email copy, product descriptions, and marketing slides. For blog articles, the UK-based agency charges US$95 to US$450.
3. Crowd Content: With this company, you can buy content from over 6,000 professional writers in its database on a self-serve platform. The company employs a large number of writers from native English-speaking regions like the United States, the United Kingdom, Canada, and Australia. Depending on the writer's expertise, prices start at US$0.02 to 0.12 per word for SEO and web content.
4. Text Workers: This US-based agency specializes in article writing and website copywriting in eight verticals, such as entrepreneurship, legal, and real estate. For its services, Text Workers charges between $0.07 and $0.10 per word.
5. Verblio: This US-based company can help you create written content along with a video accompaniment. You can choose from two types of videos: teaser videos (for social media) and summary videos (to increase article engagement). In addition to the US$70 fee for a 600-word article, Verblio charges US$75 for video creation.
6. Acadium: Acadium is unique in that they put in the hiring hours for you. They streamline the interview process to help match you with the best freelancer or apprentice that fits your business needs. All candidates are vetted by the recruiting team to verify skill, experience, and affordability.
Acadium gives you the option to bring 1-2 apprentices or a freelancer to your team. Freelancers are more experienced, charge an hourly or flat rate, and are available for more hours. An apprentice is an aspiring marketer who usually works unpaid for 10 hours of work per week in a span of three months in exchange for work experience and mentorship.
If you want to get started but you have a tight budget, hiring a content writer apprentice could be a good option.
There are many ways you can make the most out of your apprentice:
First, hiring an apprentice allows you to get more value out of your money.
Second, it allows you to keep control over the process.
Third, using Acadium's apprenticeship program allows you to test new candidates as they come up through the ranks.
Finally, it allows you to keep an eye on their work as your apprentice grows in experience.
Ultimately, when deciding between the two, it all comes down to how you want to invest in your outsourced writer. Do you feel established enough to take on apprentices to fill the needs of your business or do you want someone who has more experience that you won't need to dedicate as much time to?
Also Read: Outsource Blogging and Run a Great Blog with Acadium
Request for price quotes
Once you have a list of people and websites that provide content writing services, request price quotes, and factors involved that could affect the price, so you will know what to expect.
You can also ask them if they have a discount policy or other terms and conditions that may affect the price. Although most content writing services offer discounts for regular customers, you want to be sure you're getting a good deal.
In order to maximize the value of a content writing service, many factors need to be considered. First, try to choose one that has both writers and editors on staff. When a writer is also an editor, it helps ensure that your content is well-edited before it goes out online.
Next, make sure the company you're considering offers a range of prices based on how much work needs to be done. In addition, you might want to ask if the price includes keyword research, on-page SEO, image sourcing, etc.
When hiring a content writing service or outsourcing a writer from a freelance website, it's important to get as much value for your money as possible.
4. Test run multiple candidates and make a decision
One of the biggest benefits of outsourcing is that you can test multiple candidates at once and see who works best for your organization.
This allows you to see if there are any gaps in the content that needs to be filled and if there are any inconsistencies in the writing style among the candidates. If there are, you can limit your search to one candidate.
Note that this step can be a time-consuming process. So if you're a business owner who doesn't have enough time, you may want to skip this step and find a third-party agency that can help you look for the right candidate for your brand.
In case you've got the time and want to know the candidate, here's how to do it:
Screen your candidate
Once you've found potential writers, here are a few questions to ask yourself to determine if they're the right fit for your brand.
1. What kind of content have they produced?
You might want to make sure they've written similar content to what you need. This way, it's easier for them to transition into your brand voice, tone, and style.
This isn't to say you should exclude all writers with limited experience in your niche. An inexperienced writer may in fact be incredibly skillful and adaptable, and by starting them out on a small project you can test for this potential without having to commit to a candidate long-term.
2. Do they have experience working with brands like yours?
The more experience they have with brands like yours, the easier it will be for them to meet your business needs. But if not, you might want to make sure you give them all the details they need to make sure they're aligned with your project.
3. Do they have examples of their work?
Samples can give you information about the type of content the writers have created, their writing style, and even the brands they have written for.
Ensure that their portfolio contains content they have recently written, not more than one year ago. This is because writers are exposed to more content every day, so their writing styles may change from time to time.
4. Do they have a good working relationship with their editor?
Their editors can help you ensure the writer will produce content that reflects your brand.
5. What types of milestones do they use?
The importance of deadlines cannot be overstated, however, are they realistic?
Create a content brief
The sample you receive from a professional writer will give you a good idea of how that person writes. The best way to do this is to provide a sample prompt that is based on a real business need.
A content brief is a document that outlines the basic structure for any piece of content you are planning to publish. It should include:
Headline: What it's about (e.g., blog post title)
Target audience: Who it's for (i.e., who will read it)
Subheadlines/subpoints/bullet points: What they are (e.g., why they are important)
Body copy: What it says (e.g., how long it says)
It basically includes the topic, length, tone, and other criteria that must be met in order to create high-quality work. You can use this document as a guide while working with your writer or even during the writing test to ensure that everything is on track and that the end result meets your expectations.
Provide a feedback loop
By providing feedback, you'll be able to ensure your writer is consistently producing high-quality content, preventing costly mistakes down the line.
In addition, it's essential to set up regular feedback sessions with your outsourced writer to monitor their progress and make sure they're on track.
If there are problems, don't try to fix them yourself. Instead, speak with the outsourced writer about how their work is progressing and what resources they need to help them succeed.
Don't forget to thank them for the work they've done so far, and ask them to continue to improve their performance.
Note that when building a content marketing team with multiple writers, you will want to keep the contact information of the candidates who are promising but did not make the cut.
In this case, you will be able to get in touch directly with these expert writers the next time you need to outsource content because they've already proven themselves capable of creating quality content.
5. Onboarding
Once you get the right candidate to add to your content writing team, it's time to onboard them.
There are several ways to go about this but the most important thing is to keep them informed.
Communicate frequently and clearly communicate all expectations from the start, from what they'll be doing to why it's important for them to do it.
There are also many tools out there that make it easier for you to manage your outsourced writers. Some of the most popular ones include Slack and Trello.
Both are free and easy to use, but each has its own pros and cons. For example, Slack can be more interactive since it allows you to chat with your outsourced writer in real-time, while Trello is a lot more structured and is better suited for people who prefer a more organized way of working.
Kick your content up a notch and start outsourcing today!
In 2022's competitive market where written content is crucial to the success of your business, content outsourcing is a necessity. It can be a great business decision that will help you create a content strategy, keep your company relevant, be consistent with your buyers, and of course, alleviate stress.
Acadium can help you and your business fulfill your digital marketing needs – whatever they may be. Your perfect content writer exists within our immense pool of experienced freelancers and talented apprentices – simply sign up today to discover them or book a call with us to learn more.
We offer dedicated support and all-star candidates to provide you with content that will achieve your business goals at an affordable rate.
This is what other business owners have to say about Acadium:
"An amazing service that has helped start my SEO & marketing analytics journey! Great team that's always there to answer your queries. I feel they are perfect."
"Great platform for beginners! My experience with Acadium was great. They are really good at pairing up with great mentors. It's a great platform to gain experience in the digital marketing field. Give it a try and see for yourself."
"I love Acadium! Their simple formula helps entrepreneurs and businesses find interns. Interns gain needed experience, exposure and gain valuable skills.
You get a vetted intern that supports your purpose and passion, while the intern receives solid mentoring, support and hands-on education. Don't hesitate to sign up and get that support from Acadium, you won't be sorry."
Princess "Ji" Kang is a staff content writer at Acadium who unveils complicated topics about digital marketing. She's been wordsmithing for various brands and industries for nearly 6 years, after earning her Master's Degree in English Language and Literature along with her Digital Marketing certification. Her work has appeared on sites such as asksebby.com, wellpetcoach.com, Ready Home Singapore, ThePerfectMedia Group, and more. You can find her at her home mini-library reading, sipping hot coffee, or playing with her cats in her downtime.
Business Growth, Career Prep

What is an SEO landing page & How to Build One? [Step-by-Step Guide]

Learn the ins and outs of SEO landing pages and how to build one with our step-by-step guide. Discover the key elements and best practices for creating a high-performing landing page that drives conversions and improves your search engine rankings.

Introduction to Transactional Emails in Email Marketing

Have you ever heard about transactional emails? Do you know they are different from marketing emails? This article is your complete guide to transactional email definition and best practices to send such emails. We have also shared real-life transactional email examples for better understanding.

Subscribe to our newsletter for digital marketing resources
Become a better marketer with our digital marketing resources and tips shared weekly in your inbox.

Build your marketing career for free or find marketing talent on any budget — fully remote.