7 Unique Ways to Gain Marketing Experience
So you want to work in marketing but don't have any experience? It can be tough to break into the field, but it's not impossible. In this blog post, we will discuss some tips that will help you land a marketing job with little to no experience.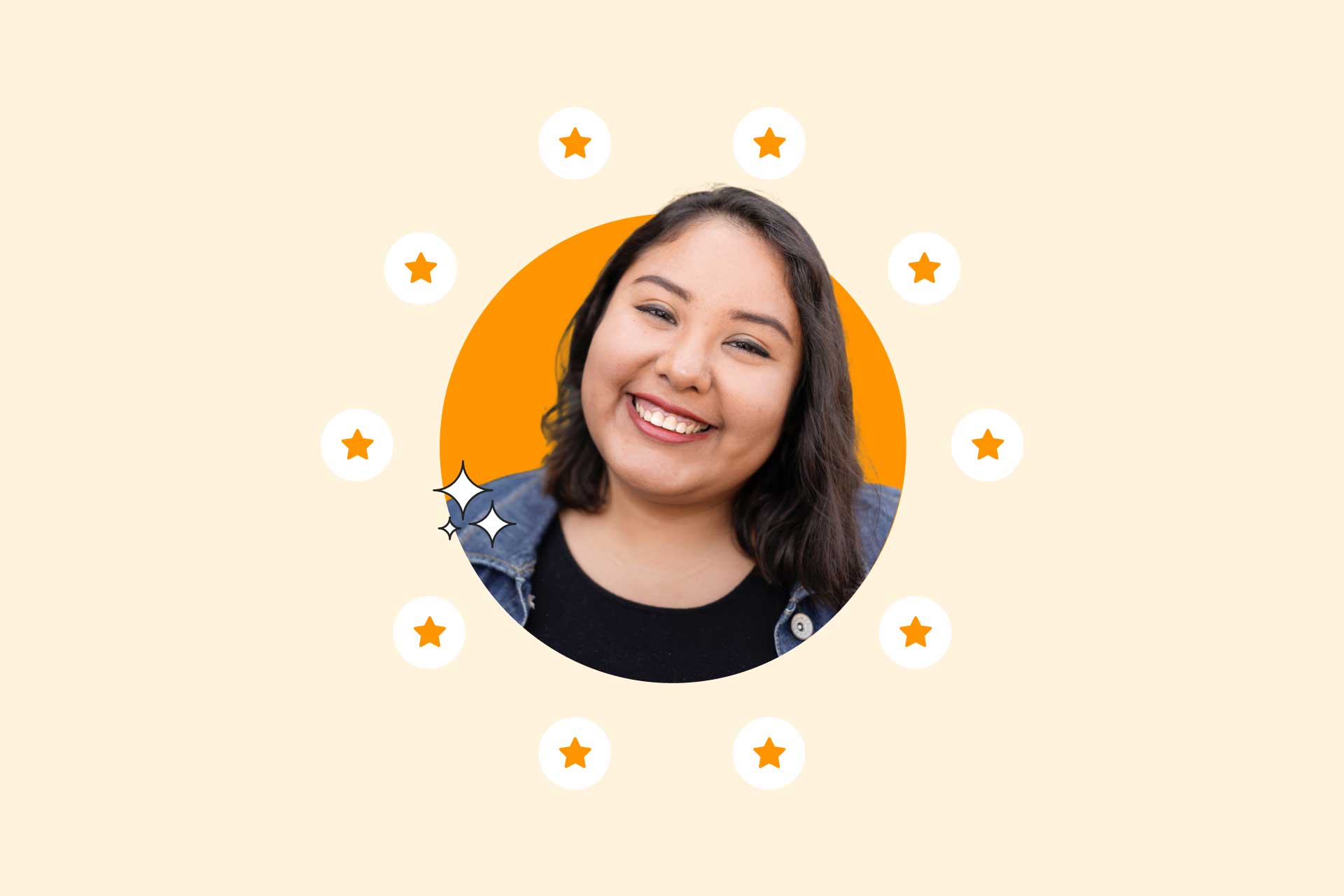 If you want to gain marketing experience, you should know that marketing does a lot of things. All products and services require marketing efforts. It's true that quality sells, but the public has to be made aware of quality products first-which won't happen without some decent and persistent marketing during the early stages.
No matter how big or small, how private or public a company is, it needs to promote its products. Most of them will run a large marketing department (virtually every big corporation does it), with many jobs to choose from.
But how are you supposed to join their marketing department if you have no prior marketing experience? Let's try to answer that question in the following lines with some tips.
Acadium Apprenticeships
Gain marketing experience
Work with a mentor for 3 months and gain the digital marketing work experience you need to get hired. 100% remote and always free.
1. Figure out the type of marketing role you want
It's easy for career changers to go straight to the job board and apply to dozens of jobs. But this isn't a smart move.
If you're applying for a job, you should know where your interests or skills lie.
"Marketing" is such a broad term that it is impossible to specialize in something so diverse.
There are many things that fall under this term, including:
Data analysis, such as analyzing Google Analytics data to inform future marketing decisions.
Writing content and managing social media accounts.
Coding, such as web development (converting visual designs into functional applications with reliable UX).
Taking things further, each topic can also be divided into multiple branches.
It's no fun to play all hats and master none. In order to earn high wages, bonuses, and opportunities, you must be at the top of your field.
The key to this is to know who you are as a person.
A great exercise to help you out is to take a sheet of paper, fold it in half, and write what you like about the job in the right-hand column. Then, on the left side, put all the things you dislike about a marketing role and be as detailed as possible.
On the right-hand side, for example, you could say:
I enjoy reading good marketing articles
I enjoy teaching people new things
I like telling stories
Then on the left column, you can say things like:
I don't enjoy using Excel
I don't like posting on social media, etc.
From there, look for marketing jobs with detailed job descriptions and match your interests to the roles you find.
If you're just starting out in your career, you may not know exactly what type of role is best for you since you haven't tried out anything yet.
However, finding a marketing job you like is the best way to discover what you like and don't like about it. It never hurts to start somewhere, and you never know where the path will lead.
2. Learn the skills you will need for your desired role
After identifying your next move, consider what hard and soft skills you'll need in that position.
Before you take on any marketing role, you should start knowing the basics. Learning these skills can be accomplished through marketing books, blogs, YouTube videos, Ted Talks, classes, workshops, and more.
Luckily for you, you have hundreds of free marketing resources at your disposal.
Google, for instance, offers free online qualifications for beginners which are great for learning the basics. It'll be nice to have them on your CV, too.
Also, try learning photography. Master some design software. Develop your video skills. They'll come in handy someday.
Social media is a great resource for free tutorials and behind-the-scenes access from established photographers, videographers, and graphic designers. Following these artists on social media is a great way to learn key concepts and get new ideas.
Learn your craft by watching video tutorials on streaming sites like YouTube. From camera functions and lighting setups to compositional tips to learning how to edit basic images and videos, you're sure to find everything you need. Aside from having thousands of videos to choose from, it's free and easy to use.
You can also start practicing what you learned by creating videos and images using Canva. It comes with thousands of highly-customizable templates where you can start designing right off the bat.
Remember, the more knowledge and skills you can demonstrate, the easier it will be to find a job in marketing.
3. Network online and in-person
Building relationships is essential to success at work and while looking for your next marketing position. Through effective networking, you can cultivate quality relationships, which may lead to a marketing job interview.
Consider attending marketing conferences and meet-ups. It's a great way to meet more experienced marketers, make connections, and get your foot in the door of the marketing industry.
Additionally, you can network with family and friends in more informal settings. Don't be afraid to accept invitations to family gatherings and friendly parties, and tell people you're looking for a job. Who knows, you might find the right person with the right connections.
If networking face-to-face is not possible, the internet can bridge the distance. Making contacts online is a simple way to start a conversation.
You can also use platforms like Eventbrite where you can build attendee schedules for your group automatically. Each meeting agenda provides attendees with information about who they're talking to, when they're supposed to be there, and where they should be.
Most marketing experts can be found on a wide range of social media platforms, including LinkedIn, Twitter, and Facebook. Consider joining group pages if necessary and participating in discussions.
With LinkedIn, for example, you don't have to wait for a networking event to make meaningful contacts.
To start networking using LinkedIn, you will need to create a profile. Your profile should include your professional experience, education, and skills. You can also add a photo and write a bio about yourself.
Once your profile is complete, you can begin connecting with other professionals. You can search for people by name, company, or interests. You can also join groups related to your profession or interests.
LinkedIn is a great place to share awesome content, so don't just sit back and let everyone else do it for you. When it comes to creating real connections and establishing yourself as a talented thought leader, sharing articles you've recently read is a good place to start.
4. Show off your skills online.
You don't need to wait for someone to hire you before you start building your skills.
The best way to gain marketing experience is to start your own blog or website. If you've taken any online courses, you can write about what you want and market your blog with those skills.
Taking this step will allow you to gain valuable experience and touch on some digital marketing fields such as SEO, content marketing, analytics, social media, email marketing, and more.
One of the most important aspects of having a successful blog is making sure you are consistent with your content. This means publishing regularly and that your content is of high quality.
Learn the importance of organization using a content calendar, get acquainted with commonly used CMS platforms such as WordPress, and use workflow tools like Trello or Asana to manage your content marketing tasks. These tools can help you in staying on top of things and ensure that everything gets done on time.
You can also add graphics to your content. This can help your content stand out when published online by making it more visually appealing. Creating graphics can be easier with tools like Canva or Adobe Photoshop.
In case you're not interested in writing, you can start making short-form videos like Reels or TikTok videos instead. By doing this, you'll get comfortable in front of the camera and gain some initial feedback before committing to a YouTube channel.
It doesn't matter what type of content you provide. What matters is that you have applied the skills you've learned in a real-world business setting.
If you're more into marketing products, you can also start your own online store and sell products like digital printables or social media templates. This way, you can put your designing skills to good use and make some money off of them.
Depending on the nature of your product, you can also leverage platforms like Etsy (best for handmade items), Creativemarket (for digital products), and GumRoad (for selling products directly to your audience) to help you market your goods.
While this may sound like a bit more work and require some money, it's still a great way to acquire some additional skills in e-commerce marketing as well as earn some extra cash.
5. Get paid through freelancing.
Speaking of extra cash, you might want to look into freelancing sites like Fiverr or Upwork. Usually, people who build a reputation on these platforms end up getting full-time jobs later on because their skills are in demand.
Although freelance work isn't for everyone, it has many advantages. As mentioned before, marketing is important for every business.
Small companies, however, cannot afford to run their own marketing department or work with an established media or marketing agency. Neither option fits within their budgets.
So, their owners turn to freelance sites to find independent designers and marketers.
But they won't stay small forever. Those who do well (and are lucky) will grow, hire employees, and at some point look for their first marketer.
The person they've been working with freelancing for a while is usually the first person they approach when looking for an employee. And that could be you.
Plus, they won't look at your resume or experience, because they already know your qualities and personality.
Certainly, transitioning from freelancing to employment is neither easy nor guaranteed. But it is sure to help you build your personal brand if you stay persistent.
Also Read: How to Become a Freelance Digital Marketer (With No Experience)
6. Find a mentor who can help you with your role.
TeamSnap's product marketing and strategy director, James Dahline said, "finding a mentor is as important as finding a company."
Having a mentor can help you answer difficult questions, give you feedback on your work, connect you with other marketing experts and help you learn some essential marketing skills.
If you're just starting out, it's recommended that you work for a marketing team or under a marketer that you respect and that you can learn from.
A startup company is a great place to learn about marketing and do quality work. It can be especially helpful to get your hands dirty early on in your career, as you'll gain more practical experience and knowledge.
Additionally, start-ups are often hungry for new talent and are more likely to give you the opportunity to take on a variety of tasks and projects. So if you're looking to gain some marketing experience, a start-up would be an ideal place to do that.
Acadium's digital marketing apprenticeship program lets you learn hands-on marketing skills while developing your interests. Using our matching system, you will be connected with a mentor whose profile matches yours.
Moreover, working with your mentor will only take 10 hours a week over a span of 3 months, so you can gain the experience you need to get hired. All work is done remotely and you can join the platform for free.
See how Acadium changed the lives of our apprentices.
Today, it's less about how good your resume is and more about how you network with people in your field and get your name out there. So if you can find a decent mentor, you'll both bolster your resume and gain valuable connections at the same time. It's a win-win!
7. Add all these experiences to your resume and cover letter.
At this point, you've spent months honing your skills and building a portfolio of tangible results.
Tailor your resume and cover letter specifically to the job opening. Don't just send out the same resume and cover letter to every company you apply to. Take the time to customize them each time, highlighting the skills you've developed and experiences that are relevant to the position you're applying for.
If, for example, you did not pursue working with your mentor as their full-time employee, you can always ask their permission to be your character reference.
Having someone of significance vouch for you on paper is a great way to demonstrate that you are a desirable candidate. If they agree, make sure to list their name, job title, and contact information on your resume.
Also Read: How to Write a Digital Marketing Resume that Gets Interviews [with Template]
Bonus Tip: Gain your employer's attention by adding value
The job market isn't what it used to be – especially for those looking for marketing experience and a marketing job.
If you want to prove to companies that you are a great marketer, you need to add value before you even land the job.
It might take a little more effort upfront, but it will certainly be worth it when you land a job that you love, and one that pays well because you've proved your worth.
Gain Real-World Marketing Experience with Acadium
As a recent graduate, or professional looking to make a change, Acadium is the perfect place to start your marketing career. With our free online courses, you can get up to speed on the latest marketing trends and techniques.
It's also possible to find work with little to no marketing experience as long as you have the ambition, work ethic, commitment, communication skills, and eagerness to learn.
In fact, we found that 54% of our apprentices were able to find work and earn more after completing their apprenticeship. Meanwhile, a total of 57% of apprentices surveyed are still working with their mentors after finishing their apprenticeship.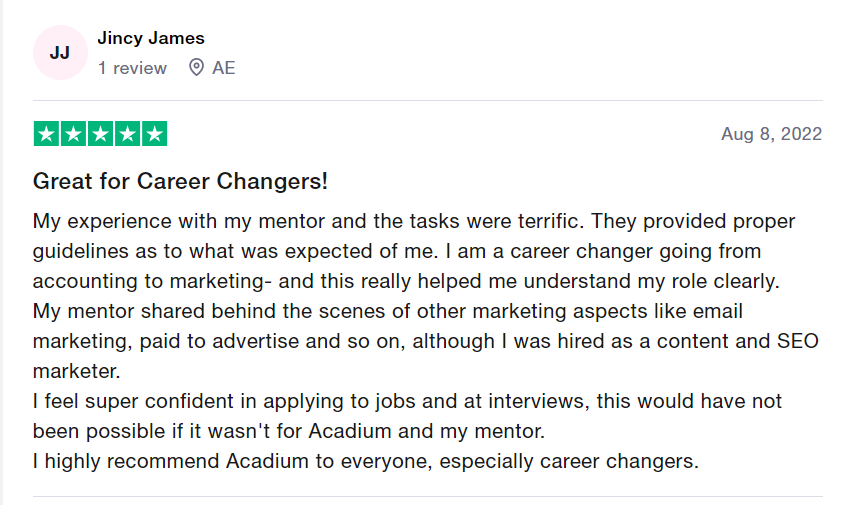 So, become a marketing apprentice today and take the first step towards landing your dream job!
Princess "Ji" Kang is a staff content writer at Acadium who unveils complicated topics about digital marketing. She's been wordsmithing for various brands and industries for nearly 6 years, after earning her Master's Degree in English Language and Literature along with her Digital Marketing certification. Her work has appeared on sites such as asksebby.com, wellpetcoach.com, Ready Home Singapore, ThePerfectMedia Group, and more. You can find her at her home mini-library reading, sipping hot coffee, or playing with her cats in her downtime.
Top Marketing Webinars for Digital Marketers in 2023

By attending these webinars, you will have the opportunity to learn from industry leaders, gain insider knowledge, and stay ahead of the competition.

9 Types of Digital Marketing to Choose From in 2023

Digital marketing is a dynamic field that offers diverse career opportunities. From search engine optimization to social media marketing, there are many specializations to explore. Whether you're just starting out or looking to switch careers, this guide will help you find your ideal digital marketing niche.

Subscribe to our newsletter for digital marketing resources
Become a better marketer with our digital marketing resources and tips shared weekly in your inbox.

Build your marketing career for free or find marketing talent on any budget — fully remote.