7 Best Ways to Learn Digital Marketing for Free
Eager to learn digital marketing? From the best eBooks and courses to boot camps and apprenticeships, we've got you covered. It's time to level up your skills and become a master digital marketer.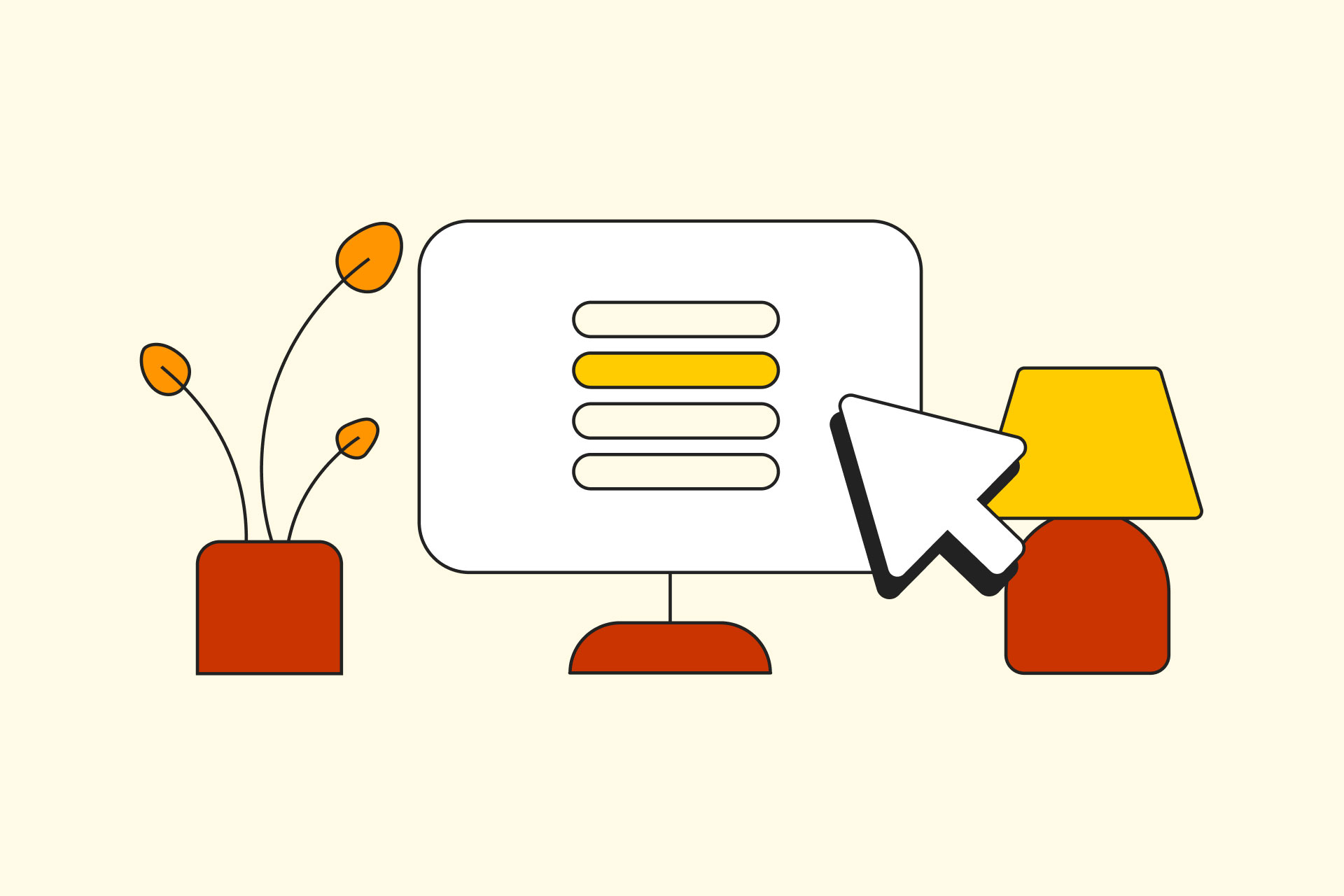 If you're thinking about starting a digital marketing career, you might find yourself asking: how do I actually learn digital marketing?
With the vast wealth of information available on the Internet for free, it's easy to feel overwhelmed. But fear not – we've put together this list of the best free resources for learning digital marketing in 2022.
Read on, and you'll be a professional digital marketer in no time.
What is digital marketing?
But first, what exactly is digital marketing? Digital marketing is, in essence, the process of using digital platforms to reach potential customers. It involves a combination of different marketing channels, such as social media, email, and search engine optimization.
You can interact with audiences interested in your brand, nurture them until they become customers, and increase your company's sales with digital marketing.
Acadium Apprenticeships
Gain marketing experience
Work with a mentor for 3 months and gain the digital marketing work experience you need to get hired. 100% remote and always free.
What skills do you need for digital marketing?
Digital marketing is a broad field, and depending on what your role is, there's a range of skills you'll require.
If your role involves content creation or inbound marketing, you'll need to know how to write compelling copy and create engaging content for your target audience, in addition to being able to optimize those pieces for SEO purposes.
If your role involves search engine marketing or analytics, you'll need to know how to set up campaigns and track their success—and make changes when things aren't going as planned.
You might be involved in social media marketing – meaning you'll need to understand how various social networks work, so you can engage with your audience on the platforms where they're most likely to find your content.
You get the point; there's a variety of different roles contained within the umbrella term of digital marketing, and each role will require slightly different skills.
With that in mind, below are the best places and resources to acquire these digital marketing skills in 2022.
How to learn digital marketing for free: 7 best ways
1. Take the time to learn the skills you need to succeed in digital marketing
Read free guides online to learn how to become a successful digital marketer – everything from blog posts to eBooks and university or marketing agencies' course materials.
Get the most out of free eBooks
If you're interested in leveraging the wealth of free information on the internet about digital marketing, then you'll need to get your hands on some of these free eBooks.
These are to mention a few, when in fact there are significantly more free eBooks out there, waiting patiently to be downloaded.
Also Read: Top 25 Digital Marketing Books for New Digital Marketers
Leverage the power of YouTube
The world's largest video-sharing site, YouTube is an excellent place for learning digital marketing.
Every month, YouTube has more than 2 billion registered users who watch over a billion hours of video, creating over 5 billion views, according to Global Media Insight.
The cost of digital marketing courses is relatively high today. In addition, not everyone can afford to study digital marketing at a high-end institute.
The good news is that there are many YouTube channels that host really good tutorials on this subject. Some examples include:
Neil Patel
Neil Patel is a marketing guru who shares his growth strategies on YouTube to help companies grow their business online. As the brain behind Ubersuggest, a famous tool for keyword research and backlink analysis, he is also a co-founder of Crazy Egg, Hello Bar, and KISSmetrics.
He covers all aspects of digital marketing on his channel. His videos cover SEO, keyword research, link building, content marketing, email marketing, and social media marketing. You'll also find videos that teach you how to create your own digital marketing strategy for YouTube.
He also offers blogging tips and tricks. His videos use Ubersuggest to explain concepts, but you can use those same concepts anywhere else.
Hubspot Marketing
Hubspot is a popular Customer Relationship Management (CRM) tool used by businesses for marketing, sales, content management, and automation. Their YouTube channel covers SEO, email marketing, sales, B2B marketing, and social media marketing.
You will also discover real-life examples, plans, and strategies to help you take action immediately. Regardless of your background in digital marketing, you can easily understand most of the concepts explained in their videos. Their website also offers certification courses you can take.
Digital Marketing Institute Channel
Digital Marketing Institute Channel offers a much broader range of personal development opportunities than the previous channels listed. The website features video tutorials explaining why you should take their digital marketing courses.
Additionally, most of their alumni work for top brands like Google, Twitter, Unilever, and even Coca-Cola. Different teaching methods are used on the channel, which makes learning fun and engaging.
Brian Dean
There's a good chance you've heard of Brian Dean, aka the mastermind behind Backlinko.
Backlinko offers some of the most comprehensive SEO training and link-building strategies on the internet. In his videos, Brian discusses topics such as SEO tips, how to rank higher in search engines, and how to get more YouTube views. It's sure to teach you something new.
Ahrefs Channel
With millions of users around the world, Ahrefs is arguably the best SEO software suite.
Additionally, they have an incredible YouTube channel with over 340k subscribers, led by digital strategist Sam Oh.
In addition to answering common SEO questions, they provide users with a variety of SEO-focused videos on how to use their software, including stealing your competitor's backlinks and conducting keyword research to generate keyword ideas.
You can also join Ahrefs Academy, a free course that offers video tutorials on how to write for your business blogs.
2. Focus on a specific area and master it
Basically, digital marketing includes all the strategies available to get people to your website, to return, and get them to complete a task.
We'll call these three phases Acquisition, Retention, and Conversion. The key to being a good digital marketer is to be good at one subset of one of these things. You also need to know at least one strategy from each piece of the funnel to be a good generalist digital marketer.
The best thing to do when you're starting out is to be a generalist. Since you won't know what you're most interested in yet, building up a general digital marketing skill set will help you narrow down your options.
Let's break them down by category to understand what they are. Several of these focuses overlap, of course, and can prove useful at different stages.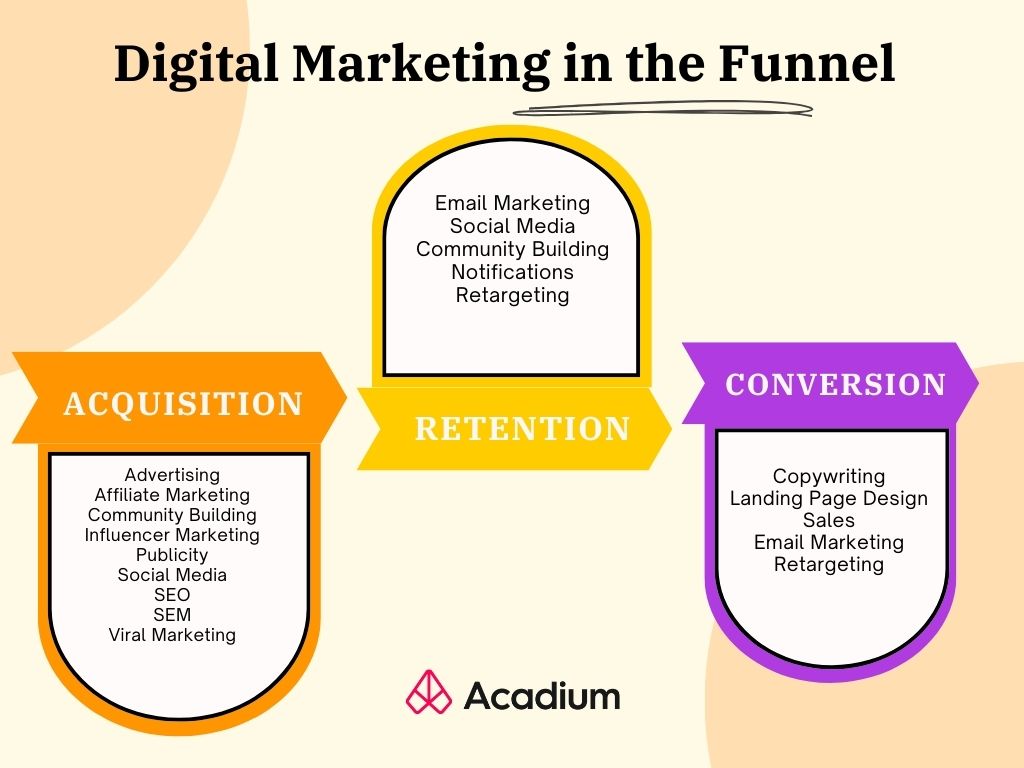 From here, start by picking a few categories to focus on. Ideally, select within a couple of the typical "stacks" that generalist digital marketers use. These stacks are grouped below.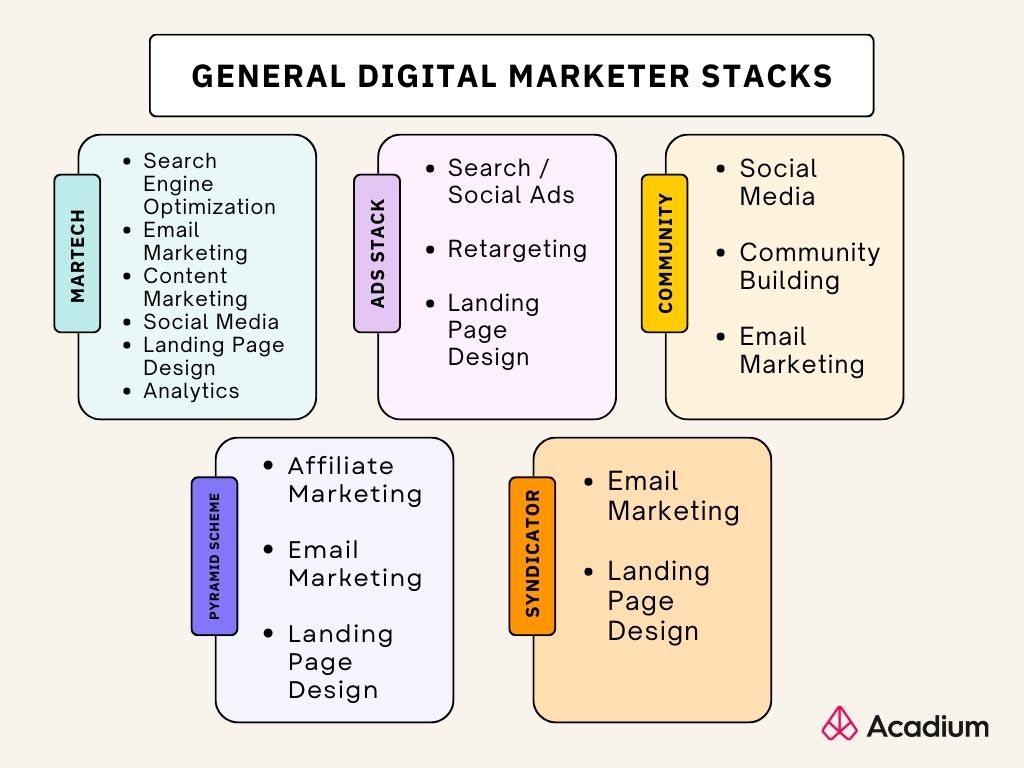 No matter what stack you choose, adding some copywriting will always help. Unless you learn some copywriting, you will be less effective in all other areas. Communication is an essential skill and if you get it right, your efforts will be multiplied.
Also Read: T-shaped Marketer: Four Steps to Becoming One in 2022
3. Put what you've learned into practice
Most people spend their time reading blogs and books without putting what they're learning into practice or testing it. The only way you'll learn digital marketing is to practice it.
Educate yourself through testing campaigns, monitoring results, optimizing campaigns, and learning from mistakes.
In this way, you can test everything you learn without worrying about negative consequences if you make a mistake, while at the same time, you get comfortable putting your work out there and getting feedback.
Even this can be theoretical until you start using it in your everyday role, such as getting an apprenticeship. As apprenticeship training is designed to prepare you for real-world jobs, you will find that you will gain a lot of practical work experience from your training. Achieving success in your learning involves transferring theory into practice. We talk more about apprenticeships in point number 6.
4. Start your own blog
Starting your own blog and learning from your own experience is one of the best ways to gain in-depth knowledge about digital marketing. The more you blog, the more you will learn about SEO, social media marketing, WordPress, and other digital marketing techniques.
Blogging tools can also help you assess how well you know a topic or supplement the words you write. You can use these marketing tools to generate blog ideas as well as distribute content to the right audiences.
To get started, you can use SquareSpace which is simple and easy to use, as well as BuzzSumo to identify influential writers and creators from across social media and the web and to view viral trends in real-time.
Also Read: 42 Free Marketing Tools for You and Your Remote Team
Speaking of social media, it's not enough to simply publish your blog online. In order to gain more attention, you also need to promote your blog, and social media is an inexpensive way to do that.
Start building your social media presence by creating your own social media page or if you enjoy making videos, you can also create a Youtube channel.
Whichever route you choose, you need to decide which social media platform to focus on. In this way, you will be able to drive targeted traffic to the networks in which your work will be showcased and grow your audience.
5. Get certified
As you progress through your learning, consider becoming certified. It offers a great opportunity to showcase your expertise and test your knowledge. The following resources can help you get started:
Udemy
If you want to know how to get started with digital marketing, you can take advantage of Udemy's self-paced video course.
Their complete digital marketing course contains 12 courses within one and will allow you to master digital marketing strategy, social media marketing, and much more.
The course is full of useful information on everything from finding your target market to branding your business. It includes over 20 hours of on-demand videos and a wide range of articles, resources, and videos.
Coursera
If you're interested in pursuing a career in digital marketing, Coursera can help you get there. The company's catalog features over 10,000 courses, with more being added all the time.
A lot of them are university-backed and developed in collaboration with leading global tech companies (such as google and meta). These courses may take anywhere from 3-6 months, and upon completion, you'll be rewarded with an official certificate.
The courses are designed to give you the job-ready skills you need to succeed in the field of digital marketing. Most of them also include tests and other interactive tasks that can help you improve your skills.
Also Read: Top 10 Best Online Digital Marketing Courses, 2022 [+ 7 Tips to Choose One]
Boot camps
If you are a complete beginner in the field, boot camps can be a great way to learn all about digital marketing. A boot camp is an intensive course that may range from a couple of days to a couple of weeks.
You'll connect with mentors and other aspiring professionals, and gain knowledge about the latest trends and techniques. Whether you want to learn SEO or Facebook marketing, a Bootcamp can give you the knowledge you need to succeed in your field.
When choosing a boot camp, make sure the schedule will fit with your current lifestyle. If you work full time, your time may not be flexible. If you work part-time, consider joining a Bootcamp that offers flexible hours to fit your needs.
For example, Acadium Plus is a self-paced, cohort-based program that provides you with the exact content, experience, resources, and support to start your full-time marketing career.
While it's not technically free unlike the options we mentioned above, this 8-week program can help marketers gain valuable experience and are supported in their endeavor to get a full-time marketing position.
A scholarship is also offered, making it an easy way for novice marketers to get into the program.
Plus, to ensure accountability, your instructor Erik Harbison (ex-CMO of Aweber and VP of Marketing of eBay) will meet with you one-on-one to determine where you are currently, what you'd like to achieve, and how to plan to reach your goals.
A one-on-one session with a digital marketing expert can help you determine what type of digital marketing (paid media, content marketing, social media, etc.) you want to do and what type of work environment (agency, e-commerce, freelancing) is best for you.
6. Work with experienced digital marketers
A digital marketing apprenticeship is essential for those who are serious about making their careers in digital marketing.
Even if it's an unpaid apprenticeship, you should pursue it. Taking part in a digital marketing apprenticeship will enable you to understand how the online marketing ecosystem works. Additionally, you would be able to gain practical experience through it.
As an added bonus, you'll also work under the supervision of a digital marketing expert. Thus, it will be a complete win-win situation for you. It is also possible to receive a high-paying job offer after completing your apprenticeship.
In Acadium's Marketing Apprenticeship Program, for example, you will be mentored and guided by a business owner who gives you career guidance.
During this three-month apprenticeship, you will spend 10 hours a week implementing digital marketing tasks, preparing you for paid positions afterward. Mentors might even offer you a full-time position if you do well.
As you gain experience and have samples and testimonials from mentors to back you up, you can market yourself when applying for digital marketing jobs.
7. Always strive to learn and improve
Marketing in the digital age is an ever-evolving field, which calls for practitioners to keep up with the changes.
As you advance from novice to expert, you will find that the tips above will serve you well. Continue to experiment, test your assumptions, and find new experiments to run.
The more you learn and test, the more likely you are to land a digital marketing role at a company – or be able to market your own personal brand – in less than a year.
Start your digital marketing career today
With an Acadium apprenticeship, you'll get your foot in the door of the industry without needing years of experience. It's a great way to get real-world training through on-the-job tasks, as well as mentorship. You'll work with experienced professionals on projects that help develop your skillset and portfolio—making you attractive to prospective hirers within the industry.
Take the first step toward your dream digital marketing job by signing up today.
Princess "Ji" Kang is a staff content writer at Acadium who unveils complicated topics about digital marketing. She's been wordsmithing for various brands and industries for nearly 6 years, after earning her Master's Degree in English Language and Literature along with her Digital Marketing certification. Her work has appeared on sites such as asksebby.com, wellpetcoach.com, Ready Home Singapore, ThePerfectMedia Group, and more. You can find her at her home mini-library reading, sipping hot coffee, or playing with her cats in her downtime.
Top Marketing Webinars for Digital Marketers in 2023

By attending these webinars, you will have the opportunity to learn from industry leaders, gain insider knowledge, and stay ahead of the competition.

9 Types of Digital Marketing to Choose From in 2023

Digital marketing is a dynamic field that offers diverse career opportunities. From search engine optimization to social media marketing, there are many specializations to explore. Whether you're just starting out or looking to switch careers, this guide will help you find your ideal digital marketing niche.

Subscribe to our newsletter for digital marketing resources
Become a better marketer with our digital marketing resources and tips shared weekly in your inbox.

Build your marketing career for free or find marketing talent on any budget — fully remote.