10 Top Social Media Platforms That Can Boost Your Brand Visibility
We understand the world of social media marketing can be overwhelming for business owners – with so many platforms to choose from, getting started can feel like an impossible task. But don't worry; we'll talk you through all of the top social media platforms, so you know exactly what's right for you. Get ready to supercharge your social media presence and level up your business.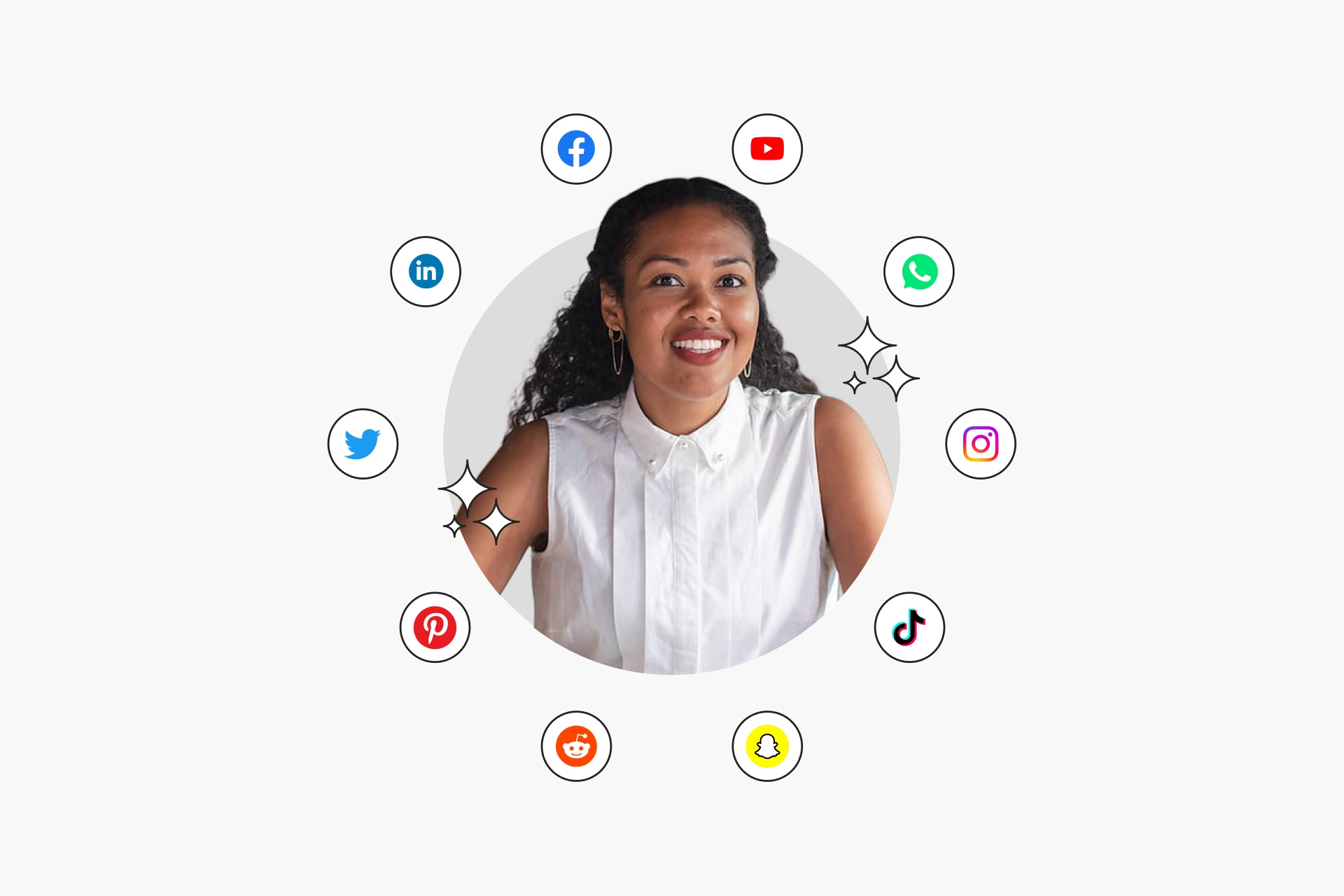 What makes the world go around? If you said social media, you'd be right. As of today, more than 4.6 billion people actively use social media platforms on a monthly basis – social media is woven into the fabric of our very lives.
In other words, if your company doesn't have a social media presence, you're passing up on the opportunity to easily engage with the majority of the earth's inhabitants – losing a ton of potential clients and customers in the process.
It's no surprise then that social media marketing has become essential for businesses of all sizes. Successful businesses in 2022 will use social media to grow their reach, build brand awareness, and drive new customers to their websites or store.
In this post, we'll talk you through the top social media platforms for business owners, their respective sizes, and why they're so important.
But first…
Apprenticeships For Business
Get social media marketing help, handpicked for you
In 1–5 business days, we'll connect you with a vetted social media marketing apprentice who'll help grow your business as you mentor them.
What is social media and how can it benefit your business?
Social media are types of interactive technologies that facilitate both the creation of content (photos, videos, status updates, written posts, etc.) and the sharing of information and ideas among virtual communities and networks.
Sounds fancy, but they're basically just a digital space where you can interact with your customers.
Through the free creation of content and the easy, instantaneous sharing of information, social media is the perfect ally for you and your business.
It enables you to interact with potential customers in an open and public forum – you can engage with billions of people from all around the world; people that you wouldn't have been able to reach without social media.
You'll increase your brand awareness, expand your reach, and gain new loyal customers, which are the lifeblood of any successful business.

What are the top social media platforms?
There's a plethora of social media platforms, each with its own set of advantages and disadvantages. Some examples include Facebook, Twitter, Instagram, Reddit, Snapchat, LinkedIn, and Pinterest.
Depending on your niche and industry you'll find different platforms that are better suited to your business.
For example, Facebook and LinkedIn have generally considered the top social media platforms for businesses with financial and technical niches, whereas YouTube and TikTok are best suited to businesses operating within artistic and creative niches.
Additionally, depending on the age of your target market, the platform you chose to use will have a significant bearing on the success of your social media marketing efforts.
For example, if most of your customers are under the age of 35, then Instagram is perfect for your business; with 67% of gen Z and 58% of Millennials using the app on a daily basis.
If your target demographic is even younger than that, you should consider TikTok, with the majority of its daily users under the age of 18.
One thing that's worth keeping in mind is that no social media platform is better than another.
While most of these platforms are designed with their own built-in analytics feature, some may have additional features that make them more appealing, such as geographical reach or higher engagement levels, all of the top social media platforms are effective for different reasons.
The key is to find what works best for you and grow your presence – while not being afraid to venture into additional platforms.
Standout Features:
Engage with posts from the brand page
Comprehensive list of all the people and companies who liked your page
Facebook Response Assistant
Saved Replies feature
Customize save posts
Page to Watch for competitor information
Built-in page insights
User base: 2.9 billion
Major audience: All demographics, Ages 25-34
Suitable for: All types of businesses
Great for: Building brand loyalty
When people hear the word social media, they often think of Facebook. With almost 3 billion monthly active users, Facebook is the biggest and most popular social network in the world.
For companies, Facebook is a great way to boost brand awareness, interact with customers, and drive traffic to your site.
Businesses can create a Facebook page and then use it to post updates, images, videos, and other information that shows their brand in a positive light.
Furthermore, businesses can create Facebook ads and focus on targeting specific demographics, in specific locations. You can even target your ads to people who already like your page or people who are interested in topics related to your niche.
Standout Features:
Youtube Studio
Youtube Analytics
Feature a video or playlist
Share videos
Add links to video descriptions
Youtube analytics
User base: 2.2 billion
Major audience: All demographics, for all ages
Suitable for: Creative, informative, and content-based niches.
Great for: Brand awareness and lead generation
YouTube is the world's second most-visited website, behind only Facebook. With over 2 billion active users, it's safe to say that YouTube is the top social media platform for video sharing.
For businesses, YouTube is a great way to engage with customers, build brand awareness and image, and present yourself and your business in a personable and friendly manner.
Creating how-to and instructional videos for your products or services is a great way to engage with potential customers through YouTube – you can publish entire educational series for your product lines, be it simple text-based informational videos, or actual physical hands-on demonstrative videos.
You can also follow other YouTube users and engage with them by liking their videos and having real conversations with them – helping you build an audience and eventually a loyal customer base.
Standout Features:
Video and text messenger
Conversational Commerce
Create business profiles
Send quick replies
Label contacts
Send files and documents
Access message statistics
Automate messages
AI chatbots
Can be used for desktop and mobile
Using WhatsApp Business, you can create product catalogs
User base: 2 billion
Major audience: All demographics, India and Brazil, Ages 26-35
Suitable for: Businesses that require direct marketing and significant service channels
Great for: Business communication, customer service
With over 2 billion monthly active users, WhatsApp is the world's top social media platform for messaging – and has a significant user base all around the world.
Being exclusively a messaging platform, WhatsApp is unlike the other platforms included on this list, and you may be wondering how it can help your business.
With the launch of WhatsApp Business, businesses can have the opportunity to tap into a massive userbase through 'Conversational Commerce' – a conversational exchange between a brand and a customer to answer product questions or provide customer service, ultimately facilitating a new sale or making a customer happy.
Likewise, it offers AI-driven chatbots that provide almost human-like assistance to customers via WhatsApp. By simply customizing the script, businesses can improve customer experiences.
Another impressive feature is that you can create catalogs of your products. This makes it easier for customers to know about products and order using WhatsApp without having to open a website. Businesses and solopreneurs can take advantage of this feature to create and share catalogs of their best-selling products and services.
With all of these in mind, WhatsApp can in fact be an incredibly useful tool in your social media arsenal, providing you with a direct channel to customers for promoting product launches, providing customer services, and in general interacting with your customers in a direct, personable way.
Standout Features:
Feed/reels, stories, direct messaging
All-in-one professional dashboard for creators and business owners
Host live sessions with up to 4 users at a time.
Interactive bio
Add gift cards to get more support
Pin comments
Share photos and videos via desktop
Co-create content with other users using the Collab feature
Brand Collab Manager
Story highlights
Remix reels
Tag products to create shoppable posts
Instagram Checkout (only available in the US)
Cross-app messaging between Facebook and Instagram
Built-in insights
User base: 2 billion
Major audience: Millennials and Gen Z, Ages 25-34
Suitable for: Influencer, entertainment, or product-based businesses
Great for: Lead generation and Brand Awareness
With over 2 billion active users, Instagram is one of the most popular social networks in the world – and it's incredibly popular among Gen Z and millennials; meaning if your target demographic is young people, then Instagram is perfectly suited to your business.
For product-based businesses and influencers, Instagram is the perfect way to engage with people and get eyeballs on your brand.
Instagram content is primarily in the form of photo posts, which can be used to directly promote, advertise or even sell your products with its shoppable post feature. As a business, you can also follow other Instagram users and engage with them by liking their posts and having real conversations– helping you build a loyal customer base.
Businesses who want to create brand awareness can also leverage Instagram's paid advertising.
Instagram ads offer advanced audience targeting within Facebook's family of social and messaging apps that can drive results. Using Facebook's latest feature, Power 5 – machine learning algorithms designed to optimize bids and target audience segments – you will be able to run campaigns without doing all the heavy lifting yourself.
By testing which ads work best for your ad, the algorithms will cut the budget for the others, ultimately running only the ads and audiences that deliver results at the right price.
This powerful tool will not only help you get better sales results, but it can also let you achieve stronger ROI while lowering cost conversions.
Standout Features:
Video editing and uploading
Likes and comments
Short-form content
Social sharing
TopView and In-feed ads
Duets feature
Live video streaming
Hashtags
Real-time Analytics
User base: 1 billion
Major audience: Gen Z, Ages 18-24
Suitable for: Entertainment and product-based businesses, startups, and small businesses
Great for: Building brand loyalty and community
Originally known as Musical.ly, TikTok was only launched in 2016, and already has a user base of over 1 billion people. It's no surprise then that it's the fastest-growing of the top social media platforms.
TikTok is based on short-form video content, with users uploading videos typically less than 30 seconds in duration. The platform is dominated by Gen Z, with the vast majority of its users under the age of 18 – meaning that if this is your target demographic there's no better platform.
You should note that TikTok isn't without its controversies, with a number of concerns being raised in recent years regarding the way TikTok collects and uses data from its users. In fact, in 2021 there were significant efforts to ban the platform in the US.
Despite this, TikTok has been downloaded over 3 billion times globally, meaning it represents an undeniable marketing resource for business owners (even if you're concerned about how your data is being used).
Standout Features:
Voice and Video calls
Snap clicking and social sharing
Story and memories
Text messaging
Snap Map
Snapchat Ads
Emoji-powered poll stickers
Record videos, answer messages, preview group member features
Built-in analytic insights
User base: 538 million
Major audience: Gen Z, Ages 13-24
Suitable for: Entertainment and product-based businesses, startups, and small businesses
Great for: Brand awareness and lead generation
Snapchat is a social media platform that lets users send pictures and videos that disappear once they're viewed. With 13-year-olds being the most active users of the platform, if your target demographic is young, Snapchat is a platform you should consider, along with TikTok.
As with TikTok you can create short-form videos and share them with potential customers, which will appear to users on Snapchat's 'discover' section. Although Snapchat's popularity has decreased in recent years, it represents a great marketing resource that business owners cannot afford to ignore.
Standout Features:
News forum
Social News
Comment hider
Upvoting
Floating top posts
User base: 430 million
Major audience: Millennials, Ages 18-29
Suitable for: Businesses that use long-form, informative content
Great for: Brand promotion, Public Relations, and building a community
Reddit has become an invaluable resource for many people interested in politics, news, and current events. As the Internet's largest and most popular news aggregator, Reddit is a great place where users can look for information on any topic.
As a business owner, Reddit can be a great place for you to share information on your brand and interact with potential customers.
However, Reddit is not without its challenges. The platform suffers from low engagement rates; only a small percentage of visitors actually spend a lot of time on the site. Given these limitations, Reddit isn't typically recommended as a primary social media presence for businesses.
This doesn't mean Reddit won't be useful for your business; there are some practical things that, when kept in mind, will help you get the most out of the site.
First and foremost, make sure that all your posts link back to one of your own original articles or blog posts. This will help other users find your content and build trust among them.
Second, remember that your content needs to be interesting enough for people to share it. Make sure you have something interesting to contribute, rather than just self-promotion!
Finally, remember that all comments are public by default meaning that anyone can see them – a bad comment could significantly damage your brand's image.
Standout Features:
Native video feature
Promote Pins
Sharing
Pin boards
Visual Search
Pinterest browser extension
Pinterest Analytics
User base: 444 million
Major audience: Millennials, Gen Z, Ages 30-49 (mostly female audience)
Suitable for: Clothing, Art, Food, Fashion, Dècor businesses
Great for: Brand awareness, increase audience, and lead generation
Pinterest is perfect for businesses in fashion, food, décor, or DIY niches. The majority of its users are female, so if your audience is primarily female then you should use this platform.
The platform works by creating and sharing images, which can be pinned to your board. Each pin will backlink to its website of origin, meaning by creating and sharing attractive images, you can drive immense traffic and sales to your website.
You can also target customers early while they're browsing with Pinterest's shopping ads. Ads are created by pulling products from your catalog. By clicking on your image or video, a user is taken directly to a link where they can purchase the product.
Pinterest uses your product data to display relevant products based on the product groups you created in the catalog. This feature eliminates the need to set up any additional targeting.
Businesses like florists, boutiques, and cake decorators benefit greatly from Pinterest – they offer visually appealing products and services that can easily be captured and portrayed in a single photo. If your business offers products or services with attractive visuals, then Pinterest might just be the top social media platform for you.
A pin has a much longer lifespan than a tweet or Instagram post. Users can see pins months after they were originally uploaded. Thus, the longevity of these assets makes Pinterest highly valuable for any creative business.
Standout Features:
Tweets
Adding and following content
Polls
Support for third-party applications
Quoting and pinning a tweet
Tagging accounts in tweets
Integrated photo-sharing service
Clickable images
Twitter Amplify
Twitter Analytics
User base: 217 million
Major audience: All demographics, USA, Japan, and India, Ages 30-49 (Mostly Male audience)
Suitable for: All types of businesses
Great for: Public Relations
Twitter allows users to post short messages (called "tweets") of up to 280 characters in length. People use these short posts to share links and engage with other users.
It's a great way to share your voice with your customers, providing them with information about your brand, and having conversations in a public forum.
You can also easily engage in direct messaging with your customer – allowing you to handle any queries of customer service issues through the platform. You can also collect data by carrying out polls, allowing you to carry out in-house data collection and analytics.
Twitter also allows you to promote your account and your tweets using paid advertising – a strategy that can be well worth the cost for businesses new to the platform. They also have a handy marketing tool called 'Twitter amplify', which allows you to share real-time television content, and integrate it with your brand.
Standout Features:
News feed
Work History
Resume Builder
Private Messaging
Job Posting
Get Connections
Manage skills and endorsement
Create LinkedIn Showcase pages
Save searches
Add media files
Advance search feature
User base: 830 million
Major audience: Business professionals, Ages 46-55
Suitable for: B2B and B2C companies, coaches, entrepreneurs, working professionals, recruitment agencies
Great for: Business development, networking, and brand awareness
Of the top social media platforms, LinkedIn is the most geared towards business professionals. With over 830 million active users, it's undeniably one of the biggest social networks in the world.
It's a network full of highly influential professionals, that can partner with your business and help increase your sales and reach.
It can also be a great resource for hiring people for your business, allowing you to see their full CV and work history, so you can tell if they'd be a good fit before you hire them.
You could create a profile that links to your own website, allowing you to share your business with an abundance of professionals that may be interested in getting behind your brand.
How to choose the best social media platform for your business
Choosing the right social media platform for your business depends on a number of factors – demographics and target audience, for example.
Additionally, the type of content that is appropriate for your business to produce and your required level of engagement with your audience are two important factors to consider in your decision-making process.
Other factors to consider include your budget for your marketing strategy, available time, and technical requirements.
There are many different platforms for businesses to choose from these days, each with its own advantages and disadvantages. It is important to take the time to consider all of your options before choosing a platform for your business.
By doing this, you will be able to find the best platform for you and your company.
Bottom line
That concludes our list of the top social media platforms. Social media is an excellent way for you to engage with customers, build brand awareness, and drive traffic to your site.
With a large variety of platforms, all offering something slightly different and a unique user base, there's a platform that is perfect for your business. With a bit of time and effort, social media marketing can completely transform your brand, allowing you to thrive in 2022.
Achieve your social media marketing goals with Acadium
Now you know all about social media and how it can help you level up your business, it's time to join the list of countless other business owners that are already enjoying the benefits of a thriving social media presence.
Take Playper, for example. Playper developed its brand awareness, social media marketing, and email marketing strategies with the help of eager, aspiring digital marketers from Acadium.
"We were looking for some avid social media users with marketing experience and an understanding of kids' products. At Acadium, we found smart, proactive individuals who are hardworking and hungry to learn and willing to take initiative."
–Webb Knudsen, CEO and co-founder of Playper
As a result of the Acadium apprenticeships, Playper was able to accomplish its goals. In Knudsen's words, he said:
"When we started out working with Acadium, our social media accounts had just barely been set up, so we barely had any followers. By the time they were done, those had grown to more than 10 times what they previously were. Their help really freed us up to spend more time on other things like product development."
Just like Playper, businesses will typically outsource their social media marketing needs as it can be a lot of work (but very rewarding if done correctly).
By working with a platform like Acadium, you'll get access to the best marketing talent and a wealth of information and tools to suit all of your needs. Our unique program options offer something for all businesses:
The best of the best
Acadium can thoroughly match you with vetted, professional social media freelancers according to your business profile and marketing goals. If you have a higher budget and are serious about upgrading your social media presence with an expert, then this is the place to start.
Benefit from the talent of emerging marketers
Acadium offers a unique mentorship program, matching you up with a verified and talented digital marketer that is looking to gain experience and is eager to jump into the world of digital marketing.
Over the course of 3 months, your apprentice will be available to contribute 10 hours per week towards your digital marketing efforts. In exchange, they'll receive 1-2 hours of mentorship from you. By providing them with marketing tasks, they'll help you grow your business, while they grow as a marketer.
Everybody wins – our mentorship program has helped thousands of businesses and apprentices provide each other with immense mutual benefit.
If things don't work out we'll reach into our talent pool to provide you with another match; completely free of charge- so you have nothing to lose!
In summary: The Acadium team can put you in contact with top-rated social media marketing freelancers. Alternatively, you can join their Apprenticeship for Business program where you'll be able to benefit from the most enthusiastic, hardworking marketing apprentices.
Princess "Ji" Kang is a staff content writer at Acadium who unveils complicated topics about digital marketing. She's been wordsmithing for various brands and industries for nearly 6 years, after earning her Master's Degree in English Language and Literature along with her Digital Marketing certification. Her work has appeared on sites such as asksebby.com, wellpetcoach.com, Ready Home Singapore, ThePerfectMedia Group, and more. You can find her at her home mini-library reading, sipping hot coffee, or playing with her cats in her downtime.
Business Growth, Career Prep

What is an SEO landing page & How to Build One? [Step-by-Step Guide]

Learn the ins and outs of SEO landing pages and how to build one with our step-by-step guide. Discover the key elements and best practices for creating a high-performing landing page that drives conversions and improves your search engine rankings.

Introduction to Transactional Emails in Email Marketing

Have you ever heard about transactional emails? Do you know they are different from marketing emails? This article is your complete guide to transactional email definition and best practices to send such emails. We have also shared real-life transactional email examples for better understanding.

Subscribe to our newsletter for digital marketing resources
Become a better marketer with our digital marketing resources and tips shared weekly in your inbox.

Build your marketing career for free or find marketing talent on any budget — fully remote.