What is a Content Creator and How to Become a Content Creator
A content creator forms the backbone of every successful marketing campaign. They create innovative, entertaining, and informative content that compels audiences to stick around, or even advocate for brands. Read on to find out how to switch to this career.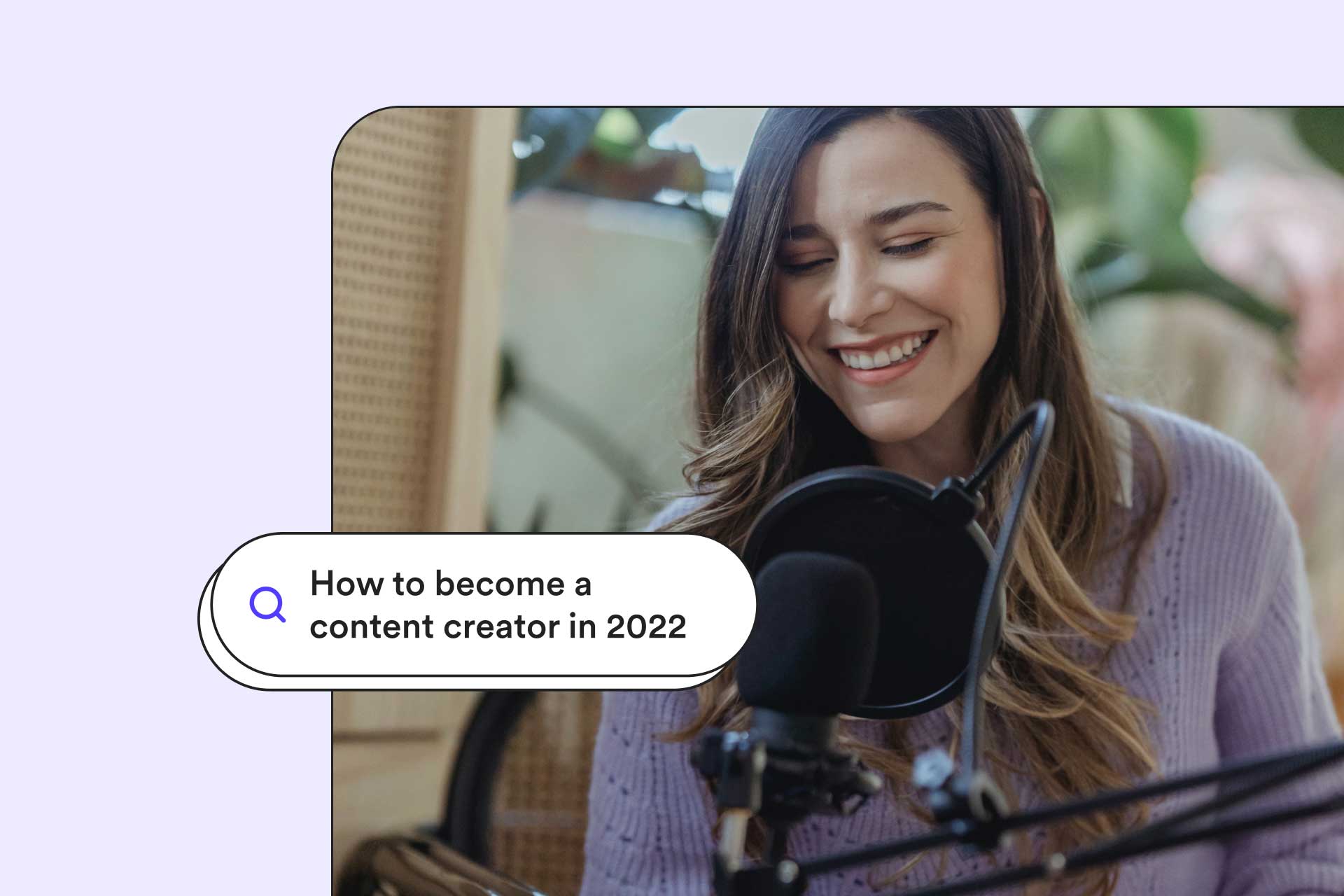 A content creator makes engaging content that entertains, informs, or inspires an audience. Content creators are responsible for the blogs, videos, music, and other forms of media consumed by the millions every day. They're also the backbone of many successful marketing campaigns.
So if you want to learn how to become a content creator, you've come to the right place! You'll learn about your responsibilities as a content creator within a business, as well as the skills and ways to get there. In addition to that, if you are a freelance content creator, you'll also find tools to help you find success.
If you don't know where to start, you may need a structured environment to learn how to become a content creator. In this case, an apprenticeship may suit you. You'll learn to create effective content that reaches a target audience under a mentor who'll evaluate your progress.
Acadium Apprenticeships
Learn the basics of content creation
Work with a mentor for 3 months and learn how to create content that attracts, converts, and retains an audience.
Whether or not you decide to enter an apprenticeship, you'll need to know what a content creator does before you look for ways to become one.
What is a content creator: Day-to-day duties of a content creator
Content creators do more than create high-quality, eye-catching content. They know how to promote it effectively, align it with their goals and branding, and improve it by paying attention to results. Plus, they're highly involved in every step of the content creation cycle and know how to guide others through it.
A content creator's responsibilities generally involve:
Creating engaging content
Editing & optimizing content for SEO
Leveraging social platforms
Monitoring competition & trends
Working with teams within business
1. Creating engaging content
Your number one priority as a content creator is to make content that people want to see. They either get hooked on your content because it is entertaining, educational, conversational, or aspirational—or a mix of the four!
As a content creator, you're either creating text, audio, or video content. But in truth, you're likely producing all three types, either as your main content or as pieces to complement, promote, or support the others.
In writing, you're likely crafting blogs, emails, social media posts, newsletters, and ad copy. For videos, you're creating platform-specific vlogs, interviews or Q&As, tutorials, comedy shorts, webinars, or product reviews. As for audio, you're likely developing music, podcasts, or audio versions of your work.
2. Editing & optimizing content for SEO
Whether it's yours or someone else's work, you need to edit and ensure that all content you touch is ready for viewing. You also need to ensure your target audience finds it easily. SEO ensures your content is top of mind when people search for keywords related to your creation.
We'll learn more about SEO in the skills section.
3. Leveraging social platforms
Not all platforms are created equal. Facebook, Instagram, Tiktok, LinkedIn, and other social platforms have different demographics, search algorithms, and content policies. Becoming familiar with these differences, and using them to your advantage, is how you create content that gets views and monetization.
4. Monitoring competition & trends
Content creation is all about making content that is relevant to your audience. Naturally, you need to keep track of what they're interested in, what websites they are visiting, and why they find your competitors interesting.
You can find tools that will help you find this data in our tools section below.
5. Working with teams within business
As a content creator, coordinating with teams within your organization is a must. You're likely working within the digital marketing arm of your company, but you'll also need to coordinate with your social media, sales, customer service, and web design teams—and others. These teams will provide you with valuable data, and help create, or distribute, your content.
9 skills to get hired as a content creator
Content production
Content strategy
Content marketing
SEO
Social media marketing
Branding
Data analysis and research
Customer service
Organizational skills
1. Content production
As mentioned above, a content creator doesn't focus on just one aspect of content creation. They'll need to know the basics of copywriting, graphic designing, video production, and audio production.
You'll niche down in time, but you'll likely make or contribute to these types of content:
Blog posts
Infographics
Newsletters
Tutorial videos
Promotional shorts
Company news emails
Photos
Social media content
2. Content strategy
When you're making content with the intent of creating interest in a product or service, you're practicing content marketing.
Content marketing aims to create content that helps the audience solve a problem by providing relevant content. Whether through blogs, podcasts, videos, or other media, you want to reach your target audience, educate and inform them, generate leads and sales, and reinforce your brand.
This marketing technique establishes you as a go-to expert for the content you're creating. While you may get instant returns from your content going viral, content marketing is a long-term strategy that aims to nurture a loyal following.
3. Content marketing
A key part of content marketing is content strategy. As the name suggests, this is the practice of setting key performance indicators, doing research to ideate content, creating said pieces, then distributing and promoting it to achieve your goals.
Content strategy involves planning what kind of content you're putting out. This content must align with your marketing and company goals, and with the profile of your ideal audience or buyer.
The buyer's journey should also be considered in your strategy. Your content must make your buyer aware of your brand, consider following you for more content, and decide to invest or purchase services or products.
4. SEO
You can never underestimate how powerful SEO is in bringing organic traffic to your content. SEO helps increase your content's visibility by placing it high on search results. Since 95% of all search traffic comes from the first page, all content creators aim to get a sweet spot at the top.
You need to understand what your audience wants—user intent—when they look up your kind of content. This allows you to find the right keywords to target. In order to do that, you need to create shareable content—stuff that, as noted, informs and helps your audience find solutions.
5. Social media marketing
Social media marketing helps you get your content out there effectively while saving you time and money. This type of marketing involves direct contact with your target audience and bypasses pesky ad blocks that hinder traditional marketing.
Because it's direct interaction with your audience, you can check your audience's interests, dislikes, and more as part of your market research. What you put out and how you interact with your audience also affects your branding.
6. Branding
Branding is the process of creating an identity for your business. A maintained voice, style, logo, signature content, brand name, emotion, and more contribute to a well-defined brand. And you can't dismiss the effect branding has on consumers, as brands make consumers trust a company more.
7. Data analysis and research
Data analytics help develop better content. Without it, you don't know how your content is performing, you have no idea what your audience wants, and you cant create a decent content strategy. Plus, you can't anticipate changes to your audience's needs, or what the competition's doing to fulfill those.
We'll recommend a ton of tools that will guide you on your research and share your exact metrics later on.
8. Customer service
Around 84% of organizations focused on improving their customer service reported an increase in revenue. Based on this alone, you can see the importance of creating a good rapport with the people who consume your content.
By responding to your audience—and providing good customer service, you'll increase your retention. Your brand will also get a boost, as having a good experience will make people more likely to refer your content to others. You'll also gain insight into how to improve your content.
9. Organizational skills
Being a content creator means you're good at three things:
You're good at project management
You know how to manage your budget
You're great at managing deadlines
Organizational skills are crucial for content creators, especially for those who make content that are time-sensitive. If you're lacking in one department, you'll find it hard to deliver quality content that's on time and on budget. So you have to make sure you're work-ready by honing these crucial soft skills.
These skills are generally what interviewers look for in content creators. However, every opening has its own unique requirements. Some openings for content creators may actually be looking for a T-shaped marketer, with a particular focus on content creation.
How to become a content creator: 5 simple ways to get started
Becoming a Youtuber, full-time copywriter, and social media guru, among others, is becoming more and more viable thanks to free online resources.
Part of a successful transition to becoming a successful content creator is the ability to create career opportunities by yourself. That means planning, learning, and taking chances. Here are some solid ways to start your career as a content creator.
1. Build an online presence
Content creators rarely start from a single viral piece of content. Established and long-time content creators spend years cultivating their online presence. Building your presence from scratch lets you set the kind of content audiences can expect from you, allows them to follow your progress, and builds your credibility with them.
2. Go beyond commentary
Your content needs more than your commentary. Good content offers a unique value to whoever's consuming it. For example, this article is different from other posts on content creators because it gives detailed answers about what they are, their duties, skills, tools, and how to become one.
Great content answers questions, offer resources, and call-to-actions that an audience can react to. As noted, this kind of content builds confidence in your brand, leads people to share it, and makes your site trustworthy.
3. Network
Connecting with other content creators is one key factor to growing your online presence and improving your craft. You need to exchange your learnings with other creators and work with them to promote each others' works. Plus, you don't even need hundreds of contacts—you just need to reach out to quality creators you're sure will work with you to reach mutual goals. And who knows—a contact might have a great opportunity that's perfect for you!
4. Study your industry
No one grows by sticking to what they know. Keep your skill sets updated through courses, creating content (even if you wind up not publishing these pieces), and reading up on news in your niche or industry. You can find new ways to improve your process, discover trends before they happen, and increase traffic to your content.
5. Apprenticeship
A digital marketing apprenticeship is another way to hone your core competencies as a content creator. As you'll handle live tasks from real businesses, you'll learn what it's like to create effective content while staying on-brand. You'll also gain first-hand work experience in creating connections and accessing tools that you might not afford on your own.
When you find work after your apprenticeship, you'll likely earn somewhere around these figures:
Content creator salary: Average salaries in US & Canada
These salaries are for jobs listed as "content creator" on job boards. It does not account for independent content creators who rely on ad revenue, donations, platform-related monetization, and other income sources for revenue.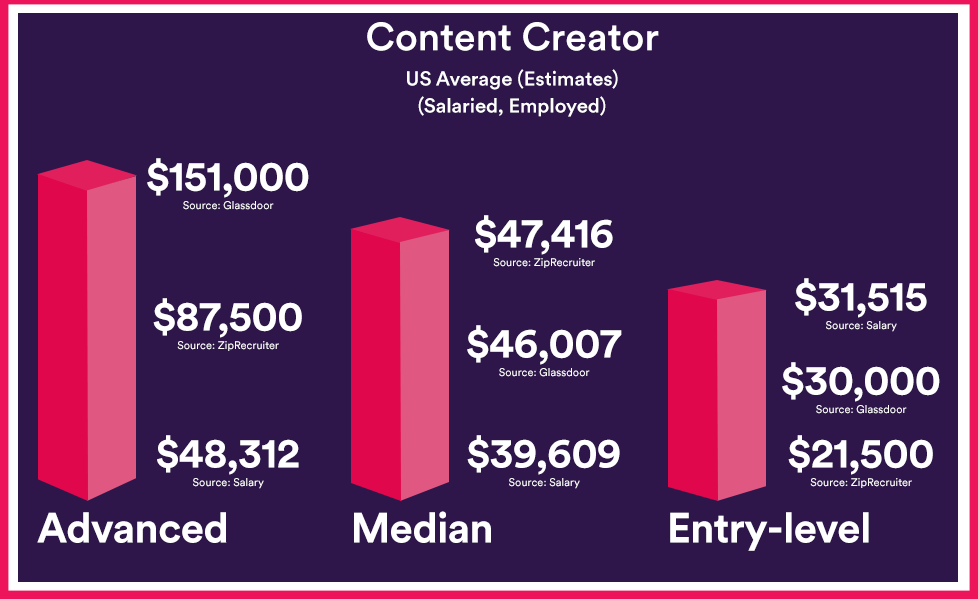 The variance of rates for US content creators is quite wide. For the data points in this infographic, Salary has the least variation in salaries per experience level. ZipRecruiter has the biggest range between entry-level and experienced content creators, while Glassdoor presents the biggest likely salary for top earners.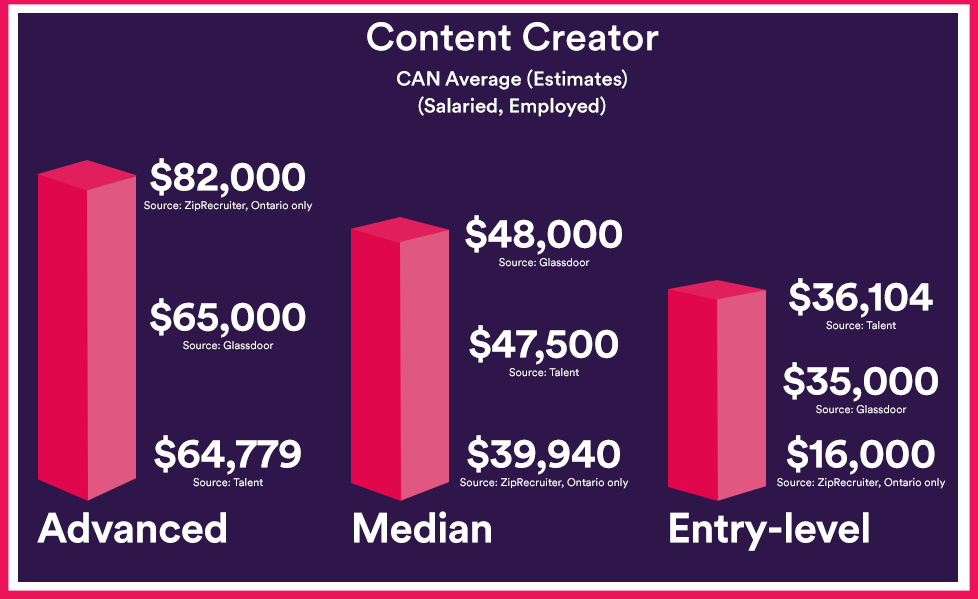 Figures for content creator salaries in Canada are less reported. The figures from ZipRecruiter, for example, only take Ontario into consideration. Glassdoor and Talent have 29 and 86 reported salaries for their numbers.
Popular content creation tools for budding content creators
We've covered plenty of free and paid tools for freelancers and salaried creatives before, but here's a whittled-down list for content creators. You'll find each tool's price points and key features in this section.
1. Copywriting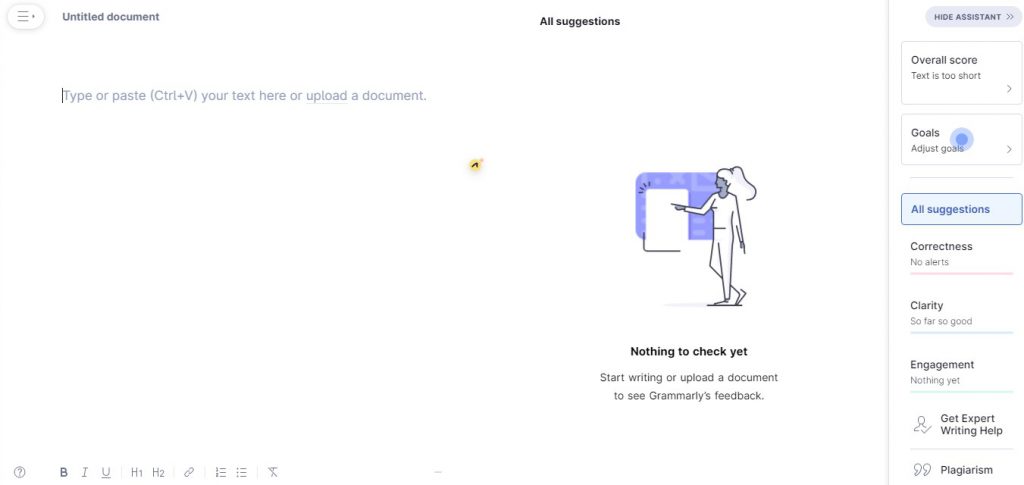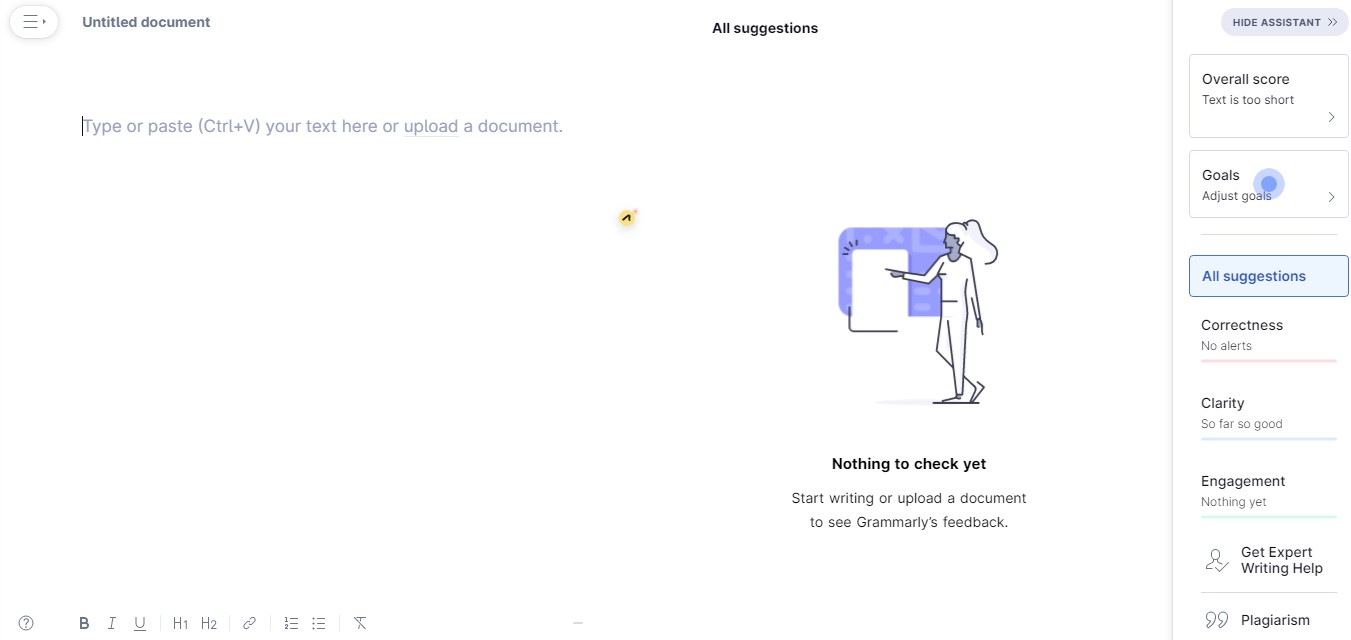 Grammarly
Free; $12/month (Premium); $12.50/month (Business)
Checks grammar, spelling, punctuation, word use errors, etc.
Readability and tone detector
Premium: advanced corrections, style and clarity improvements, and monitor your brand voice.
Hemingway App
Free
Browser and desktop versions
Checks adverb and passive voice use
Provides readability suggestions, highlights complex and too-long sentences, and gives suggestions for simpler words
ProWritingAid
Free; $20/month or $79/year or $399/lifetime
Integration with MS Word/Outlook, Google Docs, Scrivener, Open Office, and Final Draft; browser extension to check other sites
Notes overused words and phrases, transition words, emotional tells, repetition
Suggests edits based on writing style/deliverable type chosen
2. Graphic design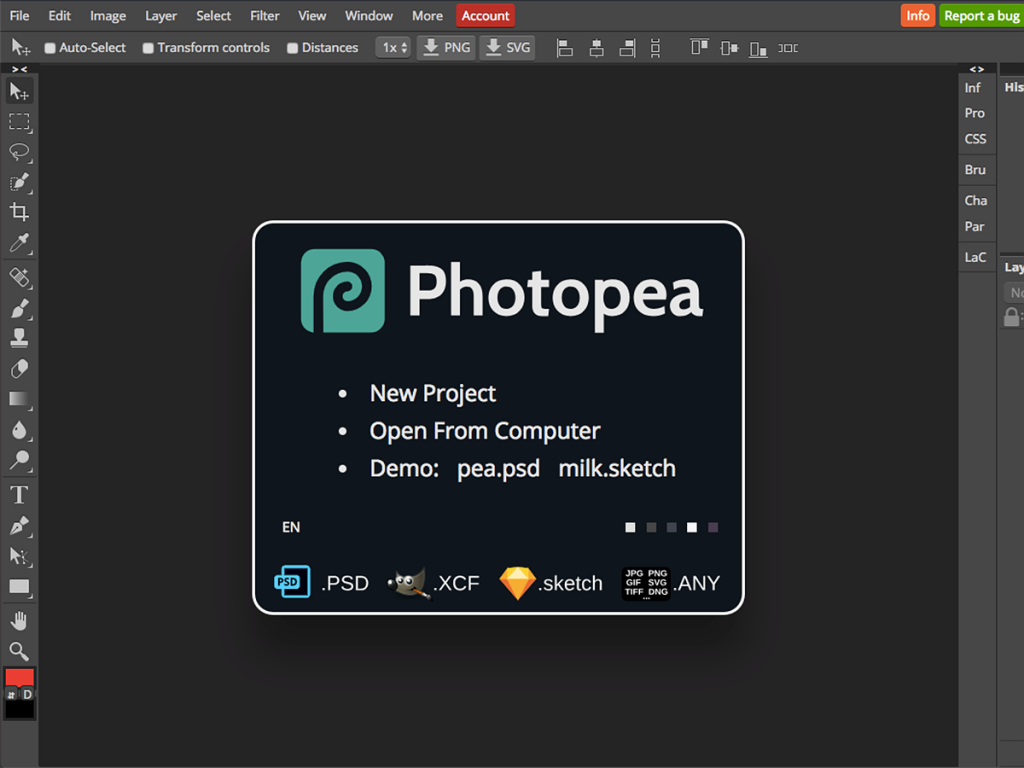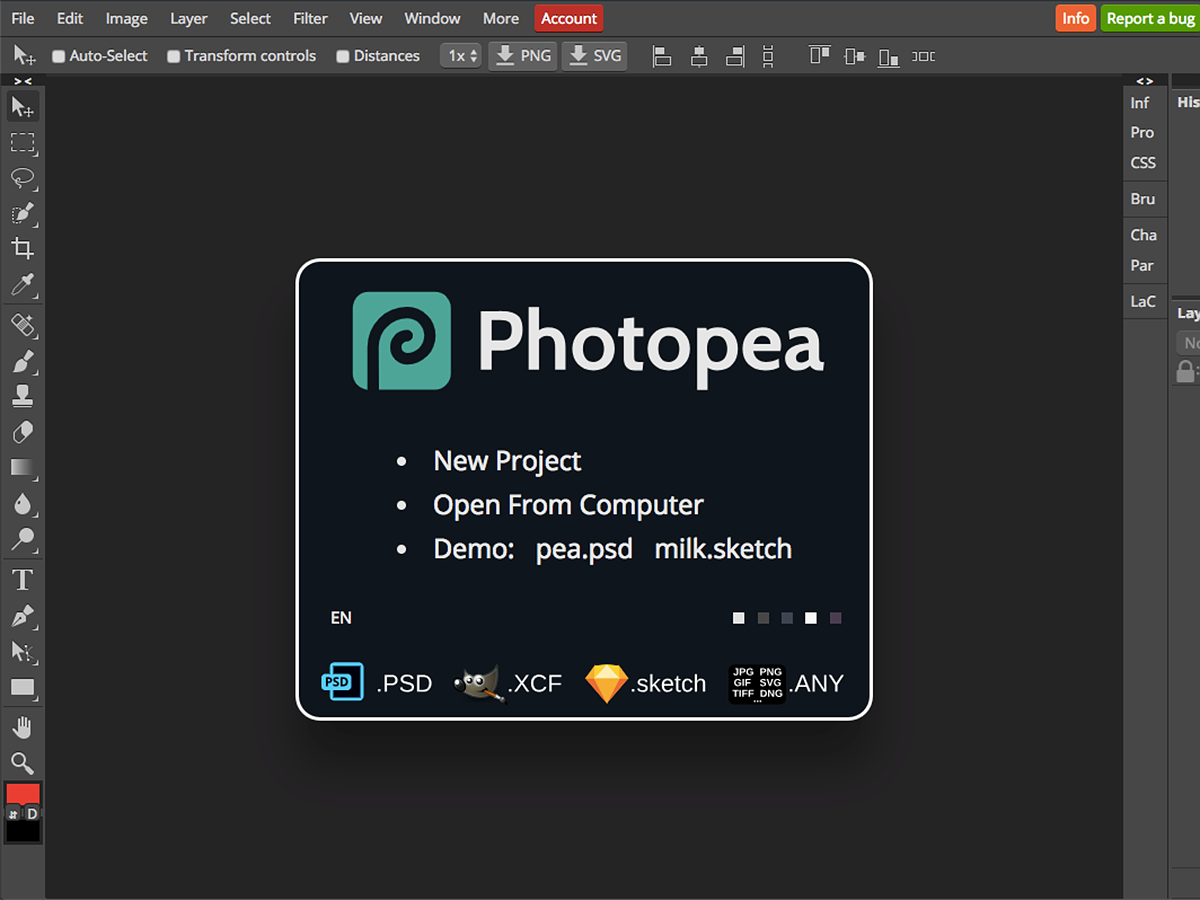 Photopea
Free; Pay to remove ads
Has the functionality of programs such as Adobe Photoshop, Adobe Illustrator, Adobe XD, CorelDraw, GIMP, Wix, and more.
Web-based can be used offline by opening the site before disconnecting
Doesn't upload any data to personal servers; all files are hosted locally on the device
Remove.bg
Free
Removes backgrounds from any image
Offers plugin integration with programs such as Photoshop, GIMP, Figma, Sketch, etc.
Available on Windows, Mac, Android
Piktochart
Free; $14/month (Pro); Custom prices for companies with +25 members
Free templates for infographics, posters, reports, and presentations
Users can embed videos, hyperlinks, interactive maps, and more in their highly-modifiable visuals
Any material created here can be used offline and online
3. Video production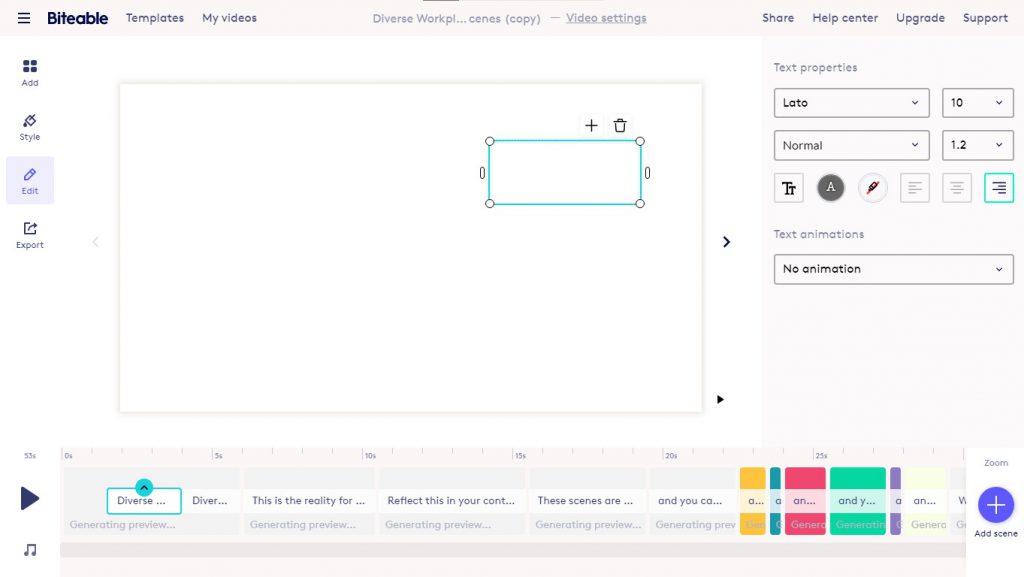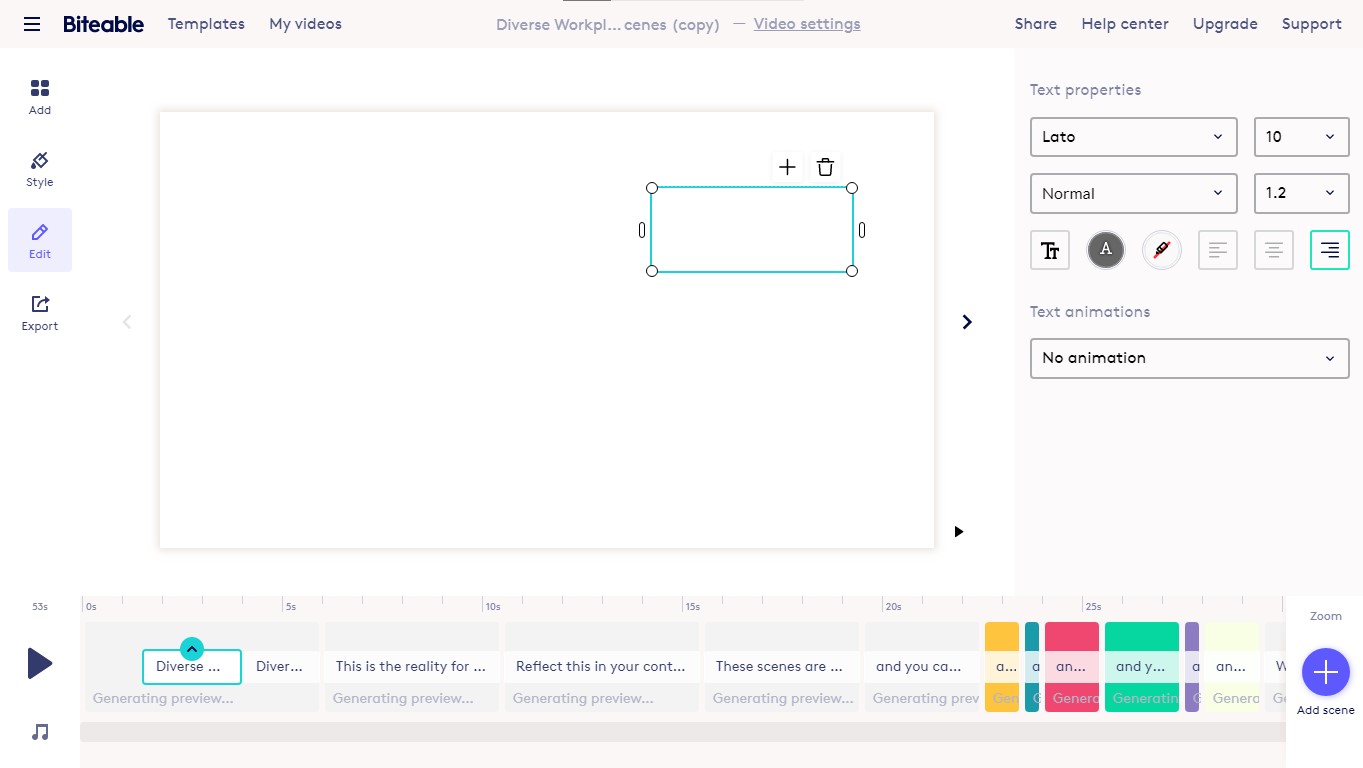 Biteable
Free (Watermarked video); $49/month (Ultimate); $208/month (Teams)
Easily apply your branding to over 200 video templates, and 4 million pics, clips, and animations
Export to various formats for internal use, or for social media ads and posts
Professionally-shot stock footage for use in your projects
OpenShot
Free
Open-source video editor with cross-platform functionality
Full suite of video editing features (Example: Cropping video, editing audio waveforms, resizing footage, entering text, etc.)
Render 3D animations, add video effects, visualize audio, apply slow motion and other time effects, and more video enhancing features
Wondershare Filmora
Free; No watermarks or ads after updating to VIP
Available on Windows, Mac, and both Android and iPhone
Process HD footage on the go, record your own voice-overs, use your own music, and apply a number of effects on the video
Easy sharing with social platforms like Instagram and Tiktok, and other apps
4. Audio production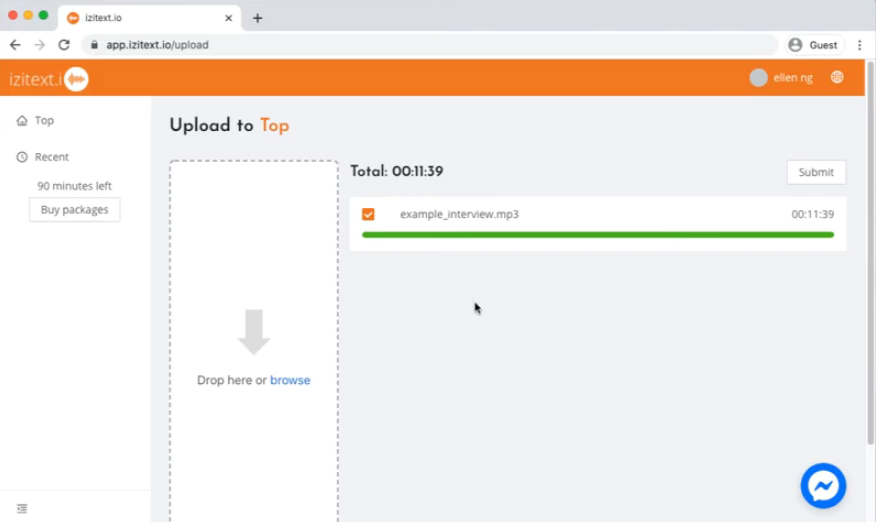 Izitext
Free trial, with paid options
Transcribes multiple audio files at once
Edit transcripts in real-time, in sync with their audio file
Label speakers, auto-punctuation, word-audio synchronization, auto-timestamp
Buzzsprout
Free 2 hours; $12/month (3 hours); $18/month (6 hours); $12/month (12 hours)
Hosts and auto-distributes podcast episodes to multiple platforms
Shows analytics of each episode, podcast
Offers Magic Mastering, a tech that helps you make your podcast sound more professional
Audacity
Free
A free, open-source audio editor that's been around for 21 years
Multi-track audio editor and recorder that offers multiple sound file options, and 16-bit, 24-bit, and 32-bit samples
Multiple plug-in options to expand usability, add more features and effects
5. Content research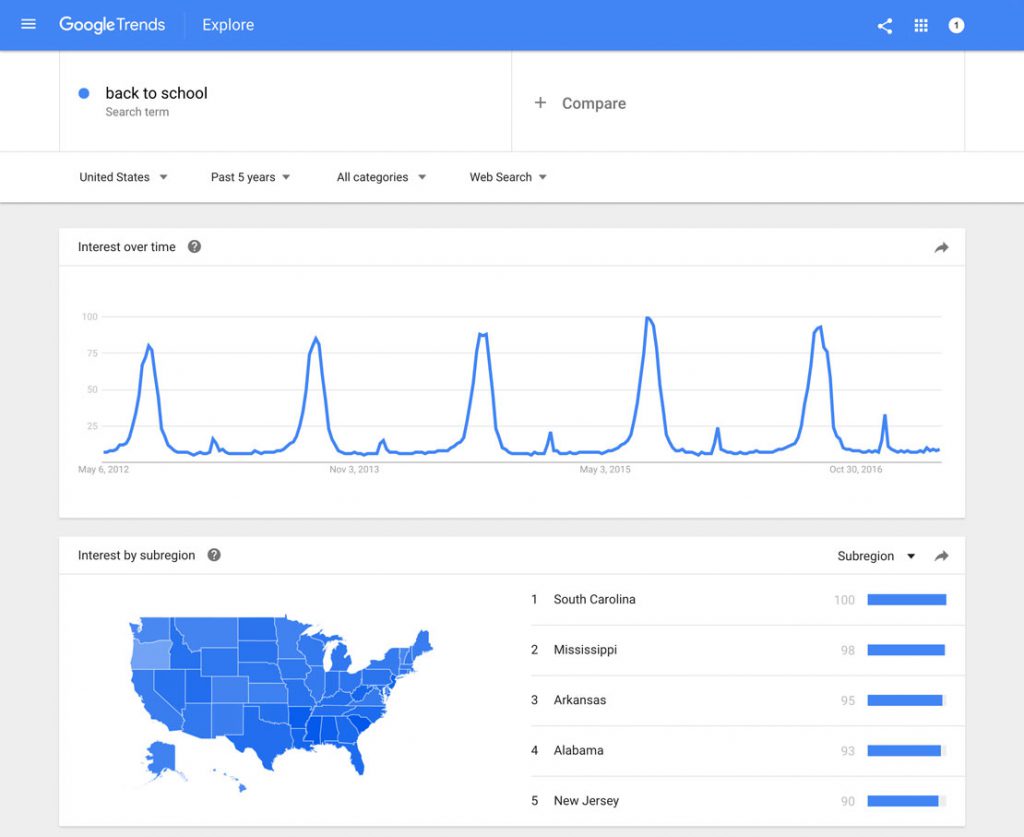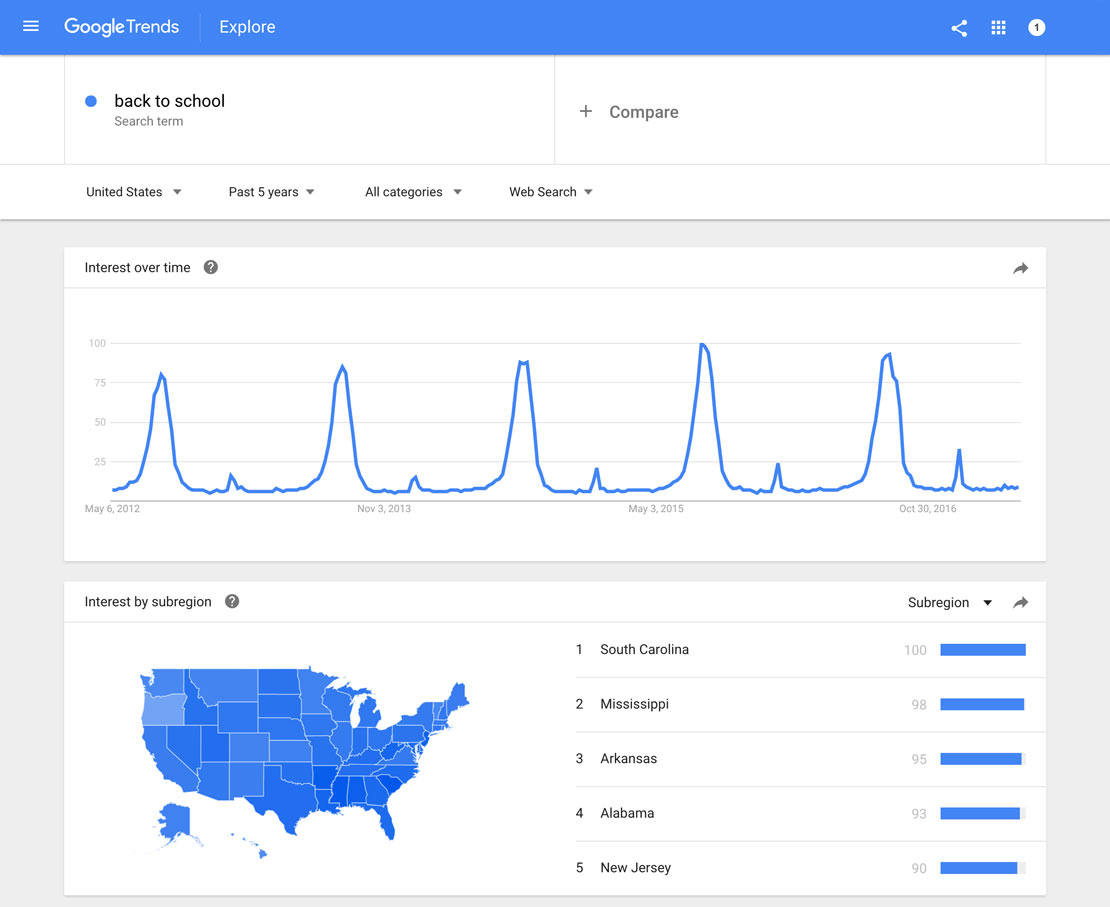 Google Trends
Free
A free tool that lets you discover what your audience is interested in
Makes it easier to compare real-time search data for interests, trending searches, relevant topics, and content
Measures search interest per region and time, search volume, long-term popularity, and more
Answer the Public
Free, with paid options
Visualizes insights into what your audiences are searching for to give you keyword ideas
Organizes searches under the 5 Ws (what, where, when, who, and why) and 1H (how); also has sections for "are" (e.g., "is [blank] doing well"), "can" ("does [blank] have a child"), and "will" searches
Offers lists of questions, prepositions, comparisons, alphabeticals, and related queries
SparkToro
Free; $38/month (Basic); $112/month (Standard); $225/month (Agency)
Aggregates search data to build audience intelligence/knowledge of audience activity
Offers useful data, such as frequently used words/phrases, favorite hashtags, locations, and more
Tracks what kind of content reaches your target audience, such as blogs, social accounts, and podcasts, among others
6. SEO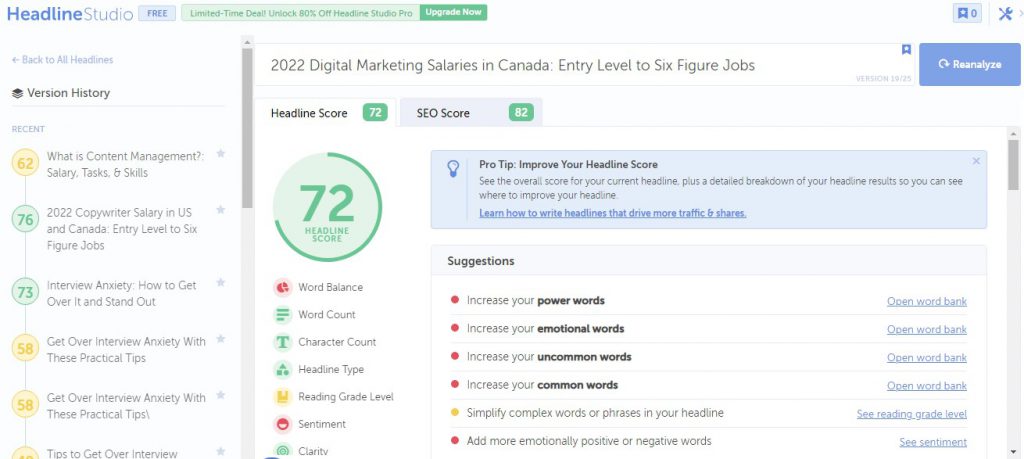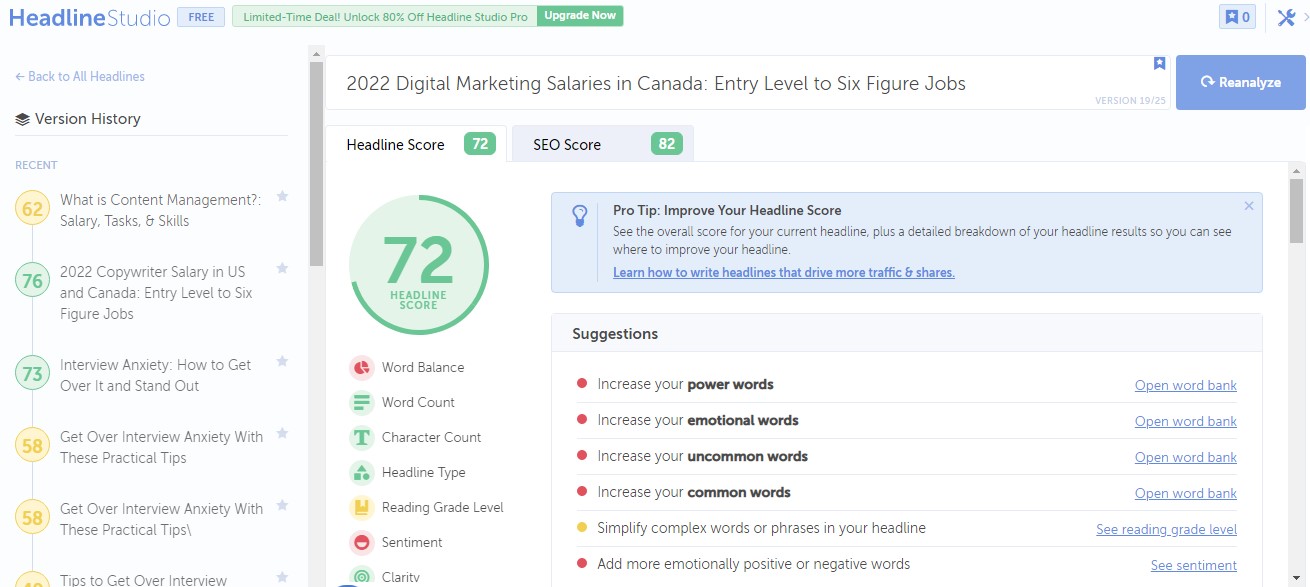 Google Keyword Planner
Free, with paid options
Research keywords and key phrases for your search campaigns for free
See an estimate of how much it would cost to target keywords
Check how keywords fit into your brand, what their volume is, and see performance forecasts on how well they'll do for your content
Headline Studio
Free, with paid options
Grades headlines according to headline type, reading grade level, clarity, word balance, word count, etc.
Gives a separate grade for SEO viability
Offers a detailed breakdown of how to improve your headline score
SimilarWeb
Free
Shows global, country, and category ranking of any website
Details traffic and engagement—including visits over time, monthly visits, and visit duration—plus traffic sources
Highlights access to the site by geography/country
7. Planning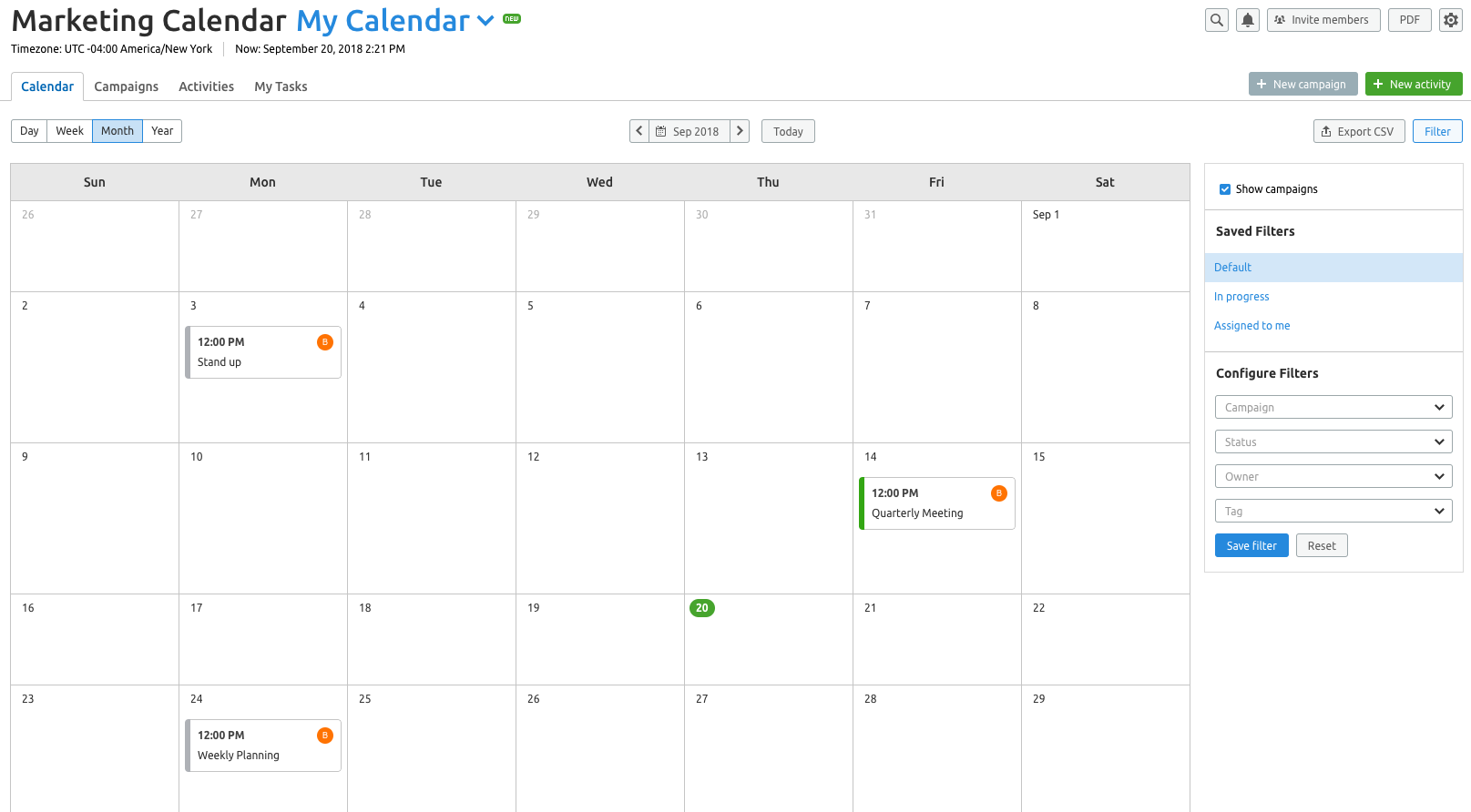 SEMrush Marketing Calendar
Free trial; $119.95/month (Pro); $229.95/month (Guru); $449.95/month (Business)
Plan content and marketing campaigns in a shareable calendar where you can track their performance
Update campaign status, deadlines, and assignments in one place
Combine team calendars, integrate with other SEMrush products
Asana
Free; $10.99/month (per user); $24.99/month (per user)
Organize projects, tasks, subtasks, deadlines, and whoever's assigned to them in one place
Create timelines, add attachments, duplicate tasks, and create dependencies to fill in your organization boards
Set reporting goals, milestones, and teams to improve productivity
Trello
Free; $10.99/month (Standard, per user); $24.99/month (Premium, per user); $17.50/month (Enterprise, per user)
Create separate cards per project in a highly-visual, Kanban board project space
Progress meters, checklists, labels, tags, comments, and drag-and-drop editing makes it easy to use
Unlimited storage (size per file depends on plan), saved searches, mobile integration
8. Social media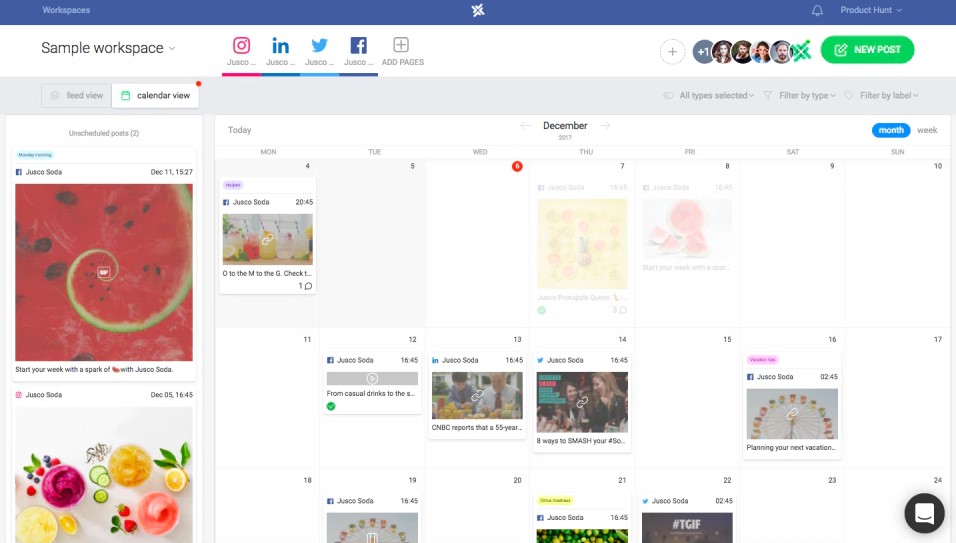 Planable
Free; Basic: $9/user; Pro: $19/user; Enterprise: Custom
Create and schedule posts for multiple social platforms, including Facebook, Twitter, LinkedIn, TikTok, Google My Business, and Youtube
Content calendar feature shows which posts are going up to what platforms
Highly flexible collaboration features
Buffer
Free; $72/year (Essentials); $120/year (Team); $1,200/year (Agency)
Schedule up to 10 posts per platform on the free plan
Integrate multiple third-party apps to manage your assets
Link up to three social media accounts on the free plan
Streamyard
Free; $20/month (Basic); $39/month (Professional)
Up to 6 participants on one screen, with screen sharing, enabled
Stream anywhere with your brand colors and banners
Premium options allow pre-recorded streams, multi-stream to different platforms, multiple cameras, and full 1080p streaming
9. Metrics and analytics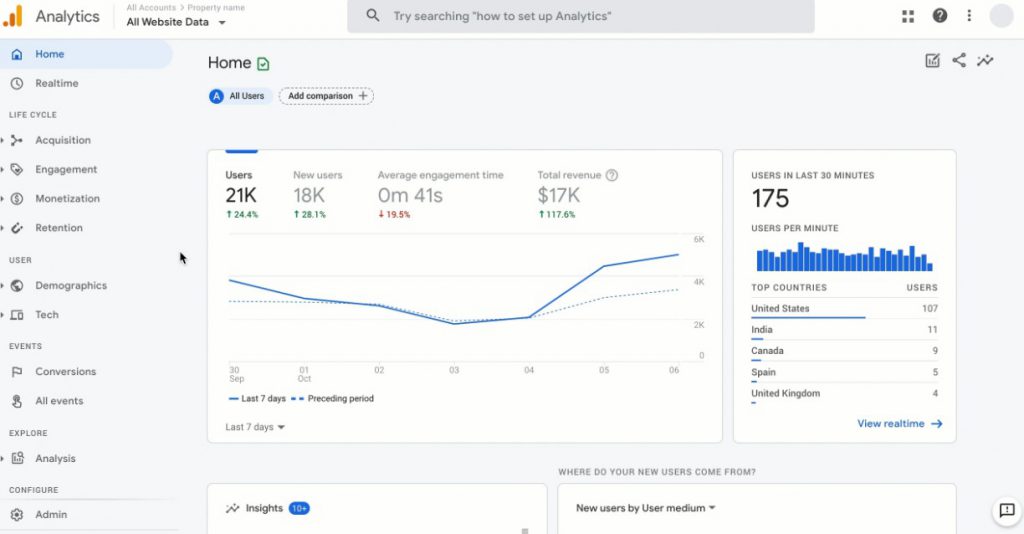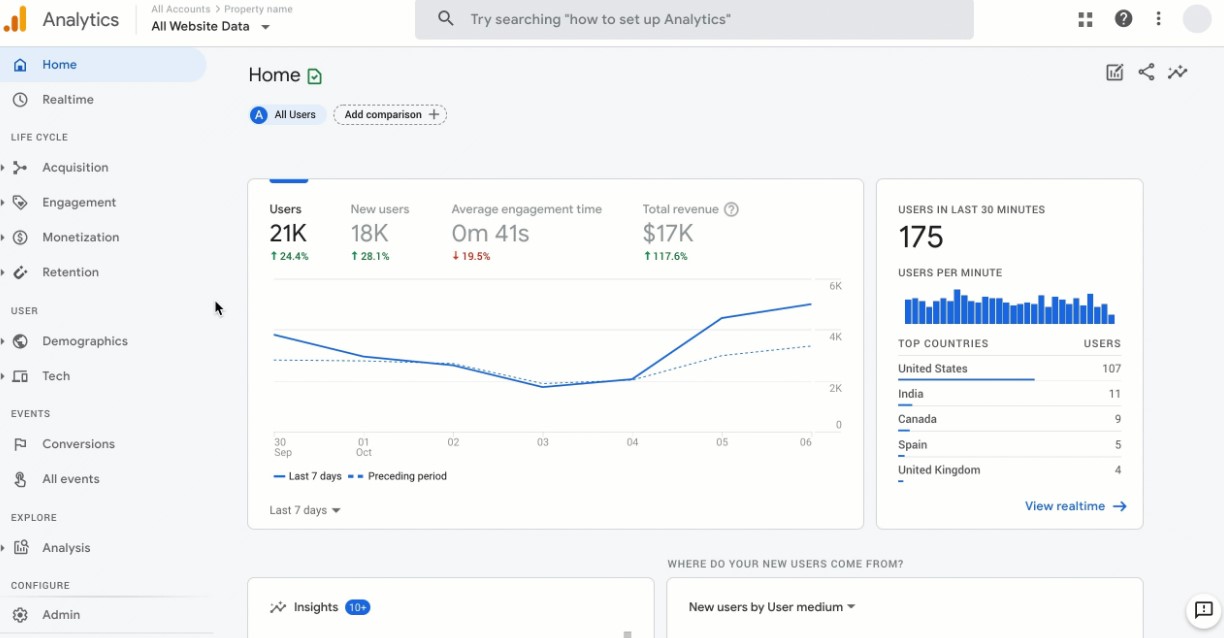 Google Analytics
Free, with paid options
Track your website data, from page views to demographics, in one space
Measure your campaign traffic, sources, conversions, and other metrics
Integration with other Google marketing tools
Statcounter
Free (500 page views); €16/month (Premium)
Compare page views, sessions, and visitors between dates to detect positive and negative trends
Check visitor locations, traffic sources, and popular pages on your site
Sync your Google keyword data to find which keywords trend among your visitors
Wix Analytics
$4/month (Connect domain); $8/month (Combo); $12.50/month (Unlimited); $24.50/month (VIP)
Review key updates to your traffic, user profiles, and revenue streams
Get detailed user profiles, customer growth reports, and traffic insights
Receive tailored suggestions to improve your traffic and engagement
With all these tools and resources in hand, you're ready to pivot your career into content creation. If you ever feel intimidated by starting in content creation and content marketing, just take a look at former Acadium apprentices Sean Farrelly, Elijah Shoesmith, and Andrew Sherman.
All three were in vastly different fields before brushing up their marketing skills. Now, they've either left their jobs to create content full-time or use content marketing to promote their business.
Bookmark this article as a reference for your content creation needs, and make sure to check out other posts on this blog for more career tips.
Five years in journalism, two in proofreading, and eight in freelance ghostwriting. Creating content that's entertaining, informative, and actionable shapes my writing. When not scrutinizing my copy, I'm likely watching hockey.
Top Marketing Webinars for Digital Marketers in 2023

By attending these webinars, you will have the opportunity to learn from industry leaders, gain insider knowledge, and stay ahead of the competition.

9 Types of Digital Marketing to Choose From in 2023

Digital marketing is a dynamic field that offers diverse career opportunities. From search engine optimization to social media marketing, there are many specializations to explore. Whether you're just starting out or looking to switch careers, this guide will help you find your ideal digital marketing niche.

Subscribe to our newsletter for digital marketing resources
Become a better marketer with our digital marketing resources and tips shared weekly in your inbox.

Build your marketing career for free or find marketing talent on any budget — fully remote.