What Does a Digital Marketer Do? Their Top 7 Responsibilities
You'll have heard the term 'digital marketing' before, but what does it actually mean? And what does a digital marketer even do? In this article, we'll introduce you to the world of digital marketing, and the key practices that make up this vast profession.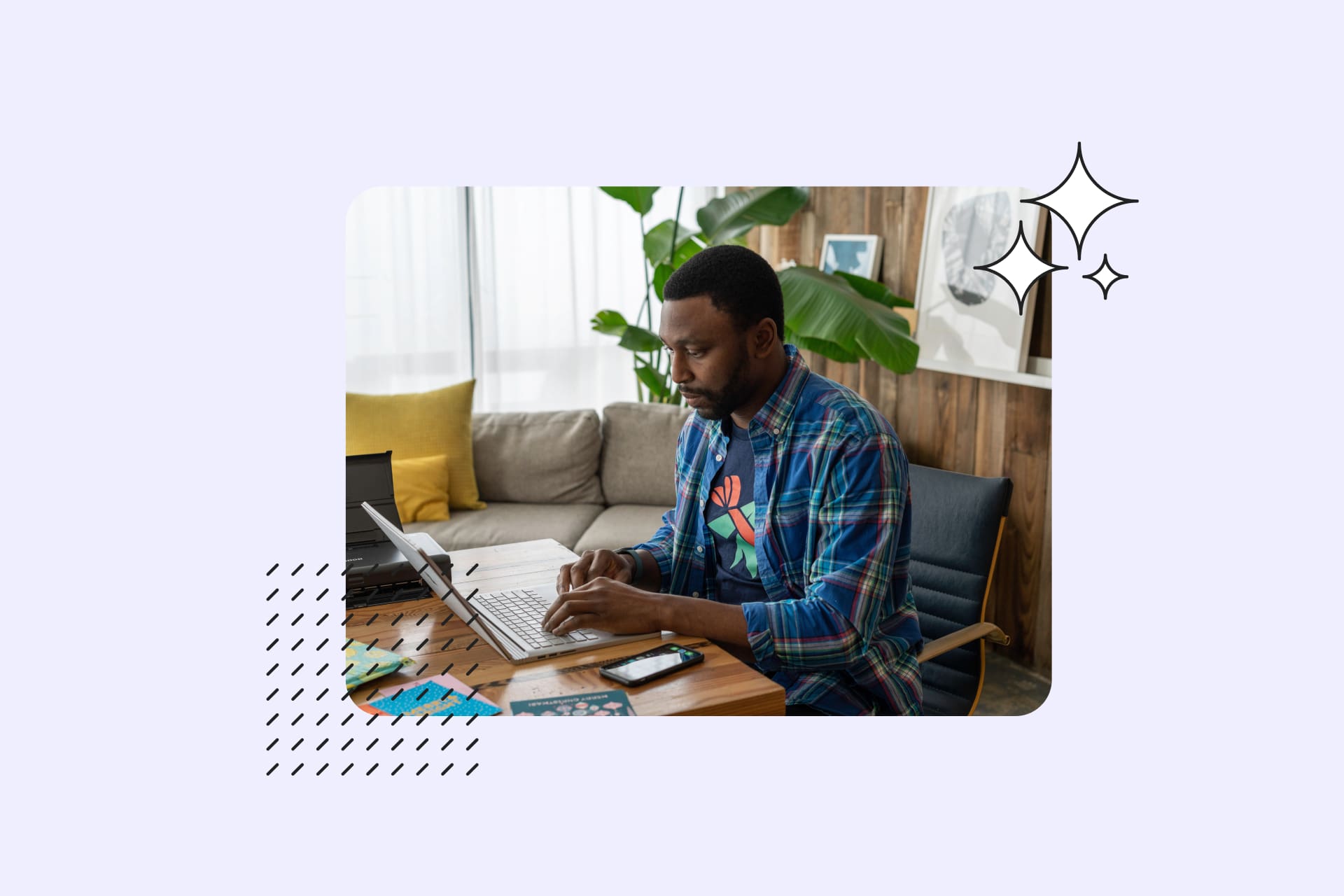 Given the information age we live in, it's no surprise that digital marketing is the fastest-growing field in marketing today, with an estimated growth of over 10% each year.
In fact, some estimates predict that digital marketing is currently responsible for over 80% of all consumer actions.
Why? Because as a society the vast majority of information we receive is through digital media, such as our phones or computers.
People interact with brands on their terms and devices—and marketers need to meet them there in the digital realm.
Acadium Apprenticeships
Take the plunge into digital marketing
Work with a mentor for 3 months and gain the digital marketing work experience you need to get hired. 100% remote and always free.
What is Digital Marketing: An overview
Digital marketing is the practice of using digital platforms and technology to promote your business, products, or services.
Digital marketing can range from social media marketing to pay-per-click advertising (PPC) and search engine optimization (SEO).
The use of digital marketing has grown tremendously over the past few years as consumers have become more comfortable doing their shopping online, rather than in stores.
This trend has created many new opportunities for businesses to reach customers directly through their websites, mobile apps, email campaigns, and other forms of content marketing.
As touched on, digital marketing is an umbrella term and includes a huge variety of distinct marketing practices, and each requires a unique skill set.
What does a digital marketer do?
So, what exactly does a digital marketer do? In essence, a digital marketer uses the internet to help a business sell its products and services. They can do this by creating websites, designing advertisements, and writing content for social media.
By undertaking these activities, digital marketers will help their brand reach a wider audience and connect with existing audiences through digital media.
A digital marketer may also be involved in designing and managing advertising campaigns, in addition to analyzing campaign data or other metrics to optimize their digital marketing efforts and online presence.
There's a huge range of things, both creative and technical, that a digital marketer might be responsible for doing. Here's a list of the most common things a digital marketer may do, along with the associated required skills and tools.
1. Content marketing and creation
Content marketing is the process of creating and distributing valuable, relevant, and consistent content to attract and retain a clearly defined audience – and, ultimately, to drive profitable customer action – which is the goal of any business.
Content marketing achieves this goal by attracting potential customers by offering them value; which may be in the form of information from an article or instructional video.
An audience subsequently grows and will eventually be converted into paying customers once they have established brand loyalty and trust.
Top skills required: Content writing, copywriting, video editing, and filming, graphic design, an understanding of sales funnels, and SEO skills.
Useful tools: Adobe Express, Canva, Loom, Veed, HubSpot, WordPress, Grammarly, and CoSchedule Headline Studio
2. SEO and SEM
SEO (Search Engine Optimization) and SEM (Search Engine Marketing) are two of the most important tools in a digital marketer's toolbox. Both SEO and SEM can be used to drive traffic to a website.
SEO is all about making sure your website has the best chance of being found by search engines when people make queries related to the products or services you offer. This is done by improving your website's visibility on search engine results pages (SERPs).
In order to rank well in search engines, you must ensure your website and content are of high quality and include relevant keywords based on the user's search intent. This is an organic approach and involves no paid advertising to increase your website's exposure.
In contrast, SEM is an approach that involves paying to increase your online visibility. It involves creating paid campaigns on search engines like Google or Bing that appear at the top of results pages when someone searches for relevant keywords associated with what you do.
Generally speaking, SEO requires a good understanding of content creation, while SEM requires copywriting. However, there is a difference between copywriting and SEO content writing in terms of the overall goal.
Copywriting is used to take readers to the next step and convert traffic into leads and, eventually, sales, while SEO content is used to educate and inform users.
Top skills required: Writing, copywriting, keyword research, programming, and data analysis, Google Ads.
Useful tools: Ahrefs, SEMRush, KWFinder, Moz Pro, Yoast, Surfer SEO, Google Keyword Planner.
3. Marketing analytics
Marketing analytics is the science of analyzing data to improve marketing efforts. This type of work can be used in many different areas: improving customer experience, improving customer journeys, and helping businesses grow in general.
If a business interacts with its audience through social media, it will have access to a whole host of data that can subsequently be analyzed to help it understand its audience, and better focus future marketing efforts.
Top skills required: Advanced data analytics and statistics, experiment design, forecasting, predictive modeling, dashboard building, and management.
Useful tools: Google Analytics, Mixpanel, Heap Analytics, Klipfolio, and Cyfe.
4. Reputation management and Public relations
Reputation management is just what it sounds like—managing your company's reputation.
As a digital marketer, you'll be closely involved in this process because your team will be responsible for managing social media accounts and responding to comments left on websites as part of monitoring and protecting the brand's reputation online.
The main skill required for reputation management is empathy: You need to understand what people are saying about your company and figure out how best to respond.
It's also important that you're able to think quickly on your feet when responding to negative comments or questions, especially if the situation is urgent (like an angry customer).
Public relations (PR) is all about communicating with journalists, bloggers, and other influencers in order to increase awareness of a particular product or service.
PR involves creating newsworthy stories rather than selling products directly; however, there's still plenty of overlap between PR and marketing because both involve promoting things that people want or need.
Top skills required: Written communication, verbal communication, accounts management, interpersonal skills, empathy, and an understanding of social media.
Useful tools: Brandwatch, Brand24, Digimind, and YouScan.
5. Inbound marketing
Inbound marketing is a long-term strategy that helps a business build trust, authority, and community.
It's a more sustainable way of marketing because it focuses on establishing and retaining a long-term audience by providing value to potential customers through useful content.
The main goal of inbound marketing is to attract visitors by creating valuable content that answers people's questions and solves their problems.
The more people that visit your site, the better chance you have at converting them into paying customers.
Inbound marketers use content like blogs and ebooks to help increase SEO and drive traffic to their websites, instead of relying on paid SEM efforts.
Top skills required: Writing and editing, website development and design, an understanding of social media, SEO, content marketing, video editing, and publishing.
Useful tools: HubSpot, Unbounce, Jumplead, SEMRush, and Marketo.
6. Email marketing
Email marketing is a great way to reach an audience. Email marketing allows you to promote products and services, build a brand, increase sales or simply build relationships with customers.
It can also be used as a lead generation tool by offering something of value in exchange for the contact information of interested parties.
Digital marketers can use email marketing to build relationships with their audiences as well as drive traffic to their blogs, social media sites, and wherever else they wish to go.
Your emails can even be segmented and targeted based on demographics, so you're only sending people messages they want.
Using email marketing software, you can also run A/B tests of a subject line or call to action to find the best-performing message.
Top skills required: Copywriting, automation, list management, and segmentation.
Useful tools: HubSpot Email Marketing, Sender, Sendinblue, and Mailchimp.
7. Social media marketing
Social media marketing is a way to reach customers through social media platforms.
But it's not just about posting on social media; it's about building relationships with customers, building brand awareness and trust, and engaging in conversations that matter to your company.
A digital marketer (or a team of digital marketers) will create content that promotes the brand on platforms like Facebook, Twitter, Instagram, and LinkedIn. These types of posts can include images or videos promoting new products or events.
Top skills required: Social media expertise, customer service, writing, data analysis, content curation, and publication.
Useful tools: Buffer, Sprout Social, Hootsuite, Zoho Social, and in-built social media tools (Facebook & Instagram insights, YouTube Analytics, etc.)
Key skills for digital marketing
To be a successful digital marketer, you will need to understand the digital marketing landscape and how it works, as well as be able to use a variety of analytics tools to track the performance of your business's marketing efforts.
As a digital marketer, you need to understand SEO & SEM, and how they can help improve your website's rankings on search engines like Google and Bing. You should also understand social media marketing, web analytics, email marketing, digital marketing strategy, and engaging content creation.
However, you don't have to know everything to become a successful digital marketer.
Being a jack of all trades is not going to make you stand out as a digital marketer. Instead, strive to become a T-shaped marketer.
This is the best way to gain the wide range of skills needed for a career in digital marketing. Plus, you will also have the chance to specialize in a particular field of digital marketing.
Also Read: 10 Signs You're Ready For a Career in Digital Marketing [+ Tips]
What does the future hold for digital marketers?
As we've seen, digital marketing is a rapidly evolving field. New technologies will continue to change the way we do business on the internet. As this happens, the role of digital marketers will continue to grow and evolve.
In order for you to stay ahead of your competition as a digital marketer, it's important that you keep up with new trends and technologies in your industry.
Digital marketing is a growth industry, and will likely be for the foreseeable future, meaning it's a great career choice for guaranteeing future work.
The pay isn't too bad either, with the average salary for an entry-level US-based digital marketer being $56,000.
As you work your way through your career and undertake more significant tasks and responsibilities, there's of course scope for earning significantly more than this.
According to Thinkful, digital marketers at the mid-level can expect to earn $72,043 on average, while managers at the senior level can expect to earn $82,483 depending on location.
How to get started with your career in digital marketing
If you're just starting out in your career, it can be difficult to know where to begin. To get started in digital marketing and make the most of your time and money, here are three tips:
1. Build a digital marketing portfolio working on small, independent projects
A digital marketing portfolio will help you show off your skills, which can be difficult if you're just starting out or don't have much experience working in the field yet.
When you're trying to sell yourself to potential clients, it's important to show them what you can do—and how well you do it.
When just starting out you don't have to rely on jobs to showcase your skills; you could create content for yourself, or work on any project you'd like. You don't get paid for this, but you should see it as an investment.
You'll begin to build up an attractive portfolio, whether it's for social media, SEO, web design, and other skills and niches, that will start to bring clients in, and your efforts will more than pay for themselves in the long run.
If you find yourself struggling with project ideas, popular digital marketing websites like Search Engine Journal and HubSpot can be a great source of inspiration.
You'll find blogs published here on a range of topics – meaning you're bound to find something to invigorate your inner digital marketer.
2. Get a digital marketing apprenticeship
A digital marketing apprenticeship is a great way to get your foot in the door of the industry.
With an apprenticeship, you'll be able to get real-world marketing experience, build up your portfolio, and make connections that will help you when it comes time to look for a job.
By going through an apprenticeship program, you can learn how to use popular apps and acquire all of the tools that any digital marketer needs to have in their arsenal.
You'll also have access to mentors who have been working in the field for years and can help guide you along your journey.
3. Make use of the wealth of information available for free on the internet
Besides traditional resources like marketing books, the internet has now become a fantastic source of information.
It's easy to get lost in the vast sea of information available online, but it's also just as easy to use the internet to learn about new topics and online courses, as well as gain valuable insights from other people's experiences.
As an aspiring digital marketer, you can learn almost everything you need to know for free on the internet.
You might make use of a YouTube video series explaining how SEO works, or use Quora to get answers from experienced digital marketers to any specific question you might have.
In addition, there are plenty of veteran digital marketers, such as Neil Patel and Brain Dean, that regularly publish blogs and videos on a massive range of digital marketing topics – from basic keyword research to advanced programmatic marketing automation.
Whatever you're interested in learning, these blogs and channels are a great resource to do it at zero cost.
You could also enroll in a free digital marketing course. Places like HubSpot, Coursera, and Udemy offer free certified courses on a variety of digital marketing topics; meaning you've got nothing to lose, and potentially a lot to gain.
Kickstart your career in digital marketing
Now you know what being a digital marketer entails, think you've got what it takes?
Acadium's apprenticeship program is the perfect place to start. You'll work alongside a real business professional and complete real-world digital marketing problems along the way – gaining the experience you need to kickstart your career in digital marketing.
Princess "Ji" Kang is a staff content writer at Acadium who unveils complicated topics about digital marketing. She's been wordsmithing for various brands and industries for nearly 6 years, after earning her Master's Degree in English Language and Literature along with her Digital Marketing certification. Her work has appeared on sites such as asksebby.com, wellpetcoach.com, Ready Home Singapore, ThePerfectMedia Group, and more. You can find her at her home mini-library reading, sipping hot coffee, or playing with her cats in her downtime.
Top Marketing Webinars for Digital Marketers in 2023

By attending these webinars, you will have the opportunity to learn from industry leaders, gain insider knowledge, and stay ahead of the competition.

9 Types of Digital Marketing to Choose From in 2023

Digital marketing is a dynamic field that offers diverse career opportunities. From search engine optimization to social media marketing, there are many specializations to explore. Whether you're just starting out or looking to switch careers, this guide will help you find your ideal digital marketing niche.

Subscribe to our newsletter for digital marketing resources
Become a better marketer with our digital marketing resources and tips shared weekly in your inbox.

Build your marketing career for free or find marketing talent on any budget — fully remote.