How to Build an Impressive Social Media Portfolio: Examples, Key Elements + Tips & Tools
Worried you might not have enough experience to build a good social media portfolio? Take a deep breath, dig into our guide, and find tips on how to build an impressive social media portfolio even if you've never worked in the industry before.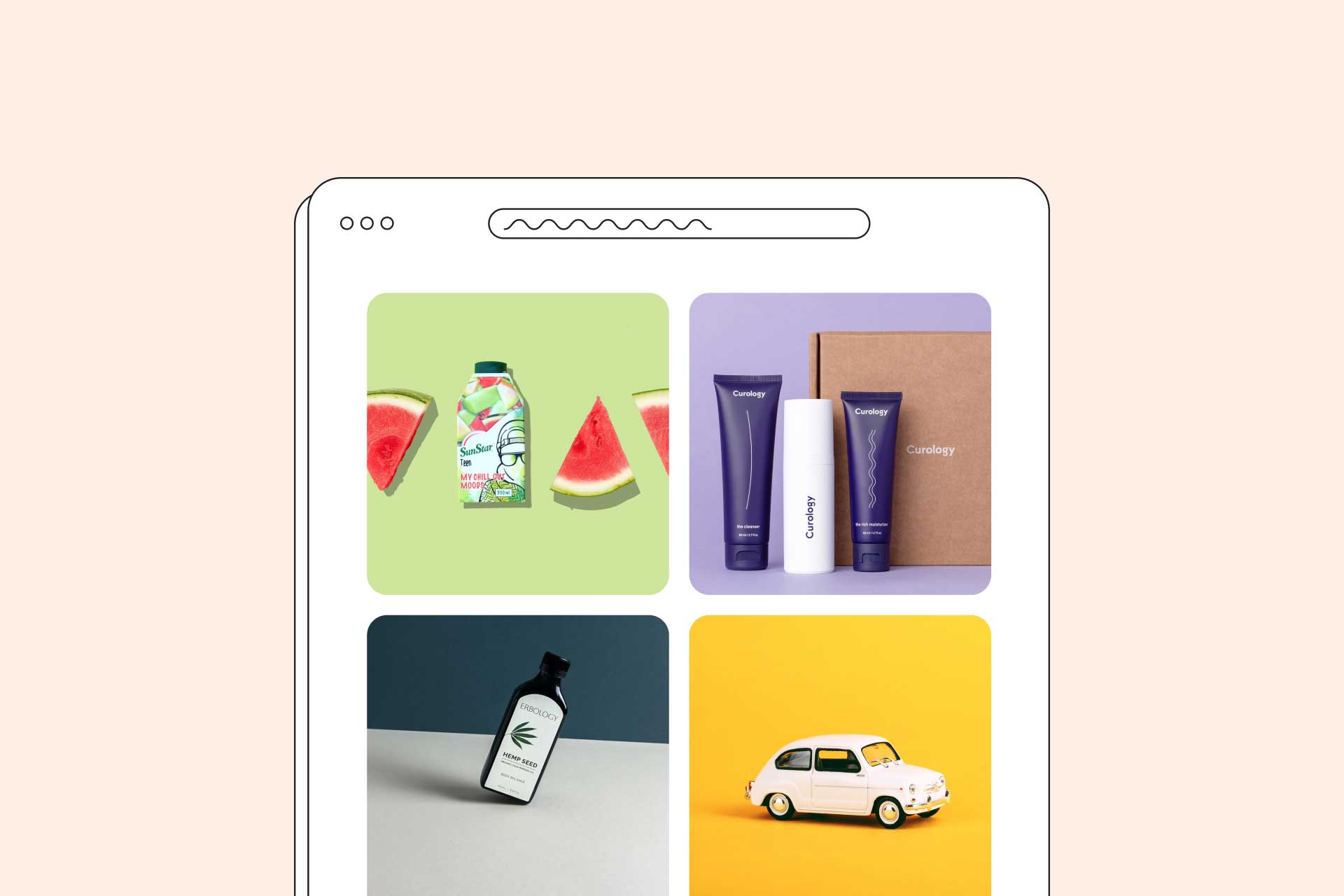 A social media portfolio can show a hiring manager that you're the missing piece to their team. But how exactly do you build an impressive social media portfolio? And how can you do it if you have no previous experience working in social media?
Fret no more, because you'll find a step-by-step guide on how to make a social media portfolio that gets interviews below. You'll find out what a social media portfolio looks like, and what its key parts are. Then, you can look at social media portfolio examples from successful marketers to have an idea of how to get started.
If you're worried that you don't have enough projects to put in your portfolio, don't worry. Your social media profiles can be a starting point! In addition to that, you'll find tips on what you can include in your portfolio in this post. Along these tips are opportunities to grow it, such as apprenticeships.
Acadium Apprenticeships
Learn social media marketing and management
Gain work experience in social media marketing and management through a three-month apprenticeship. Work with an experienced mentor and gain certification, all for free.
Let's start this post by finding out what a social media portfolio is, and what a complete one looks like.
What is a social media portfolio?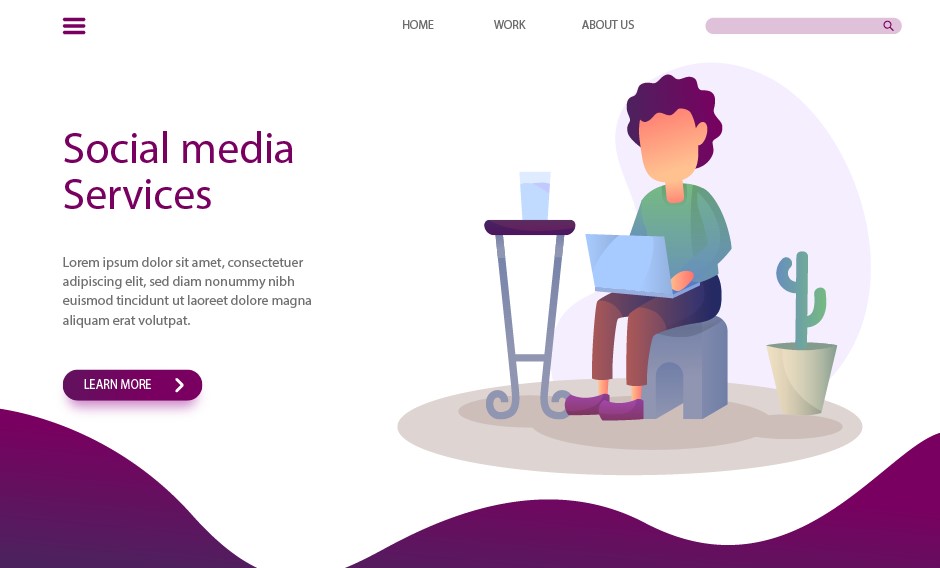 A social media portfolio shows concrete proof of the experiences and skills you put in your CV. What you put in your portfolio demonstrates your creative and thinking processes, together with the results of your work.
But what if you're just starting out, and have no experience in social media? You can still make a great portfolio! The end of this post will have more concrete leads for you to try out.
For now, let's take a look at the most popular formats for social media portfolios.
What does a social media portfolio look like?
Not all portfolios are created the same way. With that in mind, peep into these common formats, and learn about their pros and cons:
1) Slideshow/Presentation
Pros:
Slides are easy to download, read, and share.
They're highly customizable and easy to edit for different opportunities.
It's free to make and upload.
Cons:
You might overload a slide with too much information if you're not careful.
In contrast, you might neglect to put the right information on a slide to make it easier to read or scroll.
Your hosting site might fail you, or might be inaccessible.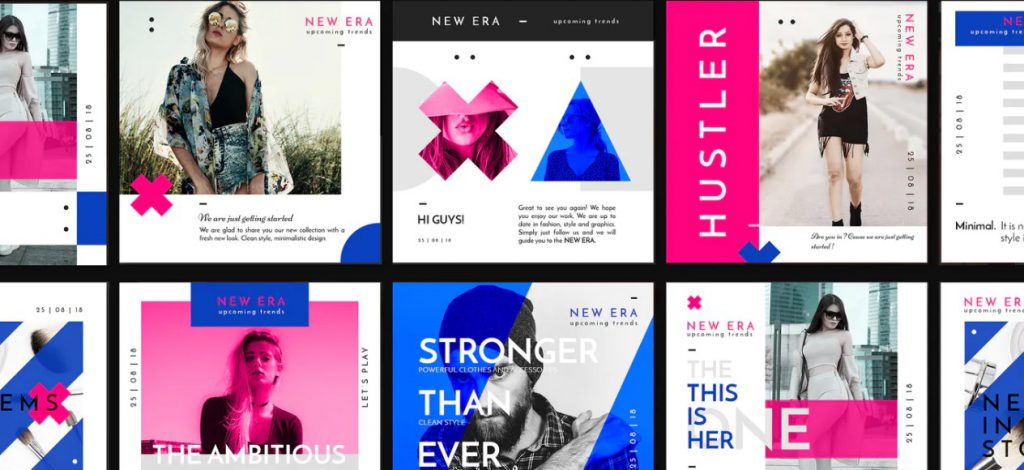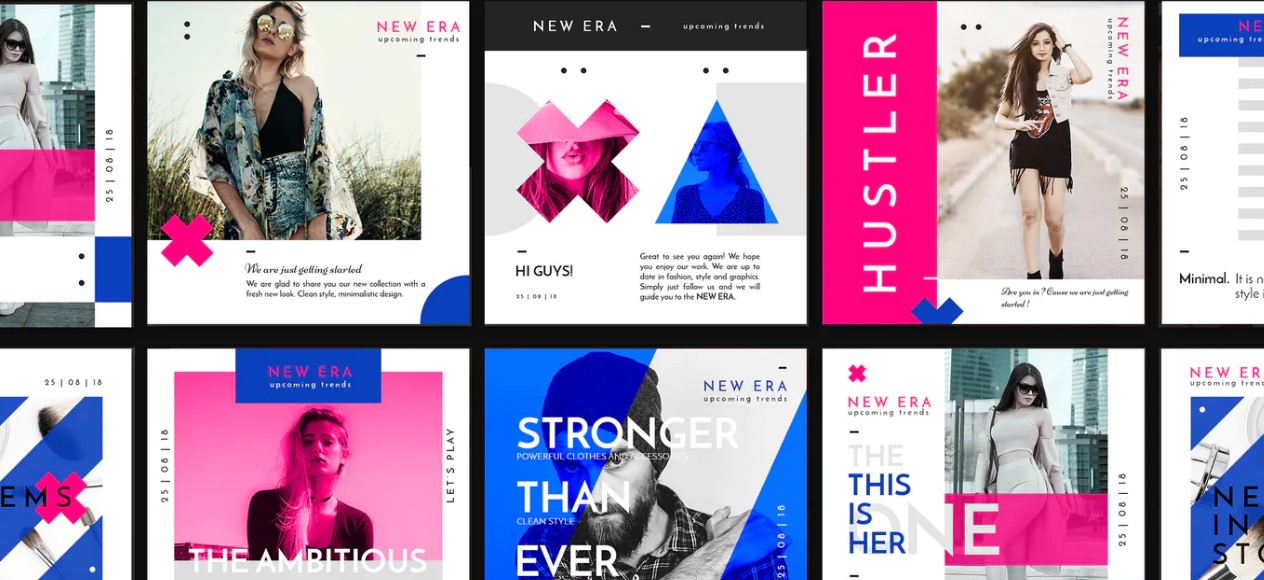 2) Website
Pros:
Your contact information, CV, and work samples are centralized on one site.
There are dozens of tools and services that allow you to make a site without getting a domain name (you'll find some of these below).
Clients or employers can always find and contact you.
Cons:
Might be costly depending on where you host your site.
Some website builders are friendlier to beginners than others.
Customizing beyond a basic look might involve advanced coding if you're not using templates.
3) PDF
Pros:
You can attach this to emails and other messaging platforms.
A PDF portfolio is highly customizable, as you can incorporate non-PDF files into it.
It won't change your portfolio's format no matter what PDF reader is used to open it.
Cons:
Not everyone might know how to navigate PDF portfolios.
Images and videos might lose resolution in PDFs.
Applicant tracking systems might not parse images and videos.
Now that you have an idea of what should be included in a social media portfolio, browse these tips before making your own.
Tips on how to make a social media portfolio
1) Works you can vs. can't include
Social media managers and other marketers encounter non-disclosure agreements (NDAs) all the time. NDAs might be separate from standard contracts or included as clauses. These restrict the ways in which they can represent their work in portfolios, or prevent their inclusion altogether.
Entry-level marketers, meanwhile, should avoid including projects unrelated to the role they're applying for. All the projects and skills in your portfolio should be related to running social media accounts. This includes projects for your personal social media pages or assignments for a social media course.
You can even include tasks you did for businesses, or for friends, family, and acquaintances.
2) Show, don't tell
Portfolios are visual-heavy. Even text-heavy professionals have highly-visual portfolios to attract clients. Observe Freddie Braun's digital portfolio and standalone site: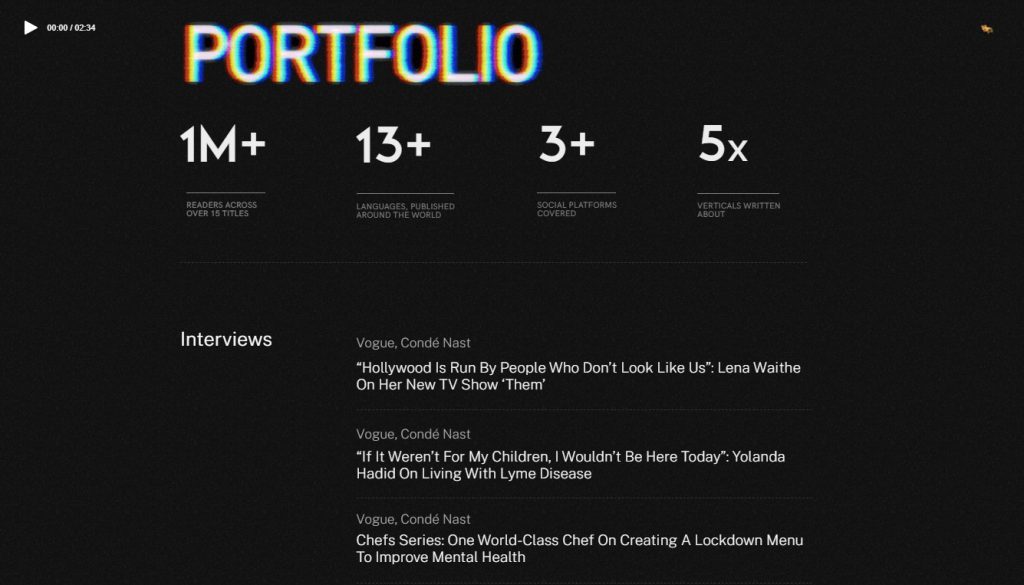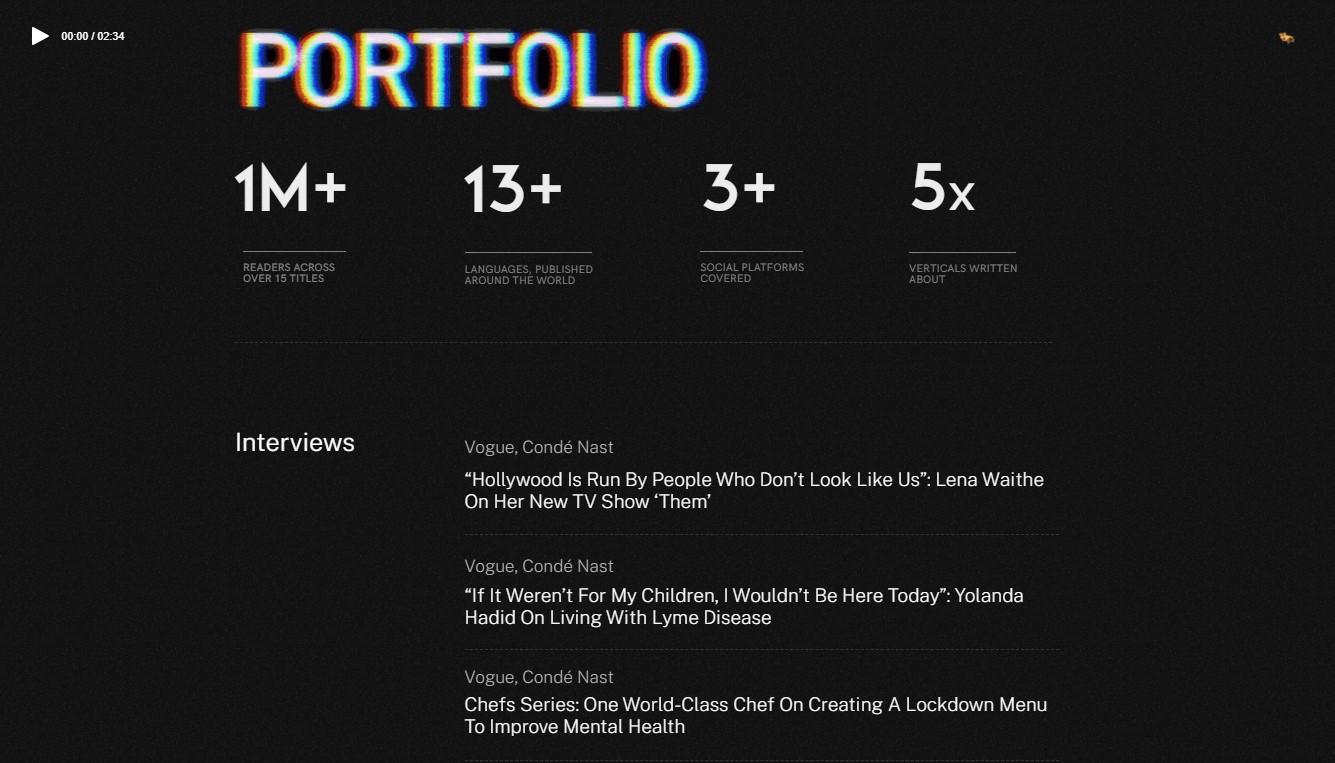 His portfolio shows the statistics of his work at the top of the page. His writing is presented in an easily accessible, and digestible format. They're also sectioned off, and there are links to images related to his writing.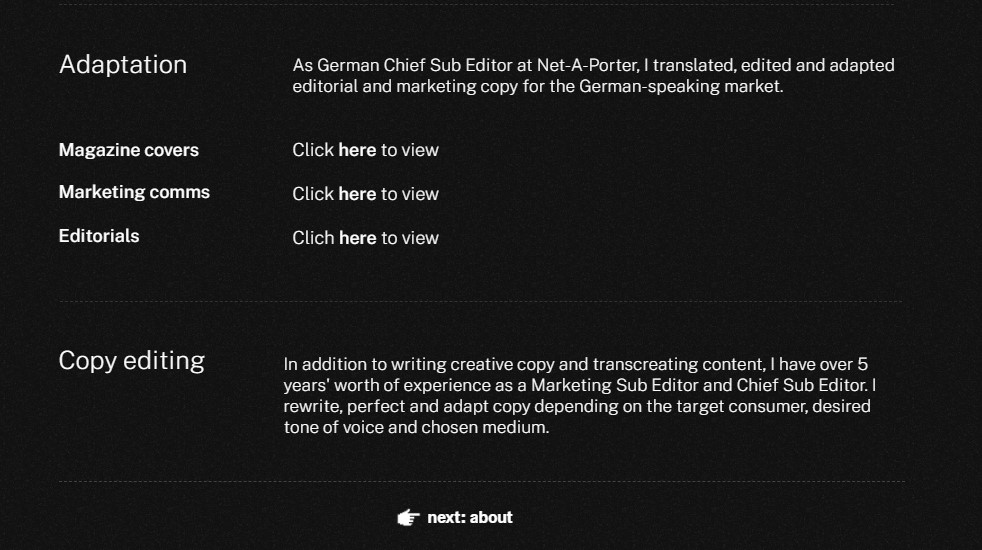 The end of the page also shows the services he offers and leads to other parts of his portfolio.
3) Results-heavy examples
Your portfolio is a proof of concept for a potential client or employer. They need to see that you can produce great results for them, whether that's an increase in followers, engagement, weekly traffic, or sales, among others. Therefore, you need to show that your campaigns made a difference.
4) Optimized social media profiles
As you may notice, your own social media presence is a sticking point for most of this post. That's because it's a great resource for your portfolio. You don't need to have thousands of followers—you just need to show that you're good at curating feeds, engaging with an audience, and learning what works on which platform.
4 key elements of a social media portfolio
1) Introduce who you are
Let's be clear: you don't have to put your entire history here. That's what your CV is for! Your intro can be as short as Bailey Cargill's: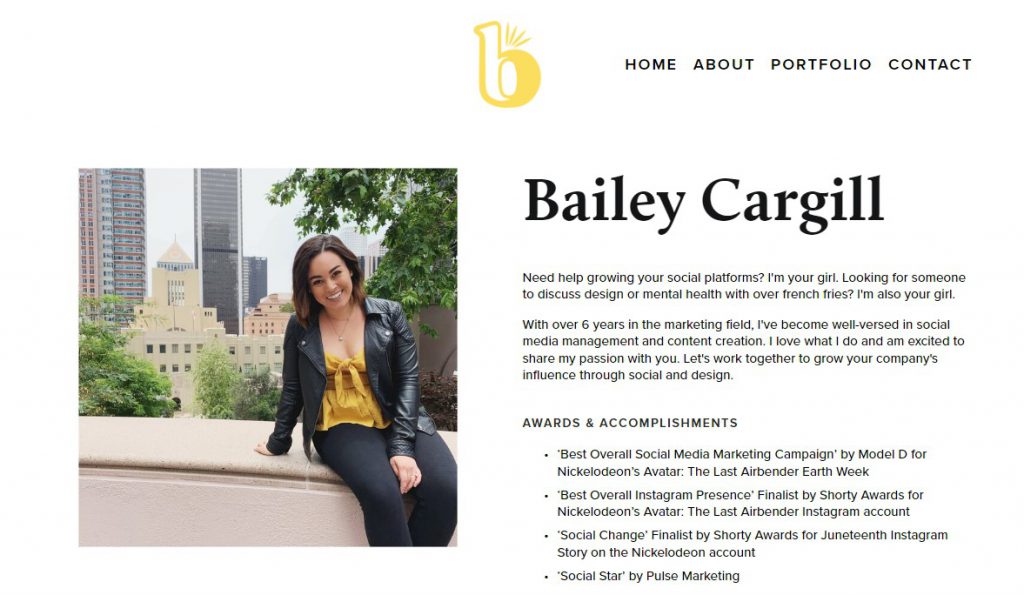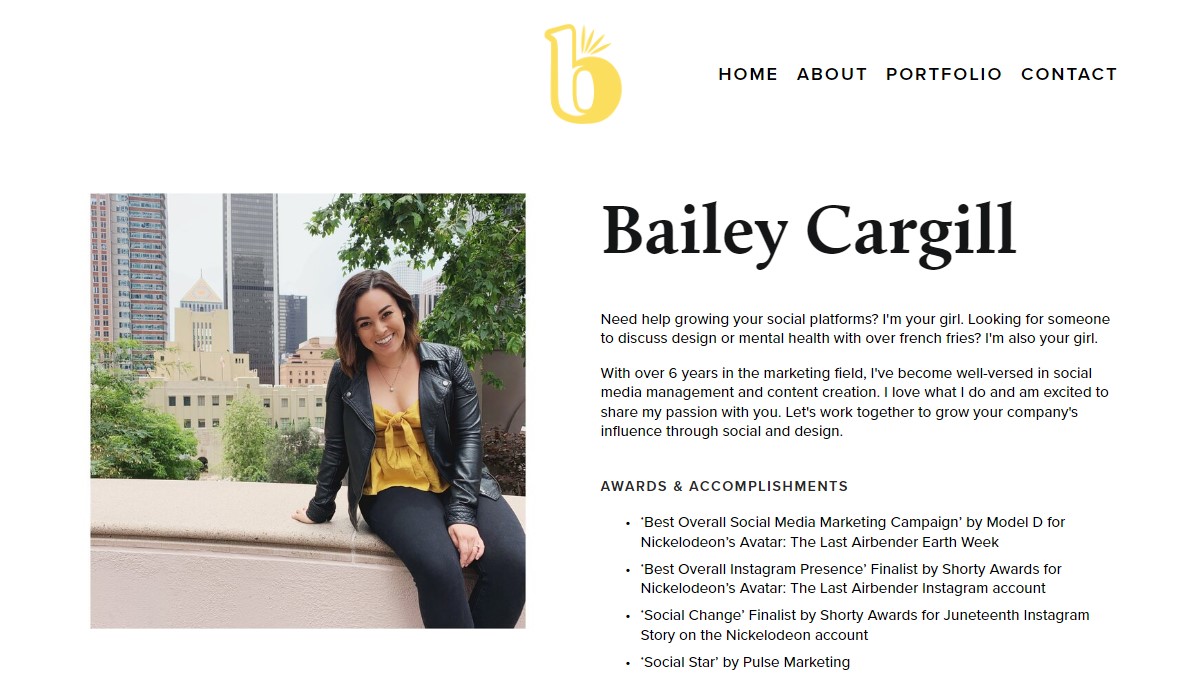 Include what you do, what you're passionate about, what kinds of clients you work with, and what you can offer your client or employer. You should also consider including your career goals and specialties, like Joelle Au: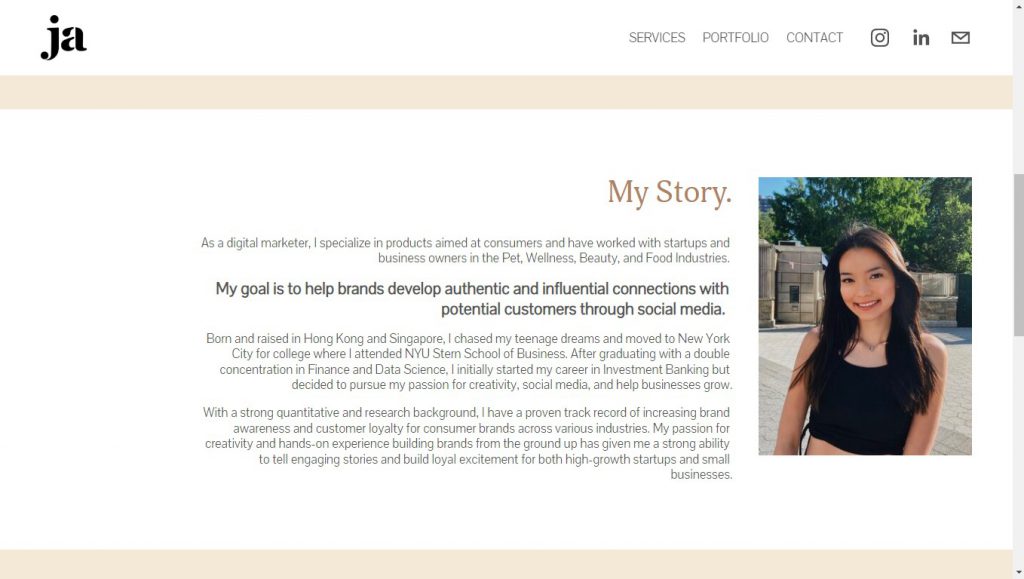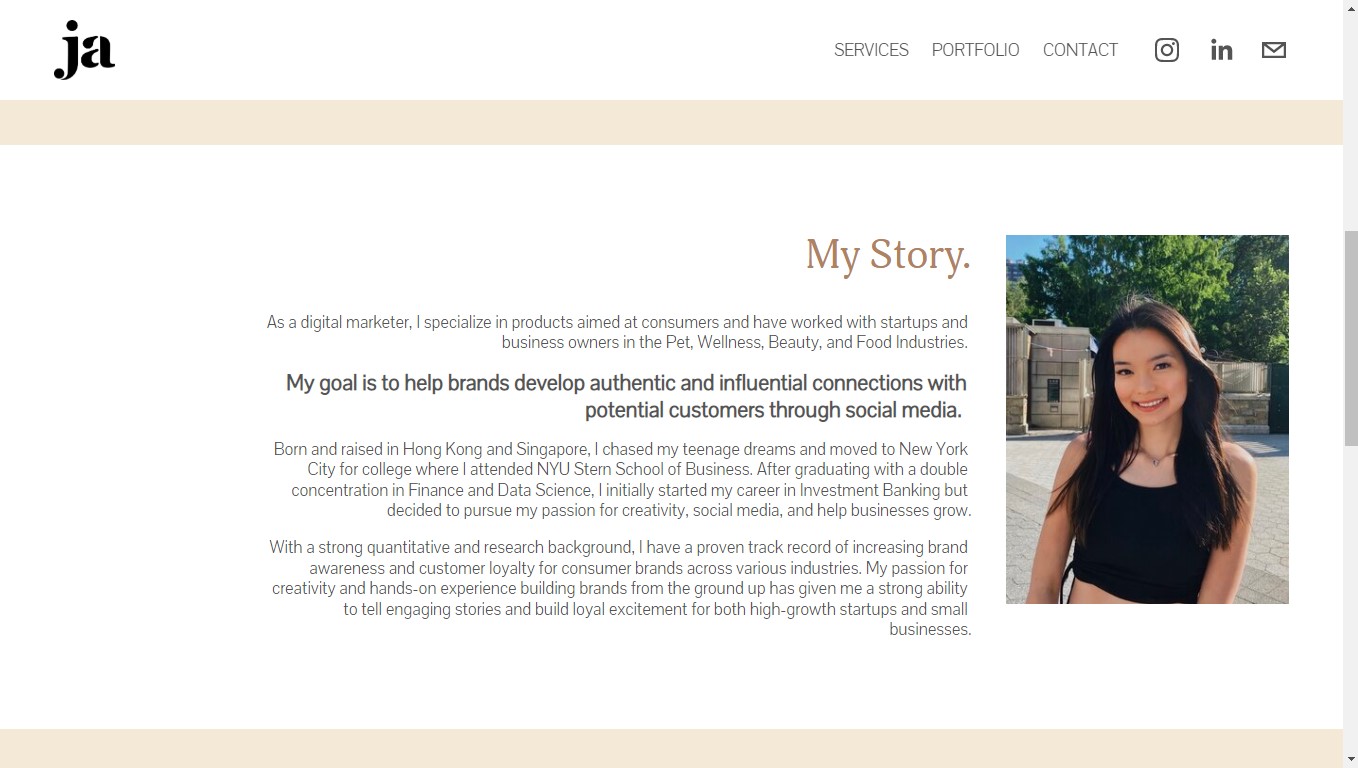 You can put your awards and accomplishments there, too.
And if possible, you should have a section for client testimonials. For people with no experience, you can ask a professor, family, friend, or a mentor you have worked with for a quote. Make sure you link to their professional sites so readers won't think they're made up!
More importantly, you should include ways your employer can contact you, including email and your social media platforms.
2) List your services
Don't forget to include this part! After all, how can clients and employers hire you if they don't know what you're capable of?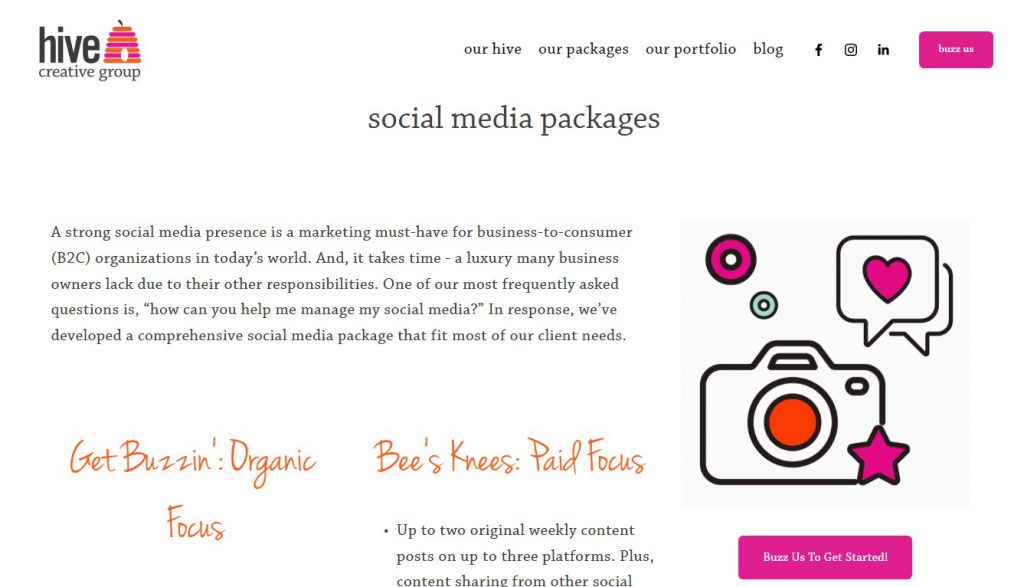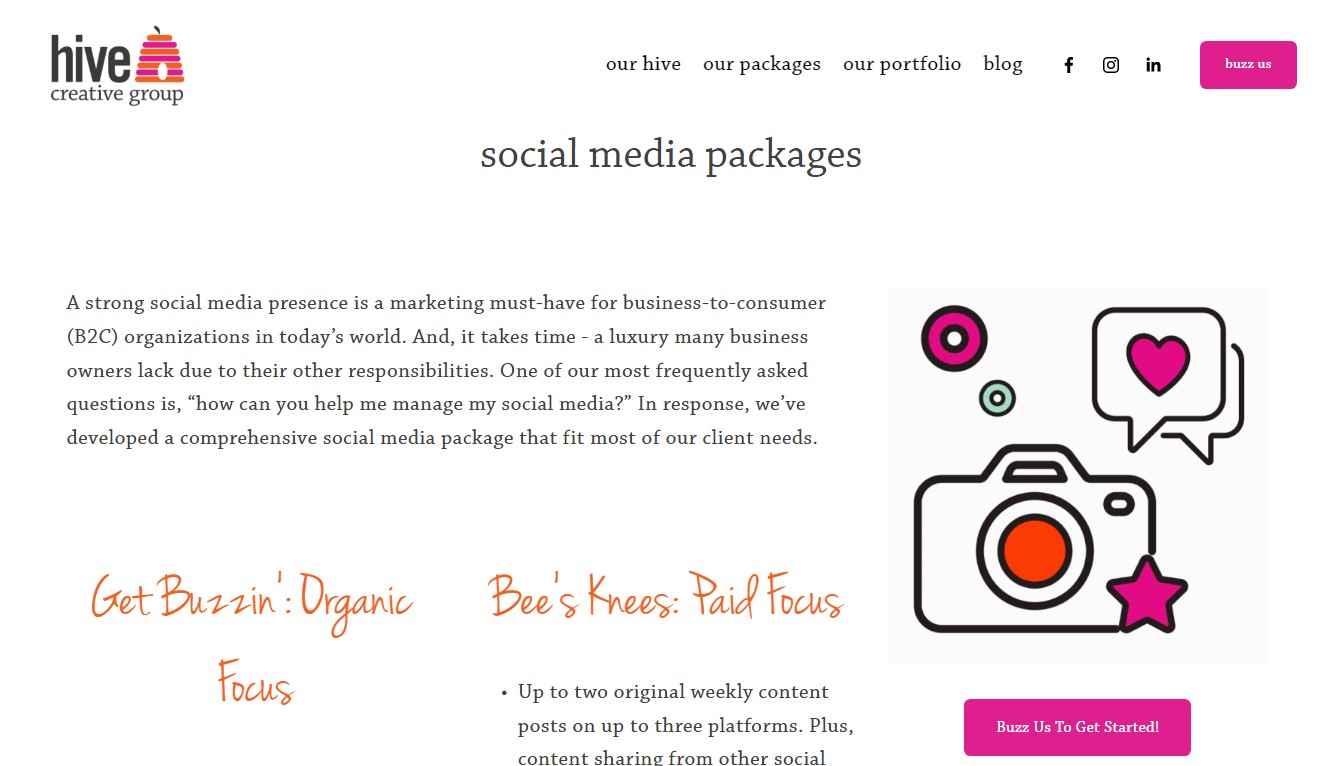 For example, Hive Creative Group has different pages for its marketing services. Surely enough, they have a clear outline for their package on their social media marketing page. Original content posts on a number of platforms, ads, branding, and more, for certain tiers.
If you're starting out, it's best if you offer a unique service. Creating a niche can help you find clients or an employer faster. For instance, if you graduated with a degree in biology and are interested in social media marketing, you can offer social media services for pharmacies or vegan food delivery services.
Finding work in that specific niche is easier than going for every social media role you see. But don't forget to do research! You might be catering to businesses where there's not a lot of demand for your services.
Examples of social media services
Here are some services you can put on offer. Note that you should only list these down if you're confident that you can actually deliver good results.
Influencer marketing
Content creation (e.g., graphic design, video editing, blog writing, audio editing, etc.)
Community management
Platform audits & content strategy planning
Profile creation and branding
Content publishing & scheduling
Competitor & industry analysis
Social media training (i.e., use of platforms and management tools, analytics, etc.)
3) Case studies
This is the bread and butter of your portfolio. Not only will this section show off your technical knowledge, but it will also show your problem-solving abilities and other soft skills. Moreover, you can show visible results that can be reviewed by potential clients or employers.
As someone new to social media work, your best bet—once again—is to start with your social media presence.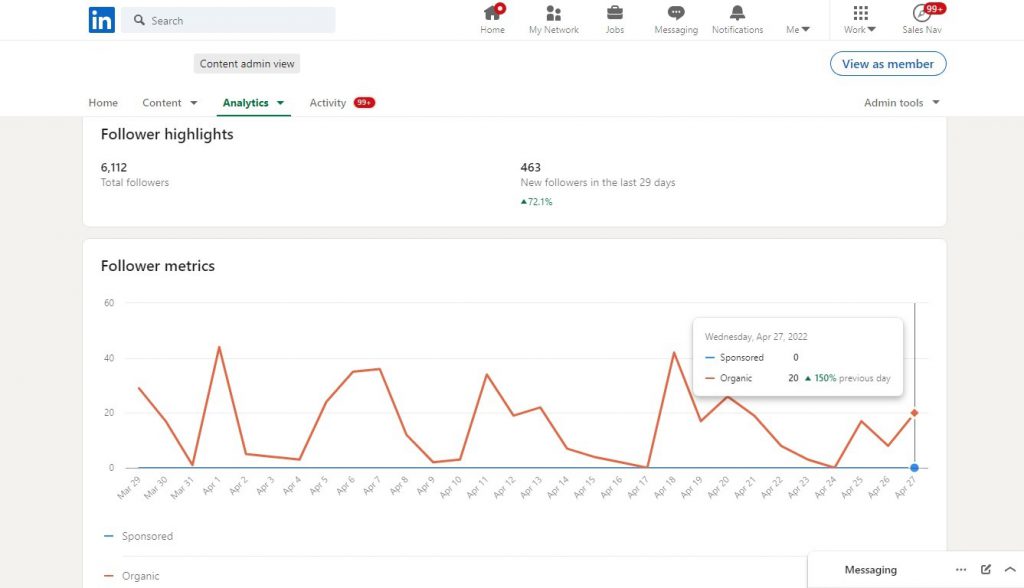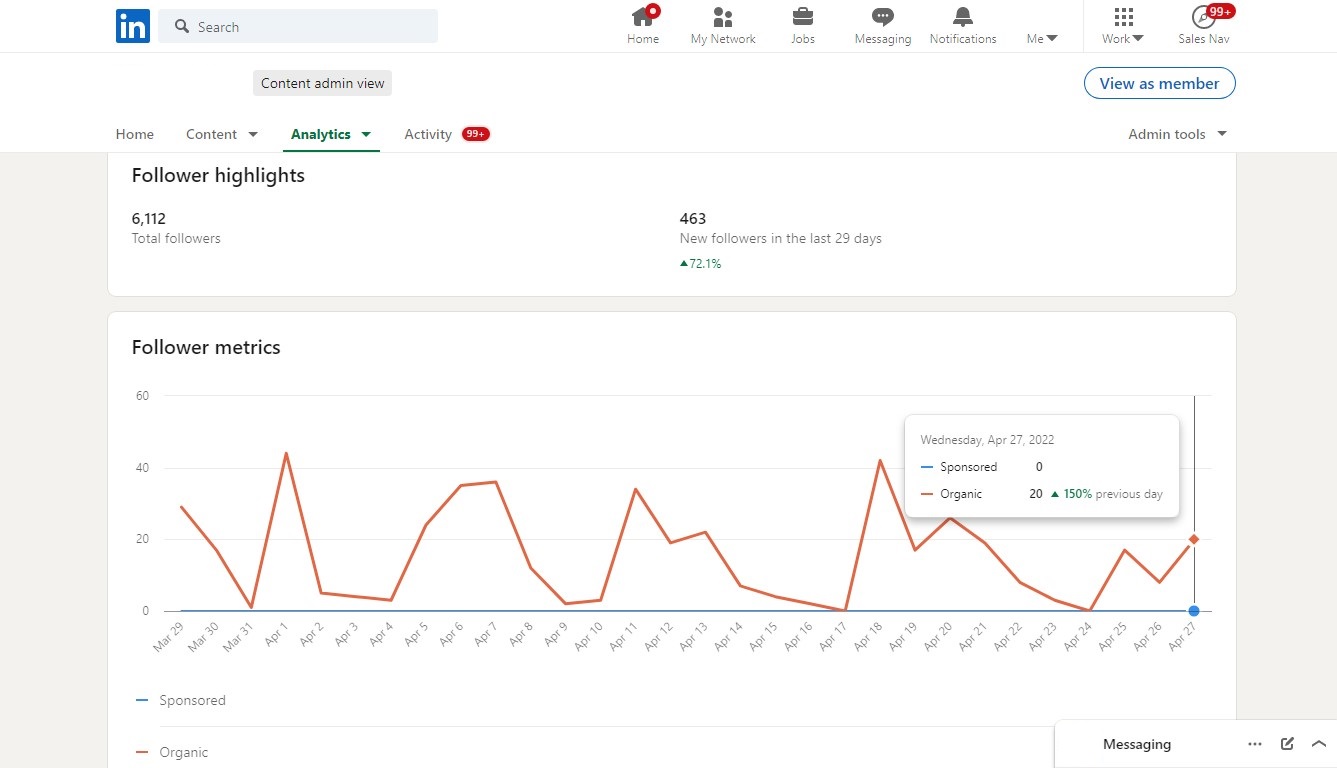 A) Introduce the project
Open your case study by giving a brief overview of the project. In order to do that, you have to explain what your project is about, why it's necessary, and your key objectives. If it's your own social media platform, you can introduce it like this:
My first case study is about how I grew my LinkedIn page by 72% in one month.
I wanted to prove my knowledge of LinkedIn marketing when I started this project. I also wanted to show that I can help clients grow their presence on this particular social platform. My initial objective was to grow my following by at least 10%, but I exceeded my initial goal. Here's how.
If possible, you can shorten this further. One thing to keep in mind in writing your case study is that you want to pack as much information as you can in tiny captions.
B) Explain the strategy
Elaborate on how you came up with your strategy here. Did you use methods used by advanced marketers? Have you studied other case studies and copied their strategies? Or did you conduct your own surveys to get first-hand data?
When clients or employers read this part, you want them to understand your process. How do you look at problems? What are the steps you take to solve them? How do you work around constraints such as budgets and a lack of personnel?
Again, don't go granular in this section—or other parts of your portfolio. Be concise as possible.
C) Show how it was executed
After showing off your strategy, you want to explain how you pulled it off. Summarize your methods, and don't be afraid to use screenshots or custom graphics to demonstrate the process.
D) Present the results
This is the most important part of your portfolio. Present your KPIs, and other effects your campaign had on the brand. In the example above, the person exceeded their target of a 10% increase in LinkedIn followers by 52%. That's quite the achievement! It's also a simple metric to understand, and simplicity is a must when it comes to numbers.
A shorter format
Your portfolio case studies can also be as short and sweet as Nisreen Galloway's: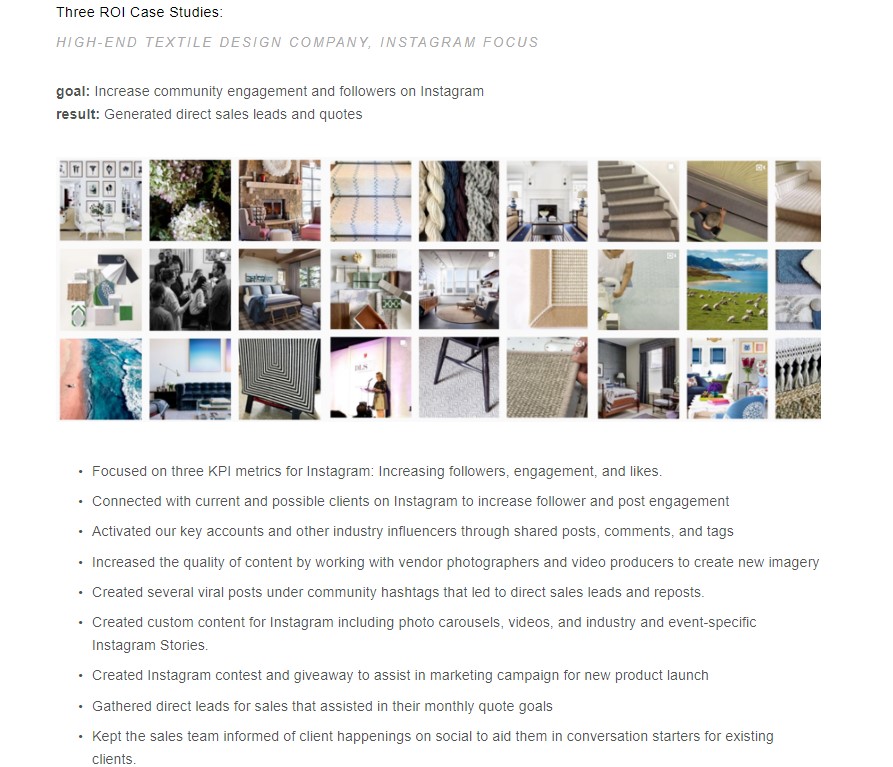 They presented their case studies per specialty. Under their social media page, they highlighted three case studies that emphasized their clients' return on investment. By using a simple goal-result format, they showed how effective they were for that client without disclosing any confidential information.
4) Client testimonials
Remember when we said that you should have client testimonials in your portfolio? Here's where you should put all your quotes and reviews. They can be screenshots of reviews and comments, as seen on Niyatee Shah's page: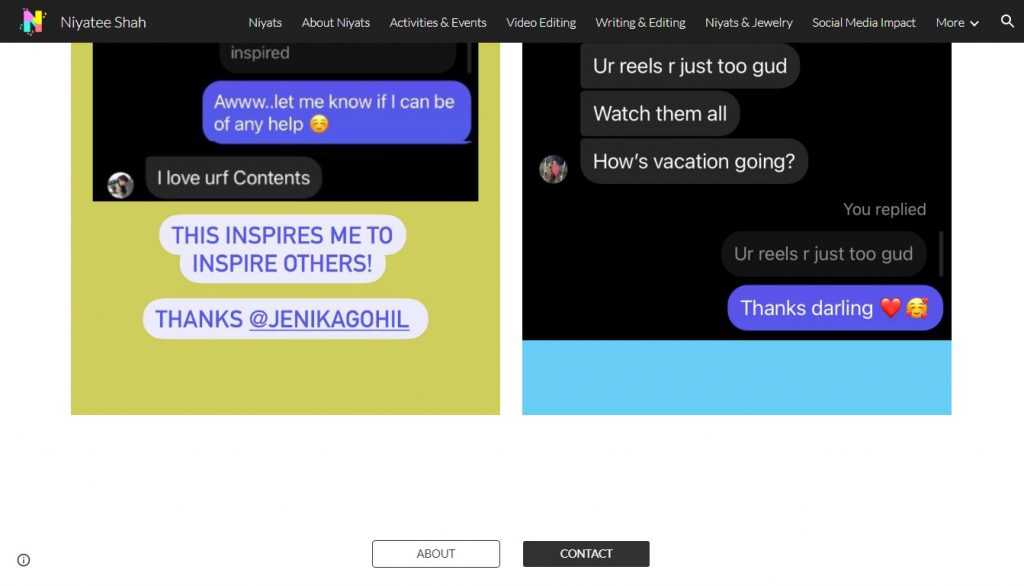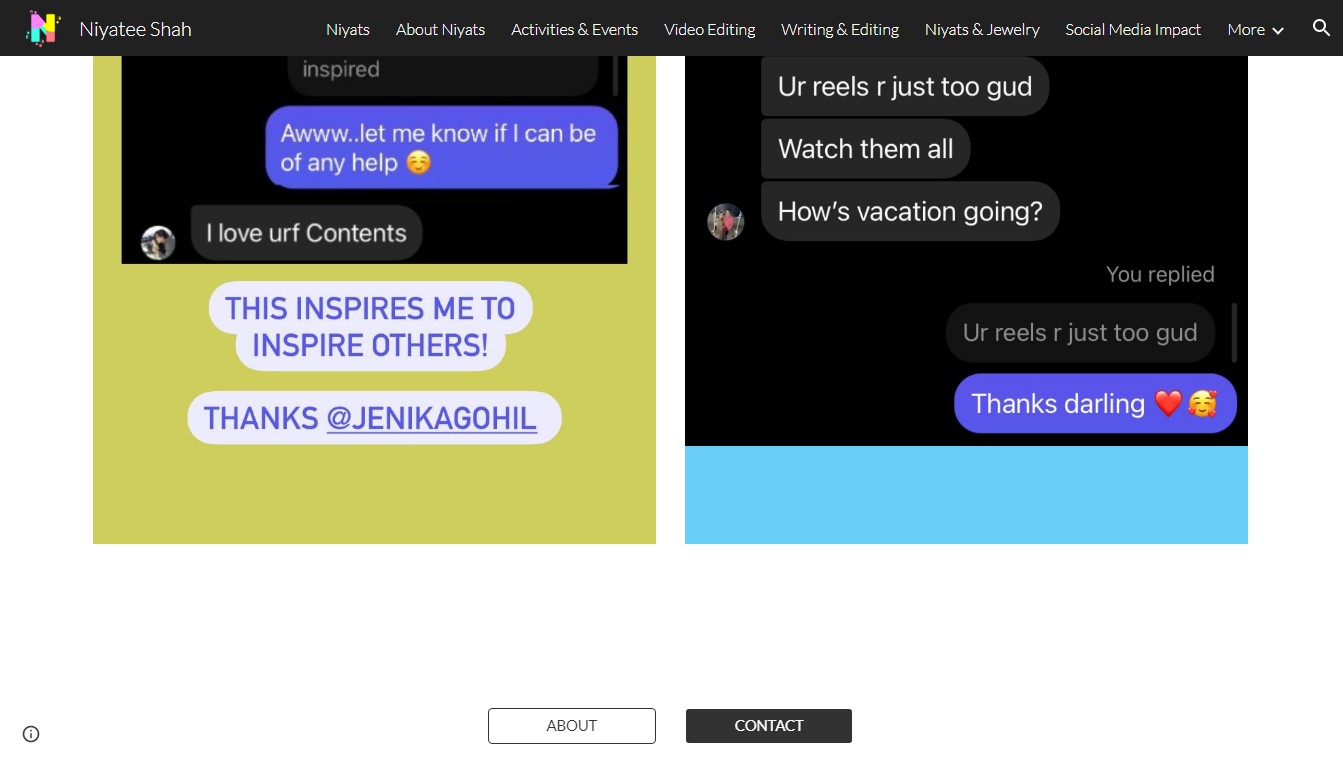 As for the social media agency Dash of Milk, they opted to feature full client reviews: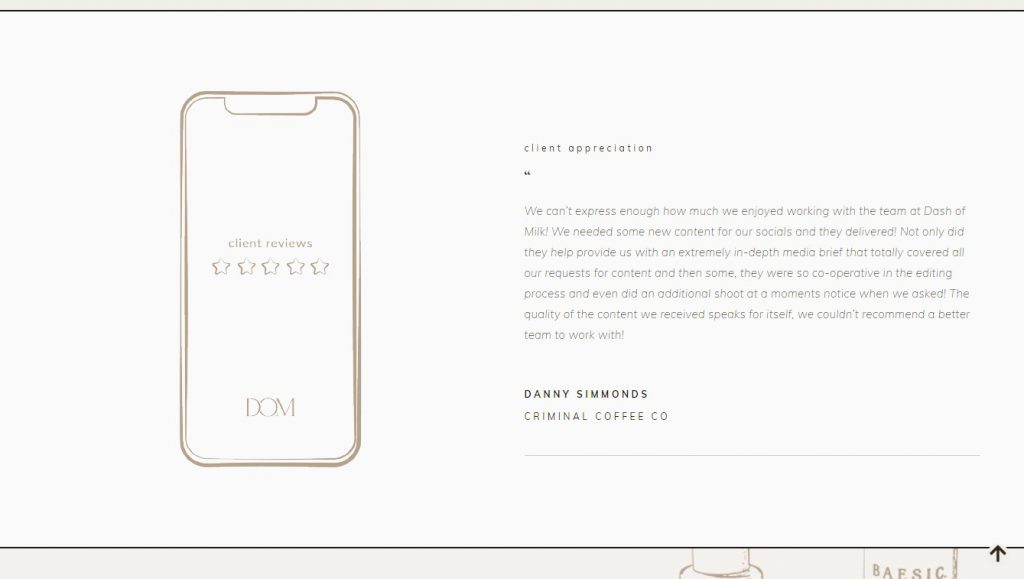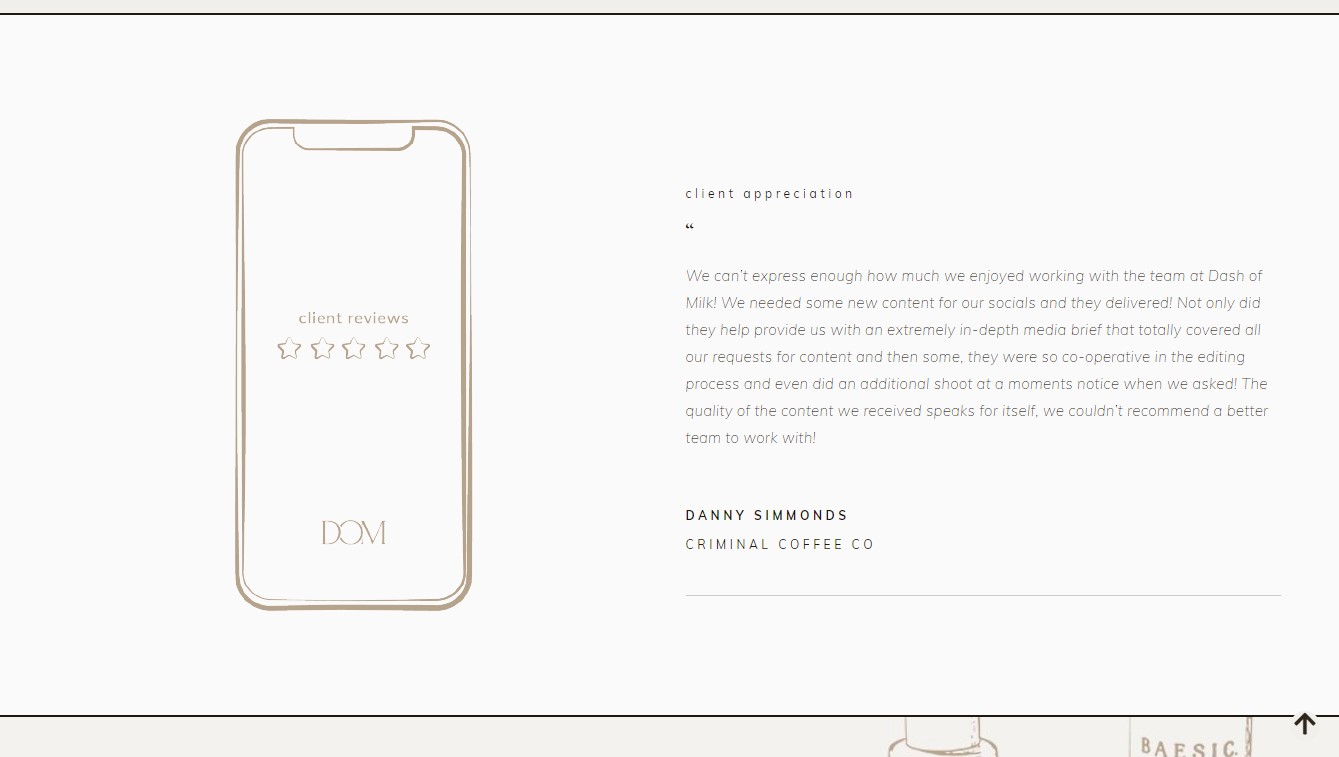 As can be seen, the testimonial emphasizes the quality of the agency's services. It also tells potential clients what kind of people they'll work with in this agency. Plus, because of the review's positivity, it will likely encourage clients to inquire about their services, if not hire them outright
With the basics down, you're ready to make your portfolio. Check out the next section to discover the best sites to create and host your social media portfolio on.
Tools for creating a social media portfolio
1) Instagram/Social media platforms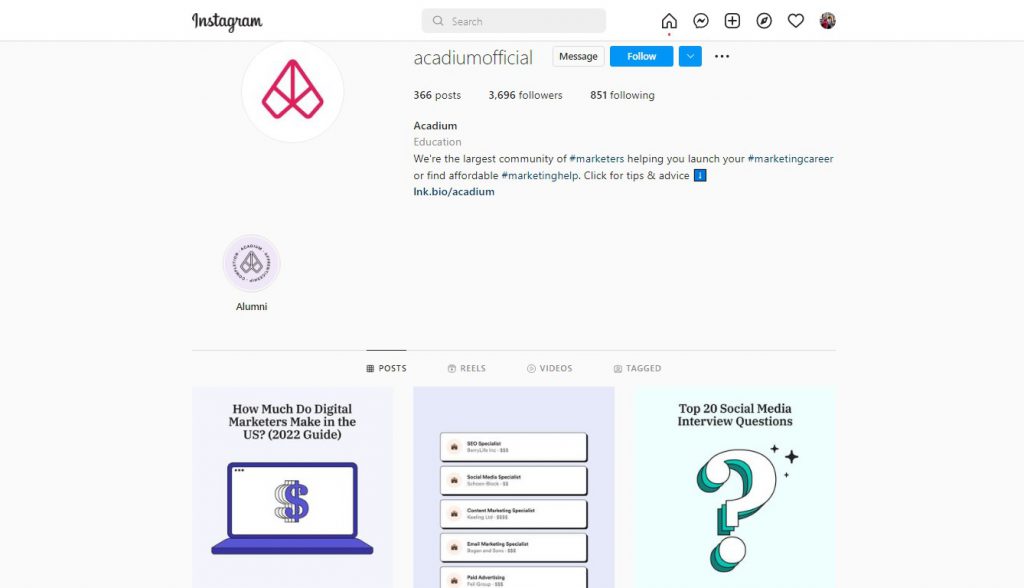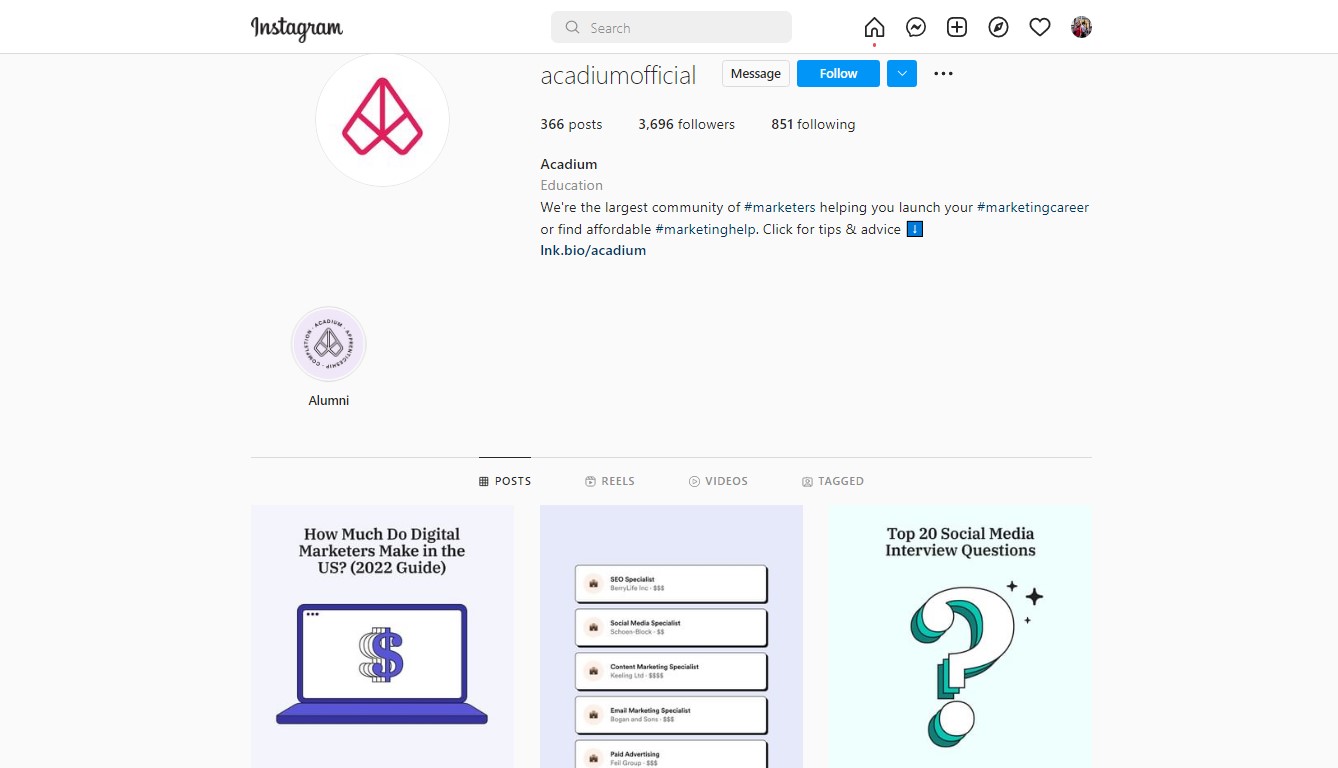 Nothing tells a client or employer better that you're a good social media hire than great social media profiles.
2) Behance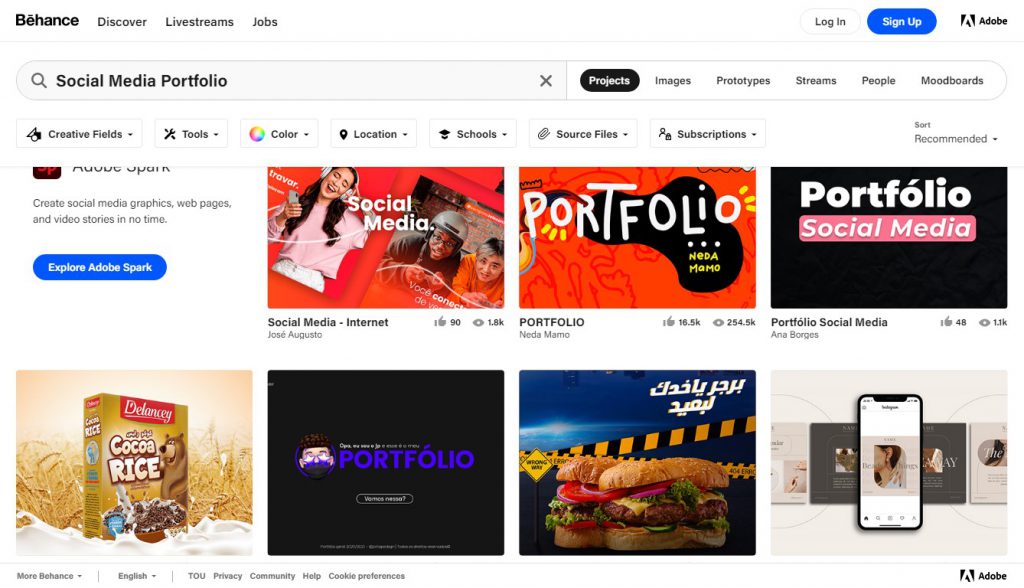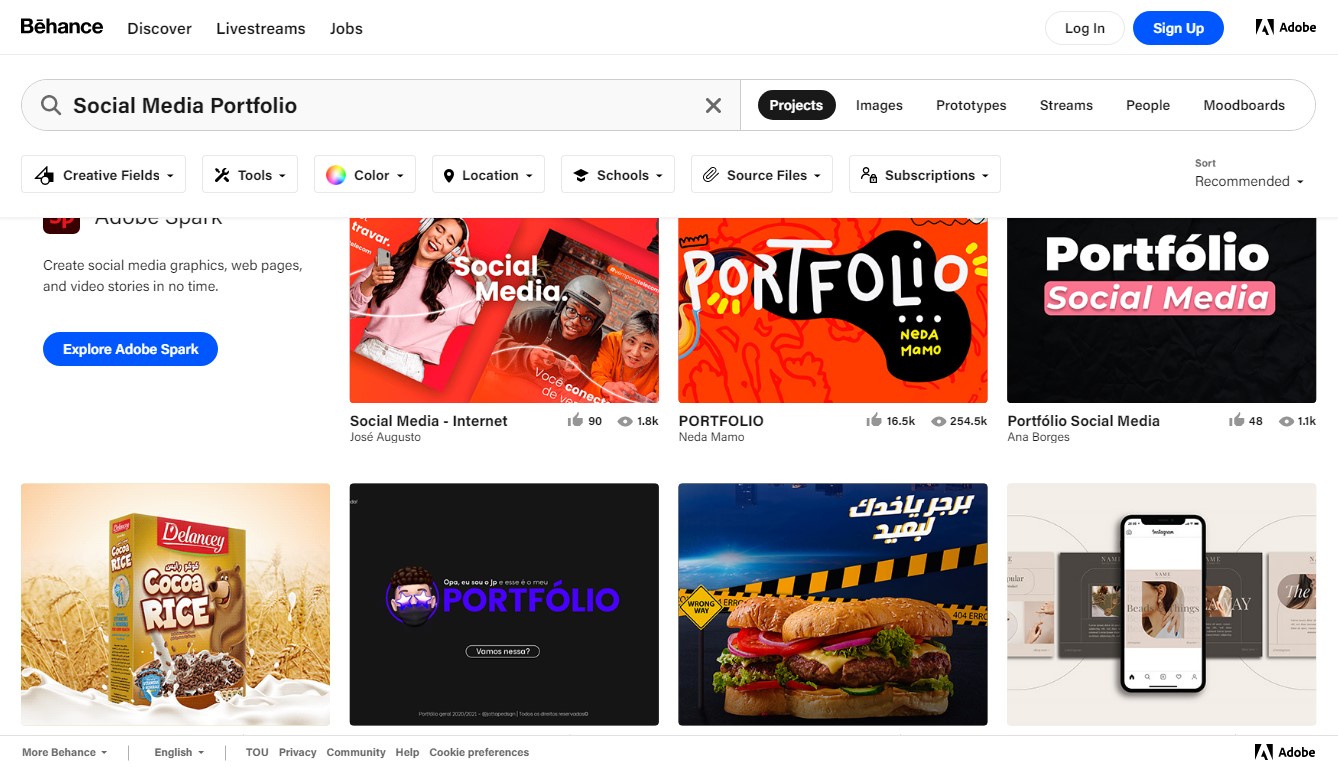 Behance is known for hosting graphic design, illustration, photography, and even UX. But because you can use it even without any coding experience, it's also a go-to for marketers and writers. They offer templates you can modify for free, so your work looks good regardless of your graphic design or typography skills.
3) Wix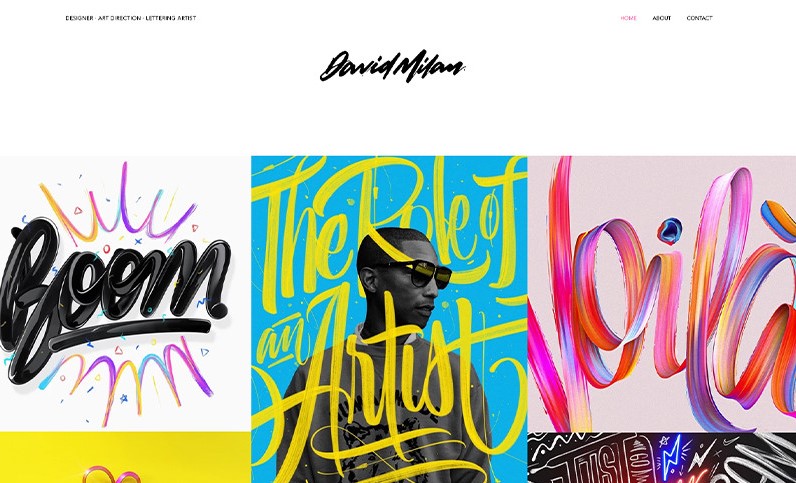 Wix allows you to design your website for free—if you're okay with having ads on your site. Otherwise, you'll need to subscribe to one of their plans to get rid of sites and get a custom URL. It might be worth your money, as Wix allows you to make your dream site via a drag-and-drop interface—zero coding or FTP knowledge needed.
4) WordPress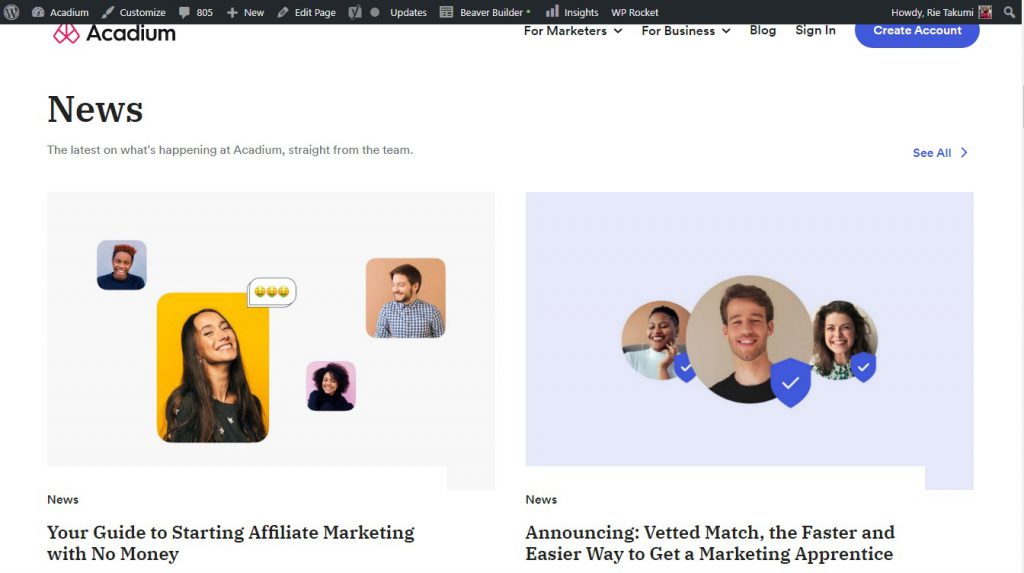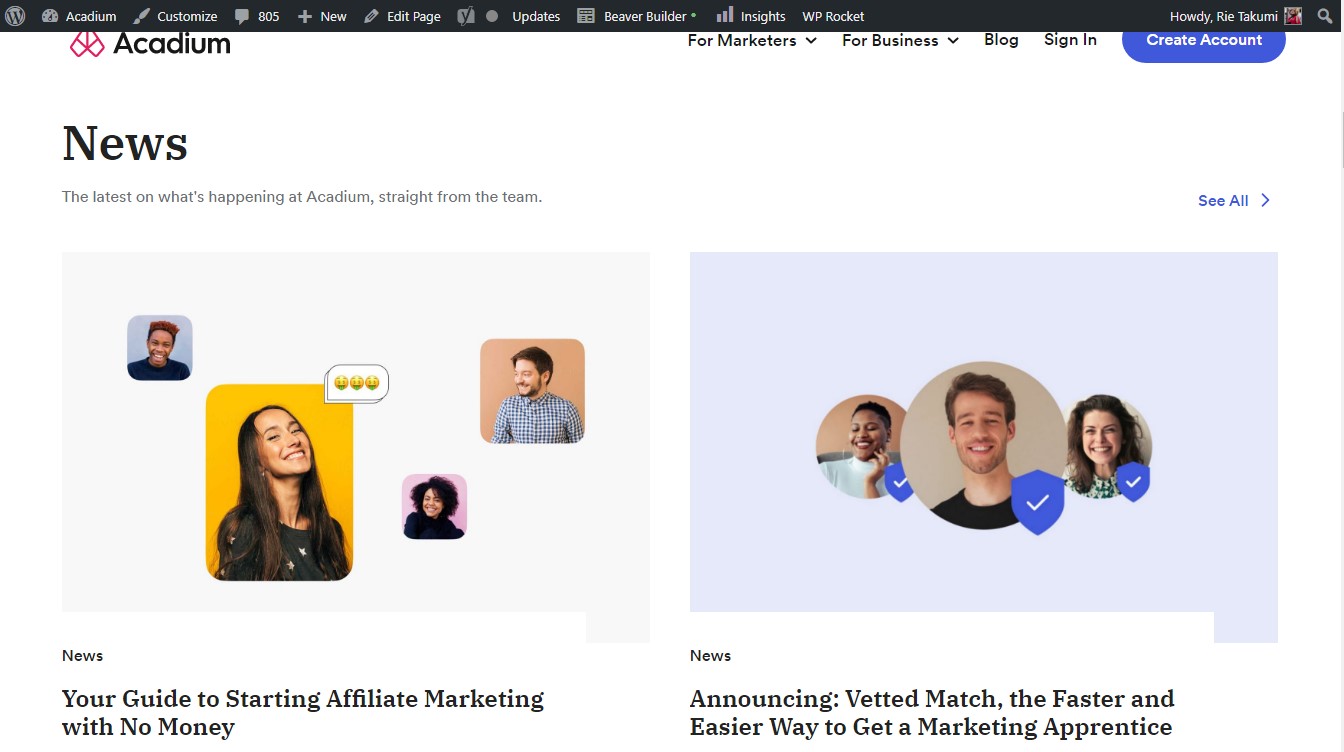 Need a site that can host all your content for free, forever? This is where WordPress shines. WordPress has a ton of plugins and modes to choose from, so you're sure to make a unique site that works for your content and needs.
5) Carrd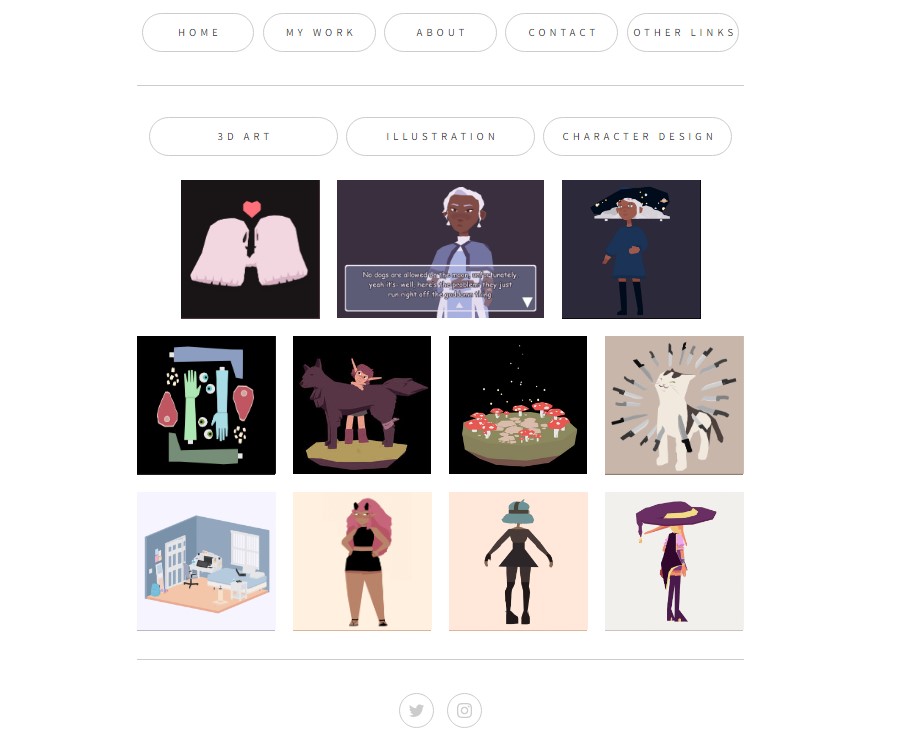 Carrd lets users make one-page sites with its simple and responsive UI. You can leverage this unique site to make a one-stop shop for your socials. Despite having paid options, you can use Carrd's basic tools to make an advanced, professional-looking social media portfolio.
6) Adobe Acrobat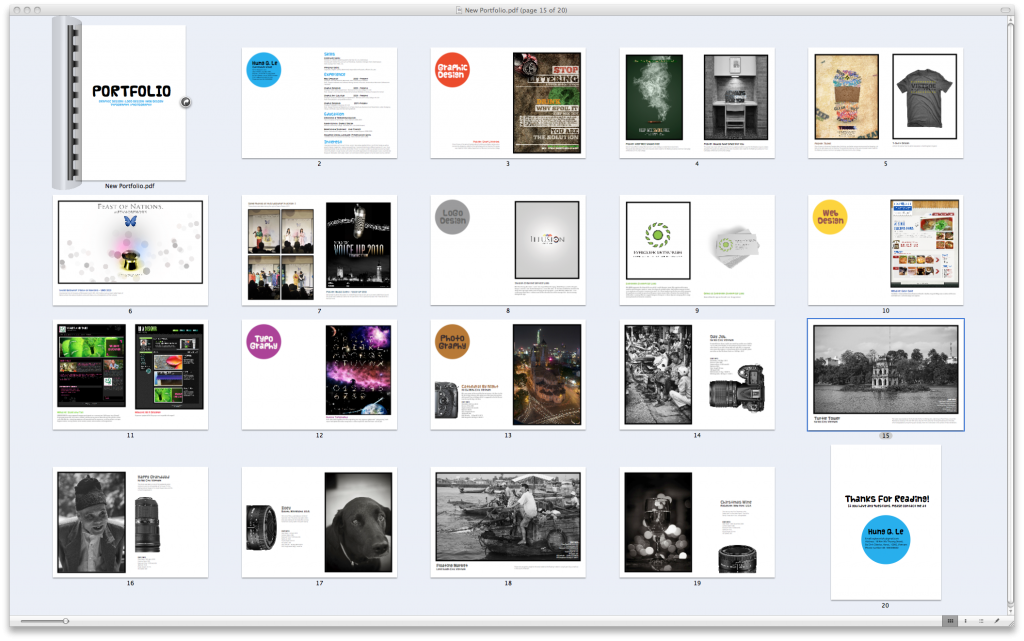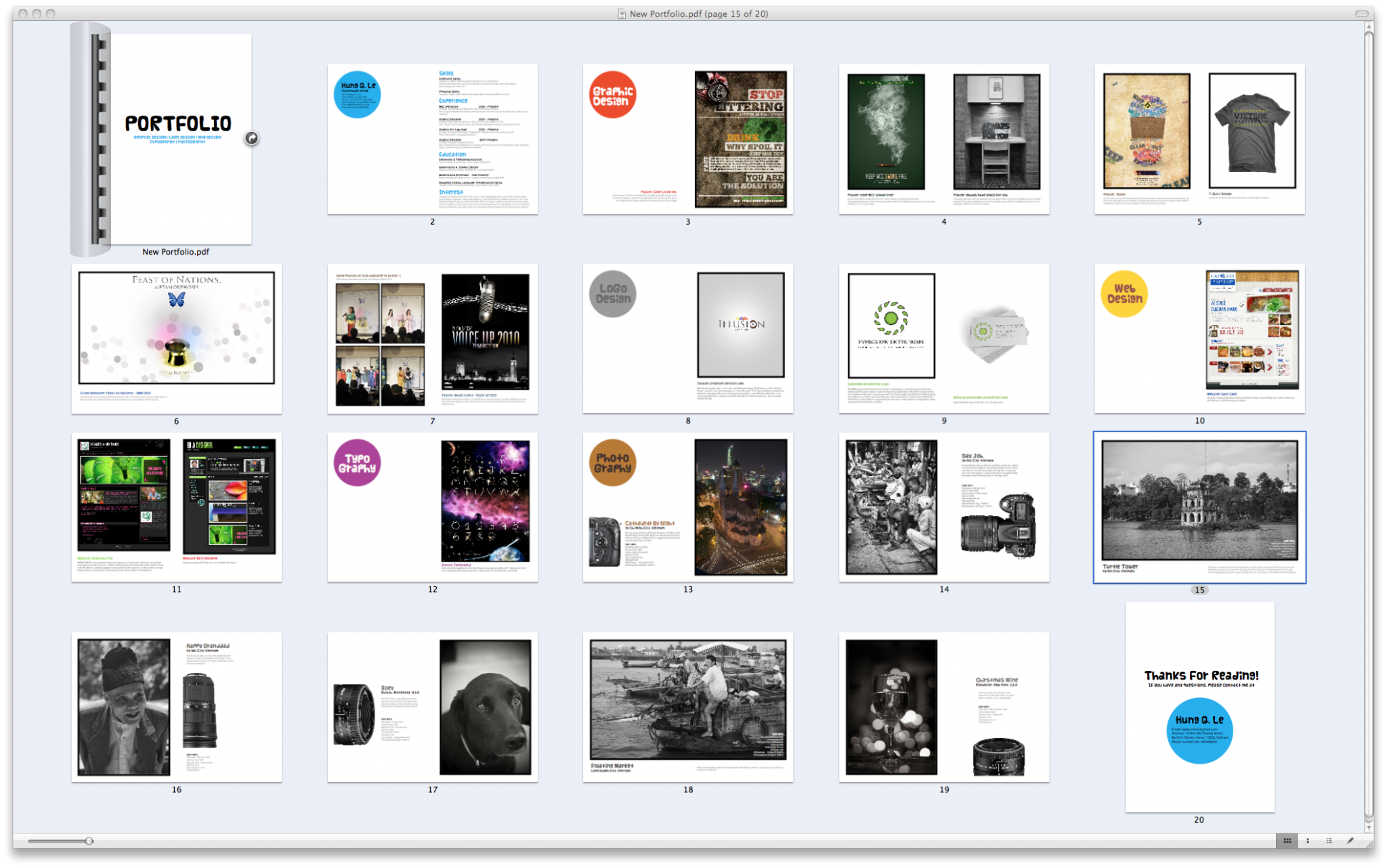 Simple, but universal, Adobe Acrobat allows you to make PDFs from scratch. You can also convert text files and slideshows into PDFs, merge documents into an organized PDF, or integrate an entire web page in your output.
If you need a free alternative, LibreOffice Draw can edit PDFs.
7) Canva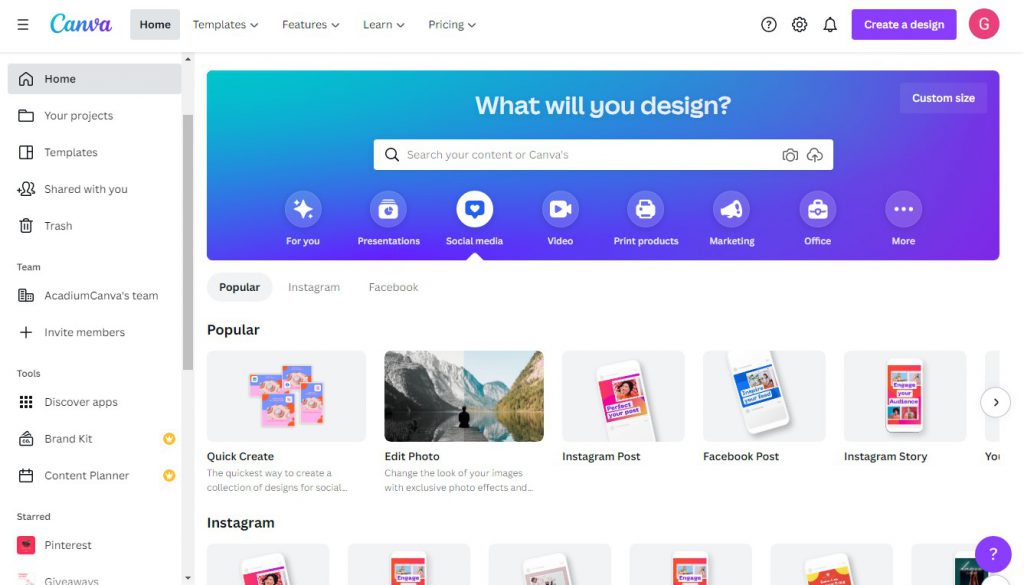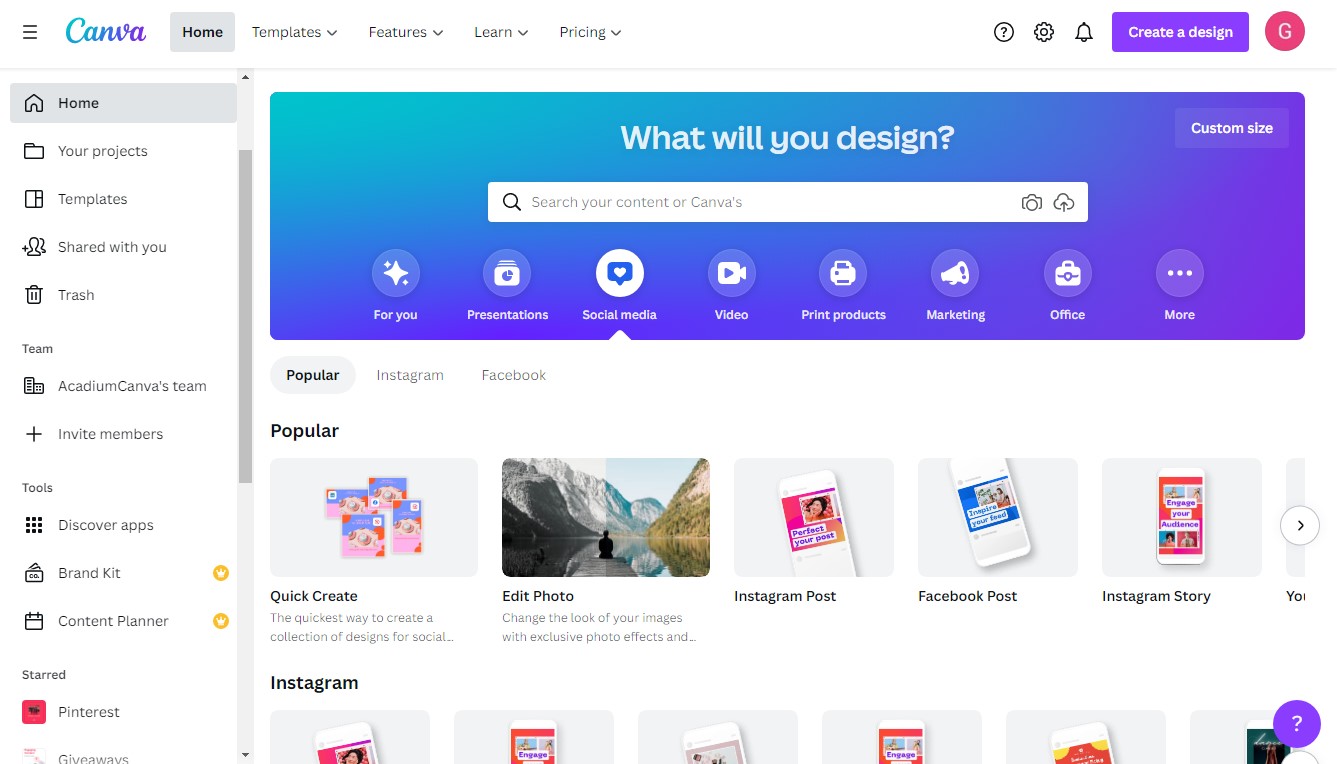 Canva is an all-in-one site that lets you edit any of its thousands of templates online. Aside from social media-optimized templates, you can find portfolio formats that you can fully make yours, for free. While there are pro-only templates, you're bound to find a free format that you can customize to the fullest with Canva's robust features. But if you get overwhelmed by the number of designs on Canva and can't figure out where to begin, pre-made Canva templates for social media may be your best bet.
Gain experience to build your social media portfolio
In social media, the best way to obtain exposure and build your resume is by gaining work experience. You can start small by curating your profiles, then asking around family, friends, and acquaintances if they—or someone they know—need help with social media.
You can also repurpose or redesign projects you made at school, or in your last non-social media role. Even if your work isn't visual, you can use sites such as Colorcinch and Unsplash to create or find images that match your work. Once you've rewritten your work and have your images, you can plug all of those into your portfolio site of choice.
Another way to gain experience is to find work online. There are a lot of businesses out there that need help managing their social media presence. Some of these businesses are on Acadium, where they give apprentices actionable feedback and confidence in their skills to pursue the jobs they want.
Social media success
Grace, for example, changed her entire career trajectory starting with an apprenticeship on Acadium. The apprenticeship helped her learn social media management fundamentals by working with a vetted mentor. She expanded her knowledge and gained the confidence to start her own social media marketing agency.
Corrine, on the other hand, felt stuck after graduating. After looking around, she chanced on an apprenticeship to learn more about social media. She got what she wanted, as she learned how to create and execute social media strategies, among other valuable marketing skills.
If you need more ideas to build your portfolio and work experience, here are related posts to help you:
Five years in journalism, two in proofreading, and eight in freelance ghostwriting. Creating content that's entertaining, informative, and actionable shapes my writing. When not scrutinizing my copy, I'm likely watching hockey.
Top Marketing Webinars for Digital Marketers in 2023

By attending these webinars, you will have the opportunity to learn from industry leaders, gain insider knowledge, and stay ahead of the competition.

9 Types of Digital Marketing to Choose From in 2023

Digital marketing is a dynamic field that offers diverse career opportunities. From search engine optimization to social media marketing, there are many specializations to explore. Whether you're just starting out or looking to switch careers, this guide will help you find your ideal digital marketing niche.

Subscribe to our newsletter for digital marketing resources
Become a better marketer with our digital marketing resources and tips shared weekly in your inbox.

Build your marketing career for free or find marketing talent on any budget — fully remote.