What is a Digital Creator? A Complete Guide to Successfully Become One
What exactly is a digital creator? And how you can become one? In this article, we'll shed a light on the integral role of these modern entrepreneurs in today's society.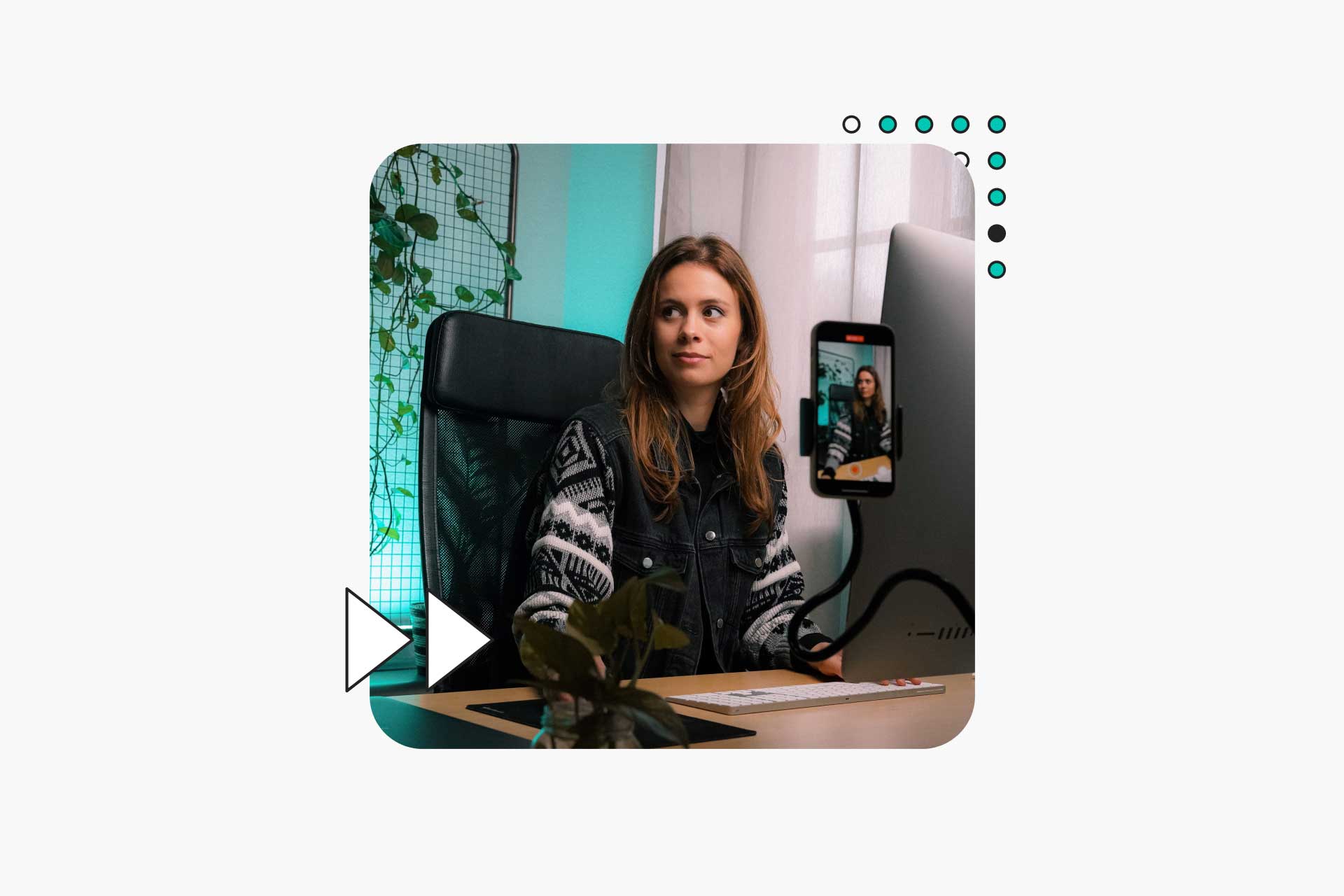 It's 2022, and the world as we know it is becoming ever more interconnected through online media. New jobs are being created left, right and center, with a new generation of digital creators riding the waves of business digitalization.
Chances are, you consume and engage with the content produced by these digital creators every day – without even realizing it. But what exactly is a digital creator? And what do they do?
Keep reading, and we'll shed a light on the integral role of these modern entrepreneurs in today's society and how you can enter the industry.
What does it mean to be a digital creator?
The short answer is that it means making content for the internet or other digital media. The content in question may be anything from blogs and vlogs to Instagram stories and YouTube videos.
If you want to be a digital creator, you must know how to use digital and social media platforms, understand how they work, and know how to engage with an audience through them.
Acadium Apprenticeships
Get hands-on experience with digital creation
Work with a mentor for 3 months and gain a digital creation work experience you need to get hired. 100% remote and always free.
How much does a digital creator make?
You can make money in a variety of ways as a digital creator. You can sell your own products, do sponsored content and brand deals, or even earn commissions on products sold using your affiliate link.
To effectively monetize content, digital creators need to have a fundamental understanding of their audience, as well as skills in the field of digital marketing.
It's reported that the average US salaries of digital creators range from $68,000 to $101,400. It's an incredibly lucrative industry that's growing year by year.
Digital creators vs. Influencers
You'll likely have heard of digital creators, influencers, and content creators at one time or another, but what exactly is the difference between the three? Let me break it down.
Firstly, digital creators are essentially content creators that produce content exclusively for online and digital media – whereas the term content creator can refer to content created for offline media as well, such as newspapers or leaflets.
All digital creators are content creators, but not all content creators are digital creators. Make sense?
Now the roles of influencers and digital creators often overlap significantly, with both producing content for monetization on digital media, however, the difference lies within the semantics.
Influencers work exclusively to convince an audience to buy a certain product or service – and this is most typically achieved through the creation of content such as social media posts, etc.
Content creators don't solely work to influence consumer action – their focus is on creating high-quality, engaging content to educate or provide value in other ways. Granted, this may in turn influence consumer action – but that wasn't the sole purpose of the content.
Another difference between an influencer and a digital creator relates to the ownership of their work: while an influencer base most of their content around promoting brands.
Digital creators can own all of their work, which gives them more control over how they earn money from it if they choose to monetize it at all.
What does a digital creator do?
As already touched on, a digital creator does what the name implies: creates digital content. But unlike traditional content creators, digital creator also builds a community around their work.
Here are some of the things a digital creator may do:
Create written content: blogs, copywriting, etc
Create video content: Youtube, social media videos, etc
Create visual content: Graphic design
Share their creations such as digital products with their audience on social media platforms or through other channels like email newsletters or websites
Build an engaged community around their work by interacting with fans on social media and making them feel like they're part of something special
Work closely with other brands as a means to monetize the content
What does an influencer do?
Influencers are essentially people who have a following on social media – i.e. they have an influence over a significant number of people.
They use their influence to promote products, like clothing, makeup, and technology. They get paid for their posts because companies pay them to feature the products they sell in their social media feeds, blogs, emails, etc.
Influencers can be celebrities or ordinary people: it depends on what they're promoting and how popular they are online.
The most common types of influencers include bloggers, YouTubers, and Instagrammers but there are many others as well (think Twitch streamers, gamers, and vloggers).
Also Read: Become an Instagram Influencer: A 7-Step Guide [+ Key Skills You Need]
Digital creators vs. Content creators
A digital creator does not produce content for traditional media, as their creations have to go online, such as on YouTube, Instagram, or Tiktok.
The one who does the creative content for offline media, like newspapers is the content creator. But, both digital creators and content creators have the same main task, which is to create.
In other words, content creators prepare content regardless of platforms, essentially ignoring the needs of the media they work for, while digital creators prepare content specifically for online platforms.
What are the skills needed to become a successful digital creator?
1. Have impeccable research skills
Research is crucial for a successful digital creator. Research goes beyond just having a deep understanding of the topics you want to cover—you also need to know who your audience is and what their needs, interests, and expectations are.
As a digital creator, you should also research your competition: How many other people are already creating content in this space? What sort of content do they produce?
How often do they publish new content? How many followers do they have on social media? What formats do they use (e.g., podcasts, YouTube videos, or Instagram stories)? What would make your content different from theirs?
2. Familiarity with SEO
Search engine optimization (SEO) is the process of optimizing your content for search engines. It's vital for digital creators as it can help people find you, which means that more people will visit your website, engage with your content, and then buy your products or services.
Getting better at writing helps, but you can also use SEO tools to make your content better, such as BuzzSumo to help you find out what type of content your audience is sharing across various platforms, while AnswerThePublic helps you address the common questions people asked on Google and make a content about them.
It is crucial that digital content creators understand and apply the fundamentals of SEO to their work. The ability to optimize content for video SEO and imagery isn't just for copywriters; it's important for every digital creator.
Keyword research is another great way to get a sense of what the audience is searching for, which will also help you come up with new content ideas that you may not have thought of otherwise.
Also Read: How to Become an SEO Specialist: A Complete Guide + Tools
3. Studying target audience
One of the most important things you can do is learn about your target audience. You need to know not only who they are and what they like, but also what they don't like and what motivates them.
In order to develop the kind of ideas you need, basic demographic data, such as age, interests, education, location, and purchasing patterns, can be very helpful.
Identifying the pain points of your potential customer base will help you better understand how your brand or product can solve those problems for them.
Identifying what your audience finds entertaining, intriguing, or useful is your first responsibility as a content creator, so use those ideas to shape your digital content strategy.
4. Identifying the brand's strengths and weaknesses
Brand analysis is a process of discovery. To become a successful digital creator, you should be able to understand what makes up a brand, as well as how to create one from scratch.
You will also need to know how to market your own brand and measure its success.
Brand awareness is the first step in becoming an effective digital creator. Before analyzing or creating one for yourself, you must learn about the different types of brands. The most common types of brands are:
Product-based: This type of brand focuses on the physical product itself instead of its branding or marketing strategy
Service-based: This type of brand focuses on providing services rather than products
Experiential/Emotional: This type of brand relies heavily on emotion by connecting with consumers through experiences rather than just advertising messages.
5. Consistency
Consistency is vital for digital creators. It's also a major factor in keeping an audience engaged and interested – you need to continue to supply them with content, otherwise, they might begin to look elsewhere.
Additionally, if your content goes from being high quality to low quality, or from informative to not-so-informative, people are going to lose interest quickly.
Visibility requires dedication and consistency in digital content production. As the saying goes, "Out of sight, out of mind", so make sure your message gets seen.
From keeping track of tasks to storing files, productivity apps can simplify your life. Some example apps or tools you can use include:
Todoist is a simple task manager app that allows you to track and group tasks by project. It also allows you to collaborate with others by sharing and tagging tasks.
Google Docs is an excellent tool for sharing documents and collaborating in real-time. Through this online word processor, you won't need to send and save files back and forth while writing and editing content.
ClickUp is an all-in-one tool that allows you to store all your work in one place for maximum efficiency. You can create tasks and projects, build documents directly, and also set goals for monitoring your progress.
6. Have basic video editing or graphic creation skills
Graphic design involves the creation of visual elements such as logos, illustrations, and other images. Graphic design skills are often used by digital content creators to create social media posts, web pages, and other marketing materials.
A digital content creator may use tools like Adobe Illustrator to create vector-based artwork that can be scaled without losing quality.
Copywriting, videography, and design also require video editing skills. If you can cut down your work, catch flaws and typos, and produce polished deliverables, you will keep clients happy and work coming your way.
7. Being open to feedback
As a digital creator, you shouldn't ignore negative feedback. If someone doesn't like your video or your post, don't get defensive. Take a deep breath and try to find what's wrong with it so you can fix it!
You should also try not to take criticism personally. Negative feedback is not about you—it's about the content itself, so don't take it personally if someone doesn't like something you've done.
Working as a digital creator can be both challenging and rewarding. Curating content and launching it to the masses is one thing, but gaining success with content strategy is another.
To master this domain, remember the "Cs": customer, creativity, and consistency.
How to become a digital creator?
1. Find your niche
You need to find a niche that you are passionate about. If you're not passionate, it will be difficult for you to create content on a regular basis.
You need to have passion for the niche because this will inspire you and give you the energy to create quality content, on a consistent basis.
Many people become creators because they want more money or fame. But if these are your reasons for wanting to become a creator, then I would advise against it.
Becoming a creator is tough work—it requires hard work and commitment—and it's not easy making money with YouTube or any other platform as an influencer today.
You need to start out with content you know about and are interested in – meaning you have genuine value to offer and audience, and the motivation to stay consistent with your posting.
For example, if you're interested in running, and have a wide range of running shoes, then why not start a running shoe review channel?
You can start by offering genuine value to people by reviewing your shoes so they know what to buy, and then as you gain popularity over time brands will pay you to feature their shoes.
The trick here is patience, as at the beginning, with a limited audience, there's very little scope for monetization.
2. Gather the equipment you need
You're ready to become a digital creator, but you need to make sure you have the right equipment. Here's what you need:
A computer and internet connection: The single most important thing to any digital creator.
A camera: You can use your phone or an actual video camera. It doesn't matter if it's old and broken—just as long as the picture quality is good enough for people to see what your videos look like.
A microphone: If possible, get a good one that produces clear audio. Otherwise, just make sure it records audio in stereo sound (i.e., two channels).
3. Start creating content and build a portfolio from there
Start by creating content. It's the best way to get started as a digital creator, improve your skills, and build up your portfolio.
You should start small with a project that doesn't take too long—like a short video or blog post—and then dedicate yourself to finishing it in a quality manner. Once you've finished your first project, share it with anyone who will listen!
Then, once you've gotten some feedback from those people (either positive or negative), make another one! Next thing you know, your portfolio has a few projects in it and clients are knocking down on your door for their next digital creation needs!
If you are a digital creator with a creative inclination, you can even start building digital products to sell on sites like Creative Market, Etsy, Gumroad, etc.
Some of the examples of digital products you can create and sell are downloadable templates, ebooks, workbooks, printables, etc.
4. Start your own blog or contribute on an open platform
By creating your own WordPress Blog, you'll be able to write as many blog posts as you'd like. It's a great way to hone your writing skills, while gradually building up an audience – and eventually start making some money.
To do this, you need to buy your own domain name and install WordPress on your hosting account. It's a very simple process, and it won't cost you much.
If you are looking for an easy way to begin, start writing on Medium. It's an easy-to-use social blog publishing platform that allows users to start blogging immediately after registering.
With Medium, you don't have to deal with hosting, design issues, or building an audience.
5. Create a YouTube Channel
You can use YouTube to build an audience, share your expertise and grow your brand. If you're building an online business, it may be the best place for you to start.
You can create a YouTube channel with only one video and it doesn't cost anything!
One of the easiest ways is by linking up with another creator who already has an audience on YouTube and asking if they would be willing to promote some of your content as part of their own output – perhaps as part of a video series or interview – which gives both parties exposure within each other's networks.
Who knows what kind of opportunities might come out of this type of collaboration?
Also Read: YouTube Career: How to Become a YouTuber? (7 Steps, Skills, Tips, and More)
6. Get an apprenticeship
Apprenticeships are a great entry point into the content production industry.
With a marketing apprenticeship, you'll work with real business owners to fulfill their digital marketing needs and be involved with various forms of digital content creation.
For instance, Acadium offers apprentice programs in which you can learn from a business owner and be mentored. Working with mentors who are experts at what they do means they'll help guide and support you every step of the way!
It will take you 10 hours a week over three months to complete this apprenticeship, which will prepare you for paid digital creation positions afterward.
An apprenticeship might also lead to a full-time job, or at least enable you to gain experience and references for your resume.
Also Read: YouTube Content Creators Make Great Content Marketers
Take the first step!
You've got to take the first step. We all do, regardless of whether we're trying to get a job, start a business, or achieve any other goal in life.
And though this may seem obvious, it's easy to forget how many people never take that step—especially if they're afraid or unsure about what lies ahead. You'll never know if you can become a successful digital creator until you try!
An Acadium apprenticeship is a perfect way to dive in, head first, into the world of digital content creation, without needing any experience to get started.
Princess "Ji" Kang is a staff content writer at Acadium who unveils complicated topics about digital marketing. She's been wordsmithing for various brands and industries for nearly 6 years, after earning her Master's Degree in English Language and Literature along with her Digital Marketing certification. Her work has appeared on sites such as asksebby.com, wellpetcoach.com, Ready Home Singapore, ThePerfectMedia Group, and more. You can find her at her home mini-library reading, sipping hot coffee, or playing with her cats in her downtime.
Top Marketing Webinars for Digital Marketers in 2023

By attending these webinars, you will have the opportunity to learn from industry leaders, gain insider knowledge, and stay ahead of the competition.

9 Types of Digital Marketing to Choose From in 2023

Digital marketing is a dynamic field that offers diverse career opportunities. From search engine optimization to social media marketing, there are many specializations to explore. Whether you're just starting out or looking to switch careers, this guide will help you find your ideal digital marketing niche.

Subscribe to our newsletter for digital marketing resources
Become a better marketer with our digital marketing resources and tips shared weekly in your inbox.

Build your marketing career for free or find marketing talent on any budget — fully remote.