How to Become a TikTok Influencer? 7 Step Guide [+ Skills, Tips, & More]
Whether you're aspiring to be an influencer or just looking to make money on the platform, TikTok is the place to be. The app has taken the world by storm, and brands are taking note of the power that TikTok influencers wield. But how do you become a TikTok influencer? Well, it takes more than just making creative videos. Keep reading to find out more!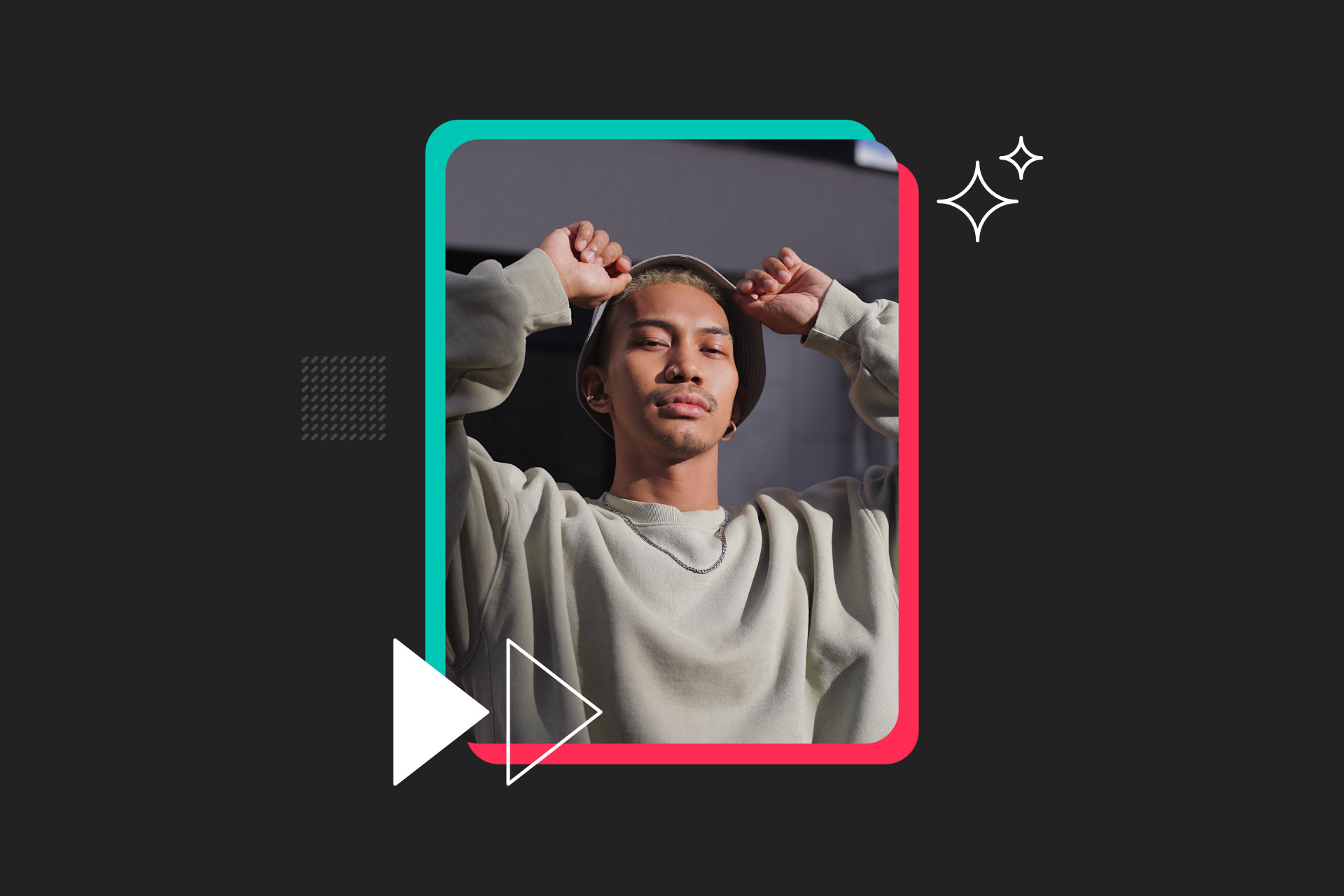 A lot of times, it's funny; at other times, it's cringy and outrageous. But it's definitely addicting!
With more than 1 billion active users per month, TikTok ranks as the fastest-growing social network in the world–with each user spending an average of 52 minutes on the app daily.
But as TikTok's popularity grows, many of you may wonder if you can monetize it and, more importantly, if it is possible to become a successful influencer on the platform.
Yes, absolutely!
In fact, while many popular influencers command a huge following, there aren't many of them in the US. Here's your chance to break through the crowd and make a mark on a platform that's quickly becoming popular in the country.
If you join now, you'll have the edge over people who haven't made an account yet. And because of that, you'll have more time to build your following.
The question is, how do you begin? Before we get into the steps, let's take a look at the basics–starting with the essential skills.
How to become a TikTok influencer: Essential skills you need
Successful social media influencers have a variety of core soft and technical skills that serve them in many aspects of their career. Regardless of the influencer's focus, these skills are essential to getting viewers, followers, and customers.
These are some of the skills that the most prominent influencers have.
1. An understanding of the TikTok Platform
Understanding how TikTok works is the first step to becoming an influencer.
While most people see TikTok primarily as an entertainment platform, many brands are leveraging its popularity for marketing such as for promotion, educational purposes, or brand awareness.
The TikTok algorithm, then, generates this content based on the audience's watching habits (e.g., the type of video content watched and shared).
The basic formula here is: The more a video is shared, the higher chance for it to get noticed by others and earn engagement.
Using the right technique that appeals to TikTok's algorithm, you can become an influencer and earn money through advertising and sponsorships (more about this in the later section).
2. Editing short-form videos
Video content surged in popularity in 2021. As the pandemic redefined how we consume content, editing and making videos have become essential to being a TikTok influencer today.
Editing short-form video content is pretty straightforward, especially with the help of video editing apps for short-form video content like:
Being a TikTok influencer requires a keen eye for trimming, transitions, hooks, and timing, regardless of your genre.
3. Creativity
People are always hungry for fresh, unique content. That's why you've got to keep your creativity at its peak. It is only by coming up with creative ideas that you will be able to engage your audience.
Posting educational content is a great place to start, especially when repurposing existing content. You can use it as a way to create content on a budget, whether it's a takeaway from your latest Instagram post or an answer to a comment.
Adding trending sounds to your TikTok tips can also spice up your account and make it more interesting. A great example of this is Dr. Julie Smith, a successful creator known as TikTok's psychologist.
4. Content Creation
TikTok influencers need to be great content creators, too. TikTok monetization involves producing quality visual content for brands. Making content also means knowing what, when, and how to post content.
Also Read: What is a Digital Creator? A Complete Guide to Successfully Become One
5. Communication and networking
Communication is a non-negotiable skill for TikTok influencers. Your success depends on communicating with your audience, building content from their feedback, and interacting with brands and PR agencies.
Apart from that, you'll also need to build relationships across your industry and network with other influencers.
6. SEO
Influencers often overlook the fact that SEO can make them stand out in the market. An effective SEO plan will increase your visibility and allow you to reach a wider audience.
The following are some quick tips for improving your SEO plan:
Conduct keyword research
Use search engine scanning, optimize your profiles on various platforms
Keep your audience in mind while also being a thought leader.
Also Read: How to Become an SEO Specialist: A Complete Guide + Tools
7. Copywriting skills
Your written content, whether it's a copy for a video or captions for a story, should be impactful to capture the attention of your audience.
Good copywriting skills are essential when delivering the right message to your audience and compelling your followers to take action.
Also Read: What is a Copywriter: Copywriter Career Path in 2022
8. Analytics
TikTok has its own Analytics feature that lets you track how many people viewed your videos, followed you, and other vital data that influences your profile's popularity.
By having good analytical skills and the ability to read insights, you'll be able to target the right audience and understand what type of content they're more interested in. And once you figure it out, try making more videos similar to the most viewed content.
How to become a TikTok influencer: A 7-step guide
1. Choose a niche
TikTok influencers start by finding and identifying their area of interest. Once you pick a domain you're passionate about, do more research and learn about this niche.
Doing this will make it easier for you to create and publish good content consistently. Additionally, having some experience in the relevant domain helps get more followers.
For starters, here are a few questions that most influencers, including YouTube content creators, used in narrowing down their focus:
Do you plan to create consistent content for your desired niche?
Does your domain consist of things you enjoy but don't get paid for?
Are you more concerned about resolving problems for others than you are about your own?
Do you have the ability or skills to solve problems for others?
If you answered yes to any of the following questions, then go ahead and pursue that niche!
If you're still having trouble deciding on a niche or domain, here are some of the most popular ones you can go for:
Beauty
Comedy
Dance
Fashion
Fitness
Food
Memes
Motherhood
Music
Travel
Whether they are dancers, comedians, philosophers, or comedians, TikTokers have one thing in common (and one thing you should keep in mind): their willingness to be authentic and unique.
2. Optimize your TikTok profile
The way you present yourself as an influencer must reflect who you are and what you offer. In this case, your name, profile picture, and brief bio are vital.
If you're stuck on the bio, check out some other influencers in your niche for inspiration. But keep your own style, don't copy others. Remember that you'll need to be unique to stand out.
It's also crucial to provide a clear call to action in your profile that prompts visitors to act immediately.
Play around with different phrases, such as:
Click the link below to learn more
DM me for questions!
Hit 'Follow' to get the latest tips
KLR Dubs ( @klrdubs ), for example, utilizes just three emojis cleverly: its videos feature voices dubbed over animal clips. The account illustrated this with a few animal emojis under a brief description explaining that all its audio content is original.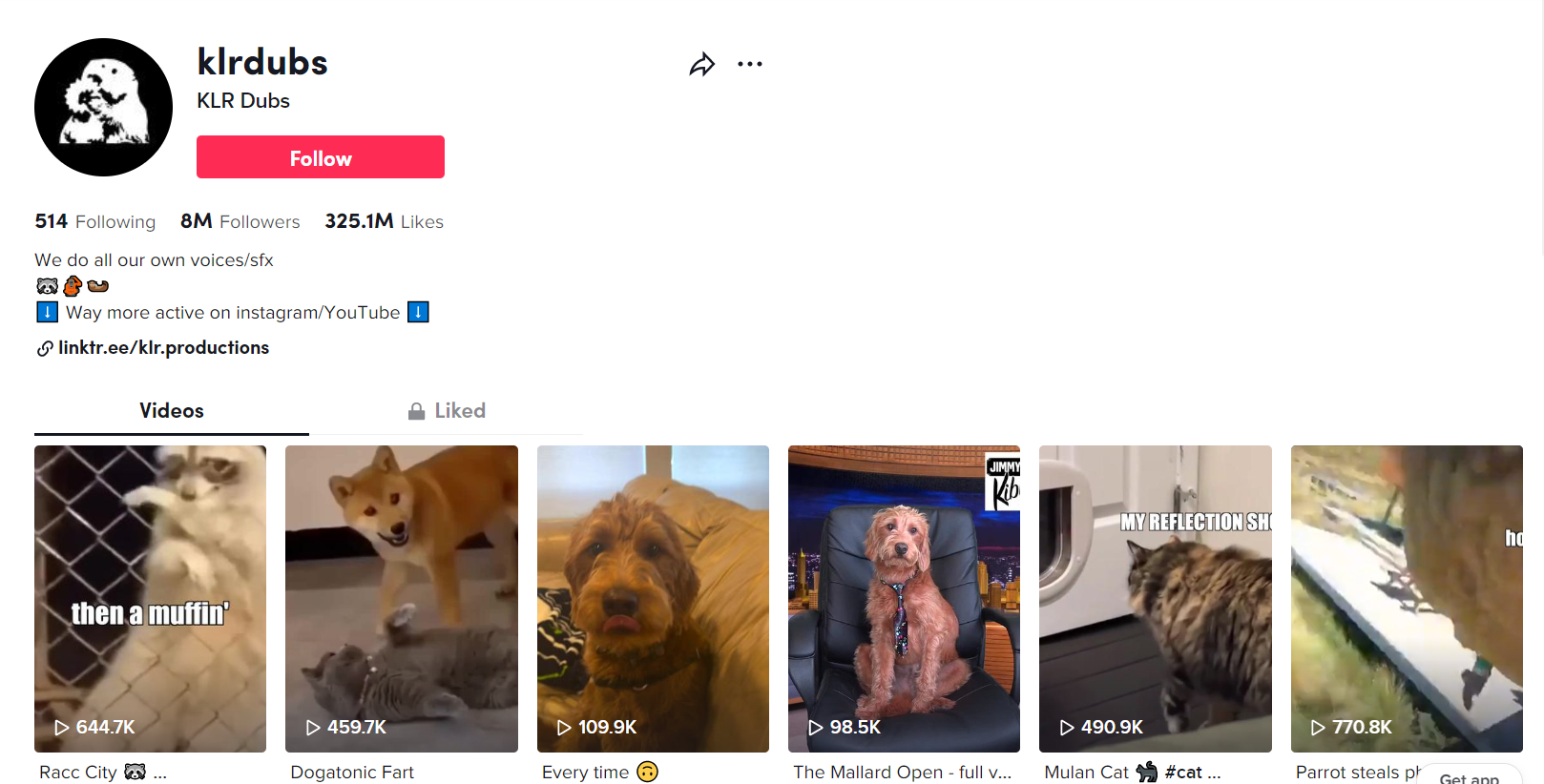 3. Understand your target audience
Who and why will people watch your video? What element of entertainment are you going to offer? You need to know the answers to these questions to make a unique video.
Here are some stats to help you begin your research:
TikTok's user population skews younger audiences. 62% are under 30 years old, while 32.5% are under 20. While this data could mean that TikTok's popularity is led by Gen Zs, this could be quickly changed.
Fortune magazine reported that millennials are joining the platform in large numbers, and social networks tend to be most popular with teens at their inception—so catering to TikTok's older users now could give you an advantage down the road.
Despite its popularity, TikTok's content varies widely. A strategy that works for one audience might not work for another. So posting content should be guided by your audience's interests.
TikTok doesn't have a one-size-fits-all approach, but understanding your audience will put you in a better position to figure out how to monetize it.
In order to find your target audience, TikTok advises its users to "stop thinking about 'who' your audience is and start thinking about 'what' interests them."
Find out what their interests are, and how they relate to your niche, by considering their pain points. In what way does your content solve a problem, and how does it relate to TikTok's categories and subcultures?
Answering these questions will give you a better idea of who your target audience is.
4. See what your competitors are doing.
Once you've decided on the audience you want to target; you should look for influencers who are targeting the same demographic.
Watch their videos. Find out what kind of content they're posting and how many likes and shares they're getting. It's always good to take inspiration from other people's work and improvise.
Find out what's missing from other influencers' content. Take note of the missing link and develop your content accordingly.
For example, if more and more people are doing lip-sync videos, you may want to find some quirky songs that are different from the rest.
5. Produce creative content
The same, staid videos you've seen elsewhere won't get you a foothold in the TikTok universe. Social media platforms like this are known for their creative content. Therefore, it's essential to create engaging videos. Take risks. Put yourself out there. And experiment.
Alternatively, you can produce disruptive content. Disruptive content engages users, maintains their attention, and connects them emotionally. People want to share, comment, and interact with it.
Here's an example from politivest:
Another pro tip is to consider leaning into emerging hashtags and trends rather than sticking with the same type of videos already gaining views and taking your videos in a new direction.
You can even use websites like TikTok Hashtag to help you out with this.
6. Collaborate with famous TikTok influencers
Shooting clips with other TikTok users can be profitable for both of you. To help you find other influencers to collaborate with, you need to understand that TikTokers are categorized based on their audience size.
A. Macro influencers with mega followings
Writing to sharks in the TikTok world might seem crazy, but what's the harm in that? Just try. Maybe some of them will see you as a future star. However, note that you need to produce quality content to be able to prove your worth before you go this route.
B. Influencers with the same following as you.
This is a win-win situation. By working together, you gain new subscribers from your collaborator's followers. Likewise, your collaborator's audience will grow from yours too. So you both make one more step toward being TikTok influencers.
C. TikTok influencers who have fewer subscribers than you do.
Once you develop a TikTok following, users with smaller audiences will approach you for collaborations. Don't blow it off; this can boost your popularity even more.
Also Read: Top Nine Canadian Influencers in Marketing to Follow Right Now
7. Promote your videos
Typically, influencers will have multiple social media accounts and use them to promote their TikTok videos. The method can work well if you have an Instagram following, a blog, a Twitter account, or a Facebook page.
How to become a TikTok influencer: Other Practical Tips
1. Consistency is key
Stay consistent with your video content and uploading times. Set a time for your video uploads. Having a plan in place will give your audience a sense of what to expect and when to expect it.
You can also take advantage of TikTok's own Video Scheduler to help you schedule your posts ten days in advance. Note that you can only use this feature on your desktop (you can't access this on your mobile, unfortunately).
Since you're just starting out on your TikTok influencer journey, try random stuff at first, experiment, and see what works. When a particular video gets the most likes and shares, create more similar content.
Followers will start liking you for specific types of video content, and they will check your profile for any new video updates.
If you want to spice things up, post something about your daily life, travel, etc., in between your regular posts. Your audience will appreciate it, breaking up the monotony of doing the same thing all the time. It will also give them a chance to know you on a personal level.
2. Engage your audience
After you post your content, you need to engage your audience. Here are some ways to do this:
Make sure to respond to your followers in the comments section and create a two-way conversation.
The TikTok platform also provides the option of commenting with a video and a text.
Hosting an "Ask Me Anything" event or announcing a contest or giveaway may also be a good idea.
3. Study Tiktok's trending videos
TikTok users can increase likes and shares by engaging in viral trends like challenges and jokes to get a piece of what everyone is watching on TikTok.
By doing so, your video will be seen by people who pay attention to what's trending, which, in return, will generate new audiences. Additionally, you can comment on a video that's already gone viral or respond to one that is already trending using commentary.
How to make money as a TikTok influencer: 10 Proven Ways
Currently, young women dominate TikTok's most successful accounts. Considering that one-third of its users are teens, this makes sense.
According to Forbes, TikTok's top seven high earners are:
1. Charli D'Amelio: $17.5 Million
2. Dixie D'Amelio: $10 Million
3. Addison Rae: $8.5 Million
4. Bella Poarch: $5 Million
5. Josh Richards: $5 Million
6. Kris Collins: $4.75 Million
7. Avani Gregg: $4.75 Million
All of these users made over one million dollars in a year. But how did they do it? Here are some ways TikTok's top earning users make money.
1. Join the TikTok Creator Fund program
The TikTok Creator Fund is a program established by TikTok to compensate eligible TikTokers for their videos.
The Creator Fund's revenue depends on the influencer's audience size, engagement quality, and how often they post.
There are a few criteria you'll need to meet before you can apply for the TikTok Creator Fund:
You have to be 18 or older.
You must be a resident of one of the following countries: the US, UK, France, Germany, Spain, or Italy.
You've got to have at least 10,000 followers.
You need 100,000 views in the last 30 days on your videos.
You must comply with the TikTok Community Guidelines and Terms of Service.
If you've already established a following, the Creator Fund is a great idea, but steady payments aren't always guaranteed.
If you're just starting out, there are tons of other ways to make money from TikTok. Even if you've joined the Creator Fund, you still need to have other revenue streams.
This leads us to…
2. Sell merch
For influencers with a large and engaged following, selling merchandise is an excellent opportunity to earn some extra income.
Using tools such as Shopify and Printful, you can create and sell products such as shirts, hats, coffee mugs, and phone cases. For this to work, however, you will need a large, engaged fan base.
3. Influencer marketing
If you've got a big following, companies might pay you to promote their products. The most popular way to make money on TikTok is through influencer marketing.
Sometimes brands will give you free stuff if you promote their products, or if you're lucky, a company might want you to be in their ad campaign. Collabs like this usually pay well.
4. Gifting
TikTok's live gifting feature is an excellent way for influencers to earn money by live streaming.
Fans can give gifts to their favorite influencers during live streams or videos. Diamonds will be given to influencers, who can then trade them for real money once they have been converted into coins. It takes two diamonds to make one coin.
If you want to know how much they make from this, the total amount of Diamonds collected by your favorite influencer is usually displayed after a stream. Go to an influencer's profile and click "Coins" to see how many coins they've earned.
5. Crowdfunding projects by collecting donations
Creators seeking real income can make real money through crowdfunding. To ensure a regular income stream, offering your fans a way to donate is a great way to repay your efforts.
Crowdfunding can take a lot of forms, depending on the type of funding you're looking for. If you're hoping to raise startup funding, you could hold live fundraising events and set up a funding goal.
The following crowdfunding sites can help you fund a specific project:
6. Consulting
Most likely, your influence comes from your expertise on the platform. By consulting other up-and-coming influencers, you can turn that expertise into cash.
A great example is Gerardo Perez (@thegerardoperez ). Founder of Marketing &, Gerardo specializes in creative advertising on TikTok and Facebook, brand design and strategy, social media, and e-Commerce consulting.
Some of his content includes a look at the reasons behind the success of some of the most recent marketing campaigns.
Let's take his influencer marketing 101 video on McDonald's and Travis Scott's partnership as an example.
Through this new partnership, Gerardo explains how influencers drive purchase decisions and what success looks like.
Plus, he's got some tips, tools, and resources that will help any marketer launch stellar campaigns on time and on budget.
7. Events and brand partnerships
As soon as you've established yourself as an influencer, you should look for brand collaborations. Start by expressing your interest in collaborating with brands in order to attract possible clients. You can also reach out to relevant brands and make connections.
You can also use influencer platforms to connect brands and influencers. Networking with brands can help you position yourself as an influencer.
How do you work with brands effectively? You can approach a brand for collaboration by following these tips:
Identify the brands in your niche you would like to work with.
Organize your list by reducing the number of brands and filtering the brands that are similar to yours.
Find out who handles influencer marketing for each brand and get their contact information.
Make a pitch to the brands in your email.
8. Accounts for Grow and Sell
You can also make money on TikTok by growing and selling niche accounts. Niche accounts focus on specific industries and carry high-quality content. A reasonable number of followers and level of engagement are also required for these accounts. These characteristics make niche accounts easy to sell and earn.
9. Sponsored content
This is similar to influencer marketing but involves TikTok content for a specific brand.
Influencers can sponsor posts with product recommendations of specific brands. As a result, these brands pay you to promote their products online.
A sponsored post may take the following forms:
A single or multiple product descriptions
Feature posts and tags
Informational posts
Product review
With more followers, you can make more profit from these posts.
10. Launch your own influencer agency
An influencer agency helps brands find the best influencers for their niche. Thus, you can plan, execute, and manage influencer campaigns for brands to earn money.
Also Read: How to Start Your Own Social Media Marketing Agency
How to become a TikTok influencer: FAQs
1. What are the best ways to get followers on TikTok?
The most effective way to succeed on TikTok is to build an extensive following (i.e. found their target audience and those who have benefited from their content. Having a larger audience will increase brand awareness, boost sales, and allow you to build lasting relationships with your target market.
You can grow your TikTok followers in several ways. These include:
Taking advantage of TikTok's trends
Keeping your followers informed
Putting hashtags to good use
Promoting your videos across multiple platforms
Timing is everything when it comes to posting on TikTok
Taking part in TikTok challenges and creating one on your own
Get in touch with other TikTok influencers
Consider using user-generated content (UGC)
Use TikTok growth tools
Don't forget to include a call to action
2. How many followers do you need to become an influencer on TikTok?
There's no set number defining an "influencer" on TikTok. In fact, many people try to become micro-influencers, which have a very targeted audience and a narrow reach. That means you don't have to hit a specific metric before you get your "Certified Influencer" badge.
A certain number of followers, however, can provide you with additional benefits that will help you in your influencer career.
For example, live streaming on the platform is allowed only if you have at least 1000 followers. Live streaming helps you engage your followers in a more intimate way, which is essential to being a successful influencer.
As soon as you reach 1000 followers, you're definitely on the right track to becoming a TikTok influencer. However, many people believe that an authentic TikTok influencer who met the minimum number of followers is one who gets paid.
3. How much can you make from TikTok?
TikTok Influencers with over 100,000 followers earn between $200 and $20,000 per sponsored post. You can earn more or less from TikTok depending on the product, engagement rate, and the number of followers you have.
Become a TikTok influencer
TikTok allows users who share their passion or interest in one specific topic area to come together by providing more engaging content than other platforms do.
A TikTok influencer knows what he or she is good at. They use their own strengths, passions, and hobbies to help others. Be sure to follow TikTok's guidelines for content and posting so you don't lose your account.
Also, take note of the tips and strategies we've mentioned in this guide. Taking advantage of them will enable you to elevate your TikTok game and put you on the right track to monetizing your account.
If you're ready to take your TikTok strategy to the next level, gain a deeper understanding of influencer marketing, and learn from a pro, then consider taking a marketing apprenticeship program.
Taking on an apprenticeship can help you strengthen your skills while gaining real-life experience working with a brand and a niche expert, thus, enhancing your influencer career. A program like this will definitely help you on your influencer journey.
If you don't know where to find one, Acadium can help.
Acadium has an innovative marketing apprenticeship program that will train your skills with today's latest marketing trends. This is a part-time apprenticeship program that is completely free, and 100% remote.
Acadium Apprenticeships
Become an apprentice for influencer marketing
Work with a mentor for 3 months and gain the influencer marketing work experience you need to get hired. 100% remote and always free.
You can sign up for free online courses, and work on real-life project tasks with other participants around the world while learning how the best practices of becoming a TikTok influencer differ from the path of a YouTuber or an Instagram influencer – all this before graduating into becoming full-time TikTok influencer.
In addition, you'll be connected to business owners who are looking for an influencer, like YOU, to promote their products or services. Not only will you get hands-on experience through this opportunity, but you'll also have a mentor to guide you throughout your apprenticeship.
This is an invaluable experience that will help you transition into the working world and build your professional network.
So if you're looking for a way to stand out from the crowd and establish yourself as an influencer, then become a marketing apprentice today!
Princess "Ji" Kang is a staff content writer at Acadium who unveils complicated topics about digital marketing. She's been wordsmithing for various brands and industries for nearly 6 years, after earning her Master's Degree in English Language and Literature along with her Digital Marketing certification. Her work has appeared on sites such as asksebby.com, wellpetcoach.com, Ready Home Singapore, ThePerfectMedia Group, and more. You can find her at her home mini-library reading, sipping hot coffee, or playing with her cats in her downtime.
Top Marketing Webinars for Digital Marketers in 2023

By attending these webinars, you will have the opportunity to learn from industry leaders, gain insider knowledge, and stay ahead of the competition.

9 Types of Digital Marketing to Choose From in 2023

Digital marketing is a dynamic field that offers diverse career opportunities. From search engine optimization to social media marketing, there are many specializations to explore. Whether you're just starting out or looking to switch careers, this guide will help you find your ideal digital marketing niche.

Subscribe to our newsletter for digital marketing resources
Become a better marketer with our digital marketing resources and tips shared weekly in your inbox.

Build your marketing career for free or find marketing talent on any budget — fully remote.