Top 15 Marketing Internship Interview Questions and Answers [+ Tips]
If you're looking for a marketing internship, it's important to be prepared for the interview process. To help you out, we've put together a list of the top 15 questions asked during marketing internship interviews, along with some tips on how to answer them.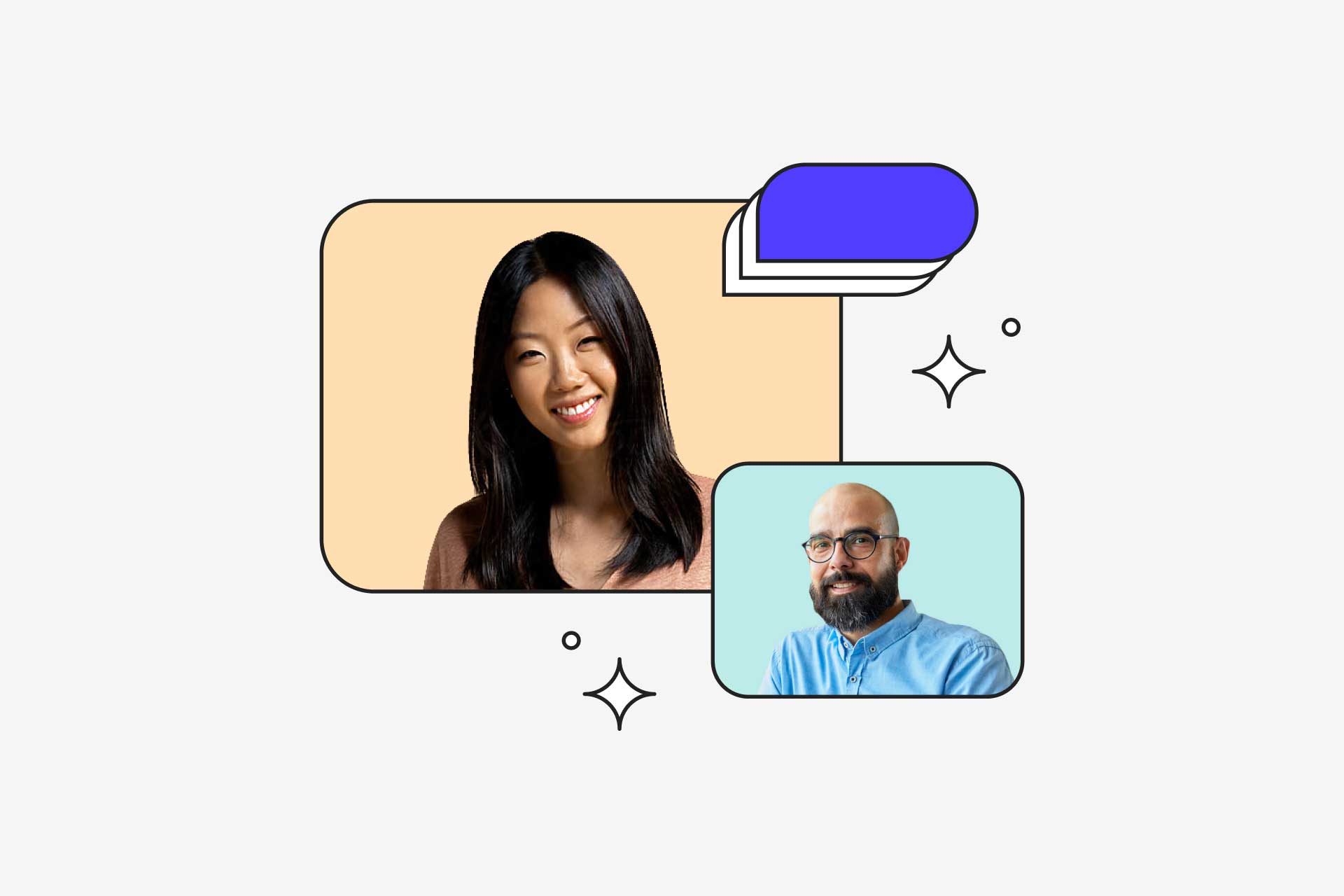 It's important to know that marketing internship interview questions do not follow a standard format. Each company and interviewer will have a different interview process. Employers may test your marketing knowledge and technical skills to determine whether you are a good fit.
Additionally, you may be asked behavioral questions that will reveal your work habits, experience, and personality.
As part of your marketing internship interview preparation, you should:
Understand the job's role and requirements
Describe the value you can bring as a marketing intern
Research the company's brand and marketing strategies
Think of ways to improve the company's current marketing campaigns
And of course, you'll need to prepare. In this blog post, we have compiled 15 common marketing interview questions and answers you can use as a guide so you can practice and be ready for any internship interview questions.
Acadium Apprenticeships
Gain marketing experience
Work with a mentor for 3 months and gain the digital marketing work experience you need to get hired. 100% remote and always free.
General marketing internship interview questions
1. Why did you decide to become a marketer?
What the interviewer wants to know:
The purpose of this question is to allow interviewers to discover your industry passions and how you got interested in marketing.
How to answer this question:
Briefly describe what inspired you to become a marketer, such as:
Your favorite subjects or activities in school
Activities that exposed you to marketing
Certifications you've earned
Work history related to marketing
A mentor or an industry figure who inspires you
Sample response:
"My passion for marketing began while I was in school since I have always had a creative side. I started making promotional materials and websites as a hobby. Then, I took some marketing courses that helped me develop my marketing skills. Reading up on famous marketers like Jay Baer, Oli Gardner, and Gary Vaynerchuk has also taught me a lot about marketing."
Also Read: How to Answer "What Interests You About This Position?" [+ Examples & Tips]
2. What motivates you to work for us?
What the interviewer wants to know:
The purpose of this question is severalfold:
Analyzes your cultural fit
Checks to see if you've done your research
Engages you in a conversation about your industry interests
Tests your motivation for joining this company over others
If you wrote a great cover letter, you shouldn't have any trouble answering, but just in case, you may still find the following tips useful.
How to answer this question:
Make a list of what makes this company unique—don't be afraid to give some compliments!
Discuss how your values and/or goals align with the company's.
Sample response:
"Since my junior year, I have been interested in joining an internship program at your company. You are regarded as one of the leading architecture firms in California, and none of the projects you have undertaken have impressed me more than the SkyGreen building; it has opened my eyes to so many ideas for designing cost-efficient buildings. Also, the focus you place on using sustainable alternatives to traditional materials reflects my long-term goal of specializing in eco-friendly designs."
3. What do you hope to learn in this internship?
What the interviewer wants to know:
Employers need to know you aren't just doing it for the credits or to pad your resume.
How to answer this question:
Show you're passionate about your future job.
Share a few skills you hope to develop during the internship.
Put your attention on the things you can learn.
Again, give a compliment or two.
Sample response:
"My goal is to become a marketing analyst in the SAAS niche, so I'm eager to see how your firm conducts its research and beats the competition at every turn. I'd love to test my Salesforce skills and learn from top experts in the field about predictive analysis. Aside from developing my presentation skills and learning STATA, I also hope to identify areas where I should focus my studies in my final year."
4. How would you describe your favorite marketing campaign?
What the interviewer wants to know:
This basically means, "How would you contribute specifically to our team?" By asking you something to describe something you are passionate about and familiar with, your potential new employer can determine if your skills and enthusiasm can transfer well to the open position.
You don't want them to know that you don't have a favorite, or that you can't think of one. Alternatively, you might say that everything you've done is your favorite.
How to answer this question:
Try researching marketing campaigns of companies you're interested in, or simply search for some of the most successful campaigns of the past few years.
Identify the brand's positioning or mission statement and keep data points handy that demonstrate why the campaign was successful.
Finally, show excitement! This is your favorite campaign, so show it!
Sample response:
"The 'Wrapped' campaign by Spotify really stood out to me. Spotify's "Wrapped" campaign unveiled the best songs, albums, and podcasts of the year, both globally and for each individual listener. At the time, Spotify took over Penn Station in NYC with hilarious listener statistics! As a part of Spotify's social media strategy, these stats were also shared using fun, Spotify-branded animations. Overall, the campaign was a huge hit. Given Spotify's positioning around having the right music at your fingertips, I think Spotify's first objective was demonstrating its data-driven algorithms that find the right songs for every individual. Spotify's sharing of users' stats demonstrates the wide variety of content on the platform and the app's deep integration into users' lives. Other objectives included customer acquisition and retention. Spotify's global statistics showcase the huge amount of content available on the platform, while its customized statistics entice new users to use the platform. Longer term, I think the campaign increases retention because Spotify users are delighted by the surprise feature, while also being reminded of how much Spotify is part of their daily lives."
5. How do you envision yourself five years from now?
What the interviewer wants to know:
This question gets asked for a variety of reasons.
To start, they want to see if your goals match the job you're interviewing for. When the two don't match, interviewers may doubt your motivation to develop in the role or your willingness to stay around long enough in the program to make a difference.\
How to answer this question:
Clarify your career goals.
Establish a connection between the job description and your goals.
If you want to achieve your career goals, ask yourself whether the company can help you do that.
Sample response:
"It's important for me to keep growing my skills and add value to the company in new ways. One of the things that attracted me to this position was the opportunity for professional growth and development. So, in five years' time, I want to master my skills as a digital marketer to take on managerial responsibilities."
Marketing internship interview questions on background and experience
1. How would you describe your marketing skills?
What the interviewer wants to know:
In the interview process, the interviewer weighs your skills carefully to decide whether you're the right one for the job.
How to answer this question:
Review the job description before answering this question. Think about the marketing skills you'll need for the job you're interviewing for. Don't just list your skills like you're grocery shopping. Instead, use this opportunity to show off how you use each skill.
Add in your technical skills in marketing, which can be related to your classes, and your work skills, like communication, collaboration, and ambition.
Sample response:
"I am proficient in search engine optimization. This includes using SEO tools, conducting keyword research, understanding search intent, ranking a website, on-page and technical SEO, and so on. I am also an excellent communicator. I am capable of presenting my ideas in person, on paper, and on social media. I have worked hard to enhance these skills because I believe the value of a great idea is lost if it cannot be presented in an understandable manner. As a team player, I am dedicated to my work. It is not acceptable in the workplace to have a "me first" attitude, and we all need to work together to achieve our goals. After completing my work, I will ask my team members if there is anything I can do to assist them."
Also Read: How to Become an SEO Specialist: A Complete Guide + Tools
2. If you were given the chance to launch a campaign, how would you do it?
What the interviewer wants to know:
The interviewer wants to figure out what you already know about launching a campaign and where you can improve.
How to answer this question:
Here's your chance to show off your leadership skills. Demonstrate how you planned, tested, and launched a successful campaign. These can be things like high-level strategy or little details that made the launch go smoothly. Here's what the entire process should look like:
Mention your target audience.
Establish a strategy for reaching the target audience.
Get a better understanding of the product and the problems it can solve.
Understand how the buying process works.
Make a strategic plan.
Create a project timeline.
Set up a product launch team.
Sample response:
"I would begin by identifying and understanding the target audience and their buying process before choosing the appropriate marketing strategies to reach them. I also assess the product thoroughly and the solutions it offers to the target audience. In this way, I am able to devise a strategy that will attract and engage the intended buyers, obtain feedback from them, and assess the risks involved. Following the development of an effective campaign plan, I choose the most suitable launch date and determine a clear timeline for campaign deadlines. I then evaluate the resources and personnel required for a successful launch and form a project team consisting of department leaders who meet regularly to discuss progress, identify challenges, and develop solutions to any problems that may arise. Also, I ask those on the team for their feedback on the plan in order to determine whether there are any areas that can be improved or streamlined."
3. What social media channels are you familiar with?
What the interviewer wants to know:
How to answer this question:
It's a good idea to mention your familiarity with niche platforms. Demonstrating your knowledge of social media and how it impacts your work shows that you can use this tool to engage your audience and promote a brand.
Following up with a good question about social media can also give the interviewer a chance to engage in a discussion.
Sample responses:
"I am familiar with the use of social media in my personal life and have set up a professional profile on the internet. I have experience with social media advertising and its functionality. What social media platforms does your organization use?"
Also Read: Top 20 Social Media Interview Questions [+ Sample Answers]
4. What will you do if a customer leaves a negative review on a website or online platform?
What the interviewer wants to know:
To learn more about your customer service experience, an interviewer may ask you how you handle difficult customers. They can gain a better understanding of your approach to resolving customer complaints and your knowledge of customer service skills and conflict resolution strategies by listening to your answers. Specifically, these questions assess your ability to solve problems, interact with others, and work under pressure.
Your answer may reveal how you respond to angry customers and how you plan to resolve the situation to avoid losing them. The interviewer may also use your response to gauge how enthusiastic you are about the position and delivering excellent customer service.
How to answer this question:
Answer the question using the STAR interview method. It helps you organize your information to answer questions, and it is useful for behavioral and situational interview questions.
Make sure your answer highlights your strengths and essential customer service skills. Provide details on how you used your problem-solving and decision-making skills to resolve the issue.
Sample response:
"The first thing I'd do if a customer demanded a refund without a receipt is to apologize for their frustration. If possible, I'll ask if they paid with a credit card so I can look it up in the system. If they didn't have the receipt or we couldn't find it, I'd explain our return policy to them, and I'd offer to help them if they had any questions, such as exchanging the item for something new or returning it for store credit. My explanation will be firm, and If the customer refused to understand, I'd escalate the matter. As a student worker at a body care store, I dealt with a lot of situations like this because customers sometimes received gifts they didn't like or didn't use. Many customers asked for cash refunds without receipts, but that's against our policy. I would explain our store credit and exchange policies and help them find products they liked to get the most out of their returns. Customers often felt satisfied, and they spent more money because they found new things they liked!"
5. In what ways do you stay on top of general marketing knowledge and trends?
What the interviewer wants to know:
Interviewers want to know if you're self-motivated and driven enough to keep your skills and knowledge up-to-date.
How to answer this question:
Focus on the most important trends and keep them brief.
Share your sources and explain how you learned about this trend.
Connect how these trends will help you in your role.
Sample response:
"To keep up-to-date with marketing knowledge and trends, I follow blogs on top learning academies. To stay informed about what is happening in the industry, I stay active on social media platforms like LinkedIn as well as other social media platforms to follow leaders in the marketing field such as Ryan Deiss, Neil Patel, and Rand Fishkin to understand what the audience wants and how they are reacting. Also, I engage with people with a marketing background, which allows me to stay up-to-date with marketing knowledge and trends."
In-depth marketing internship interview questions
1. What management style do you prefer?
What the interviewer wants to know:
Interviewers are trying to determine if you are a good fit for their organization based on your management style. A good cultural fit is also important; if you can see yourself performing well in the position, the interviewer is more likely to see it too.
How to answer this question:
Identify your management style.
Share a story about a time when you used a certain management style.
Sample response:
"Marketing is a very creative profession with constantly changing trends and tools. I would prefer a management style that is not overly authoritative, but rather one that fosters a culture of hearing, sharing, and discussing ideas. I would be open to working in an environment where management does not have a deeply rooted hierarchical structure but does follow a hierarchical decision-making process."
2. In your role as a marketing intern, what goals do you hope to achieve?
What the interviewer wants to know:
To distinguish you from other entry-level or internship candidates, a prospective employer may ask what you hope to gain from the position. By answering these questions, you can determine whether you and the company are a good fit for on-the-job training.
As you discuss your hopes for the position, the interviewer will also assess your poise and confidence in the role.
How to answer this question:
Describe what motivates you
Share what attracted you to the job in the first place.
Explain how the position aligns with your career goals
Provide realistic and grounded answers
Sample response:
"When I was considering where to apply for an internship, I contacted former interns through the guidance department of my college. Among the five interns I met, they had all positive things to say about their experiences at your company and felt that the staff who trained them provided the most valuable professional development experience. My hope is to receive the same kind of training and gain a better understanding of this field as well."
3. Describe a time when you learned something quickly.
What the interviewer wants to know:
This is to see if you're committed to growing professionally. You might need to adjust to a new work environment and learn how to handle your job responsibilities if you get the job.
Knowing you've acquired new skills in a short timeframe may help them think you'll be able to make a positive impact right away. Your answer to the question can also tell your employer what kind of learning style you have, which helps them how to train you well.
How to answer this question:
Describe your learning style
Think about a learning experience related to your internship.
Explain how you applied what you learned to your work.
Your last part should describe how your learning experience made a difference or drove results.
Sample response:
"When I worked as a freelance social media manager for a nonprofit organization, we had a holiday giveaway. During the event, our photographer fell ill, so I had to learn how to use his professional camera in order to capture and edit high-quality photographs. Since my client requested live updates on social media, I had one hour to take pictures before the event ended. To understand what the buttons meant, I watched a video tutorial on YouTube. After that, I took a number of trial shots from various angles. Within 15 minutes, I felt confident in my abilities, so I returned to the event and began working. Upon publishing the photos, our social media engagement tripled."
4. What's your strategy for overcoming challenges?
What the interviewer wants to know:
Every trainee, intern, or even full-time employee faces challenges. The purpose of this question is to gauge your approach to this situation. Depending on the office culture, certain approaches may be more appropriate than others.
How to answer this question:
When answering this question, state the problem you encountered without blaming anyone. The purpose of this question is to assess your ability to adapt. No matter how small or large the challenge, you must explain how you are going to overcome it and improve the situation. If possible, it should involve experiences of a team struggle rather than an individual challenge.
Sample response:
"When I was a freelancer, a long-term client was considering taking their business to a competitor. By meeting with the customer, I was able to change the way we handled the account on a day-to-day basis in order to keep the business. In this setting, I learned the importance of maintaining client relations and operations throughout the course of the relationship, not just after issues arise, but for the duration of the relationship as well. The result of this is that my client's account management team has adopted my check-in and management processes and has seen an improvement in their accounts as well."
5. Why should we consider you for this position over other candidates?
What the interviewer wants to know:
Most candidates who reach this stage are qualified for the job. So qualifications aren't enough to set you apart from other candidates. That's the whole point of the interview – to find out if you're the one.
How to answer this question:
Here is your chance to showcase your unique skills, traits, and experience. When mentioning them to the interviewer, focus on how special skills and traits can benefit the company.
Here are a few examples of abilities and traits that will help you stand out from the crowd:
Self-motivation
Presentation skills
Exceptional creativity
Having leadership qualities
Ability to negotiate and persuade
Being able to remain calm and focused under pressure
Also, if you're an expert in a particular type of marketing work, mention it. These are some examples:
Sample response:
"I have great presentation skills and am an exceptional storyteller who can stay composed in front of a large crowd. Aside from that, I am highly experienced and knowledgeable about web analytics. As someone with knowledge in popular web analytics tools, such as Google Analytics, SEMRush, and Woopra, I can assist your company in monitoring and evaluating web traffic and marketing metrics, devising marketing strategies, and identifying data trends."
Questions to ask the interviewer during your marketing internship interview
Most employers will ask you if you have any questions at the end of your interview. In an interview, it's important to ask questions as it shows you're interested in learning more about the company/role, demonstrates good communication skills, and helps you determine if the role is right for you. Here are some good marketing interview questions you should ask:
How do you evaluate your interns?
What is your onboarding process like?
What's the next step in the application process?
What's the day-to-day work like for this internship?
In the first three months, what do you want me to accomplish?
What are the most rewarding/challenging aspects of this job?
In your opinion, how would you describe the company's culture?
In your opinion, what are some key qualities of a successful intern?
Which marketing channels or strategies do you find the most successful?
When it comes to reaching and engaging your customers, what are your unique challenges?
How's the company doing right now? What's the biggest opportunity/challenge?
Once this role is successfully completed, will there be opportunities for full-time employment?
Also Read: 10 Engaging Questions to Ask in an Internship Interview +[What Not to Ask]
How to ace your marketing internship interview
Before
Prepare, prepare, prepare!
Preparation is key to combating anxiety during an interview. To get started, refresh your mind on:
The internship. What is the internship about? Take a second look at the description, the training program, and the requirements.
The company. What is this company again? Sure, the company may have placed who they are in the job description but you should also do your research more such as understanding their challenges, what they're currently up to, the status of their online presence, and so on–anything that can help you during the internship interview.
Your goals. What is your purpose for doing the internship? Do you want to get credit, cash, or both? Are you aware of the requirements the internship must meet for your own situation? Before applying, ensure your goals are aligned with the internship.
Also Read: How to Prepare for a Job Interview
2. Research the company and the internship
Besides the ones above, take some time to research the company and internship more thoroughly.
Make sure you digest not only the written materials but also the company's overall brand, look, feel, and tone. Do you think it would be a good place to work? Why?
Write down what you liked or what piqued your curiosity, as well as what confused you. Make a list of a few meaningful questions regarding the internship and the company. Certainly, you had some confusion as you read things.
3. Confirm the internship details
What time and where is your interview? Is it a face-to-face meeting, a phone call, or a video call? Do you know what time you have to be ready? Is it on the phone? If so, do you know who the call is from?
Before the interview is scheduled, confirm the details with your interviewer, preferably a day in advance.
You don't want to assume something incorrectly about the interview date, time, location, or what you should have prepared when you arrive.
A quick reference copy of your resume is always a smart move when you are attending a face-to-face interview.
During
1. Be there early
It's great to be five minutes early. An annoying thing is being 45 minutes early.
It's nice to arrive early enough that the interviewer knows you're there, but don't expect to see anyone too early if you arrive too early.
It's the same with a phone or video call interview. If you're calling in, do not call more than 5 minutes before the scheduled time, and ensure that the video call login details are working before the call begins.
2. Look and sound the part
Almost any situation calls for modest jewelry, a nice blouse, a pressed shirt, a dress or slacks, and nice shoes that fit comfortably. Depending on the industry, you will also need to tailor your personal style. It is best to avoid wearing jeans, sneakers, or other casual items unless they are specifically required by the job.
For example, high fashion requires a stylish look, while finance and law require a business-like vibe. Tech startups fall somewhere in the middle.
If you're unsure about what to wear, ask some friends for advice.
3. Ask questions
Besides the questions we mentioned above, most interviewers will also give you the chance to ask about the internship and the company.
You can ask a question in the following ways:
You're encouraging the interviewer to make the interview into a two-way communication. For example, you could say, "I learned that you have a LinkedIn, Instagram, and Facebook page. Are you also planning on expanding to other social media platforms?"
You're doing your own fact-finding and trying to get clarity. For example, you might say, "It says on your website that you make turbine engines and other aeronautical components, but I wasn't sure how the internship would relate to these divisions within your company. Can you clarify?"
After
1. Say thank you
Your job interview just ended. You answered all the interview questions well and really hit it off with the interviewer. Congratulations! You just nailed your marketing job interview.
That's great, but you're not finished yet. Regardless of whether you think it's fair or unfair, hiring managers actually pay close attention to your thank you email following an interview.
Our advice? Write a terrific interview thank you note as soon as humanly possible. You can easily do it with this customizable template.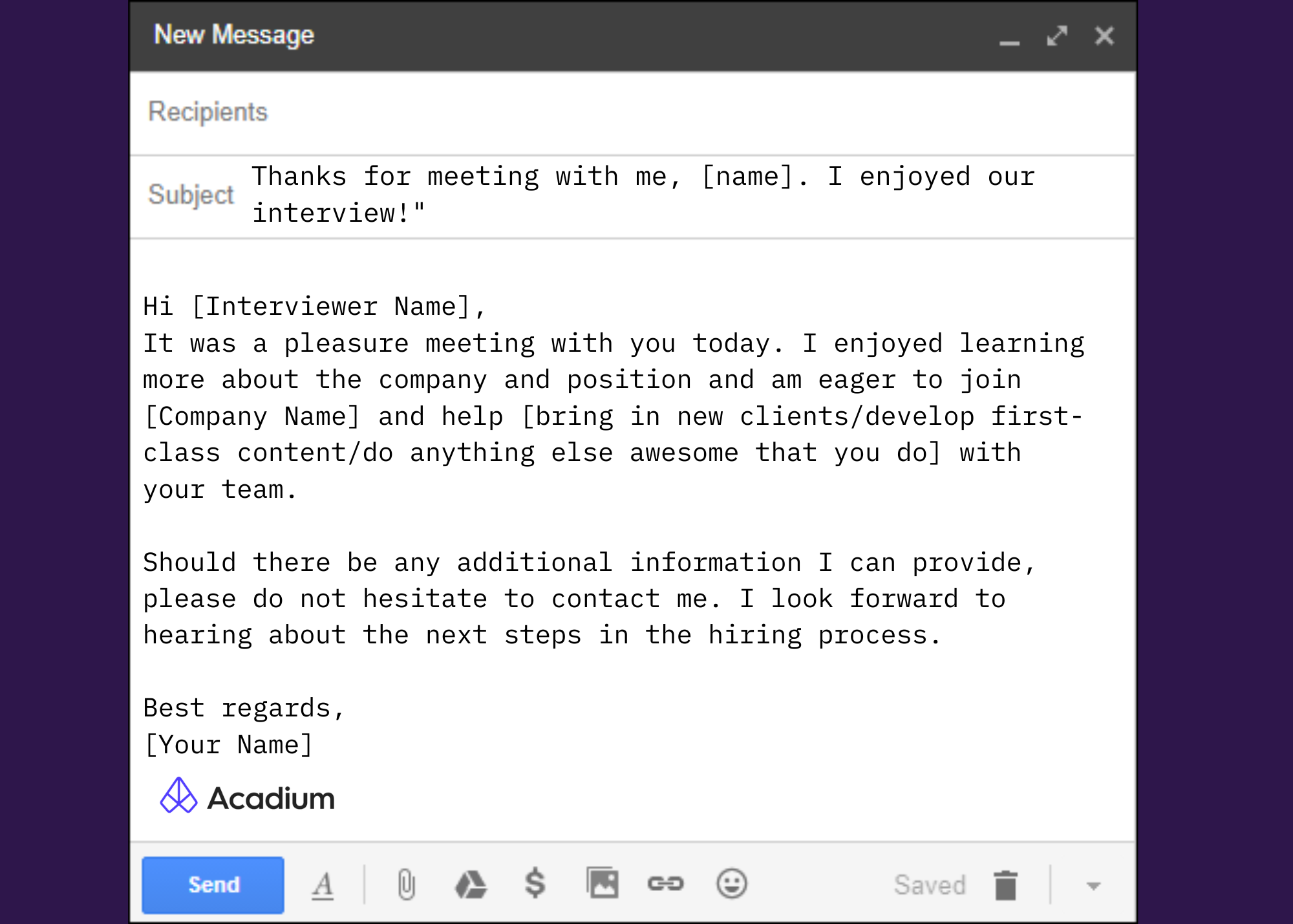 2. Follow-up
If the interviewer does not notify you automatically, ask about the selection timeline and when it is planned to notify candidates. Generally, this will take between 1 and 4 weeks, depending on when your internship interview falls.
During that time, you can send a follow-up email. You can edit this sample follow-up message to suit your needs.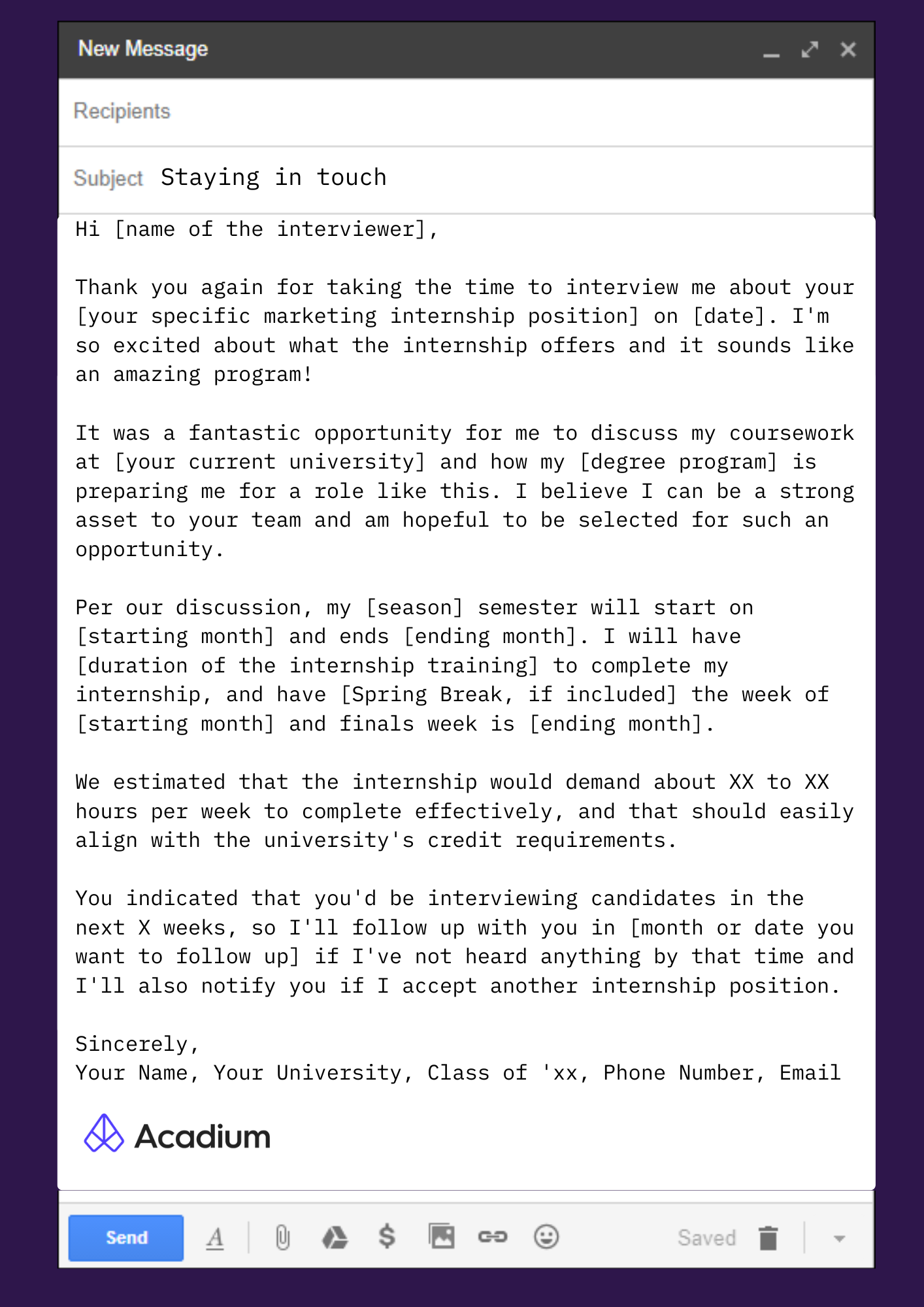 How to get a marketing internship with no experience?
The motivation behind your search for marketing internships may be to get a marketing job. However, what happens if you do not meet the internship requirements? The following are just a few of the requirements to get hired for internships:
Currently completing a bachelor's degree
At least a 3.0 cumulative GPA
Enrolled in a school that has a co-op agreement with the company
Experience in co-ops and/or internships, such as completed projects related to the internship (including personal projects or projects for family/friends).
Knowledgeable about the company's industry
If you don't meet these qualifications, Acadium is a great place to learn marketing skills and gain real-world marketing experience to make yourself more employable.
Acadium apprenticeship is unpaid but has priceless benefits, including:
For 3 months, you'll work for 10 hours per week. You can easily balance an apprenticeship with full-time study or work. If you cannot do a full-time internship, this is a great option.
It provides you with practical, hands-on experience. Acadium's apprenticeship program allows you to work on real-world marketing projects instead of doing menial tasks offered in internships. Having these on your resume, you'll be able to stand out for employers!
Mentors guide you as you learn. As a reward for your work, your mentor gives you guidance, training, and feedback for 1-2 hours per week. Often, this relationship goes beyond the apprenticeship. It is possible that your mentor will hire you or introduce you to other potential employers. In fact, our survey of Acadium mentors revealed that 55% of them hired their best apprentices.
Check out this video to see what it's like to get accepted into an apprenticeship without any experience:
Princess "Ji" Kang is a staff content writer at Acadium who unveils complicated topics about digital marketing. She's been wordsmithing for various brands and industries for nearly 6 years, after earning her Master's Degree in English Language and Literature along with her Digital Marketing certification. Her work has appeared on sites such as asksebby.com, wellpetcoach.com, Ready Home Singapore, ThePerfectMedia Group, and more. You can find her at her home mini-library reading, sipping hot coffee, or playing with her cats in her downtime.
Top Marketing Webinars for Digital Marketers in 2023

By attending these webinars, you will have the opportunity to learn from industry leaders, gain insider knowledge, and stay ahead of the competition.

9 Types of Digital Marketing to Choose From in 2023

Digital marketing is a dynamic field that offers diverse career opportunities. From search engine optimization to social media marketing, there are many specializations to explore. Whether you're just starting out or looking to switch careers, this guide will help you find your ideal digital marketing niche.

Subscribe to our newsletter for digital marketing resources
Become a better marketer with our digital marketing resources and tips shared weekly in your inbox.

Build your marketing career for free or find marketing talent on any budget — fully remote.