Top 25 Content Marketing Tools Every Content Marketer Should Know About
The right tools can certainly improve the way you conduct different processes, but they can't replace a solid business strategy. There are plenty of content marketing tools available on the market, and we've listed the best ones here.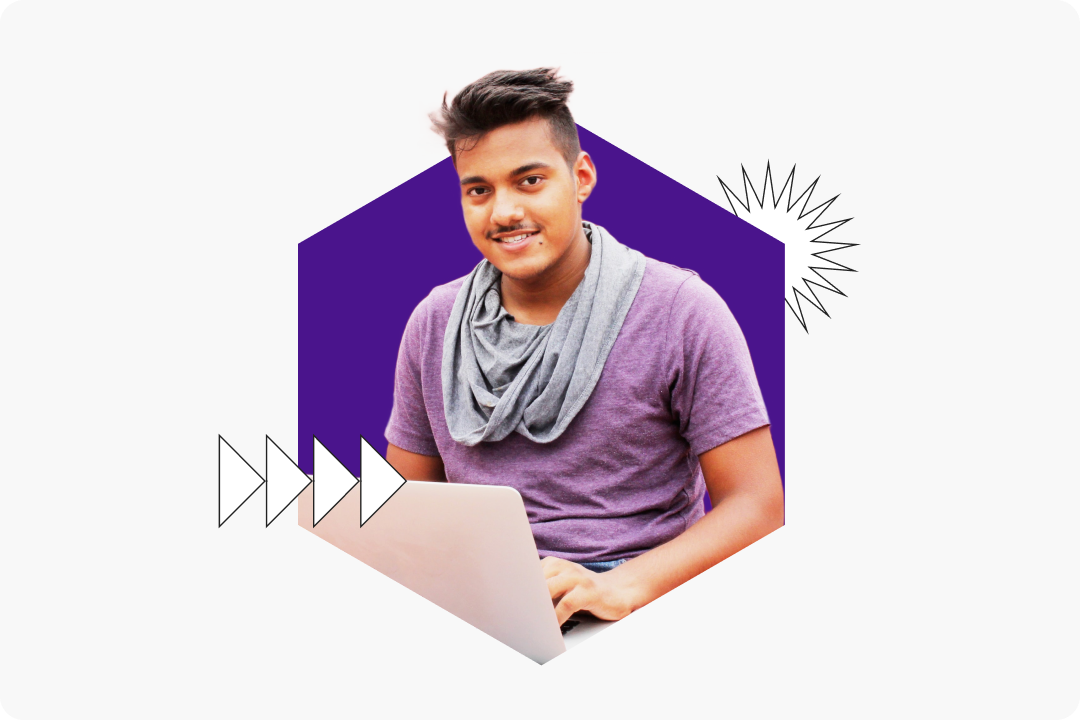 Marketing is all about persuasion. Your content's quality and quantity play a major role in that. That's why 90% of digital marketers use content to convert clients.
However, this is not a walk in the park! The pressure of producing content every day without fail can be overwhelming.
That's where content curation and creation tools come into play. With these in your arsenal, you're never short on quality content.
Content marketing is one of the most efficient and effective ways to reach your target audience. However, in order to create successful content, you need the right tools.
In this blog post, we will discuss some of the top content marketing tools that every marketer should know about.
These tools will help you produce high-quality content, optimize your website for better search engine rankings, and track your results.
Summary: Content Marketing Tools Categories
There are a number of different content marketing tools available, each of which serves a specific purpose. Here is a brief overview of some of their most popular categories:
Content research tools
Content research tools are used to find and analyze content for marketing purposes. They help to identify the most popular topics and keywords, as well as gauge sentiment around certain subjects. This information can then be used to create content that is more likely to resonate with customers.
Content sourcing tools
Content sourcing tools are used to connect writers with experts. This can be done in a variety of ways, such as finding experts to comment on a story or finding sources for a story.
Content writing tools
Content writing tools are used for creating and editing content. They help to make the process easier and faster.
Content optimization tools
Content optimization tools help make your website's content more visible and easier to read for both people and search engine crawlers. They can also help you track how well your content is performing, and suggest ways to improve it.
Content design and video tools
Content design and video tools are used to create engaging and visually appealing content for websites, social media, and other online platforms. Video tools are used to create videos for online marketing, branding, and education purposes.
Content management systems (CMS)
CMS software can be used to quickly and easily publish written content without involving a web developer. Once you have installed the CMS software, you can use it to create new pages and posts, format text and images, and add links. You can also use the CMS to manage your website's navigation menus and other settings.
Content distribution tools
Content distribution tools are used to help share and manage content across a network of users. This can include anything from articles and blog posts to images and videos.
Content analytics tools
The purpose of content analytics tools is to help organizations better understand the data within their content.
This can include anything from understanding how users are interacting with content to identifying trends and insights that can help improve performance. It can also be used to measure the impact of content on business goals, including website visits, leads generated, and sales conversions.
Content marketers use lots of tools. To narrow these down, here are some of the commonly used tools broken down into categories.
Content research tools
1. Google Trends
Best for: Finding relevant terms and phrases through tailor-made searches
Recommended for: all content marketers
Pricing: free
Using Google Trends, users can compare search terms across regions, languages, and similar keywords based on data collected from Google searches.
You can use Google Trends for everything from technological forecasting to SEO optimization. The way you use Google Trends depends on what you hope to gain from it. Using this information, business owners can understand what products and services are in demand throughout the world.
2. Google Search Console
Best for: Improving site traffic and keyword research
Recommended for: all content marketers
Pricing: free
Google Search Console is another free Google app that helps content marketers track the performance of their content and research keywords.
This tool allows users to see which keywords their site's pages rank for, as well as changes in the SERP rankings.
To get a better sense of how people discover your content through organic search versus how they find out about you through other channels, Google Search Console lets you exclude branded terms from organic search traffic reports. It can also serve as a leading indicator of brand growth.
3. BuzzSumo
Best for: Finding content inspiration and influencers, tracking performance metrics, and conducting content research
Recommended for: social media managers, marketers, and content creators
Pricing: freemium; paid plans start at $99 per month
An excellent tool for content marketing research, Buzzsumo can be used for a variety of purposes.
You can use it to analyze what content performs best for any topic or competitor. In addition, you can see which influencers are sharing a certain piece of content based on metrics like social shares and backlinks.
Buzzsumo can also be used to find out what topics are trending on various platforms and which headlines are receiving the most engagement for content strategy.
Also, they offer great influencer reports that let you see who is the thought leader on a given subject.
4. Keyword Surfer
Best for: Researching SEO keywords, semantic-research
Recommended for: Search engine optimization professionals, writers, and content marketers
Pricing: Free
With Keyword Surfer, you can get a list of related keyword ideas, their approximate search volume, and correlation charts every time you search. It highlights keyword ideas and searches traffic within the SERPs with the help of a free Chrome extension.
Among keyword research tools, Keyword Surfer offers unique correlation charts. They also provide at-a-glance statistics on page traffic, word count, and keyword count.
5. Keywords Everywhere
Best for: SEO keyword research
Recommended for: Writers (content writers & copywriters) and SEO marketers
Pricing: Free, but keyword metrics are charged by credit
Keywords Everywhere allows users to research keyword ideas and scrape keyword data from search results. Originally a free tool, it's now a freemium option that requires credits to access advanced data.
It displays monthly search volume, cost per click (CPC), and competition information for various APIs. You can access the data right from the search page you just used. Also, the tool provides keyword metrics and lets you download the lists in Excel, CSV, or PDF format.
6. Statista
Best for: Gathering accurate statistics and charts
Recommended for: Writers and SEO marketers
Pricing: Annual fee of $5,500
Statista pulls data from market research, trade publications, scientific journals, and government databases that would otherwise cost a fortune if you subscribed directly to each publication.
For every content marketer, finding credible sources and stats is a challenge. Many aggregators site credit one another, making finding the original source nearly impossible.
Statista, however, displays sourcing information right next to charts, which makes it easy to see where data comes from.
While this isn't a free tool, it's a subscription you should consider early on if you want high-quality marketing content.
Content sourcing tools
7. Google Forms
Best for: Basic surveys and expert roundup questionnaires
Recommended for: small content marketing teams and marketing consultants
Pricing: free
Google Forms is a free tool for creating surveys – and it's not just for content marketers. The tool enables anyone with a Google account to create surveys, forms, and quizzes.
However, content marketers often collect data using Google Forms to support content decisions. It may involve gathering survey data to highlight in a blog post, but forms also serve a purpose in content planning.
Content marketers often talk to their customers to understand their pain points and create content to help solve these issues.
Using Google Forms, content marketers can collect that information quickly and create content that resonates and guides prospects through the sales process.
8. Typeform
Best for: Conducting large-scale surveys
Recommended for: Marketers and researchers who work with products and content
Pricing: Monthly subscriptions start at $25
To give their surveys a premium edge, content marketers can use Typeform, a supercharged version of Google Forms.
With Typeform, you can create complex survey logic, so users see specific questions based on their responses to previous questions. Additionally, it integrates with Slack, Google Workspace, Hubspot, and Salesforce.
Typeform subscriptions can be upgraded or downgraded as needed. Upgrade to Plus for larger surveys (up to 1,000 responses per month) and downgrade to Basic for normal use – like expert roundups and client collaboration.
9. Rev.com
Best for: Interview transcription
Recommended for: content writers
Pricing: Their most popular transcription service costs $1.25 per minute
When writers only rely on their notes from interviews, they end up missing important information.
A transcript solves this problem – it makes it easier to scan through an interview visually for important context and zippy quotes.
Transcription is an essential part of the writing process, but it can take a lot of time if you've ever had to do it manually. In addition, many AI transcription services produce sloppy results.
The accuracy of Rev, on the other hand, is beloved by writers, editors, and producers.
The Rev transcription service offers two products – 99% accurate transcription for $1.25 per minute and 80% accurate AI transcription for $0.25 per minute.
A finished transcript allows you to name speakers, search by keyword, listen to audio, and edit any mistakes.
10. Yet Another Mail Merge (YAMM)
Best for: Expert outreach
Recommended for: writers and content marketers
Pricing: Plans start at $25 per month (free for up to 50 sends per month without scheduling).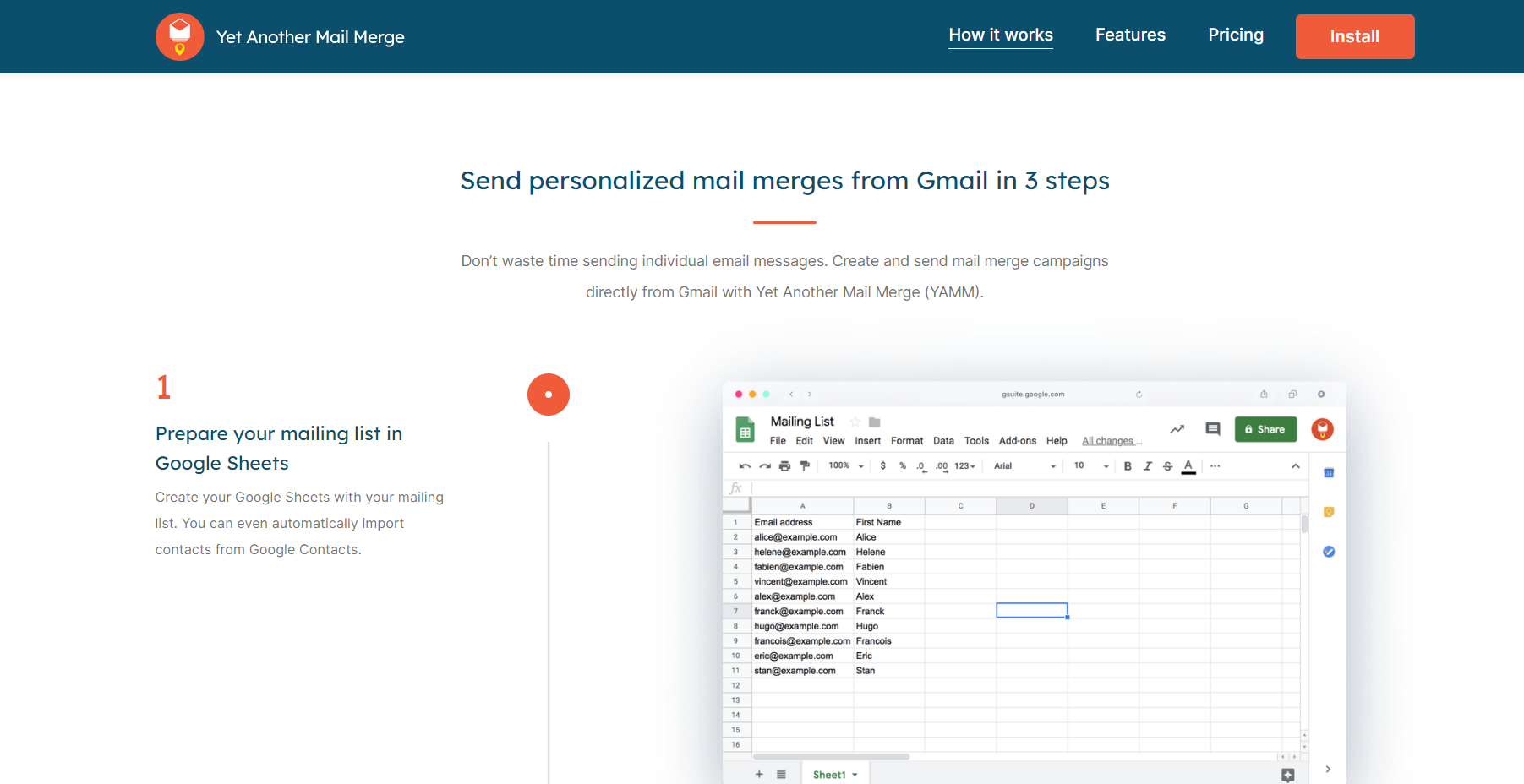 Getting in touch with experts takes some time if you email each of them separately. With Yet Another Mail Merge (YAMM), you can send mass, customized emails through Gmail – as you would with email automation software.
You can also customize the recipient name and subject line in Gmail using your mailing list in Google Sheets.
Plus, you can track the performance of your email after you hit send with YAMM. Users can find out which recipients clicked on, opened, and unsubscribed from emails including bounced emails.
Content writing tools
11. Google Docs
Best for: Outlining and writing blog articles
Recommended for: content writers
Pricing: free
With Google Docs, you can create documents using a browser. Documents can be created, edited, and shared online and accessed from any computer with an internet connection. You can even download an Android or iOS app.
Collaborative features are what set Google Docs apart from Microsoft Word. With Google Docs, you can edit documents online collaboratively.
Sharing documents across platforms and working on them together from a browser window has never been easier.
12. Grammarly
Best for: Proofreading and editing content pieces.
Recommended for: content writers
Pricing: Freemium; paid plans start at $12 per month
Grammarly is a content editing tool that you can set and forget. Grammar, spelling, and punctuation can be checked with the Chrome extension for free. In addition to detecting plagiarism, premium plans can also detect tone and sentence variety.
The desktop app of Grammarly is said to be more sensitive than the browser extension. While Grammarly isn't a replacement for a good editor, it can provide a solid final check before publishing.
13. Notion
Best for: drafting content and managing calendars
Recommended for: content writers
Pricing: Freemium; monthly fee starts at $4
Notion is a popular tool because of its versatility and easy-to-use feature. It is also a one-stop solution for productivity. The versatility of Notion allows it to serve as a writing repository, a task management tool, a workout calendar, a database, and much more.
With Notion, users can schedule tasks, manage files, save documents, set reminders, keep agendas, and organize their work.
14. Loom
Best for: Presenting videos and creating tutorials.
Recommended for: content marketing leaders and editors
Pricing: Freemium; $8 per month for paid plans
As a Chrome extension, Loom lets you record a video of your screen and face simultaneously. This is great for briefing new writers or guiding editors through final revisions.
You can also embed Loom videos in blog posts so your customers can see how the products work.
Loom videos are trackable, which allows you to record viewer feedback and view more engagement metrics than pageviews and time on site alone.
Content optimization tools
15. Yoast
Best for: Optimizing web pages for search engines
Recommended for: SEO and content marketers
Pricing: Starting at $99 for paid plans
Yoast is a WordPress, Shopify, and WooCommerce plugin that provides keyword suggestions and alerts you when old content needs to be updated.
This plugin does pretty much everything for SEO, including optimizing content for a keyword, previewing and editing meta-descriptions and URL slugs, abstracting away technical SEO tasks, and suggesting relevant internal links.
You can easily see if you have optimized your page correctly or what needs to be improved by using the simple red, yellow, and green indicators.
Content marketers can also use the checklist to remember finishing touches like internal links and meta-titles for blog articles and web pages. This is a great tool for double-checking your optimizations.
16. TinyPNG
Best for: Web image compression
Recommended for: writers who write SEO content
Pricing: free
Your website's images can take up a lot of space and slow loading times, which affects page experience metrics – an essential SEO factor.
Before uploading images, it's a good SEO practice to compress them.
Although website hosting often includes image compression, you can also download WordPress plugins or use free tools like TinyPNG.
17. Frase
Best for: Outlining and optimizing SEO articles
Recommended for: marketing consultants, content consultants, and small teams
Pricing: Monthly subscriptions start at $44.99
Content writing for search engine optimization benefits from phrases both on the front-end and back-end.
With its AI copywriting tool, you can use Google keywords and topics to determine how to structure a piece of content.
Frase generates an outline with a keyword grading tool to help you include relevant keywords. Even a first draft can be generated for content marketers to revise.
Content designing and editing tools
18. Canva
Best for: Creating graphics for social media and websites
Recommended for: designers and content marketers
Pricing: Freemium; paid plans start at $149.99 per year
For content marketers who need to whip up a quick graphic, social media promotion, or pie chart, Canva is the perfect tool.
It is easy for newcomers to start and progress through a topic thanks to the platform's more than 250,000 templates. You can also choose from hundreds of thousands of stock photos, videos, and graphics. Plus, you can increase all those numbers even more if you subscribe to their paid plans.
Canva allows you not only to create visuals but also to present webinar presentation slides directly from the platform.
19. Vidyard
Best for: Producing B2B marketing videos, digital marketing, and content creation.
Recommended for: marketers and content producers
Pricing: Freemium; paid plans start at $19 per month
Vidyard is a video marketing platform for hosting, sharing, and promoting video content.
They also offer a sales solution to help you close more deals. With Vidyard's video analytics, you can run A/B tests and personalize videos, and you can even gate videos based on their length.
The tool also optimizes your videos for search engines and integrates them with CRMs, email systems, and social media platforms.
20. Figma
Best for: Designing and prototyping UX for websites and apps
Recommended for: designers and marketers
Pricing: Freemium; paid plans start at $12 per editor/month
Although Figma is primarily a designer's tool, it might be worth investing in if your content team works on apps or website pages.
With Figma, you can see how a user journey flows beyond a single webpage.
Content management tools
21. WordPress
Best for: Writing blogs, publishing editorial content, creating portfolios, and hosting blogs and websites
Recommended for: budget-conscious semi-technical marketers
Pricing: Freemium; paid plans start at $4 per month
WordPress is the world's most popular content management system. According to the Search Engine Journal, WordPress powers about 39.5% of all websites.
Essentially, WordPress is a CMS that hosts and builds websites. Your site can be self-hosted or hosted through WordPress.com.
Your business, blog, portfolio, or online store can be customized with WordPress' plugin architecture and a template system.
Many bloggers use this platform because it is highly customizable.
22. HubSpot
Best for: Combining multiple content marketing tools in one place.
Recommended for: Business-to-business marketers
Pricing: Starting at $45 per month
Many marketing teams use HubSpot to automate content distribution and measure content's lead generation effectiveness because of its powerful email marketing automation and social media management tools.
It can be used to distribute brand, thought leadership, and trend content to your email list and followers. Its landing page and blog builders even have a few simple SEO features built into it.
Sales and service teams can also benefit from HubSpot's products. This lets it serve as a central control point for your entire business operation.
Content analytics tools
23. Google Analytics
Best for: Tracking site metrics and understanding your audience.
Recommended for: all content marketers
Pricing: free
A marketing team's command center for all things website-related, Google Analytics is a must-have tool for content marketers. This tool provides real-time information on site sessions, page views, average session duration, bounce rate, and more.
You can determine distribution by sessions and pageviews, while content quality can be determined by bounce rate and session time. Plus, you can also set custom goals for tracking down-funnel metrics.
Gathered data can help content marketers understand what type of content is most popular with their audience and make decisions about future content creation accordingly.
24. SEMRush
Best for: Tracking backlinks and rankings
Recommended for: teams and individuals working in SEO and content marketing
Pricing: Monthly rates start at $120, Try with a Free Trial
SEMrush is considered one of the gold standards of SEO tools, used for competitive and keyword research. Content marketers also use it to evaluate their SEO efforts.
With SEMrush, you can see how many keywords a blog post ranks for, how much traffic it receives from social media sites, and even how many backlinks it has accumulated.
25. Ahrefs
Best for: Tracking rankings and backlinks and analyzing content
Recommended for: SEO and content marketers and teams
Pricing: Monthly rates start at $99
Ahrefs is an SEO and content tool known for its high level of keyword and backlink data accuracy.
With this tool, content marketers are able to track changes in keyword ranking over time as well as estimate how many backlinks their content has acquired.
You can also use it to spy on a competitor's SEO health and do content gap analysis by comparing their ranking content to yours.
How to choose the right content marketing tools that work
Any content marketing strategy worth it's salt these days needs to take advantage of at least some content marketing tools. But with the multitude of options available, it can be tough to know where to start.
Here are a few factors to consider when choosing content marketing tools for your business:
Think about what type of content you want to create.
Are you looking to produce mainly blog posts, or do you also need to create visuals like infographics and videos? Once you know the types of content you need to create, you can narrow down your search for content marketing tools.
Consider your budget.
There are plenty of free or low-cost marketing tools available, but if you have the budget, there are also some powerful paid tools out there. Decide what you are willing to spend before beginning your search.
Think about your own skills and comfort level with technology.
Some content marketing tools can be quite complex, so if you're not tech-savvy, you may want to stick to something simpler.
Alternatively, if you're comfortable with technology and are willing to invest the time to learn a new tool, you may want to choose something more powerful.
Keep these factors in mind when choosing content marketing tools for your business, and you'll be sure to find the perfect solution for your needs.
Acadium Apprenticeships
Utilize content marketing tools to your advantage
Take a look at marketing tools in action, and gain work experience. Train with a mentor, for 3 months, completely for free.
Put your content marketing skills to the test with the right tool
Now that you know the various content marketing tool options, it's time to put them to the test.
One great way to do this is through an apprenticeship. Apprenticeships can provide you with the opportunity to learn from experienced professionals and get your feet wet in the industry. Plus, they can help you develop the skills you need to be successful in your career.
In Acadium, for example, apprentices help mentors with their business projects over a period of three months for 10 hours per week. Mentors help them improve by providing feedback and guidance.
Acadium is designed to provide aspiring content marketers, like YOU, with the skills and knowledge they need to succeed in the field.
In addition, joining a marketing apprenticeship program will allow you to use, learn, and experiment with the latest tools and techniques used by professionals.
Choose one or two of the tools and start creating content using those tools mentioned above. Share your work with others in your organization and get feedback. Continue to refine your approach and keep track of your results.
Aside from that, Acadium has a freelancing program for clients who want their marketing efforts matched up with an experienced content marketer. We can put your skills and expertise to work while getting paid!
Interested? Get started on your marketing apprenticeship today!
Princess "Ji" Kang is a staff content writer at Acadium who unveils complicated topics about digital marketing. She's been wordsmithing for various brands and industries for nearly 6 years, after earning her Master's Degree in English Language and Literature along with her Digital Marketing certification. Her work has appeared on sites such as asksebby.com, wellpetcoach.com, Ready Home Singapore, ThePerfectMedia Group, and more. You can find her at her home mini-library reading, sipping hot coffee, or playing with her cats in her downtime.
Top Marketing Webinars for Digital Marketers in 2023

By attending these webinars, you will have the opportunity to learn from industry leaders, gain insider knowledge, and stay ahead of the competition.

9 Types of Digital Marketing to Choose From in 2023

Digital marketing is a dynamic field that offers diverse career opportunities. From search engine optimization to social media marketing, there are many specializations to explore. Whether you're just starting out or looking to switch careers, this guide will help you find your ideal digital marketing niche.

Subscribe to our newsletter for digital marketing resources
Become a better marketer with our digital marketing resources and tips shared weekly in your inbox.

Build your marketing career for free or find marketing talent on any budget — fully remote.