Social Media Cover Letter For Entry-Level Jobseekers [+ Free Templates]
Entry-level social media cover letters are meant to pique the interest of potential employers. Discover how you can write an effective cover letter for social media jobs here with zero work experience necessary.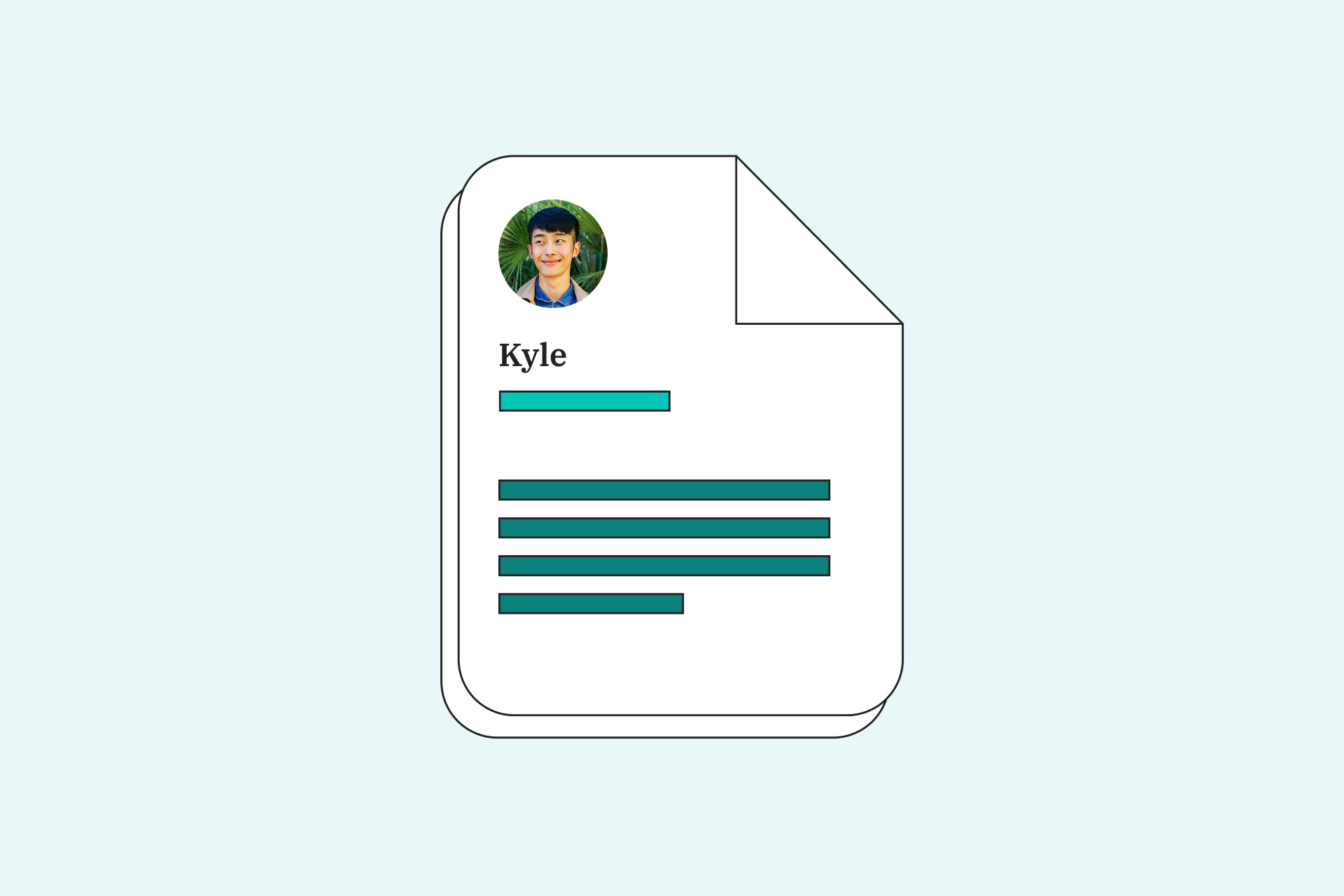 Entry-level social media cover letters are designed to intrigue potential employers enough to interview you above the rest. But what if you're a fresh graduate or someone with zero experience in social media? Do you even have enough relevant experience to put in your letter?
It's possible to write a compelling cover letter that gets interviews, even if you haven't worked in social media before. As you'll discover in this post, it's all about leveraging your experiences at school or former internships, as well as highlighting your best skills and traits.
Don't be discouraged if this seems intimidating. You'll find that social media jobs are reachable if you show that you're ready to learn. Keep reading to learn from the personal experiences of three Acadium apprentices featured at the end of this post.
All three gained valuable social media skills with real-world applications during their apprenticeships. One even started their own social media marketing agency after their three-month term!
Acadium Apprenticeships
Social media experience for free
Gain valuable, real-world social media experience under a dedicated mentor 10 hours a week, for three months. Always free and remote.
To go back to cover letters, let's talk about what they are and why you need them, before going over what should be included in one.
What is the purpose of a cover letter?
Cover letters are one-page documents that go beyond what's in your CV. They're your ace, on account of convincing potential employers that you're the best candidate for a job. For example, our entry-level digital marketing cover letter aims to help aspiring digital marketers get their foot in the door without any prior work experience.
You're also encouraging whoever's reading to look at your CV. Although there are businesses that still manually sift through CVs, more and more are using applicant tracking software (ATS).
ATS scans through CVs with criteria set by the business. While that helps them cut down on the number of documents they read, they can also miss out on great candidates—including you.
A social media cover letter's contents also differ from a social media portfolio. Whereas a portfolio shows how you apply your education and skills, a cover letter's task is to grab the attention of a hiring manager.
Do you need a social media cover letter?
Entry-level jobs tend to be competitive—a cover letter will help you stand out.
A cover letter tells a business ahead of time how the skills in your CV align with the role you're applying for. At the same time, it helps them see how your traits and experience—whether they're from university or previous non-marketing jobs—match what they need. It also gives you a chance to explain oddities in your CV such as gap years, turnovers, course shifting, and the like.
How to write a cover letter for a social media job?
What to include in a social media cover letter
Like an entry-level digital marketing cover letter, your social media cover letter needs a header, introduction, body, and closing statement.
Header: The header needs to include your full name and contact information, followed by the date, the name of the hiring manager, and their details. It should look like this:

Body: After that, start your letter by greeting the hiring manager and mentioning the role you're vying for. Mention where you heard about this position, or if someone in their organization referred you to this role. It should end with a hook that leads to the body of the letter.
As for the body, your second paragraph should feature your skills and experiences. Tie your academic achievements, extracurricular activities, volunteer record, and non-marketing work experience with your skills, and how both can apply to your role. Any award or competition wins apply here.
Your third paragraph should include any research on the company or role. Relate your motivations or experiences to either a business or role, or a project they are working on. Your commitment to skills and career growth should also go here.
Closing paragraph: Lastly, your closing paragraph should be simple but impactful. Call the reader to take action and reach out to you for any further information, or an interview.
How long should a cover letter be?
A cover letter should only be one page long. To achieve this length, all your sentences should be concise and to the point. You can play around with the sections highlighted below, but make sure you're not repeating parts unnecessarily.
Additionally, only include details relevant to the position you're applying for. Let's pretend you're applying for a social media manager role. You decided to write about the time you volunteered for a pet shelter in your cover letter.
In this case, you should focus on the transferable skills you displayed that are applicable to becoming a social media manager. That could be your interpersonal skills, critical thinking, or promotional skills.
Lastly, ensure everything is readable. Avoid run-on sentences, and try to only have 3 to 4 short sentences in each paragraph to keep everything manageable.
Social media cover letter examples [Free Templates]
Entry-level social media cover letter example
Dear [Interviewer's Name],
I was referred to your job post for an online community manager on LinkedIn by a professor. When I read the role description and your company's bio, I realized I'm a great fit. I'm confident in this assessment as my team management, communication, and technical skills suit this vacancy.
As mentioned, I'm confident in my ability to manage a team, as I've once led a group to a first-place win in a semester-long contest held by XYZ Company. I organized our schedule, ensured we hit our self-set milestones, and provided emotional and technical support to my team. These activities ran side-by-side with my thesis, for which I was given special commendation.
My experiences and soft skills fit the profile of your ideal online community manager. In terms of hard skills, I'm proud to say I have a natural ability to learn new software quickly. In fact, I taught myself how to use Buffer, Google Analytics, and Social Pilot to prepare for a role such as this.
I look forward to applying my skills to this exciting role, and developing as a professional in your company. Please feel free to reach me through my email or LinkedIn profile when you are available for an interview, or if you have any questions. Thank you for your time.
Respectfully,
[Your Name]
Download the sample resume here: Entry-Level Social Media Cover Letter Example
Social media cover letter example for career switchers
Dear [Interviewer's Name],
I found your opening for a social media director on Indeed and was struck by how good the position was. After conducting research on the role and your company, I'm confident that my previous work experience and skills would make me an excellent addition to your team.
In your post, you noted that your ideal candidate needs strong leadership qualities to integrate your new social media team into your business. As an office manager at XYZ company, I expertly coordinated and supervised multiple teams to ensure smooth business operations. I'm also well-versed in maintaining a workable budget, monitoring customer feedback, and tracking the effectiveness of our workplace policies.
Because of my position, I was also in charge of integrating our newly-formed social media team into our existing structure. As such, I endeavored to learn and develop the team's branding voice and style bible across different social media platforms. To this end, I became certified in social media marketing to better guide the team.
The drive I found while helping our social media team is why I'm pursuing this role. I enjoy the challenge of running a social media team that consistently gets high engagement and converts leads to customers. To pursue that challenge with your company, a business that understands the importance of social media marketing, is the best way forward for my new career.
My skills are well-suited to your social media team's needs. My extensive managerial experience can help integrate your new team into the company. And with my certification, I can help train your entry-level candidates to build an engaged, well-versed social media team.
Should you want to hear more about how I can help your company, you can reach me through my email to set up an interview. I look forward to having a productive conversation and learning more about your company.
Thank you for your time and consideration,
[Your Name]
Download the sample resume here: Career Switch Social Media Cover Letter Example
Social media jobs you can apply for
1) Social media marketing intern/Social media intern
Salary (per Indeed): $34,863 per year
Your role as a social media marketing intern involves doing a lot of basic tasks. This is the ground floor of your social media career, after all! You'll do a lot of research on social media platforms and trends, schedule captions and posts you'll write yourself, and report on a platform's performance.
2) Social media manager
Salary (per Glassdoor): $49,128 (base pay)/$66,179 (with additional pay) per year
This is the first job of many social media professionals. Social media managers have elevated responsibilities from interns, as they're responsible for the operations of a social media campaign. They also ensure every post aligns with a brand's style, and research their brand's audience in every platform to determine the best times to post. Plus, if they don't have a copywriter, graphic designer, or video editor, they make all the content on their own!
3) Community manager
Salary (per ZipRecruiter): $48,310 per year
Community managers, also known as social media community managers, are in charge of connecting a brand with its audience. They moderate their social media communities and keep up engagement with followers to keep accounts busy. What's more, they provide customer service to build brand loyalty and authority.
4) Social media content strategist
Salary (per Salary): $54,242
This role focuses on the content, strategy, and marketing aspects of social media. You're in charge of creating the strategy that social media teams follow. In addition to keeping track of content trends, you'll also have to decide the best kind of content to deploy to specific platforms. You might also be tapped in to manage content on the business's main website.
5) Social media analyst
Salary (per Talent): $60,049
A social media analyst is all about the numbers. They monitor the data of a business's social media, including engagement, interaction, bounce rates, traffic, click-through rates, and more. Once they have the data, they craft reports, recommendations, and strategies to grow each platform.
How to become a social media manager with no experience
Curious about how to become a social media manager with no work experience? Take a look at how Eszter, Andrew, and Grace found their way to social media marketing, and general digital marketing.
Eszter made a total career change after having an established career. She started the shift with a marketing apprenticeship. While she shifted to SaaS, her marketing career began by managing the social media of an eCommerce business with no experience in the field beforehand.
Andrew's another ex-apprentice who had a career, and a whole business, unrelated to digital marketing. Despite having zero experience in digital marketing, he still landed an apprenticeship where social media management was a huge responsibility. At the end of three months, he managed to grow his mentor's customer intake by 1,300%—and gained skills to grow his own business.
Grace meanwhile was still in university when she realized that she wanted to pivot to digital marketing. Through her free, mentor-led apprenticeship, she learned the necessary skills to become a full-fledged social media marketer. Afterward, she began her own social media marketing agency, which she continues to run to this day.
After writing your entry-level social media cover letter, it's time to prepare for the interview. Read these posts for tips on how to impress your next potential employer:
Interview Anxiety: How to Calm Nerves Before an Interview
Tell Me About a Time You Made a Mistake [Examples + Tips]
Top 20 Social Media Interview Questions [+ Sample Answers]
21 Digital Marketing Interview Questions in 2022
Five years in journalism, two in proofreading, and eight in freelance ghostwriting. Creating content that's entertaining, informative, and actionable shapes my writing. When not scrutinizing my copy, I'm likely watching hockey.
Top Marketing Webinars for Digital Marketers in 2023

By attending these webinars, you will have the opportunity to learn from industry leaders, gain insider knowledge, and stay ahead of the competition.

9 Types of Digital Marketing to Choose From in 2023

Digital marketing is a dynamic field that offers diverse career opportunities. From search engine optimization to social media marketing, there are many specializations to explore. Whether you're just starting out or looking to switch careers, this guide will help you find your ideal digital marketing niche.

Subscribe to our newsletter for digital marketing resources
Become a better marketer with our digital marketing resources and tips shared weekly in your inbox.

Build your marketing career for free or find marketing talent on any budget — fully remote.